In 2022, the size of the worldwide automotive IoT market reached a valuation of USD 102 billion, and it is anticipated to exceed approximately USD 811.72 billion by the year 2032. Evidently, the automotive & logistics industry is experiencing a transformative shift with the rapid integration of IoT (Internet of Things) devices into vehicles. These smart, connected devices are revolutionizing transportation by enhancing safety, convenience, and efficiency. From autonomous driving to real-time diagnostics, IoT in automotive vehicles is shaping the future of mobility.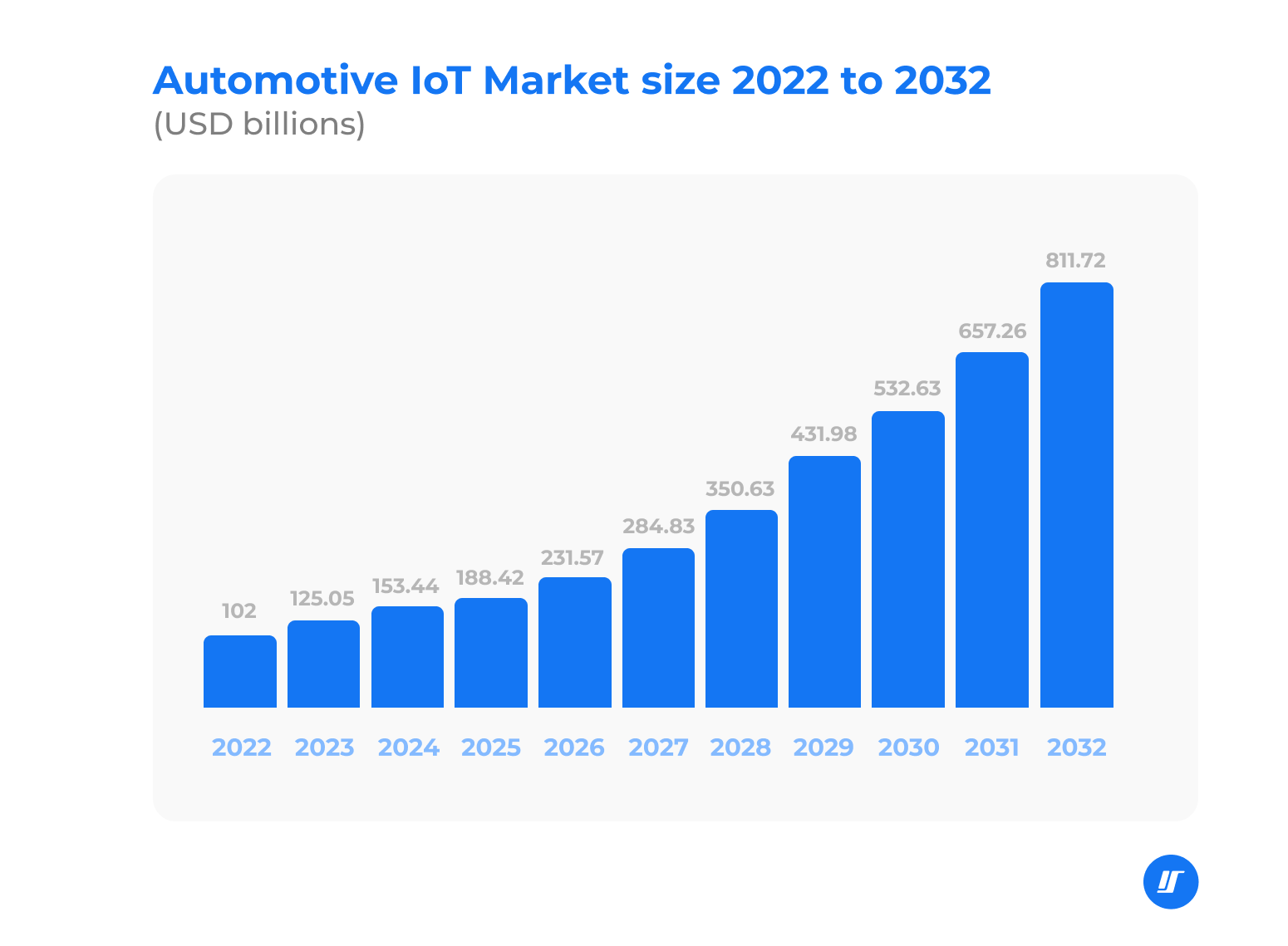 Intellectsoft has been developing solutions for numerous industries and case studies. We've seen innovators and disruptors use IoT to beat out inefficiency and competitors in the process.
Here's our account of automotive IoT as developers, consultants, and creators of scalable enterprise software for Fortune 500 clients. Decide whether a custom IoT solution can elevate your place in the industry through multi-directional benefits and a fresh edge in automotive.
We cover: the definition of connected cars, why IoT in cars is changing the industry, and the challenges to anticipate as you move toward IoT innovation.
What is a Connected Car? Defining Automotive IoT
Automotive IoT (Internet of Things) refers to the integration of internet-connected sensors and devices in vehicles, enabling data collection, analysis, and communication to enhance vehicle functionality, safety, and performance. Accordingly, a connected car is a vehicle equipped with IoT devices that enable high-end functionality like internet connectivity, AI-aided navigation, entertainment, safety features, and remote monitoring.
Software development is the backbone of IoT automotive devices, underpinning their functionality, security, and adaptability. Below, you will find the analysis of benefits vs. challenges in the emerging sector of the IoT-driven automotive industry, as well as predictions for the future development.
Benefits of IoT in the Automotive Industry
IoT vehicles stand to completely remodel the automotive industry, not unlike the explosive acceleration of language models do for businesses in every sector.
Adding better communication between machines, infrastructure, and more means companies save money and customers soothe the pain points of buying, operating, and maintaining vehicles of the past.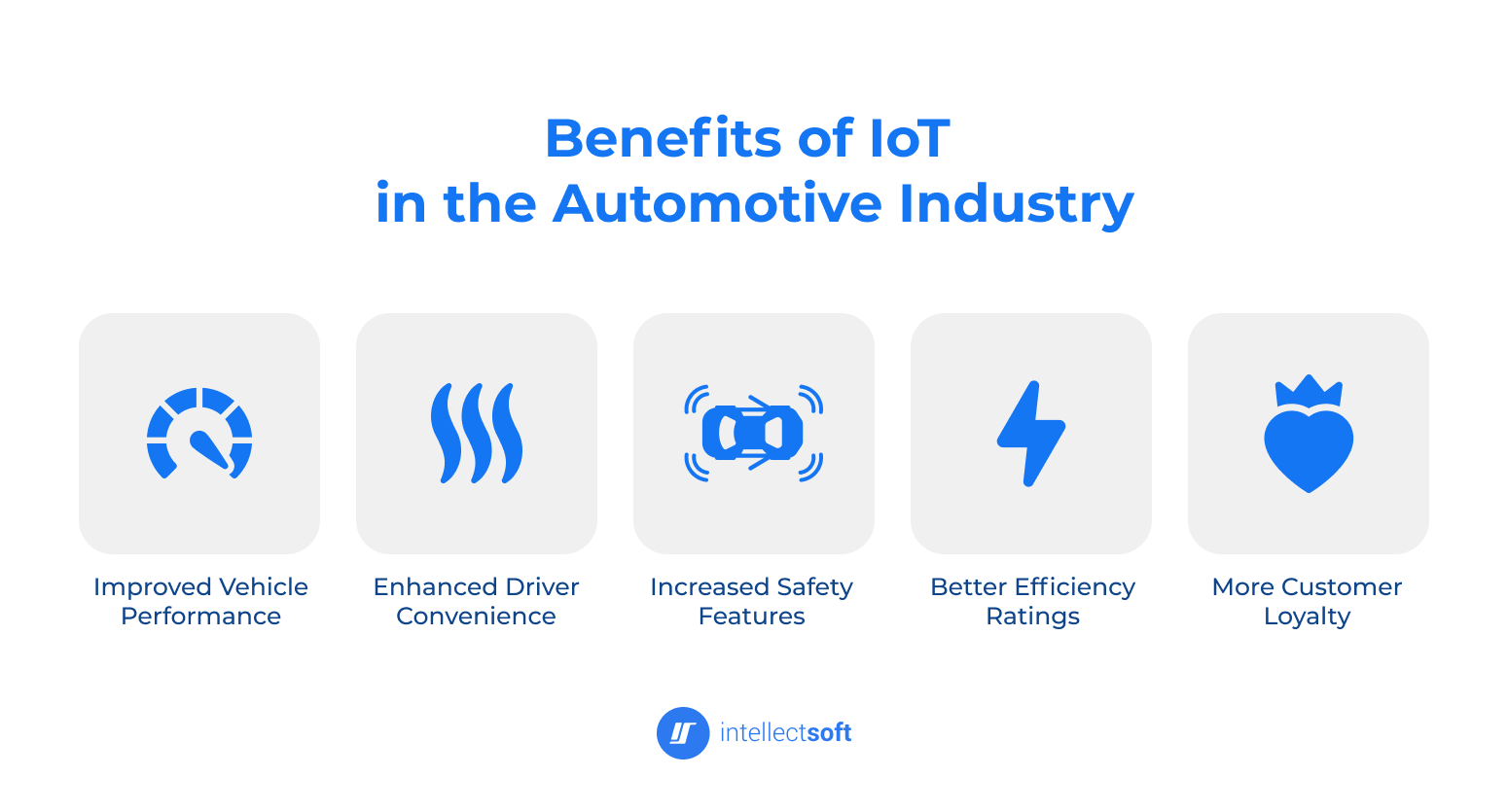 Improved Vehicle Performance
With improved customer data collection and machine learning-enhanced analysis, both corporate and consumer interests intersect through more solid inventory control, better supply chain management, and reduced energy expenses.
IoT-connected cars use real-time data to elevate in-car experiences through driver assistance and nearby-vehicle communication. IoT cars can then bring route planning optimizations as well as preventative maintenance measures. All this reduces the chance that drivers will suffer driving inefficiency or unexpected vehicle performance hazards.
For manufacturers and retailers, better vehicle performance translates to cost-saving production and optimized inventory control. The consequence becomes higher profit margins and more competitive pricing on all sides.
Enhanced Driver Convenience
Through praised features like remote unlocking, vehicle "summoning," and GPS navigation‒customers already enjoy a most reliable way to enjoy IoT in cars. But, IoT vehicles also use sensors to give customers more timely repairs‒before breakdowns or service interruptions take hold.
When downtime is reduced, and maintenance needs are better predicted, both servicers and the customers they support are empowered through fleet management of the future. From tracking to scheduling and repair, commercial and individual customers can now optimize effort and investments for less strain and more support.
As fleets take on the functionality and features of automotive IoT, costs are cut, efficiency is enhanced, and productivity (in-person and remote) is pushed to its extreme. With more on-time orders, improved responsiveness, and safer vehicle operation, you can easily see the path of least resistance for customer satisfaction and corporate success can be found in smart cars and their IoT software.
Increased Safety Features
Advanced IoT features artificial intelligence at the forefront, but it also facilitates safer car-to-car communication and driver assistance. As AI-centered systems improve the driving experience, they also enhance its adaptive, responsive, and lane-keeping safety.
With vehicle-to-vehicle communication on the other hand, IoT prevents the accidents that have become so assumed about the natural course of getting on the road. Together, communicative systems like IoT cars offer more attuned awareness about speed, direction, dangers, and more.
In practice, this means connected cars have massively accelerated the safety ratings that modern drivers will accept. Through automated warnings and collision avoidance, IoT has transformed the meaning of the age-old "blind-spot," making it a matter of machine monitoring, not natural risk.
Better Efficiency Ratings
IoT automotive advancements serve customers as well as manufacturers and servicers, providing a bump to customer satisfaction and loyalty. As consumers increasingly seek immediate gratification from digital experiences, IoT-connected cars attract through greater conveniences compared to traditional driving experiences.
The virtue of ease helps consumers choose between retailers for their next vehicle too. Satisfaction is hard-hit by elements of the typical buying-and-selling exchange. IoT adds the balm of big data to smooth out long-standing tensions blocking excellence in customer satisfaction.
While delivering savings and greater efficiency to automotive manufacturers, customers also enjoy peace of mind from enhanced safety. The resulting financial gain comes from automotive IoT force and flexibility for data collection, analysis, and deployment.
More Customer Loyalty
Today, customers remain more willing to engage business with a tech-centric approach; they see it leads to a better, more informed, and less frustrating experience. In this way, IoT supports all involved.
Since it's more grounded in customer information‒the people and profiles that form the market‒companies who leverage IoT start to make more sense for the younger, more exacting consumer. Instead of challenging them with less convenience and lower safety ratings, automotive players can synergize buying, manufacturing, and marketing.
By more intentionally following the customer journey through IoT-collected information, customers are ultimately convinced to become repeat buyers. Perhaps this is why IoT connections mean a $310 boost in revenue and $180 in savings per vehicle.
The Challenges Connected Cars Face
To truly harness IoT in the automotive sector, decision-makers must mitigate the inherent risks of data management and ensure a socially responsible, security-oriented hand in outcomes. At its heart, the risk of embedded, communicating, and intelligent technology is safe and efficient implementation.
If its applications are mindful, the automotive industry as a whole shouldn't face significant challenges in handing data, ensuring reliability, creating security, or protecting privacy. Nevertheless, everyone in the sector should know IoT's potential to "cut both ways."
Data Management
Simply put, it may challenge fledgling operations to handle the vast volumes of data produced by IoT-connected cars. The demand is simple but strong: automotive industries (especially start-up services) must know how to make swift work of a constantly renewed resource.
From data sourcing to transmission, processing, and analysis, all operations will want real computational power to maintain themselves against being force fed otherwise precious information. Without such support, IoT stands to overwhelm under-developed systems with data management pressures.
Connection Reliability
While the concept of IoT connections is straightforward, the complexity of its application in vehicles is not. Given the rapid development of IoT technology, a sustainable and secured connection becomes concerning for consumers as much as corporate interests.
Features like sensor tracking and car-to-car communication enhance experiences but also challenge the constrained network. If there are limitations on performance, then IoT applications‒no matter how advanced in theory‒won't keep step with their promised benefits.
Software Integration
Initially, IoT vehicles hit the road without a hint of concern. This presents the real need for automotive industry players to institute IoT security. This presents a real need for automotive players to institute IoT security alongside simple connectivity. IoT can be attacked, especially when authentication and authorization protocols are weak.
The primary option for scaling an IoT solution securely is data encryption, device management, and security protocols like SSL certification. These protocols are familiar to the web, but IoT presents the challenge of hardware and software diversity‒meaning all IoT technologies must adapt to ever-emerging flaws and oversight.
Consumer Privacy
Some express concerns over the sheer intensity of data shared by IoT-connected cars. Consider that a connected car may produce many millions of discrete data points on a daily basis. Pair this with the idea of regulating and maintaining ethics within a vast sea of sensitive information (including user profiles, location, destination, acceleration, etc.).
For those prepared to weather its risks for the social good possible from the IoT space, those who manage, regulate, and authorize vehicle software should be prepared with their core criteria for cybersecurity standards.
Future of the Automotive Industry Using IoT
A nearly exponential influx of IoT vehicles and functionality is no surprise: it's a precursor. Communicative IoT sports the previously unthinkable: stable solutions to traffic hazards, driver discomfort, and even mismanaged production .
Already, connected cars enmesh advanced technology with business benefits and the social good. They have already uplifted standards for safety, added more convenience, enhanced fleet maintenance, streamlined inventory management, and applied optimization to supply chains.
Car manufacturing will be forever changed through IoT with blasts of process renovation, data intelligence, and restored efficiency‒all on one side. On the other, the connected car presents a surer road to optimal conditions for everyone, including more safety, sustainability, and satisfaction.
The future of connected cars only begins with safety and security. It will build with customer comfort and confidence, coming full circle for a transformed society of more safety and stability. IoT is already global in its effects, concerning everyone in its beacon.
Drivers, dealers, and decision-makers in all corners of the auto industry will feel undeniable vibrations in pricing, processes, and application potential as AI, telematics, and electric autonomous vehicles develop. For the industry itself, expect advancements in applications of AI, the cloud computing effort, and real-time data optimizations.
Summing Up
All-round, automotive IoT and connected cars spread multi-directional support to manufacturers, through retailers, and servicers, toward customers.
Boosting performance and satisfaction while cutting expenses and inefficiency, there's no alternative to IoT's arc toward digital transformation. Evolved 5G connections and the transition to electric vehicles is fast approaching.
With Intellectsoft, you can accelerate these benefits. Get enterprise IoT development by dedicated software teams to empower your business, of any size. Demand a bespoke solution, designed to compete and please.
Learn more about IoT and our approach through our work with Jaguar Land Rover, Harley-Davidson and leading manufacturers.
FAQ
What is "automotive IoT"?
Automotive IoT embeds "Internet of Things" technology directly into vehicles, fleets, and companion devices.
Communicating with other systems and technologies on their network, IoT applications in the auto industry enable faster, smarter, safer, and more efficient driving experiences with an enhanced standard of satisfaction.
How is IoT used in automotive?
Today, one of the most trusted and socially-minded applications of IoT technology in automotive has been ADAS (Advanced Driver Assistance Systems), but many more emerge and develop each day.
Through ADAS, a connected car actively prevent accidents and enhance safety for everyone on the road. It works through a series of closely communicating sensors, cameras, and calculations that predict collisions, avoid pedestrians, maintain lanes, and so on.
What are examples of automotive with IoT?
Autonomous cars present an excellent example of IoT-equipped vehicles. Through hi-tech software sensitivity and algorithmic logic‒these vehicles anticipate events like approaching obstacles while adjusting to road conditions.
With automotive IoT, society is presented with the possibility of much more precision and awareness than human drivers currently allow. With all the resources of 5G networks, IoT cars can make the more correct decisions about their speed, handling, and course of direction than human drivers.
How do IoT automotive solutions create benefits?
IoT automotive applications enhance driving safety, manufacturing costs, and intelligent vehicle design, operations, and functionality.
Currently, fleet management, predictive maintenance, Advanced Driver Assistance Systems, and driver entertainment are the most common IoT use cases bringing benefits to companies and customers.