Custom Dental IT Solutions
Custom-made dental practice management software designed to modernize and revolutionize digital dentistry. Get powerful management, automation, and communication tools backed with the latest technology.
Contact us
Custom Dental IT Solutions Tailored to Your Business
Planning, real-time collaboration, and customer service just got faster, much more convenient, and cost-effective with custom dental IT solutions by Intellectsoft.
Enterprise Resource Planning
Dental Clinic Software
Teledentistry Services
Dental Practice Management
Dental Office Management
End-to-End Data Security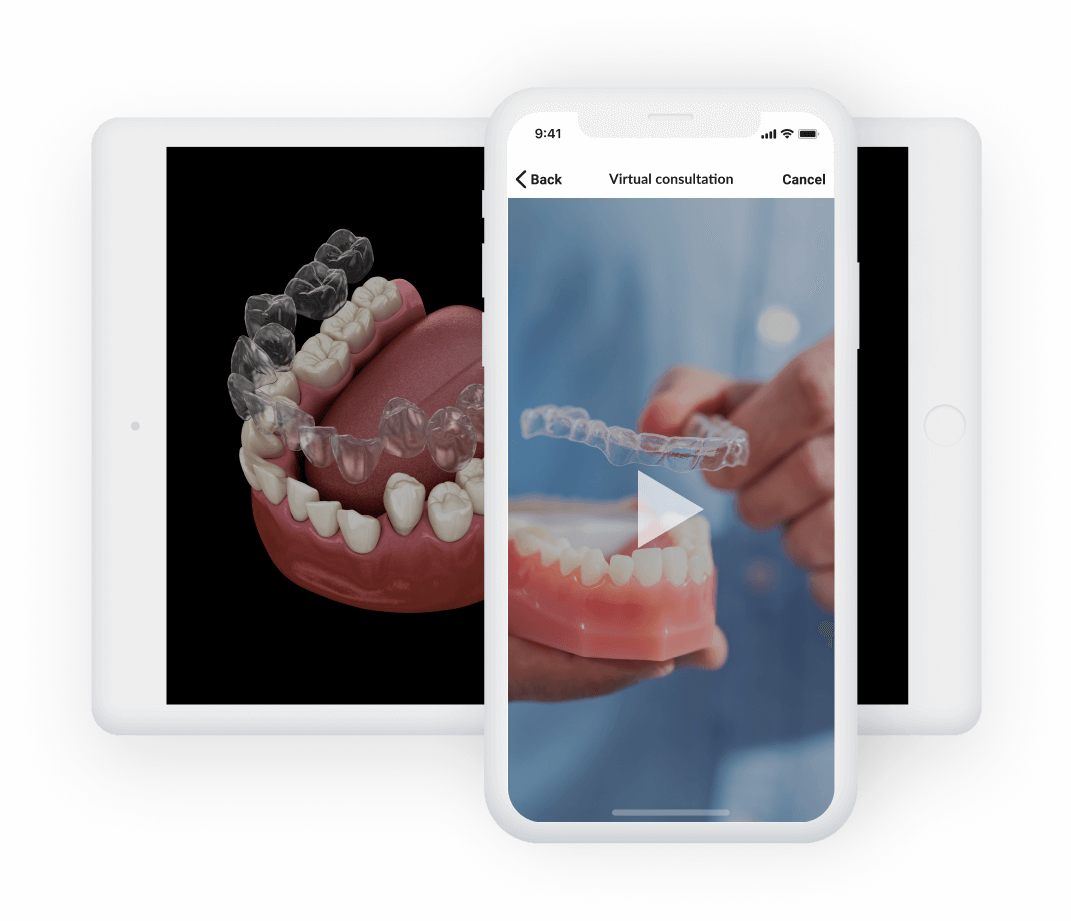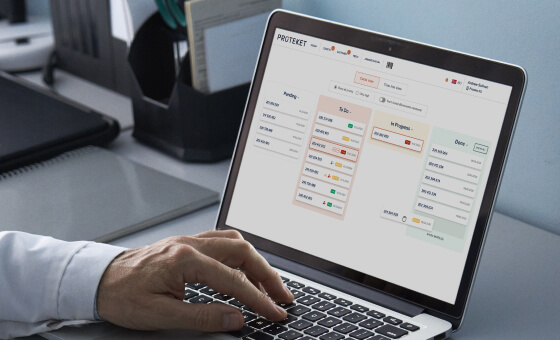 Enterprise Resource Planning (ERP)
Plan, manage and monitor all the core supply chain, equipment utilization rate, predictive maintenance, customer bookings, dental treatment, and unique services across multiple websites or clinics. Custom dental IT solutions allow you to manage every corner of your customer service, from check-in and check-out to payment, financial management, and reporting.
Centralized database to manage treatment, services, payments, and supply chain
Unified user experience across different modules and locations of your business
Enterprise-grade infrastructure backed with the latest dental software technologies
Simple compliance and status monitoring, predictive maintenance and analytics
Zero paperwork with a 360-degree view into spend, operations, and processes
Custom dental software development for your unique circumstances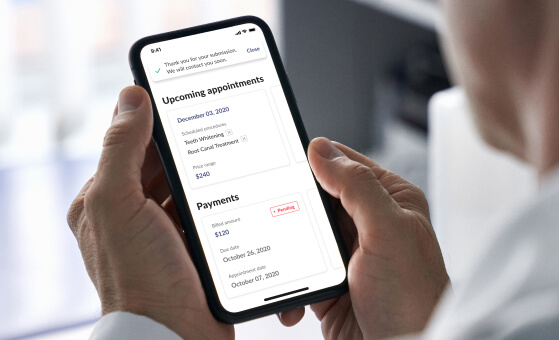 Dental Clinic Software
Cloud-based dental clinic software designed exclusively for clinics, dentists, managers, executives, and business owners. Monitor clinic performance in a dental IT solution online, track performance with individually tailored analytics via easy-to-read graphs and list reports for each location, branch, specialist, and patient's visit.
Custom dental software development encompasses features like:
Customizable user roles and access permissions, such as administrators, specialists, etc.
Detailed practice database with contact details and online booking via smart calendar
Price lists, customer information, dental procedures, and codes with real-time data sync
Full medical history, case logs, 3-D files, a rich library of templates, and much more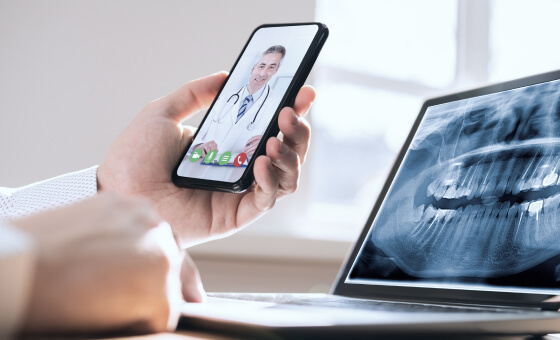 Teledentistry Services
Telehealth technologies have become a central part of oral healthcare delivery. When implemented by availing custom software development for dentists, teledentistry reshapes the way of providing accessible treatment of every modern digital dentistry - offering cheaper prevention practices, easily bringing new clients and converting potential cases into happy loyal clients, and putting their well-being first.
Benefits of custom dental software development:
Improve effectiveness for specialists (orthodontics, periodontics, oral surgery, preventive dentistry)
Quickly fill gaps in the schedule, make dental practice more efficient, stay closer to your patients
Offer professional assistance, flexible terms, and wide-ranging treatment options at the right time
Allow remote monitoring, send targeted alerts (treatment/disease status), encourage healthy behavior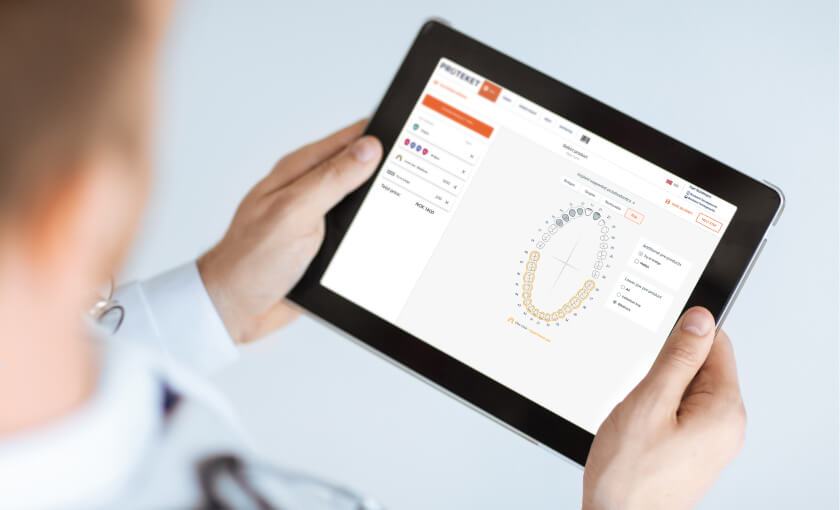 Dental Practice Management
Automate dental treatments using a full suite of automation tools tailored exclusively to your everyday activities and a unique setup of the business. Help specialists close treatments based on multiple plans, clinical guidelines, dental formulas, patient diaries, and treatment notes.
Complete medical history, treatment notes, and dental diary to fit the needs of your patients
3D modeling files, X-Rays, medical history, and diagnosis marks in dental cards
Customizable templates for exams associated with appointments, complaints, recommendations
Dynamic observations, periodontal charts, vast customizations, and multiple treatment plan options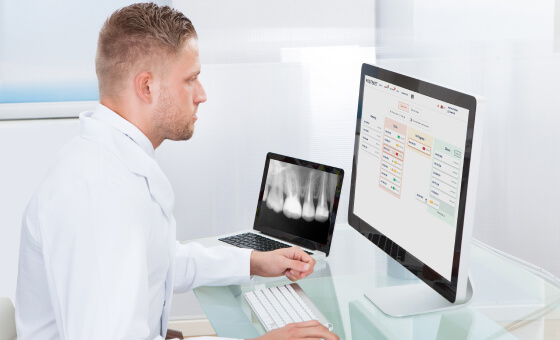 Dental Office Management
Streamline the lion's share of office tasks, manage calendars, and schedule appointments on the go. Configure multiple business locations and dental offices using custom software development for a dentist. Keep your digital dental practice always on track, either entirely, separately by a specific dental clinic or specialist.
Simple management of customer balances, unpaid bills, payments, invoices, and discounts
Short-cut access to documents, forms editor, templates, 3D file data sharing
Mobile-friendly smart calendar to follow-up faster, collaborate better, and keep patients satisfied
Custom fields to add notes and any customer information for even more detailed records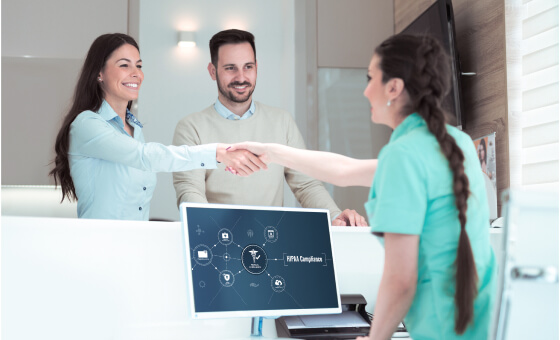 End-to-End Data Security
Custom dental IT solutions provide patients with top-level personal data security, protect electronic health records and other sensitive business data. We take security seriously, that's why dental IT solutions and all other custom software products and services by Intellectsoft are designed to eliminate the possibility where any business files or personal account data falls into the wrong hands.
Development of 100% safe and secure software considering data security at every stage of the lifecycle
Application of the latest technologies that mitigate and protect against vulnerabilities
We protect our clients and their business reputation using advanced data encryption
We constantly test our software and applications for security to close gaps proactively
Client Success Stories
Discover how leading construction companies effectively addressed critical business challenges through digital innovation.
Proteket
Challenge
Research and development remain among top priorities for Proteket, a famous dentistry developer from Norway. Taking an active part in the development of new methods, materials, and software technologies in the industry, Proteket was looking for ways to make contact with patients even more simple and time-saving. And that was exactly when Intellectsoft came into play!
Solution
Our client succeeded in getting an innovative technology to match their renowned expertise, as they provide fixed prosthetics deals with a full suite of products, services, materials, such as crowns, bridges, and shell facets - from aesthetics to pure functionality. Having adopted some of our dental IT technologies and software solutions, Proteket creates digitally produced dental models based on digital files from dentists, and much more.
A Сustom-Made Dental Clinic Software
Challenge
A fast-growing Norwegian dental and orthodontics practice called for the Intellectsoft team to streamline workflow and provide clients with easy scheduling and preliminary diagnosis tool via online booking widget, teledentistry, and smart calendar.
Solution
A custom-made web dental clinic software with well-polished mobile experience has been delivered just on time, as well as the rest of dental technology services and some other individually tailored features (doctor-on-demand, quick booking & preliminary diagnosis, teledentistry, 3-D modeling, smart calendar for admins and doctors, etc.).
FAQ
Do you also have these queries?
What is included in dental clinic software?
Custom dental clinic software can streamline administrative tasks such as appointment scheduling, patient record management, and billing, making your practice more efficient and reducing the risk of errors. Additionally, it can help improve patient care by providing quick access to patient histories, treatment plans, and diagnostic tools.
Many dental clinic software solutions also offer features like electronic health records (EHRs), image management, and treatment planning, which can enhance the overall patient experience and contribute to better treatment outcomes.
Overall, dental clinic software is a valuable tool that can save time, increase productivity, and enhance the quality of care in your dental practice.
How long does it take to create a custom dental IT solution?
The time it takes to create a custom dental IT solution can vary significantly depending on several factors. These factors include the complexity of the solution, the specific features and functionalities required, the size and expertise of the development team, and the availability of existing technology components that can be leveraged.
While a simple solution can take a few months, a high-complexity solution that includes cutting-edge technologies like artificial intelligence or telemedicine might take a longer time to develop.
Keep in mind that you might also want to consider regular renewal and scalability of software while ensuring the availability of technical support which will imply that software essentially will have to be delivered on a continuous basis.
Do you work with Teledentistry?
Yes, we do work with teledentistry and have several successful in our portfolio. We are helping not only big names in the industry but also startups that need to deliver PoCs really fast.
Can you deal with startups or do you target only big enterprises?
We perform dental web development both for startups and enterprise-grade companies throughout a dozen different industries, including but not limited to construction, travel and hospitality, healthcare, retail and e-Commerce, insurance, fintech, logistics and automotive.
Are you HIPAA compliant?
We are HIPAA compliant/ISO 9001 compliant.
What happens next?
Our sales manager reaches you out within a few days after analyzing your business requirements
Meanwhile, we sign an NDA to ensure the highest privacy level
Our pre-sale manager presents project estimates and approximate timeline