No matter how many innovative products have seen the light of our tech-filled days, one thing remains unchanged — in the B2C universe, consumers reach for simple yet mesmerizing innovation with a sky-high "cool and trendy" factor, with useful and simple being almost as important. This is the type of product Adero has built for its customers and earned it a top spot in the much-coveted Fast Company rating.
Adero, formerly TrackR, whose shareholders include Amazon, Foundry and Revolution, developed a series of products and software solutions along with Activefield, a platform that can scale across many products, many companies and unlimited use cases.
Adero, being a well-funded startup, has been successfully reinventing itself to stay relevant as it grows together with its addressable market. Like any early stage ventures, one of Adero's challenges hinged on a need to scale its software development together with its engineering bandwidth, with the required growth vs. available local resources.  
Competing in a rather fragmented market of IoT-based consumer solutions for organizations, Adero aimed high, worked hard, and raced against time to go to market with an offering that would win over millennial and Generation X consumers alike.  
During its quest, Adero partnered with Intellectsoft, which was able to integrate its efforts smoothly into the strides undertaken by Adero's in-house team. Understanding  IoT technologies, the intricacies of hardware design and embedded software, coupled with an innate understanding of the needs and wants of Adero's core consumers, Intellectsoft was able to contribute its skills and knowledge to the partnership, resulting in a product that lies at the core of the intelligent, easy and stress-free organization concept of Adero.
Shortly after the product's release, Fast Company awarded Adero the #10 spot on their list of Most Innovative Companies, alongside tech giants Apple, Google and Microsoft.
About Adero & Smart Tagging System
Adero (formerly known as TrackR) is a Santa Barbara, CA-based technology company that provides an intelligent organization system aiming to end the stress and chaos that comes with managing personal things. Converging consumer electronics, hardware, the Internet of Things (IoT), mobile, software, and wireless in one place, Adero's Smart Tagging system lets a user's life essentials manage and keep track of themselves.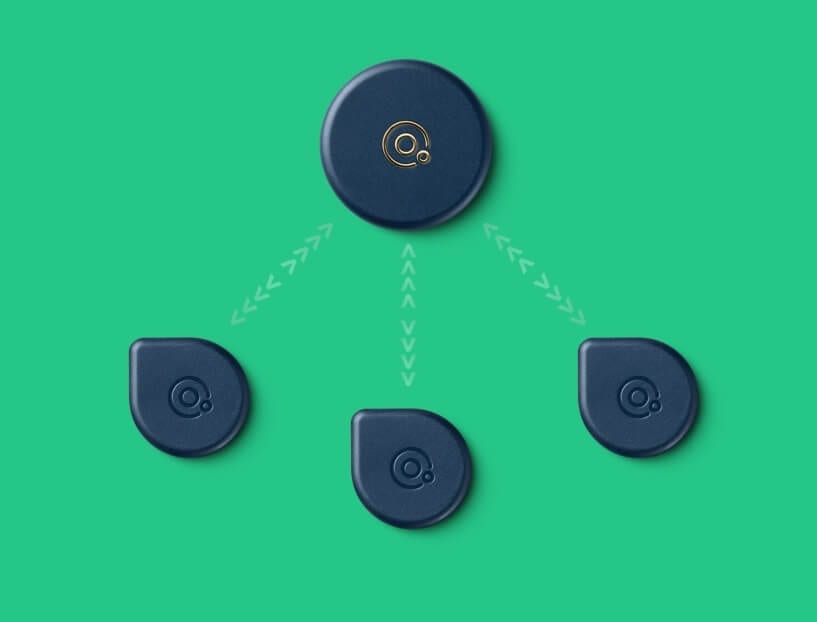 1 Smart Tag (parent beacon) and 3 Taglets (smaller beacons) connected to it
No matter how many things you have and the number of bags you use to carry them, Adero is built to ensure you never lose anything in a simple way. The logic behind Adero's product is the following. The Smart Tagging system consists of small tracking devices, parent trackers, and a custom mobile app. You place the parent beacon (called a Smart Tag) on a bag, the smaller trackers (called Taglets) on the things you usually put in that bag, and then register the bag and its tags in the mobile app. When you leave something from the bag behind, the app sends you a notification after communicating with trackers. You can organise the bags, trackers, and notifications in the app.
How hard was the road to the seamlessly working final product and the customer? And where did Intellectsoft step in to play the part?
Challenges, Challenges, Challenges
At the start, Adero faced fierce competition in the tracking solutions market. The only option was creating a pitch-perfect product that would fully deliver on the premise of keeping track of personal belongings at all times.
The final result needed to be simple, work seamlessly, and stand out among competitors. Adero's talented team had experience  creating similar products that enjoyed success, including the wireless speaker system from Sonos, XBox from Microsoft and the Tesla.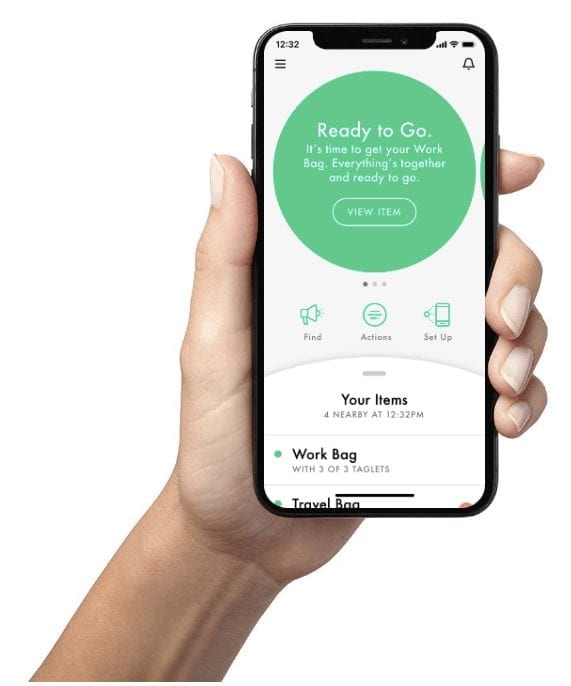 The accompanying mobile app is an important part of Adero's product
Adero began working with various development partners focusing on design, firmware, hardware, and software. The two unresolved pieces of the fully-developed product puzzle were: a) ensuring interoperability between all product components and b) simplicity of the solution that would resonate with users of diverse tastes, age groups and abilities.
For those tasks Adero selected Intellectsoft to partner across mobile, cloud, and microservices development.
Building the Team & Getting to Work
While the right expertise and niche skills were critical to the product development success, contracting planned time to market put both companies under significant pressure to perform fast and, most importantly, to deliver robust and superb performance.
For Intellectsoft such a time-pressed environment is actually a modus operandi, as many domestic and foreign enterprise clients come to Intellectsoft "in a pinch." The company has a well-oiled system of acquiring, training and onboarding the resources with required core domain and technology prowess and compiling an outstanding team within Adero-required deadline.  Intellectsoft has been working with Adero through a combination model from its offshore development centers in Kyiv and Minsk, as well as on-site in a client-facing capacity at Adero's offices in Santa Barbara.
The project epitomised success of this close collaboration between Intellectsoft and Adero teams that enjoyed great synergies in the process, consisting of knowledge sharing across a wide array of subjects from general technology challenges to particular relevant  intricacies in software development.
Areas of Collaboration:
iOS app MVP architecture (Swift)

Android app MVP architecture (Java)

Custom Bluetooth communication protocol

Advanced rule validation and notifications engine

Custom User Interfaces and Motion

AWS cloud backend solution

Platform build on Ruby and Node.js

Advanced platform rollout

Mobile app development

Hardware onboarding and communication security

AWS Cognito for authorisation

ELK Stack for Logging and Metrics

Installation of microservice architecture
See how Adero's product works:
https://youtu.be/oD_daUCItt8
Abundant Payoff Was Commensurate With The Efforts
Intelectsoft's cooperation with Adero could not have resulted into anything short of an award- winning product that stands out among competition.
Fast Company ranked Adero #10 in their list of Most Innovative Companies of 2019 in the Consumer Electronics segment. Adero stands beside the majority of the tech industry's giants, including Apple, Google, and IBM. Meanwhile, the customers enjoy Adero's simple and elegant product that helps manage essentials without leaving behind vital items for all upcoming engagements in an easy and sleek manner.
"Smart devices were supposed to make our lives better.  However, over the past decade we've discovered that users are quickly becoming overwhelmed in this overly-connected blue-chip stuffed IoT driven world," said Adero's Chief Executive Officer Nate Kelly. "More apps to manage, more devices to keep an eye on, more cords to untangle and remember about—it's way too much! Adero is giving the users  an opportunity to passively manage and keep track of their essentials in a non-invasive way that allows for confidence and a peace of mind for our customers. ur system of tags, effectively "taking care" of the items," freeing consumers' minds to focus on more rewarding matters. Without Intellectsoft's expertise, getting a product of this quality to market, especially within the outlined time constraints, would have been nearly impossible."