IT outsourcing keeps on growing its popularity, bringing fundamental changes to businesses worldwide. According to the Gartner report, worldwide IT spending with a total of $3.8 trillion in 2019 is only expected to increase in years to come. At the same time, Statista estimated the revenue of the global outsourcing industry to be $92.5 billion dollars in 2019, as well as predicting a rapid rise in 2021.
These figures are the embodiment of limitless emerging technologies' potential. Following all the latest innovations, the majority of businesses have already embraced the inevitability of digital transformation. Ventures of all sizes are keeping an eye on prevalent software development outsourcing trends.
Outsourcing is shaping the global market, revolutionizing the way companies perceive their development, and bringing unrivaled opportunities to seize. That is why we have singled out ten trends in outsourcing software development in the unprecedented times of 2021. So get ready for all the hype your company can benefit from.
Software Development Outsourcing Trends: What to Expect in 2020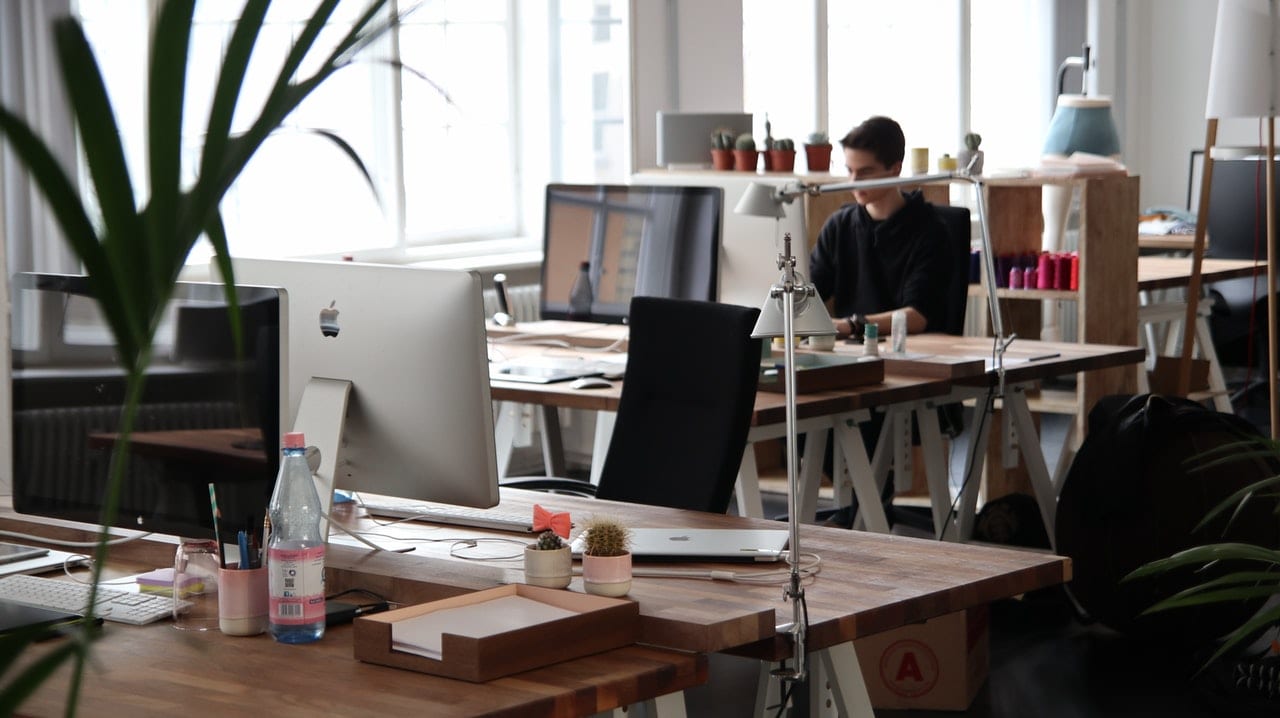 1. The Rise of Narrowly Specialized Boutique Software Companies 
The opinions may differ: some say they'd prefer dealing with one outsourcing company. Others claim they enjoy the advantages of multiple vendors.
Still, the facts show that more and more businesses find themselves in need of narrow specialization companies. The reason behind this trend is the fast-evolving tech area. It is impossible to have an in-house team able to keep up with all the innovation appearing every day and thus possessing all the needed skills.
Companies are looking for outsourcing providers skilled to bring the maximum quality, and the necessity to collaborate with more than just one vendor isn't a problem, as long as the desired results will be achieved. However, if a large outsourcing company offers a full-cycle software development with a diverse team of skilled professionals, it will as well have a severe advantage of being a great vendor to create strong transparent relationships.
2. Customers Will Crave Enhanced Experience with AI and IoT
Online shopping has long penetrated our daily lives. In addition to that, with the COVID-19 outbreak, it has become the new normal according to Forbes, and even the age category of 65+ are saying they are likely to buy more online than offline. The rising demand for online buying experience causes companies to invest more in enhanced User Experience (UX). Customers are likely to spend 140% more having a positive experience.
The solutions with AI and IoT capabilities will enhance e-commerce by offering a more personalized customer journey. AI-Powered Chatbots are already substituting human interactions when providing clients with needed guidance and advice.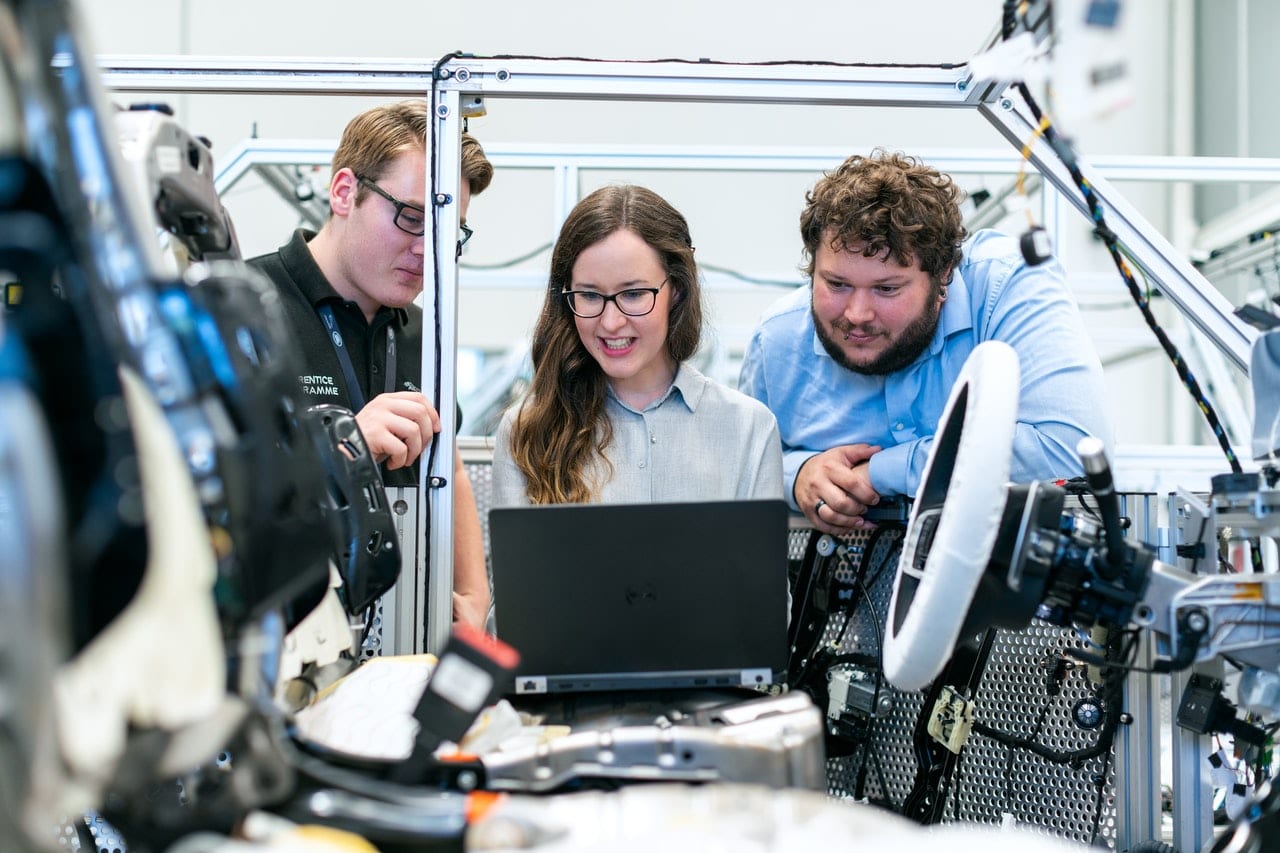 The Gartner report claims that 85% of clients will be ordering items or services with no human contact. 80% of customers prefer companies with personalized client experience to those that don't offer it.
IoT will be one of the means of improving customer satisfaction by providing real-time data, gathering statistics to personalize communication, and detecting problems with equipment.
3. High Demand for Blockchain Services
Global Blockchain spendings are predicted to reach $16 billion annually by 2023.
They were thus making it one of the leading trends and part of the IT outsourcing plan. From developing smart contracts to immediate microtransactions — distributed ledger technology has proven to enhance security, transparency, and offer innovative money-raising solutions for startups.
Since the demand for knowledgeable and capable blockchain services is increasing, so is the need for well-seasoned specialists. These days there is still a shortage of blockchain professionals.
That is why a wide range of industries, from financial institutions to private ventures, are seeking to outsource companies with a well-experienced team of blockchain experts.
Facing an increased need for blockchain talent as well as its scarcity, companies are competing to hire the best among equals.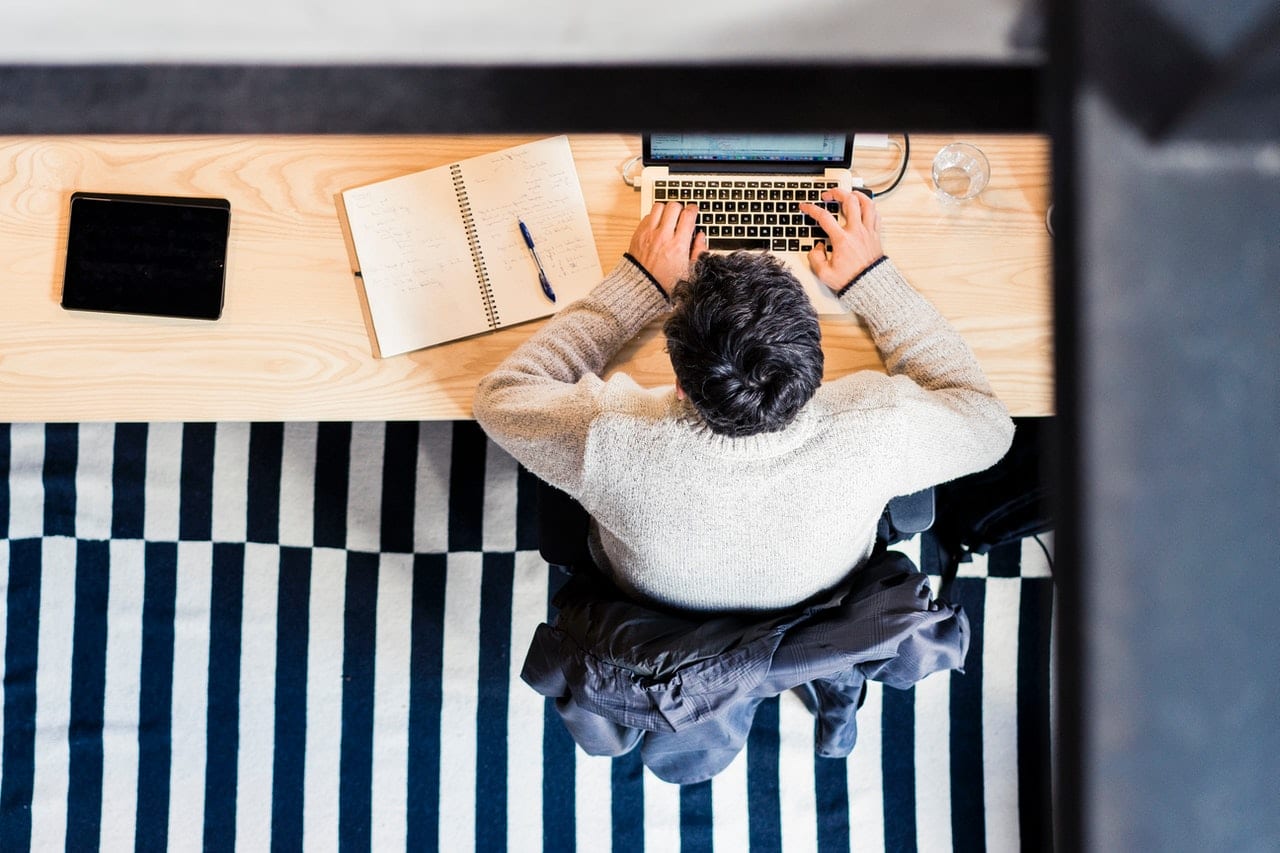 4. A Growing Need for Increased Cybersecurity
Data has long become the most valuable resource. It's no news. However, this is the reason why its protection has never been as crucial as it is today.
While cybercrime is rising, more and more companies will be investing their money to become compliant with GDPR (General Data Protection Regulation). The demand now is to have all the data well-secured.
Especially when governmental institutions become the victims of cyberattacks. Whether it's an IT company or a small-sized family business with a website, owners will be reached outsourced cybersecurity services to eliminate any security concerns, guard their business data, and meet compliance standards of GDPR.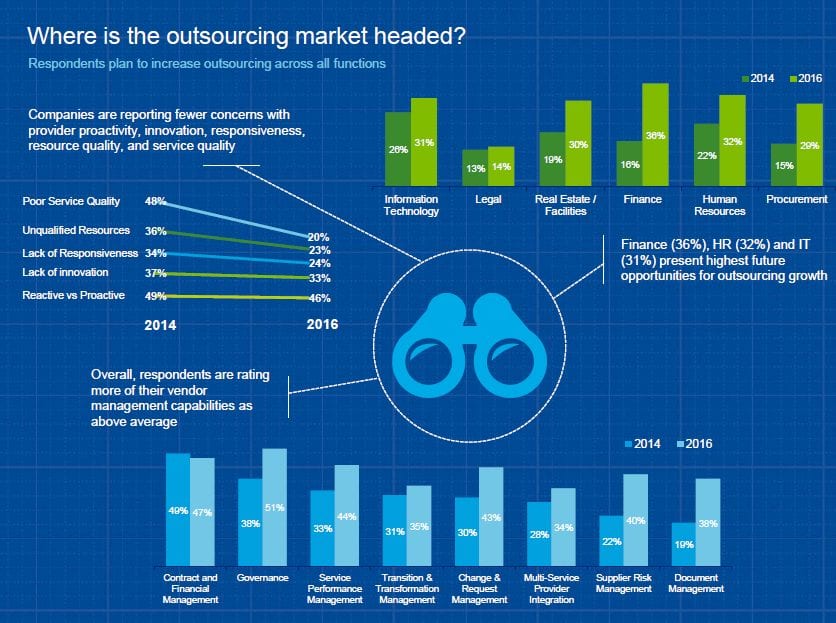 Source: Deloitte
5. Booming Global Cloud Computing Market
Another prediction by many sources, as well as Gartner, reports, says that the demand for cloud computing will only be rising. The forecasts predict global cloud shift spending to be near $1 trillion.
With the increasing number of data that needs to be stored, companies will turn to outsource for effective cloud platforms. The need for cloud outsourcing services will come along with the need for security services. Public cloud platforms for data storage are already increasing in their number.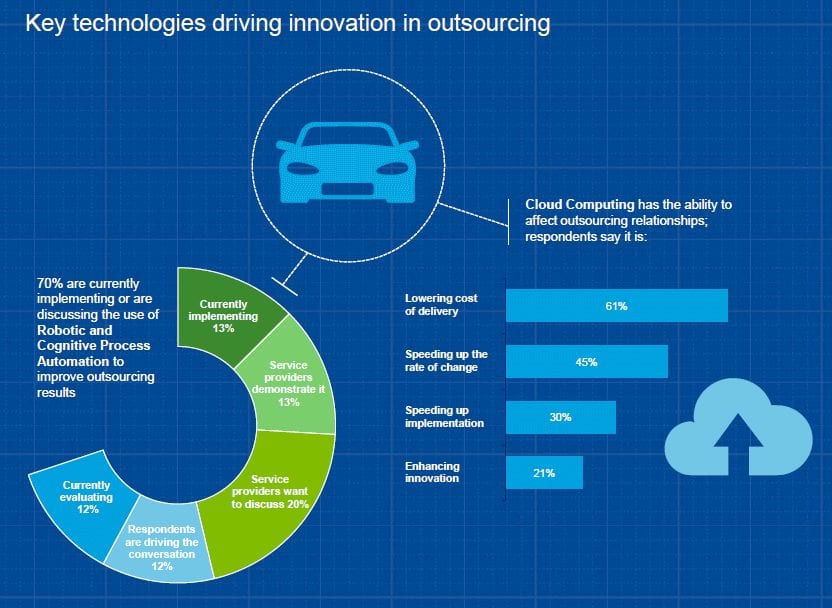 Source: Deloitte
6. Fintech, Healthcare, and Telecom Industries to Be Significantly Digitized
Trends in outsource come along with trending technologies affecting specific industries.
In particular, Fintech, Healthcare, and Telecom will be in high demand for outsourcing services needed for their digital transformation.
AI, Blockchain, and Peer-to-Peer transactions will become the new normal in the Fintech industry. At the same time, Healthcare institutions, both public and private, will be seeking outsourcing services in VR aided by AI to broaden the horizons of diagnostics.
Not to mention, the impact of the 5G network on the Telecom industry opening the doors to unprecedented opportunities for massive connections to IoT networks.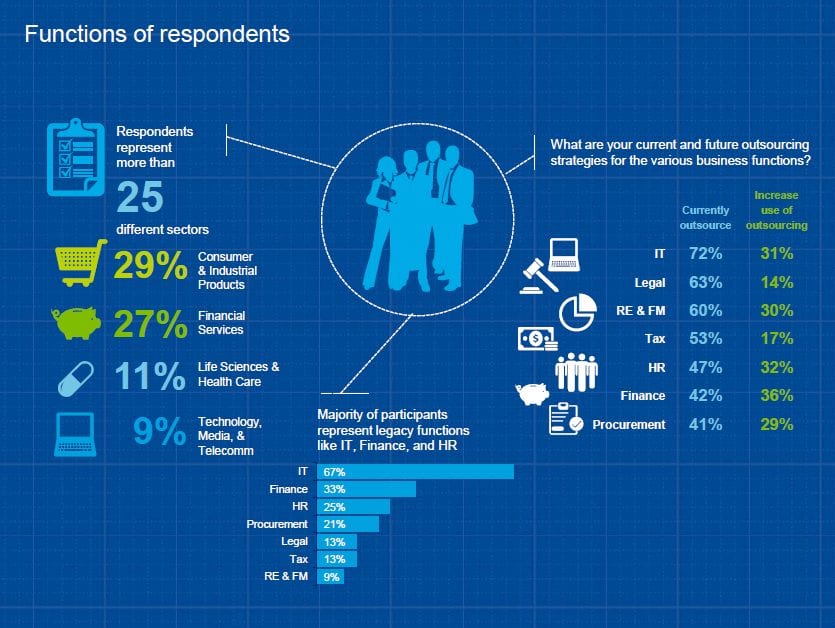 Source: Deloitte
7. Expanding IT Outsourcing Hub in Eastern and Central Europe 
While a few years ago, the demand for outsourcing services was greatly influenced by the need to cut costs, in 2021, companies will keep on focusing on quality rather than lower prices.
This will lead to exploring the favorable environment of outsourcing destinations in Eastern and Central Europe rather than China and India.
Ukraine, Poland, and Belarus are already becoming the appealing hubs of experienced offshore development teams to cooperate with.
The expanding development market in Eastern and Central Europe is caused by high-quality services, well-trained teams, and still moderate prices.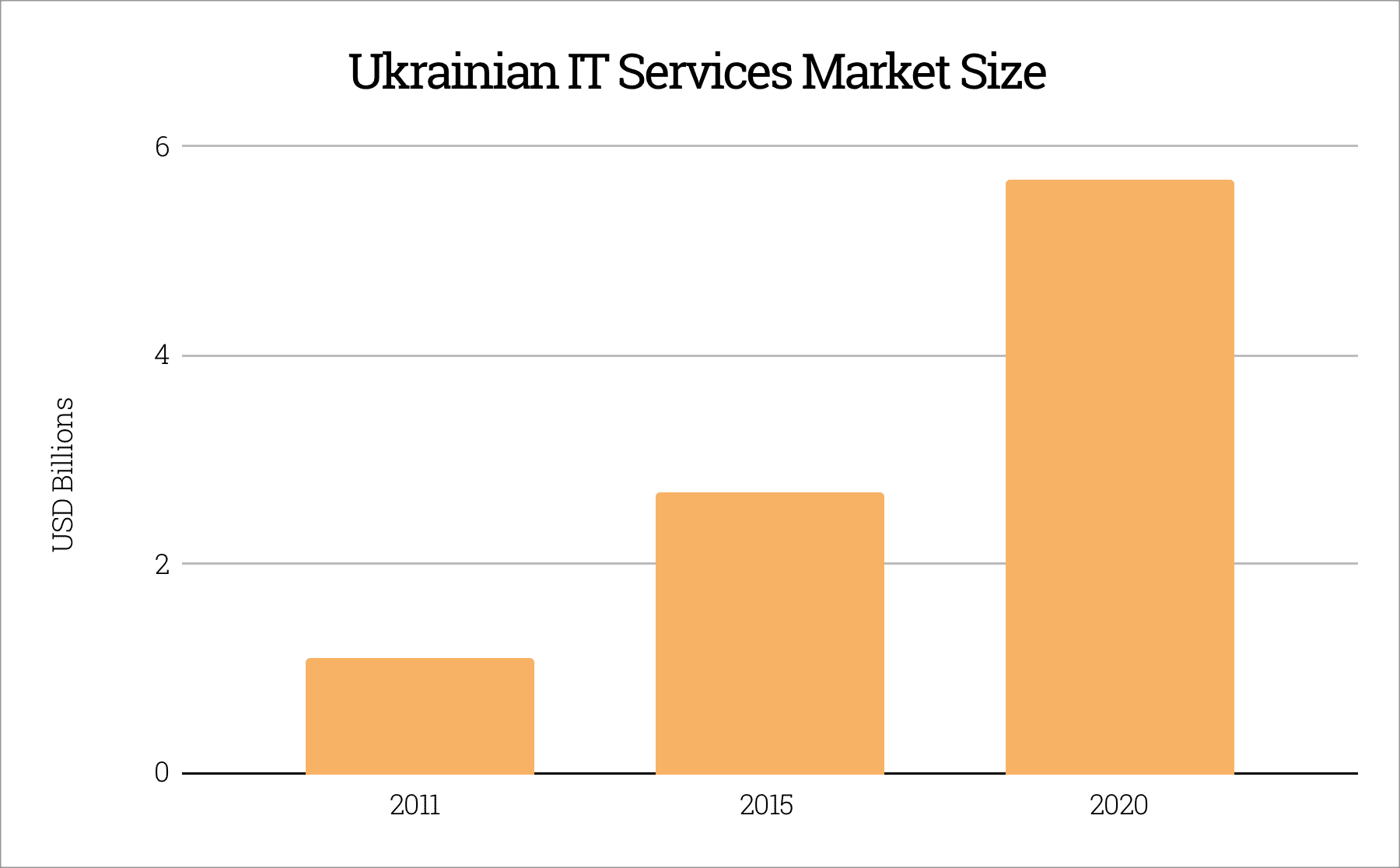 8. Explosive Growth of AR and VR Markets
By 2021, the AR market is believed to increase to $133.78. Smartphones entering the worldwide market, in turn, increase the demand for AR and VR solutions.
Shopping experiences are expected to be boosted with AR techniques. The recent launch of Pokemon Go is a vivid example of the interactive character AR will bring. These technologies will continue entering the markets of tourism, e-learning, manufacturing, etc.
While the market of AR and VR is still a bit uncertain, companies are looking for outsourcing services to implement interactive elements to boost their sales. Large companies like Mercedes or Apple have already been employing these technologies.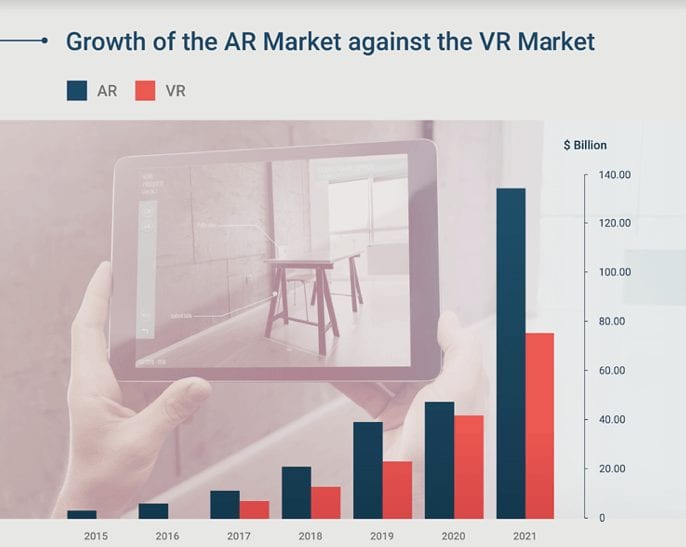 9. The Hype Around Robotic Process Automation
Reducing operation costs, improved work coordination, less manual mistakes — these are just a few advantages of RPA technology that is trending.
Business automation is the #1 priority in the ever-evolving digital environment. Logistics management, payment processing, the better-personalized experience will all benefit from RPA tech.
Virtual assistants and bots are just the tip of the iceberg to share the burden of menial and repetitive actions from humans. That is why IT outsource companies are significantly investing their time in business automation and augmented analytics.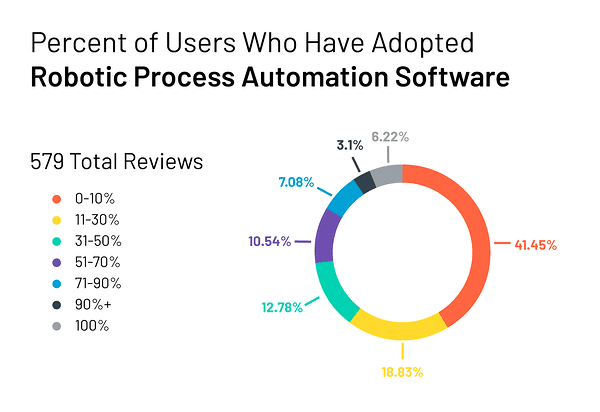 10. An Increasing Interest for Progressive Web Apps
With an increased demand for a better user experience, there's an increasing need for PWA. They are designed to create an application-like experience at websites.
The first wave was the unfriendliness from Google to the website with no mobile version. The second wave is the customers themselves who will not welcome a website with a negative UX. That is why businesses will be seeking outsourcing companies to employ PWA and satisfy the rising demands of their clients.
Summary: Why IT Outsourcing Trends Are Rapidly Growing?
These days we're facing a fast-growing tech environment. Companies that don't want to fall behind are already investing their time and money into digital transformation.
Still, there are several challenges. One of which is the speed of innovation. While even huge companies having well-equipped teams cannot keep up with the pace and are in dire need of outsourcing specialists, companies of smaller size neither can embrace all the digital changes without a supporting outsourcing team.
We didn't use the words 'teams' by mistake. One of the critical software development outsourcing trends is indeed a strategic partnership with more than one vendor. Companies are facing a shortage of talent pool and have to contract out specialists.
However, despite building relationships with more than one outsource company, there is and will be a significant shift like these relationships.
The high demand for outsourcing help will make such collaborations more transparent and interpersonal. Furthermore, companies are focusing on value rather than lower costs.
For this reason, it will be a common practice to collaborate with multiple vendors, each specializing in particular services.
Summing up, to keep up with the times, and to meet quality standards 2020 will dictate, businesses will be looking for outsource partners to share risks and together create better value. We, at Intellectsoft, empower companies and their workforce with cutting-edge transformative solutions and data-driven insights. Are you and your organization ready to shift the mindsets and get the most out of innovations?
Talk to our experts and find out more about the topic and how your business or project can start benefiting from it today!