On December 17, Intellectsoft's fintech experts went live for a 45-minute session to discuss challenges, trends, and in-depth, real-life cases of cutting-edge technologies in the fintech industry and post-digital world.
The presenters discussed how fintech industry executives should act now to grow their businesses using the latest approaches and innovative technologies such as:
Online banking
Mobile wallets
Cryptocurrency and blockchain
Artificial intelligence and machine learning
Trading and securities
The webinar tackled the ways technologies provide the fintech industry to achieve better outcomes, opportunities for lower long-term fintech costs, and a rapidly growing digital finance market.
Watch The Webinar
Five Promising FinTech Trends with Use Cases
The webinar reveals never-before-seen use cases of emerging technologies and innovative solutions for digital finance and generates a common language for accelerated collaboration across the executive's organizations.
Participants explored a strategic overview of real-life solutions application with a strategic roadmap that ensures sustainability across all the stakeholders.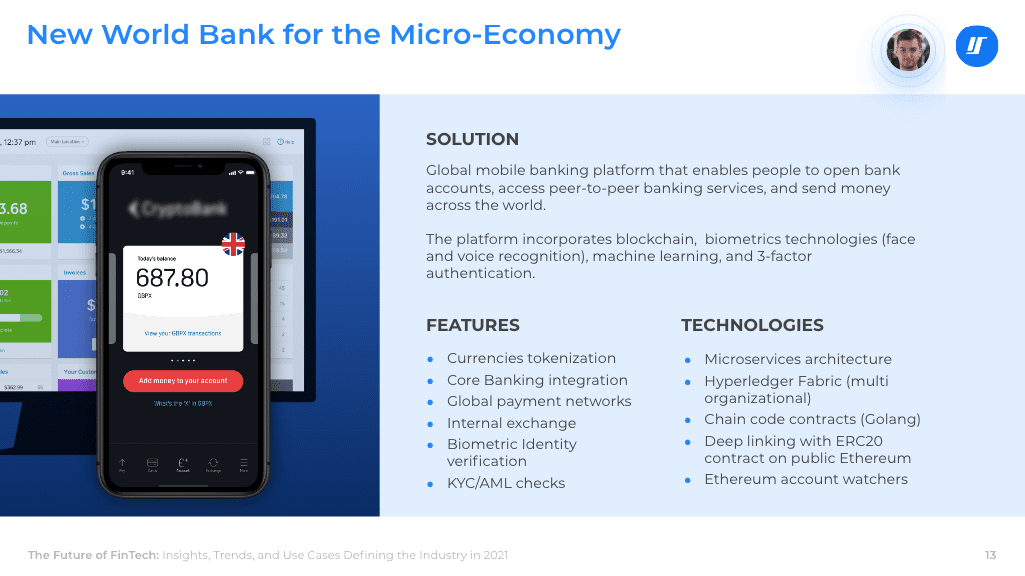 Digital Strategy for Next Your FinTech Solution
Throughout our experience in Intellectsoft, we have faced a bunch of challenges for the fintech domain. We've successfully solved and implemented them as solutions for our clients.
Our experts kindly presented you with the product vision and technical design workshop. Among the essential goals of the workshop are:
Define the existing and desired business processes
Define what stakeholders want and expect from a custom solution
Identify technical and architectural limitations
From steps 2 and 3, develop a "shared understanding of project objectives" for all stakeholders/participants of the workshop team
Transform business requirements to functional requirements
Create the initial vision of the architecture of the project
Create a Project plan/Backlog with a definition of project risks, budgeting, and release strategy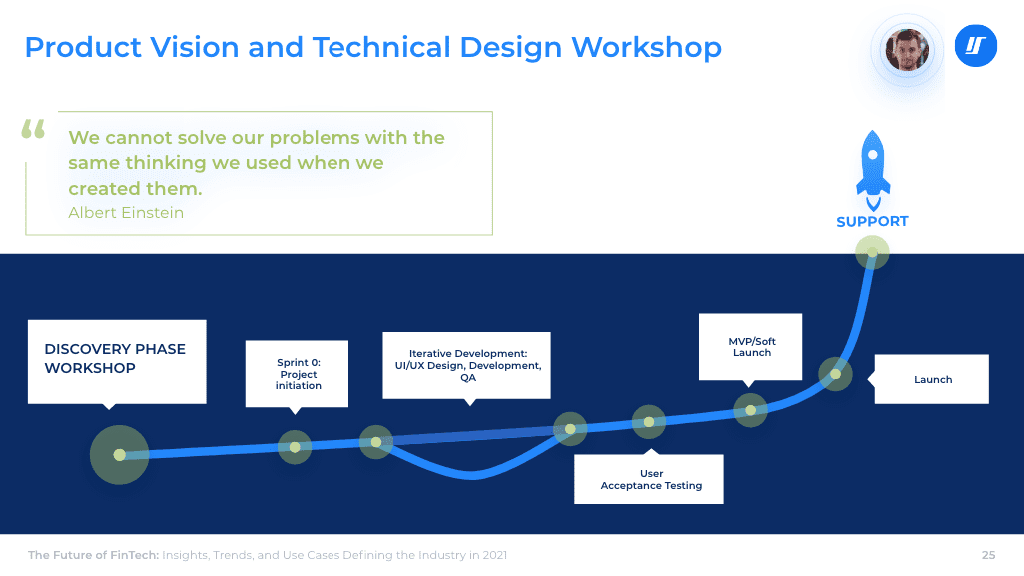 Engineer Your Vision With Intellectsoft
While there is still a lot of uncertainty and challenges around the digital transformation in the FinTech Industry, our expertise allows us to consider a variety of technologies, use cases, and solutions for a software consultancy.
Intellectsoft has strong domain expertise for advising the right solutions to solve particular business challenges and avoid pitfalls while delivering and deploying them.
Find these and other answers to your questions by watching the webinar. If you have any additional questions left or want to discuss your next project with us, get in touch with our experts today!