According to the latest research by the Bureau of Labor Statistics, the projected change in employment for occupations in the software development field shows a 25% increase from 2022 to 2032.
Such tremendous career growth is caused by the impressive development of this industry. According to the Verified Market Research data, the Application Development Software Market will grow at a CAGR of 25.54% from 2023 to 2030 and is projected to reach $1,039.89 billion by 2030.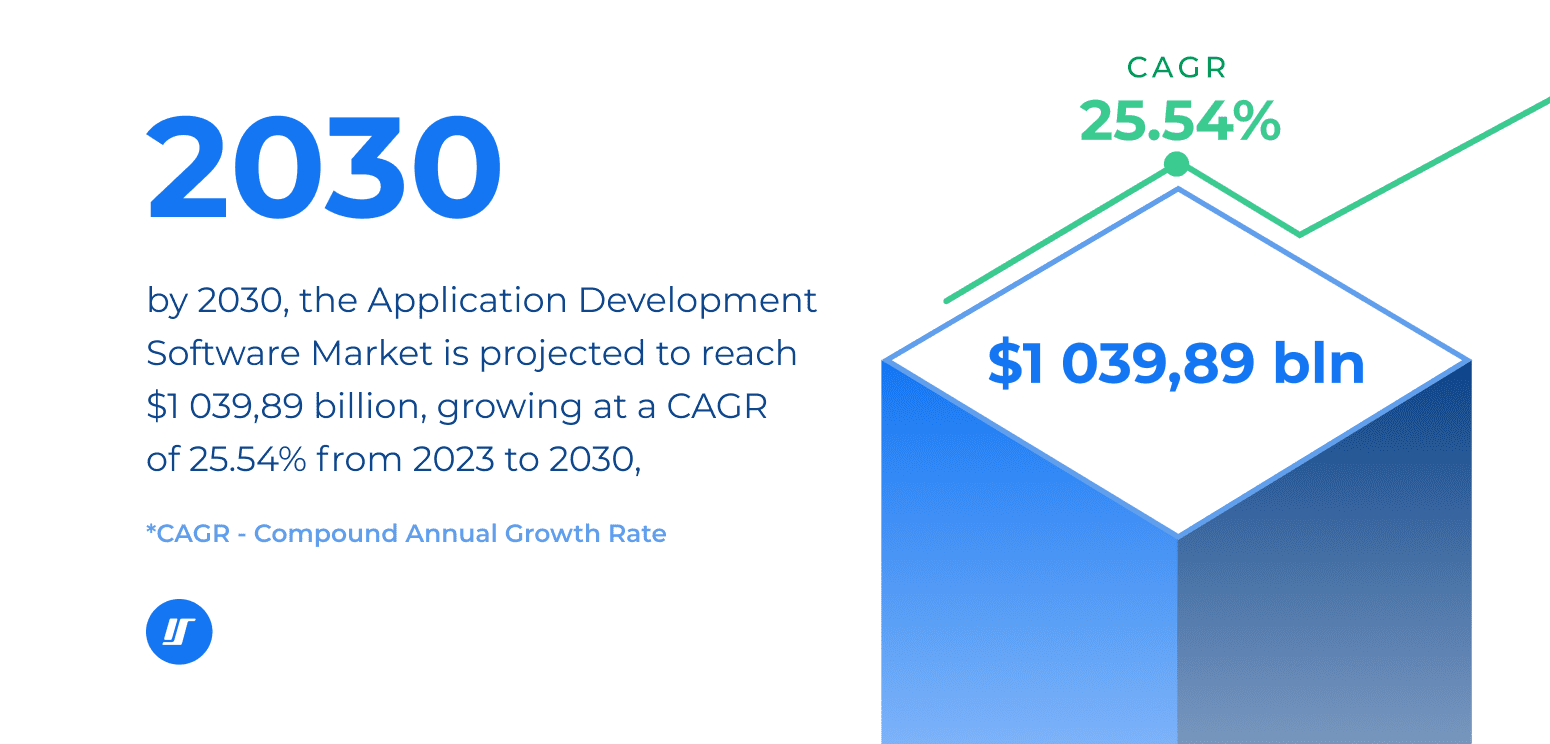 However, when it comes to hiring a professional for your software project, you can find development and engineering experts who can be considered for performing the app development. Are these two roles similar?
To understand the difference between software developers and software engineers yet be able to define which one will surely fit your software development project, it's essential to start with a detailed overview of the main responsibilities and tasks performed within each position.
In this article, we provide a detailed overview of a software developer vs. software engineer in terms of salaries, responsibilities, and requirements. We will also explain how to select the professional who will work best for your business needs and purposes.
Understanding Roles of Software Developer vs. Software Engineer
Simply put, a software engineer is a professional who applies the principles of software engineering to designing, developing, maintaining, testing, and evaluating computer software.
As a rule, this position implies strong teamwork with other project members, as a software engineering expert works with the separate components of the hardware system, works on creating the tools and solutions to develop the specific software, and also searches for potential opportunities to improve the software. Unlike software developers who work on a limited scale, software engineers resolve the issues on a much larger scale.
Having analyzed the global search trends for "software engineer," we can see that the interest in this position among Google's searchers shows 93 out of 100 points, which means this trend is still in the peak period of its popularity as of October 2023.
On the contrary, a software developer is the professional responsible for building software for different types of devices. Developers commonly utilize premade tools and frameworks to build software solutions. However, they have a more limited scale of issue resolution compared to engineers.
Google's search trends for the term "software developer" are relatively low: as of October 2023, it shows only 36 points out of 100. According to Glassdoor, the average base salaries of developers are a bit lower than engineers' salaries: $97,304 vs. $113,002 per year, respectively.
Let's dive deeper into this topic by making a detailed comparison of these two roles!
What is the Difference Between a Software Engineer and a Software Developer?
Though both specializations refer to one scope of software development, software developer and software engineer occupations are not similar. To find out the difference between software developers and software engineers, let's analyze the major aspects of each occupation separately.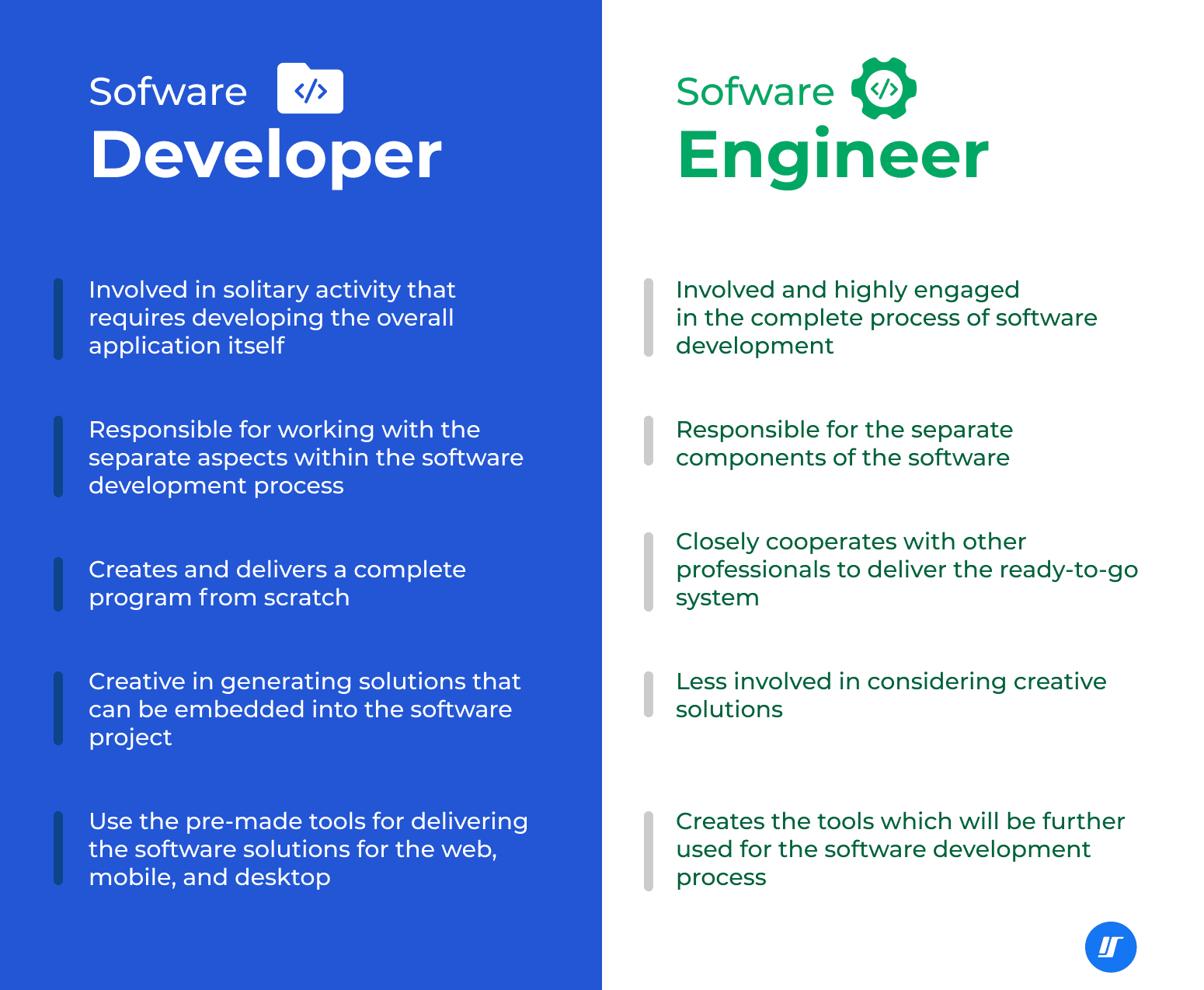 Software Developers
The typical entry-level education for this occupation is a Bachelor's degree in Information Technology or Computer programming, where the Software Development specializations are studied.
Software development is primarily a solitary activity that requires developing the overall application itself. The expert in this area will use premade tools for delivering software solutions for web, mobile, and desktop platforms.
Software developers perform the issue-resolving processes, similar to software engineers, but on a more limited scale. For this reason, they tend to be more creative in generating solutions that can be embedded into a software project.
Software Engineers
The typical entry-level education for this occupation is a Bachelor's degree in Software Development, but the degrees in Software Engineering are rather the add-on benefits than the essential requirements.
Software engineering is primarily a team activity, which implies high engagement in collaboration during the whole process of software development.
The working style of software engineers implies resolving large-scale issues, and they are less involved in considering creative solutions. Instead, they're more systematic and analytical in their work.
With this said, the comparison of software developer vs. software engineer reveals obvious differences. Now, you can clearly understand the major aspects, tasks, and responsibilities of each professional and start considering which one will better fit your business needs.
How to Define What Specialist You Need for Your Project?
Having compared these two jobs, now it's time to find the answer to the main question – software engineer vs. software developer: which is better for your business? Here are some essential aspects you should ask yourself before making the final decision.
1. Will This Professional Join Your Team of Developers or Perform the Project Alone?
If you need a software development expert who will cooperate with other team members, you can hire both a software engineer and a software developer. However, if the project is expected to be delivered by one expert only, it's better to hire a software developer – this professional can perform the design and program implementation processes by adding creativity.
2. Will Your Project Utilize the Existing Tools, or Do You Have to Create the New Ones?
If your project implies creating completely new tech approaches and development tools, then it's more reasonable to hire a software engineer – a person who applies engineering principles to the process of software development. However, in case it's possible to use the premade development tools for your project – a software developer is your best option to choose!
3. Will This Person Be Engaged in the Specific Development Stages or the Entire Process of Software Building?
If you want a professional who will participate in the entire process of the application development, it's also more beneficial to select a developer instead of an engineer, as this expert can effectively participate in each stage of software building yet features better creativity, which is surely great for any project.
Instead, if you want the person to resolve some larger issues and the one who won't be required to contribute in every stage – choose a software engineering specialist!
4. Will This Expert Operate on a Bigger Scale or Perform the Functions on a Small Scale Only?
If the upcoming project requires a person who handles large-scale tasks, it's better to consider hiring a software engineer, and ultimately, when you want the professional to carry out the engineering functions on a smaller scale – it's more reasonable to choose a software developer!
You'll probably want to hire a software engineering expert if your software project requires a person who:
Features the ability to work in teams;

Has the advanced problem-solving skills;

Possesses strong interpersonal and communication skills;

Has expertise in computer programming and coding;

Is focused on object-oriented design.
It's better to consider hiring a software development specialist if you're looking for the person who:
Possesses advanced knowledge in cloud computing, data structure, and data algorithms;

Has the ability to learn and develop his or her skills;

Features Git and GitHub hard skills;

Knows the source code editors, can perform debugging, code refactoring, and syntax highlighting;

Will complete the project alone (no teamwork needed).
As you can see, having compared software developer vs. software engineer, you can now understand which one will be the right option for your software development project.
Wrapping Up
Even though software developer and software engineer are often considered synonyms, these occupations require a diverse set of hard and soft skills. This fact causes a lot of misunderstanding when you want to start a project and dive into this topic. We hope the detailed comparison given above has answered all the questions regarding hiring the right expert for your project.
If you're looking for expert software engineers and/or software developers, we welcome you to consider the ones we have at Intellectsoft. Here are only a few of the many reasons why our specialists are perfect for you and your project:
We have an extensive talent pool that includes dozens of experts with advanced

software engineering skills

and solid

software development skills

;

Expertise in multiple industries – fintech, insurance, healthcare, construction, eCommerce, transportation and logistics, hospitality, and many others;

15+ years of active experience in the market;

600+ successfully finished and delivered projects of different types and complexity;

Engineering workforce in 21 countries on both sides of the Atlantic;

Almost 30 percent of our teammates are females;

We have already delivered hundreds of digital solutions to clients ranging from startups to Fortune 500 enterprises;

Top-grade

dedicated development team

;

We provide both consulting and software development services that fit your budget.
So, if you want to know more about hiring a particular expert or a team from Intellectsoft, don't hesitate to get in touch with us, and our solution advisor will make sure your project will get the specialists with the most relevant technical expertise and skills.
FAQ
Are software developers and software engineers the same thing?
No, these roles are quite different in many aspects, such as the scope and difficulty of work, skill requirements, extent of cooperation with other team members, and much more. Both of them are involved in software development but perform different tasks.
What does a software engineer do?
This specialist analyzes the problem presented by a customer and designs a way to solve it effectively using the available resources of the whole development team. Usually, software engineers operate on a larger scale and see a bigger picture of a work project than developers. As a rule, they have good communication skills to explain to developers what needs to be done.
What does a software developer do?
This specialist writes code to create the components of a software product that must perform intended functions. Software developers often work independently and move from one current task to the next one. Their scope of work is more focused and rarely covers the whole project unless one developer must build a software solution single-handedly.