If you want to build a new product for your business, you are likely trying to choose between these two options – in-house hiring and IT staff augmentation. Both of them have solid advantages and a number of drawbacks.
Building from scratch or upgrading your existing product requires a solid development team, but what should you do when you lack one or several tech experts? You may set a task for your recruitment department to seek and hire them, or you can rely on a software development services vendor and choose a staff augmentation model to collaborate with them. According to Statista, the number of software developers worldwide continues to grow and is projected to reach 28.7 million specialists by 2024. Even though this number is enormous, companies still struggle to find perfect candidates.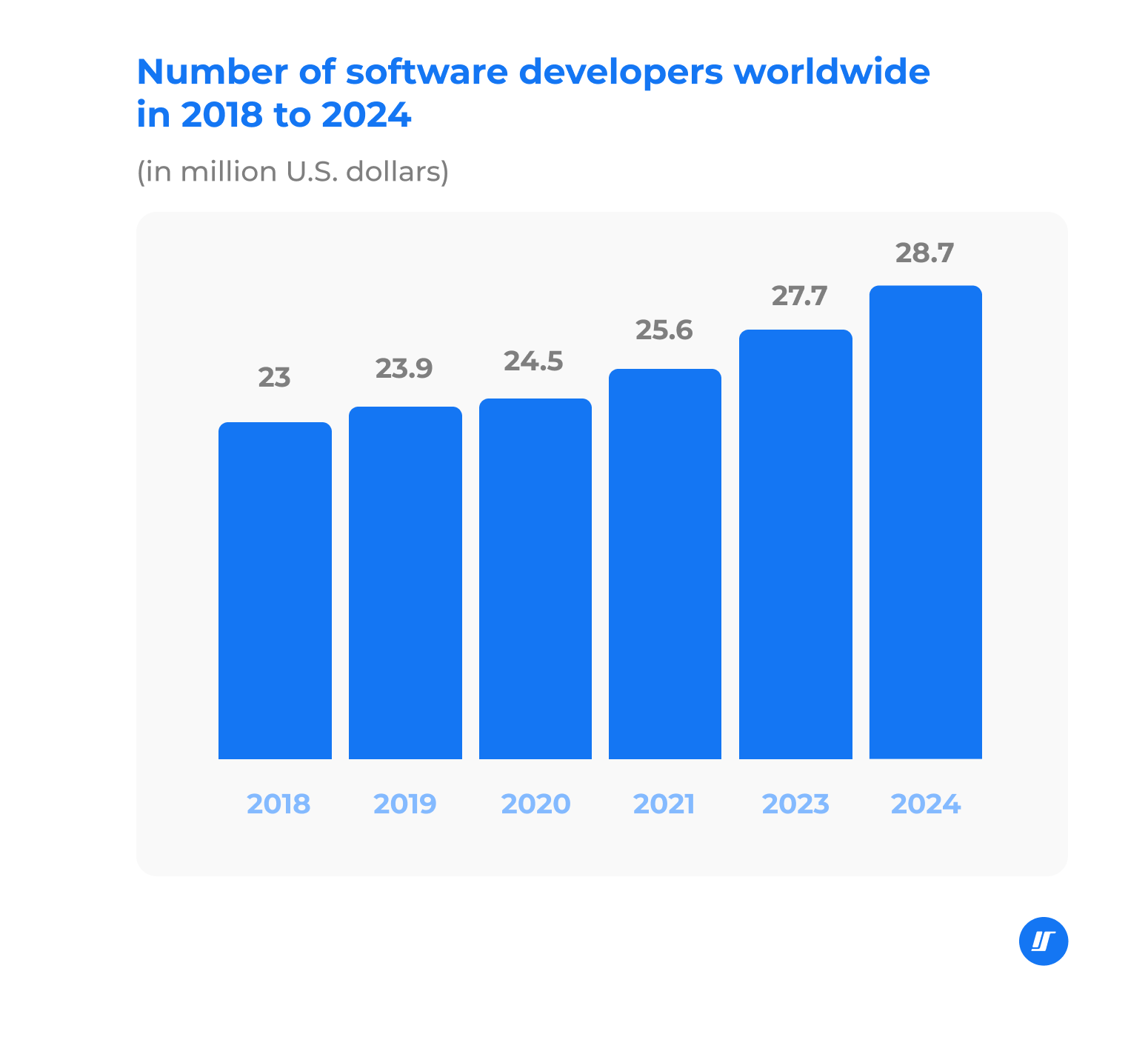 Even though it is tempting for us as a software development company to focus only on the benefits of IT staff augmentation, we want to give you an unbiased full picture of both options so that you can pick the one that suits you best and get the most talented and motivated experts for your project.
Cases When You Need I
n-House Recruitment
Hiring workers for your in-house software development team is a long-term investment to improve your company's skillset and mastery. Because you want a worker to be a valuable asset, selecting the right candidate is usually meticulous. Therefore, recruiters need weeks or months to find, interview, and choose a suitable specialist to fill a vacant position. 
Moreover, the lack of particular specialists weakens a company, so it takes longer to complete tasks and projects. Staff shortage also limits the scope of projects a company can take and the goals it can achieve.
So, recruiting specialists to an in-house department usually takes place when a company:
needs to improve its skillset on a long-term basis;

has a staff of recruiters;

can afford to spend time on search;

can interest candidates in employment by offering competitive salaries and corporate benefits.
Let's have a look at the potential benefits and drawbacks of in-house hiring. 
Pros of In-House Recruitment
Excellent communication

. Since employees traditionally work from the office, internal and external communication is straightforward. Office environment also enables live communication, which is usually more productive than via software messengers.

Benefits of team building and corporate spirit

. Companies invest in promoting corporate values to bring workers closer together. The company's managers and HR department take many measures to boost team morale and increase workers' loyalty and productivity. 

Easier management

. Team management becomes significantly easier since in-team employees are usually available at the office. As an additional benefit, in most cases, all workers share the same timezone and speak the same language, which further benefits management. 

Higher security

. Usually, the hiring process involves additional security measures, such as checking candidates' backgrounds. This way, your company can ensure that candidates have the required skills and they won't disrupt the work process or cause other problems. 

Skill improvement

. Often companies implement various training programs or encouragement means to enhance the skills of their employees.
Cons of In-House Recruitment
Search and hiring takes time

. There is a

skill shortage of IT specialists

in various areas of software development. That's why finding a suitable candidate that matches the company's requirements and expectations may take significant time.

An employee may suddenly leave

. Your employees may get "hunted" and recruited by your competitor. This is especially devastating if a worker has rare or unique skills and expertise. Such experts are very hard to replace, and their sudden absence may impact the flow of processes in your company.

Increased needs

. An employee requires a productive working environment: a spacious office, sturdy equipment, and recreation facilities. Your company should provide all of that to maximize the productivity of employees. Good working conditions are also an important factor that may prevent workers from leaving even if they are unsatisfied with other factors, such as salaries or appreciation.

Fixed fee. In most cases, in-house employees have set salaries that are not influenced by the amount of work done during the payment period. This means if, for whatever reason, there is no work currently for a particular employee, they must be paid at the end of the month even though they have been "benched" the whole time.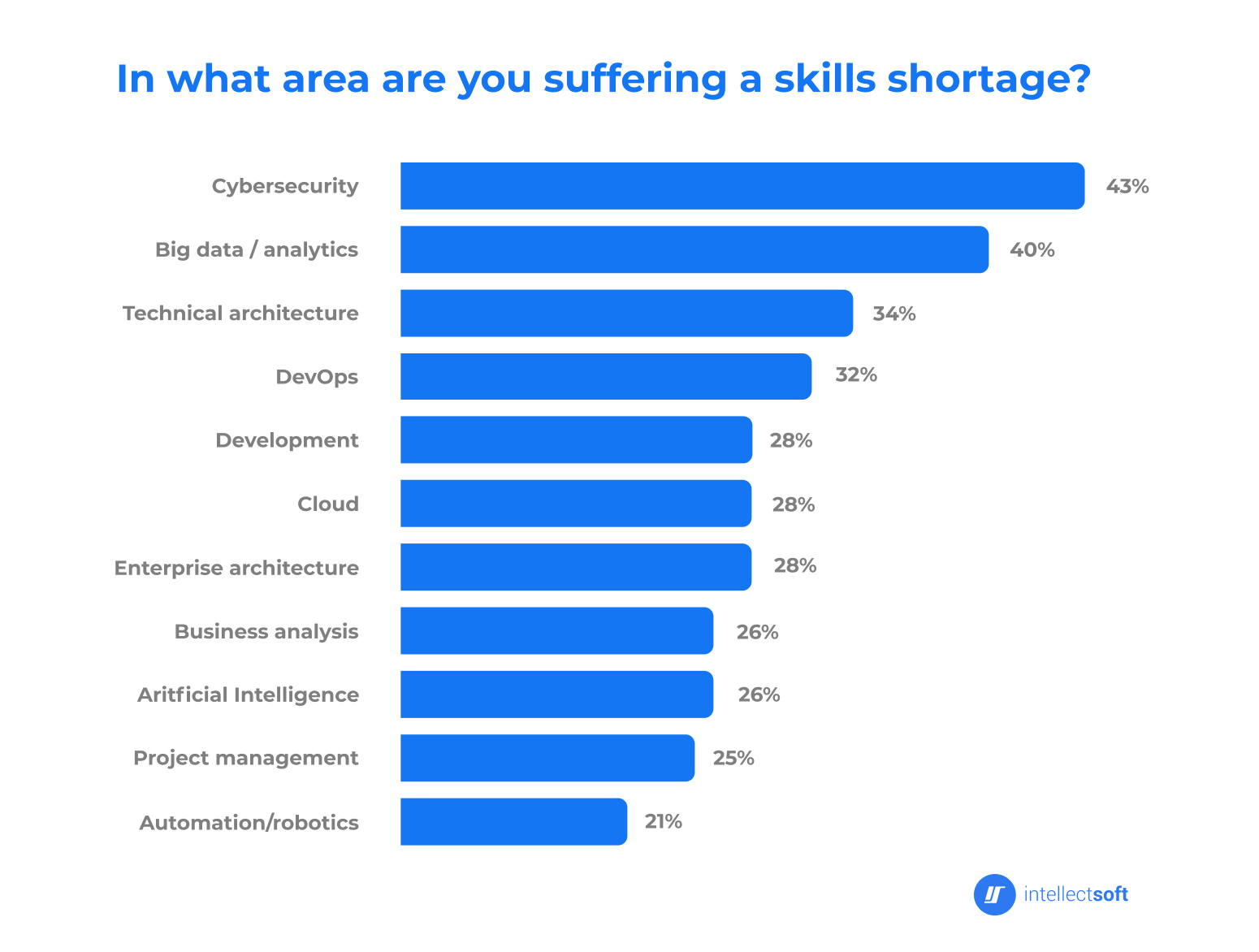 In Which Case Should You Choose a S
taff Augmentation Model
? 
Staff augmentation is a much quicker but temporary solution if you need a worker with particular skills and expertise. Usually, staff augmentation involves reaching the providers of tech skills instead of using recruiters to find workers. That means you simply contact a company with a pool of specialists as its employees and negotiate "renting" one or several of them under a contract. The process is fast and straightforward, so it will be perfect in cases when your company:
is a startup with a limited budget looking forward to its breakthrough;

needs to find a specialist quickly;

cannot provide an adequate working environment for a large team at your office;

does not have the resources to handle mandatory payments, benefits, taxes, and other perks for a lot of workers.
Here are the advantages and disadvantages of a staff augmentation model:
Pros of Staff Augmentation Model
Lower cost compared to in-house workers

. The amount of payment depends on the amount of work. You pay only for productive activities.

Easier hiring process

. You contact a company, tell them what kind of specialist you need, specify the requirements, and get the result. It requires minimum effort from your HR and recruiting specialists. 

Shorter search

. Companies that provide

staff augmentation services

keep track of their pool of specialists, so they can instantly tell you if they have a suitable candidate that meets your requirements. Instead of contacting each candidate individually, you reach a manager who represents a group of workers available for hire.

Excellent flexibility and scalability

. If your project unexpectedly grows to the point when you need to add more specialists, staff augmentation can quickly fix this. 

Workers take care of their working environment

. Since hired staff works remotely, your company does not need to provide them with office space, equipment, and facilities. This fact means significant savings, which are especially beneficial for small businesses and startups.
Cons of Staff Augmentation Model
More challenging management

. Remote workers may be difficult to manage, especially when time zones are different. Though there are many software solutions to promote team coordination and communication, team managers need to make extra efforts to ensure a smooth workflow.

Potential communication issues

. Sometimes insufficient language skills and cultural differences may present additional problems for team coordination. 

Hired workers lack team spirit and corporate values

. Temporary hired employees do not care about the future of your company. They are paid to get the job done, and that's the only thing they are interested in.
Main Differences Between I
n-House Recruiting
and S
taff Augmentation Services
For the sake of brevity, the main differences between the two employment models are given in the comparison table below.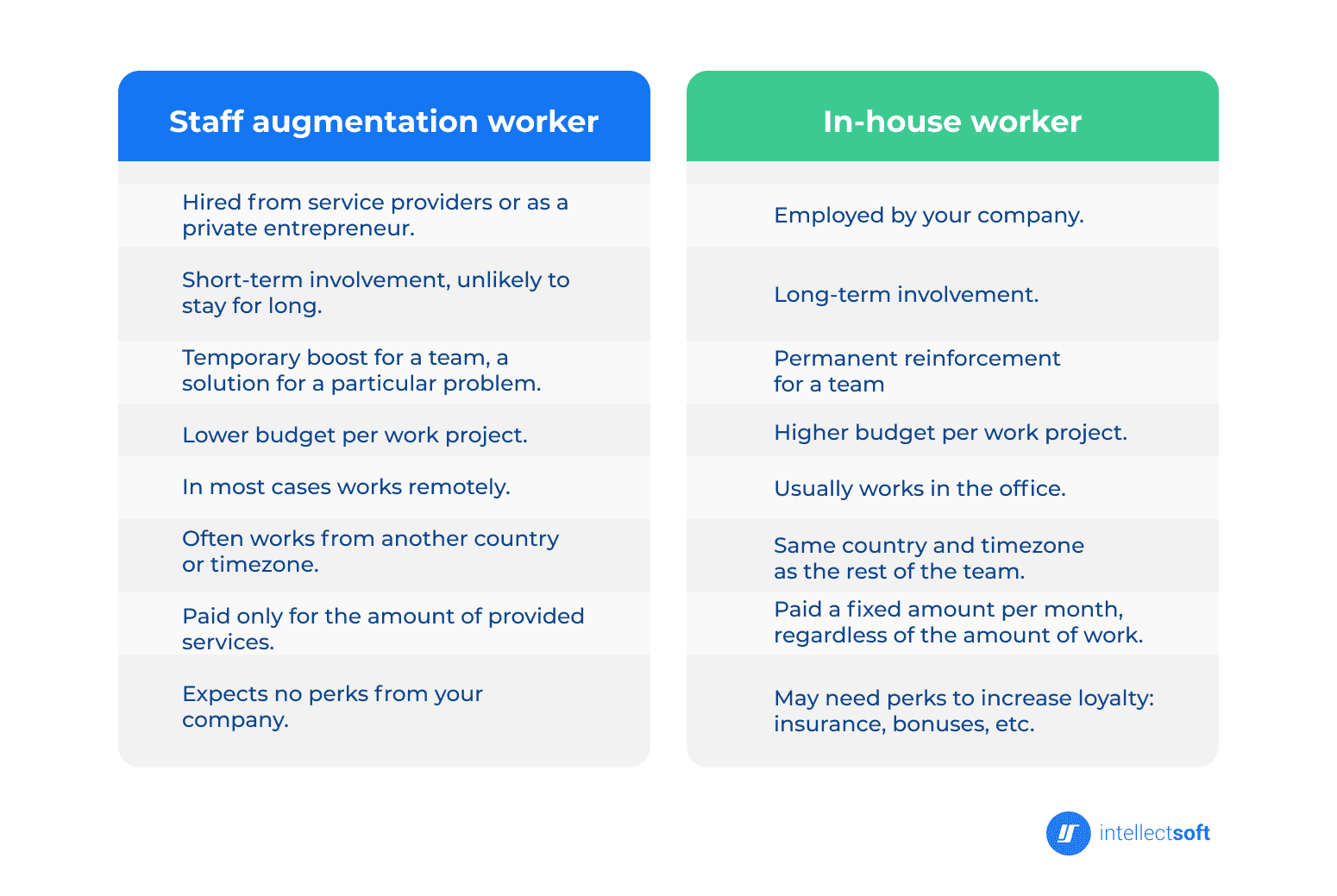 Common Features in I
n-House Recruitment
and S
taff Augmentation Model
s
Both hiring models offer a range of shared features that benefit your company:
you can add the necessary amount of specialists with the required skills to your team;

your team can complete projects

In both models, hired workers are responsible for the quality of their work;

newly obtained specialists cooperate effectively with the rest of the team and other departments;

hired staff log their activities and prepare documentation for the projects they work on.
Keep in mind that despite both models having these common characteristics, the choice of a particular model depends on their differences.
In-House Developers
: Where to Look?
There are several methods and places to find a good software developer for your in-house team.
Specialized online platforms for posting tasks and hiring workers. (Upwork, Freelancer)

Job vacancies websites. (Indeed, Glassdoor)

Online catalogs of service providers. (Clutch, GoodFirms)

Referrals from your current employees, colleagues, etc.
Regardless of the method, take a responsible approach and spend enough time researching and separating real specialists from frauds.
Why Intellectsoft is the Right S
taff Augmentation Company
for You?
So, you're looking for an outsource software development company that offers staff augmentation, among other collaboration models. Since Intellectsoft happens to be one, let us tell you the benefits of choosing our staffing services and specialists for your project.
Multi-Industry Expertise
Intellectsoft was founded back in 2007, which means we have 15+ years of active experience. Over the years, we have worked on and delivered over 600 projects for our clients engaged in Fintech, Healthcare, construction, transportation and logistics, eCommerce and retail, insurance, and many other industries.
Trusted by Several Fortune 500 Companies
We are proud to say that we have provided software development and consulting services for globally renowned brands such as Harley Davidson, Audi, Guinness, Nestle, Eurostar, Cirrus Insight, Melco, and many others. These companies would have never chosen us if we weren't among the best in custom software development.
Reliable Technologies
We use a set of technologies that are advanced, prove their use and efficiency, and help us create solid, cutting-edge web and mobile solutions for our clients.
Tech Specialists with Excellent Knowledge of English
We know that companies that want to hire a remote specialist often face a language barrier when it comes to communicating with technical experts like developers, quality assurance specialists, UI/UX designers, and others. Intellectsoft has specialists from different countries in Europe and North America, so communication is never a problem for our clients.
Extensive Talent Pool
We have many specialists on our team who cover the following:
– iOS and Android app development (native and hybrid);
– Custom web solutions;
– Cloud solutions,
– Software architecture;
– Quality assurance and testing,
– DevOps services;
– UI/UX design;
– Blockchain;
– Product engineering, etc.
Top-Quality Result
When it comes to the quality of our services and solutions, we let our clients speak. You may find feedback from our clients on Clutch,Business of Apps, and Goodfirms. The number of awards we have received over the years also can tell a lot about the quality we provide.
Fast Time-to-Market
If you need to build and launch your product fast, we are experts in building minimum viable products (MVP) and creating proof of concept (PoC) for reaching the market and collecting early feedback from first users or getting required investments for your business project.
To Sum Up
As you see, hiring an in-house employee and collaborating with a software development company using the staff augmentation model are great options to consider when your project needs a new professional.
If you have a long-term, complex, and highly confidential project and need to have the development team gathered in one office so that you can reach them any time you need within working hours – hiring in-house specialists may be your perfect choice. However, if you need a reliable professional immediately and your project cannot wait for weeks or even months – IT staff augmentation from an outsourcing vendor is a perfect choice. Even if your remote staff augmentation specialist lives across the globe in a different timezone, you can specify their working hours in the contract. Depending on the duration of your project, you can discuss how long a remote specialist may be available for your company.
The best part of working with outsourcing providers is that if a specialist decides to leave that company and your project, they will find a replacement with an equal set of knowledge and skills faster than your recruitment department.
Being a company with an extensive talent pool and expertise, Intellectsoft can empower your in-house or distributed project team with front-end, back-end, mobile, QA, DevOps, and many other professional and trustworthy specialists. Just reach out to us, describe your problem and requirements, and we'll solve your lack of software development specialists right away.