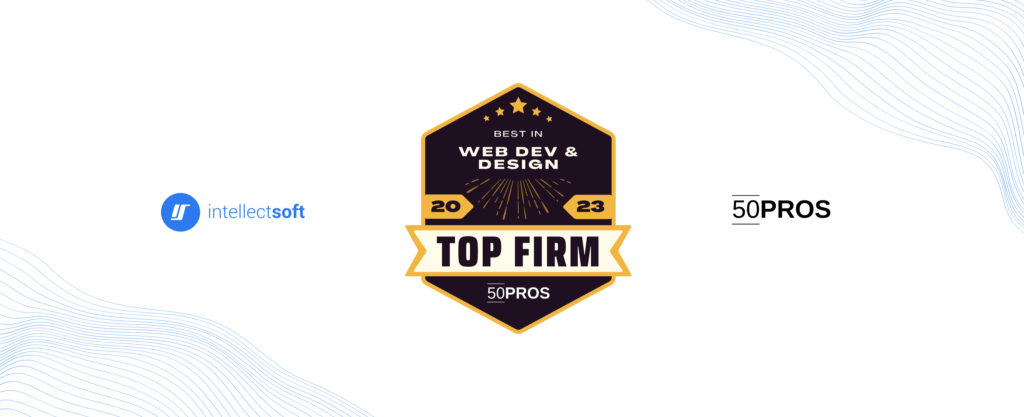 Intellectsoft team is proud to announce our recent recognition by the exclusive and prestigious community at 50Pros.
50Pros is known for acknowledging and celebrating organizations that have exhibited outstanding performance, innovation, and dedication to their craft. In an era defined by innovation and cutting-edge technology, this recognition clearly demonstrates Intellectsoft's unwavering commitment to excellence in the industry. 
Intellectsoft, with a history of delivering world-class solutions to clients across various industries, has long been at the forefront of technology-driven transformations. This recognition from 50Pros reaffirms the company's position as a leader in the ever-evolving landscape of digital solutions.
"This recognition from 50Pros is a tremendous honor and a reflection of the hard work and dedication of our team," said Oleksandr Radchenko, CEO at Intellectsoft. "We are proud to be associated with such an esteemed community that recognizes excellence and innovation in the industry."
Our commitment to innovation, client satisfaction, and technical expertise has consistently set us apart in a highly competitive market. The multidisciplinary team of experts, combined with a client-centric approach, has enabled us to successfully drive digital transformation for businesses around the world, from Fortune 500 companies to aspiring startups.
As the digital landscape continues to evolve, Intellectsoft remains dedicated to pushing the boundaries of technology and delivering tailored solutions that meet the unique needs of each client. This recognition by 50Pros reinforces our position as a trusted partner for businesses seeking to thrive in the digital age.