As a businessperson, you probably think that ownership is the best way to control something. While it may be a valid point in certain cases, the IT industry, in particular, has some other forms of non-ownership control over workers. One such form is contracting a dedicated development team to create a software product or perform other tasks. Let us take a close look at such teams and find why they are worth hiring.
What Is a Dedicated Development Team?
When a business needs to build and maintain a software application, it generally chooses one of two ways. The first one is creating and running a specialized software development department. The second way is hiring a dedicated development team. Both choices are viable under certain circumstances, which will be described in detail a little later in this article. But first, let's define what a dedicated development team is.
The term "dedicated development team" is rather self-explanatory. It means a group of software engineers, including developers, testers, designers, and other types of specialists. This team works under a contract and dedicates its resources to perform the specified tasks within the set time period. However, the team does not become a part of your company's staff, which offers several potential benefits that will be discussed below.
Technical specialists that make up the team are employed by a software development company. This company temporarily "leases" them to your business but remains in control of all administrative affairs. The number and types of developers in a team are chosen according to the complexity of your task, deadline, and other factors. Usually, they are set strictly, but sometimes the contract may permit their change over time. This way, the team ensures that your software meets the quality and security criteria and is delivered on time.
Why Do You Need a Dedicated Development Team?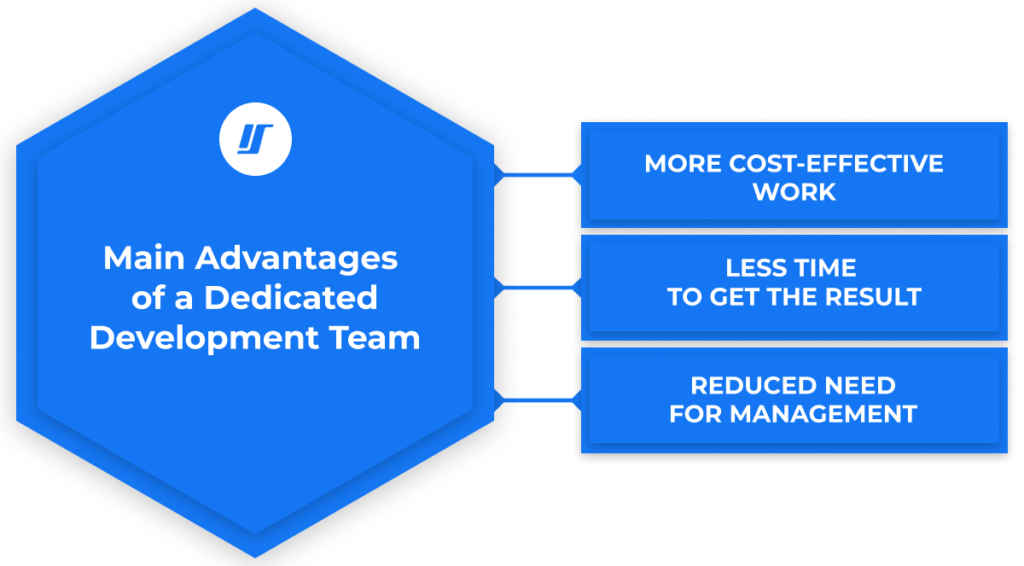 If you want to get a high-quality software product within a reasonable time and budget, consider hiring a dedicated development team. It is a more rational and efficient alternative to managing your software development department. Here are some of the most important advantages of a dedicated development team in terms of business values.
More cost-effective work;
Less time to get the result;
Reduced need for management.
More Cost-effective Work
Hiring a dedicated team saves you money for several reasons. First of all, you get the exact number of specialists needed to complete the job within the deadline. If you had your own department of programmers, you would have to pay all of them, whether they currently have a task or not. You also do not have to deal with paid vacations, bonuses, and other incentives for the team members.
Additionally, you do not have to buy expensive equipment for software development if you hire a team. A dedicated team has the required set of devices for building and testing software. Moreover, this equipment has been properly set up and combined together into a working infrastructure. Its operability and performance are controlled by system administrators from the contracted company. This way, you do not have to hire additional staff to check and maintain the work computers.
Note that a dedicated development team cost can be high, but you get much more in return for your initial investments.
Less Time to Get the Result
As a rule, the dedicated team is highly skilled and has experience of working as a single unit. This means that the internal processes and communication within the team are well-established and tuned to maximize efficiency. Moreover, because of the contract, the team itself is interested in delivering the product as fast as it could without compromising the quality.
Additionally, you save time by getting a premade team of specialists ready to work whenever you sign the deal. You personally or your recruiters do not have to assemble the team by contacting each developer separately and holding interviews.
As an extra benefit, your contract may allow you to alter the time needed to complete your project. If you want to get your software product sooner and you are willing to spend extra money, you may ask to allocate additional specialists to the team. Then the managers will look into the possibility of fulfilling your request if it is physically possible to speed up the working process. And vice versa, if your budget is limited, but you have some extra time to spare, you may negotiate to reduce the number of developers to a minimum. This way, you can ensure that your software product is released at the most favorable time for business.
Reduced Need for Management
The dedicated team comes with their management, who oversees the work progress and reports to you. It is up to you how closely you want to monitor the teamwork. Usually, the optimal variant is letting the professionals work without your interference.
A good team understands that you, as a customer, want results, not excuses. So, when they know what you want, they will deliver the result as set in the contract.
An experienced team is self-governed, meaning it has the means and people to handle the working process. Its supervisors prevent any unexpected situations or deal with them, should they occur. Usually, the team manager provides you with regular updates on the progress and shows preliminary results after each stage of the development process. This way, you still remain in control and check that your requirements are fulfilled.
To sum up, the main benefits of contracting a dedicated team come down to three points: less money, less time, and less fuss. You describe to managers precisely what you want, and they make sure the team delivers it on time.
Advice on Hiring a Dedicated Development Team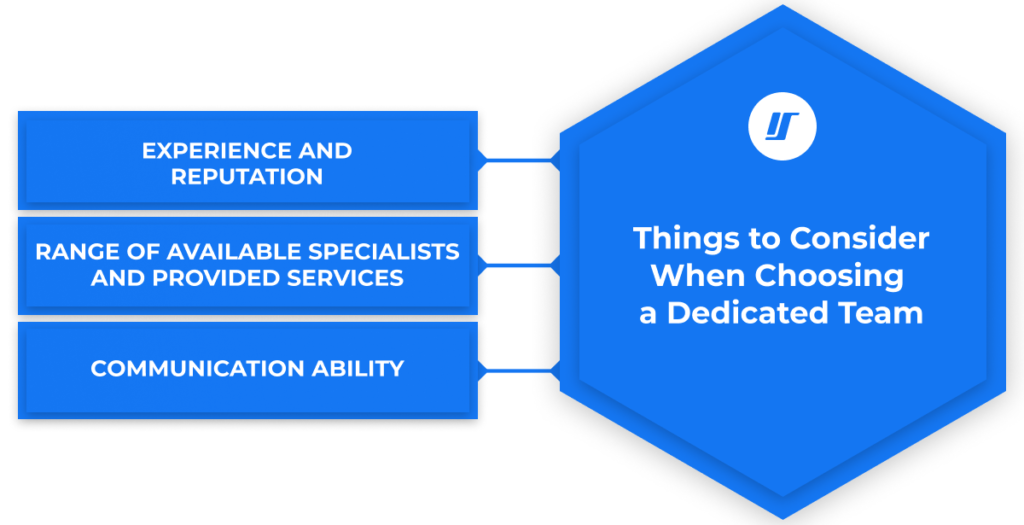 A dedicated development team is responsible for delivering you the product built according to your demands. However, it is your responsibility to carefully choose a capable and trustworthy team. Here are a few factors that will help you to decide whether you should hire a dedicated team from a particular software development company.
Experience and reputation
Range of available specialists and provided services
Communication ability
First and foremost, check how long the development company has been around. Do some research, visit its website, and read about its previous cases. Check the mentions, comments, and other references about your potential contractors. Become acquainted with the company even before you contact it.
A good company maintains a bustling online activity. It adds new cases to show on its website, makes posts on its social network accounts, and publishes articles in its blog. You should get the feeling that the company is a live community with real people working in it. Generally, it is a positive sign that the development company can offer a dedicated team of motivated specialists who love their work and are worth your money.
Last but not least, contact the representatives of a development company. Ask all the questions you have regarding the available specialists, their experience, the task you are offering, etc. Note if it is easy for you to communicate with them because it would have a major impact in the future.
Though there are many nuances in hiring a dedicated development team, using a thoughtful approach and common sense will help you immensely. The three factors described above are merely the essentials, and it's up to you whether to add other choice criteria.
Overall, choosing an active company that has been around for several years and has a good portfolio is a good start. Contact the managers to ensure they have an available dedicated team with the necessary specialists and skills. Then, make sure that you have no misunderstandings by making a detailed list of requirements for your desired software.
Reasons to Choose Intellectsoft
As you can see, selecting a dedicated development team is vital for your business. The future of your software product depends on the team skills and, incidentally, on your careful choice. Keeping that in mind, consider Intellectsoft when you decide to hire a dedicated development team. Here are some reasons in our favor:
We have been constantly proving our skills in the IT field for over 16 years.
World-leading brands from various industries trust our expertise and are satisfied with the results.
We assemble scalable dedicated teams to fit the scope of your task.
Our specialists are highly skilled and motivated to deliver the best performance.
You will always keep in touch with the dedicated team thanks to daily, weekly, and monthly reports.
Our company offers teams for a wide range of projects, from startup software development to a full-scale digital transformation of an enterprise.
We have experts in most of the modern technologies for software development: languages, frameworks, etc.
Both our dedication to digital technologies and our passion for software development help us to deliver amazing products to our customers. We continue working hard even after we have built our reputation and expertise in the market of software development services. Our dedicated teams fully understand their responsibility to deliver top-quality solutions and maintain the company's good name. Contact us and see for yourself.