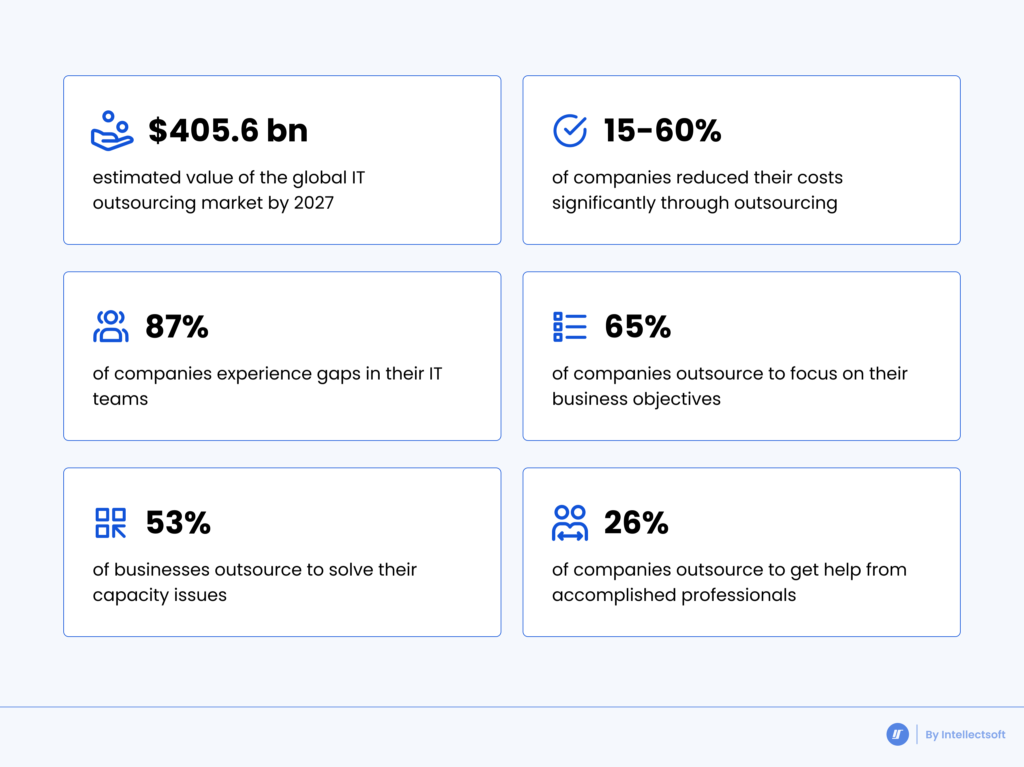 Digitalization is now the main focus of most businesses across industries. However, due to the worldwide talent shortage of qualified IT specialists, it's not very easy to hire developers fast and easily. Therefore, outsourcing is becoming the mainstream among companies as it's a proven way to receive top-notch software development services from a trusted vendor and avoid fierce competition for local software engineers.
When it comes to outsourcing software development, the possibilities are endless. You can collaborate with companies all over the world. It goes without saying that the terms of such collaboration vary drastically from one country to another. Eastern European destinations are the top choice due to multiple reasons. If you are also considering hiring a dedicated software development team Eastern Europe can offer then this blog boat is definitely for you.
In this article, you are going to explore valuable information that will help you hire software developers in Eastern Europe and fully benefit from your collaboration. Explore the core benefits, models of collaboration, and overview of top outsourcing destinations to make the right decision.
Why to Hire a Development Team from Eastern Europe
In case you consider hiring developers from Eastern Europe but are not sure if it's worth it — here are the core benefits that will convince you it's an amazing option for your business.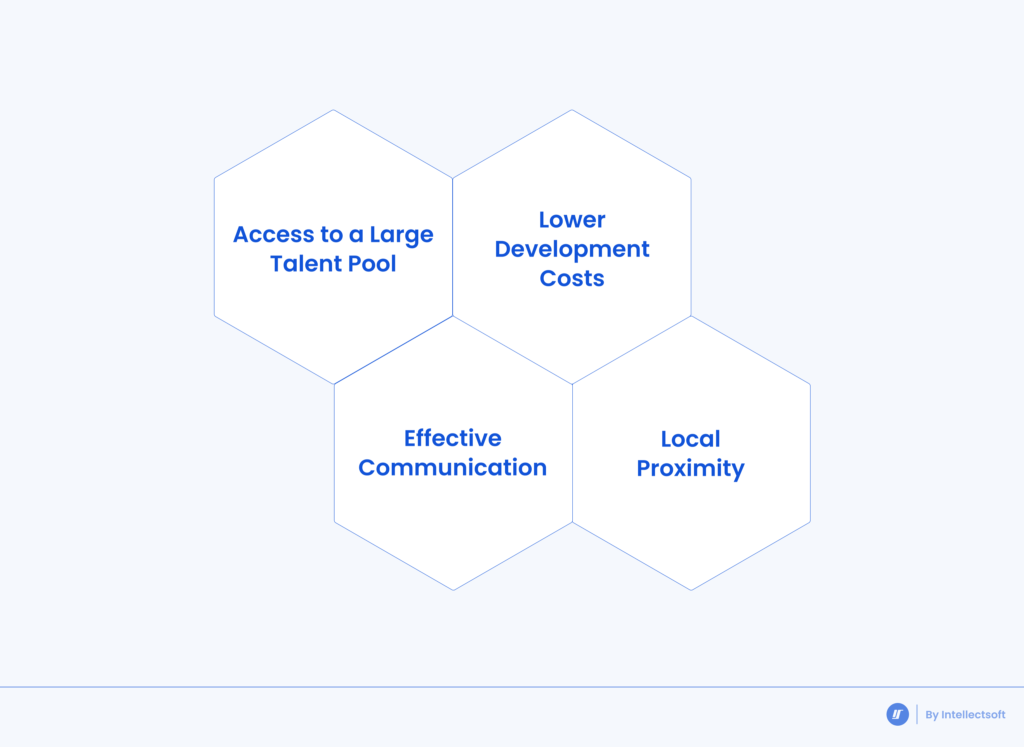 Access to a Large Talent Pool 
Hiring local developers is very challenging due to the limited number of specialists and the high competition between companies that want to hire them. Therefore, outsourcing gives you unique access to a wide talent pool of software developers from various countries that possess good education, diverse skills, knowledge, and tech expertise. It means you can hire the best-matching dedicated software developers in Eastern Europe that fit all your needs and can bring their competencies to the table.
Lower Development Costs
As you can see from the statistics at the beginning of this article, outsourcing software development reduces up to 60% of expenses and it's one of the main reasons why businesses outsource their software development projects. Therefore, by opting for this option you will be able to significantly save your financial resources and allocate your budget for more important business goals.
Effective Communication
It's worth noting that dedicated specialists possess exceptional English proficiency which means you won't have to face the language barrier. You will be able to communicate effectively with your team and make sure that all the processes are running as planned and clearly transfer your project vision to developers.
Local Proximity
Another pretty significant advantage of Eastern European companies is a perfect geographical location. Time zone differences are either minimal or absolutely acceptable to ensure timely communication between a dedicated team and your company. In addition, you can arrange visits more easily to meet your remote teammates in person.
As you can see, the advantages of Eastern European software developers are immense. The countries to which it's possible to outsource your software development needs are Ukraine, Poland, Estonia, Latvia, Lithuania, Romania, The Czech Republic, Croatia, and Bulgaria.
Down below, we are going to give you a more detailed overview of the top three destinations that you need to consider if you want to work with a dedicated development team from Eastern Europe.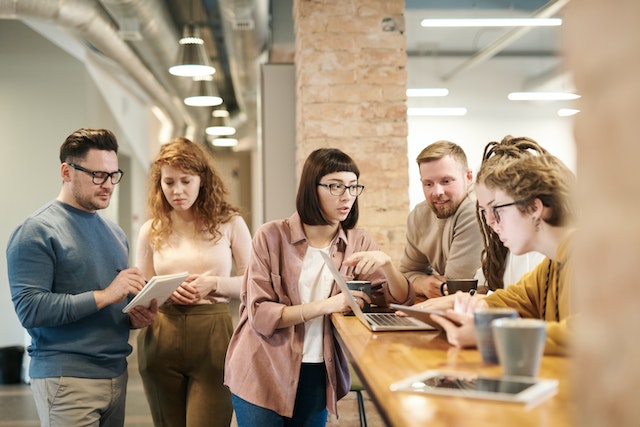 Hire Dedicated Development Team in Ukraine
If you made a decision to hire dedicated development team in Eastern Europe, the core destination you should pay extra attention to is Ukraine. The popularity of this country keeps increasing not by accident. It's worth mentioning that 240K accomplished IT specialists are located in Ukraine. If you want to hire developers in Ukraine, you should know that half of the specialists are fluent in English and the other half have a good command of verbal and written English sufficient to ensure smooth communication with the client.
Even though the war has affected the country a lot, 73% of developers keep working as effectively as before while asking for minor deadline extensions. It goes without saying that Ukrainian IT companies care about the safety and productivity of their employees and have relocated them to the safe parts of the country where developers can work without interruptions and nothing can disturb their effective workflows.
IT Education in Ukraine
IT education in Ukraine is one of the most powerful in all of Europe. Approximately 40K talented and aspiring students graduate from universities annually.  In Ukraine, there are 9 universities with top-notch computer science programs which are recognized by Times Higher Education World University Rankings.  The programs offered by universities are very diverse and are aimed at preparing the best and most qualified IT professionals who will shape the future of the Ukrainian software development market.
Tech Stacks
In Ukraine there are almost 1,000 IT companies with different expertise and specialization to satisfy the various business needs and tech requirements of clients.
Ukrainian developers offer their extensive skills, expertise, and dedication to tackle projects of different levels of complexity. If you look for a team in Ukraine, you will be able to find specialists with any technical background you might need, but among the most popular programming languages, it's possible to name Java, JS, .NET, Python, and PHP.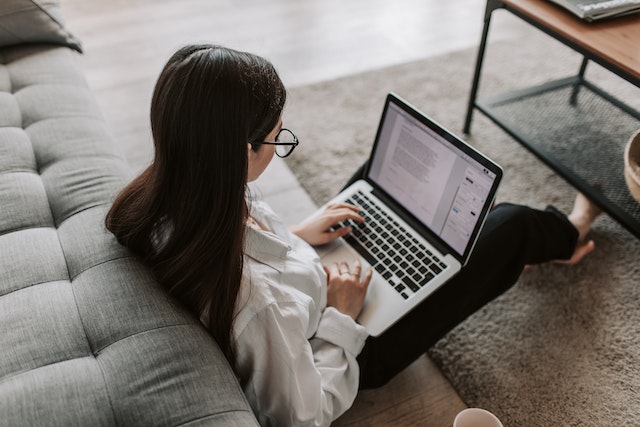 Hire Dedicated Development Team in Poland
The second mainstream location that is an excellent choice if you want to hire developers in Eastern Europe is Poland. They have a very powerful IT infrastructure and can also become a reliable partner for your business. They have almost 300K specialists and this number keeps growing due to the demand on IT services globally. Poland can also be a good choice because their knowledge of English is very high and you won't have any problems talking to your team and finding a perfect understanding between each other.
IT Education in Poland
Poland offers plenty of educational programs for students who want to dive into computer science and their system is well-known for its high standards and requirements. Around 17K students graduate annually from Polish universities with relevant degrees.
Tech Stacks
Polish software developers are trusted by many international companies and are known for their outstanding technical skills and knowledge. It's also worth noting that Poland is a great choice for companies looking for mobile app developers as their expertise in this field is very strong. Among the most widely used and studied programming languages in Poland are SQL, JavaScript, Java, and Python.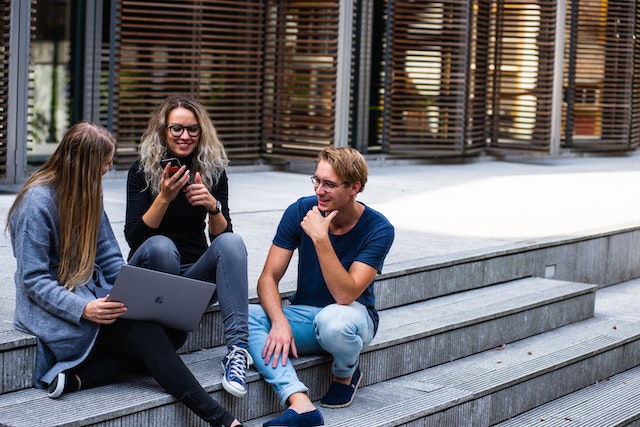 Hire Dedicated Development Team in Romania
In comparison with Poland and Ukraine, Romania's software development market isn't as advanced. Nevertheless, this country still deserves your attention and you should explore companies that offer professional software development and outsourcing services.
Romanian software engineers also have amazing communication skills and stand out with their level of English language. In addition, many specialists also know French which makes this destination very attractive for French-speaking countries.
IT Education in Romania
As Romania is one of the main countries in Eastern Europe that offers software development services, many aspiring professionals get relevant education to stay competitive in the market. Annually, up to 8,000 students graduate from local universities to join IT companies in the country.
Tech Stacks
Romania is the third biggest Eastern European talent pool of software developers with more than 130K specialists. Among the most widely used programming languages in Romania, it's possible to name JavaScript, Java, SQL, PHP, and C++.
3 Collaboration Models with a Dedicated Development Team in Eastern Europe
Now, let's take a look at three main collaboration models that are possible between your business and outsourced industry professionals so you can choose the one that fits your needs.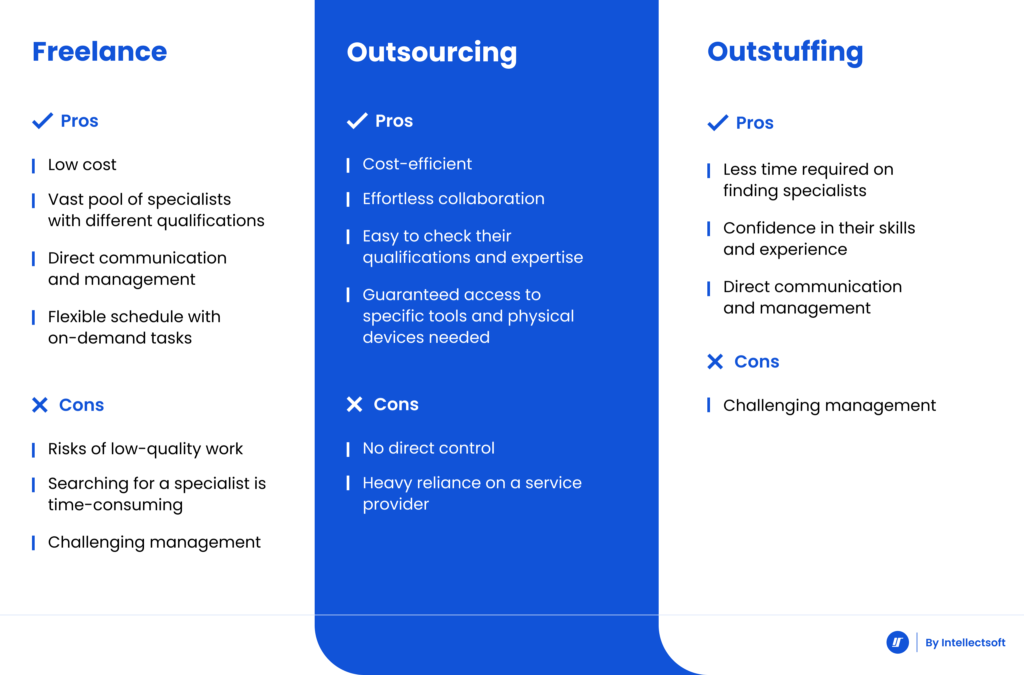 Freelance
This option can be suitable for small teams or startups that are looking for one developer who will tackle their tasks. It means hiring an independent worker that represents themself only on the freelance platform. You need to acknowledge the risks related and be ready to fully manage this professional. We would recommend steering clear of freelance developers as the end result of your product can be very unpredictable and your collaboration can be not as smooth as expected.
Outsourcing
Outsourcing is a special model of collaboration that enables companies to hire a complete dedicated development team based on their needs: developers, designers, product managers, and testers. All the specialists are hired remotely and take care of your assigned project tasks. It can be perfect for companies that have enough financial resources as well as the full project outlined related to mobile app or software development. It's perfect for those who are ready to hire a remote development team but don't need one on their premises full-time. The dedicated team will be responsible for everything from the designing stage to product testing.
Outstaffing
Outstaffing is different from outsourcing and this model implies extending the in-house team on the client's side with the professionals offered by their IT partner. This model will be perfect for companies with an existing software development department that need to reinforce their workforce with extra engineers. The company has to be ready to fully manage its new team members and take all the responsibility for training and tracking their progress.
Dedicated Development Team Service: Intellectsoft's Real-Life Experience 
Intellectsoft has extensive experience offering professional dedicated development services. Let's take a closer look at one successful example of how we gathered a team of professionals and delivered desired results. We have partnered with one unique client who wanted to create a video content search engine that brings all movies, TV shows, and sports content together. 
The client requested a web and mobile app to simplify the search process and aggregate content from various streaming providers into one place. For this project, we have selected a dedicated team of 12 people including the project manager, business analyst, architect, back-end and front-end developers, QA tester, DevOps, and designer. 
The project's first phase lasted 4 months and we developed a sleek pilot app version with a fast and flexible search that matches data from various sources to one data model. All client requirements were met and this progressive application became a modern and scalable foundation. Once this phase was over, they invested in further collaboration with Intellectsoft to develop the app beta version and the MVP that will already be presented to end-users. To read the full story — click here.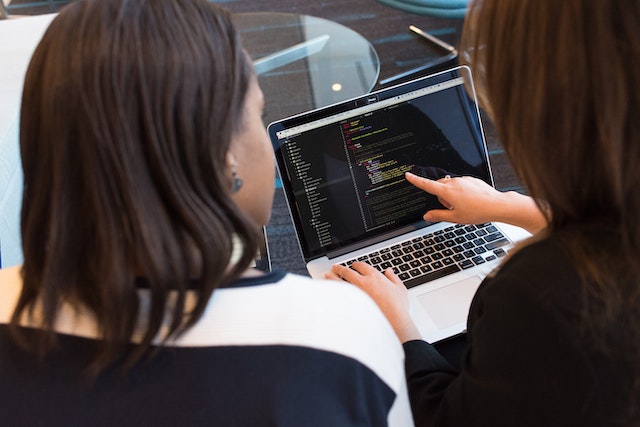 Consider Intellectsoft Your Dedicated Software Development Partner
If you are actively looking for an accomplished team of developers to tackle your project, consider outsourcing the services to our company.
Intellectsoft is a reliable tech vendor with almost 15 years of experience on the market offering professional software development and outsourcing services to companies all over the world.
Check out the outsourcing services we offer to our clients and see our extensive expertise. We have successfully collaborated with dozens of global clients in different industries such as healthcare, construction, fintech, logistics, hospitality, and so many more. In addition, we have years of experience offering outsourcing software development services and hiring developers with different skills and technical backgrounds.
In order to evaluate our proven track record of products created for our international clients — check out the full list of our client cases. Dive into their challenges, project details, and outstanding solutions that we built to make their businesses grow.
If you have any questions or want to request a free consultation with our agents to discuss a further partnership with Intellectsoft and hire the most skilled software developers for your project — contact us here and we will get back to you shortly for any kind of assistance you might need.
FAQ
How much does it cost to hire a dev team in Eastern Europe?
It's worth noting that if you want to hire a dedicated team of qualified developers for your team for the most reasonable price — Eastern European software development companies are the best solution for you. Developers from such countries as Ukraine, Poland, Romania, and the Czech Republic have a perfect reputation on the global market for the quality of their services and level of professional knowledge.
However, it's very hard to say the exact costs for the services as developers' salaries depend on the country you want to collaborate with as well as on their level of expertise and tech skills.
If you want to know more about prices for developers' services hired by Intellectsoft, feel free to contact us and we will help you define your budget based on the requested technological stack of developers, their level of seniority, and overall experience. In addition, here are some effective tips that will teach you how to cut down development costs without losing product quality.
How long does it take to hire developers in Eastern Europe?
It's crucial to understand that hiring outsourced software developers can take a while. The estimated time to start working with your dev team fully depends on you. First of all, it's important for your business to define your software development needs and clearly understand the skills and talent you are looking for as well as what number of specialists you expect to hire for your project.
Once you have your recruitment goals, you need to choose a reliable outsourcing company that will hire those developers for you. The hiring time will differ depending on the technological stack of developers, their seniority, experience, and knowledge. If you are looking for a medium-level developer, it's going to take from 2 to 3 weeks in order to find the matching candidate. If you are looking for top-notch skilled teammates — be patient as it can take up to 1 month for the right specialist to get hired.
In case you are wondering what are the top software development countries in Eastern Europe — read our blog post that will give you an extensive overview of top companies with the list of their services.