The general saying that the construction industry is far behind in embracing modern technology in its day-to-day operations has been proven wrong again post-COVID. The reality is, compared to others, the engineering and construction industries stepped out of the pandemic crisis in a better state despite all odds.
Many wonder where such a drive came from. Well, the allowance for sustainable growth and new use of technology in construction made it all possible. As stated by Deloitte observers, the ability to maintain stability provides space to make more ambitious changes and to aim higher.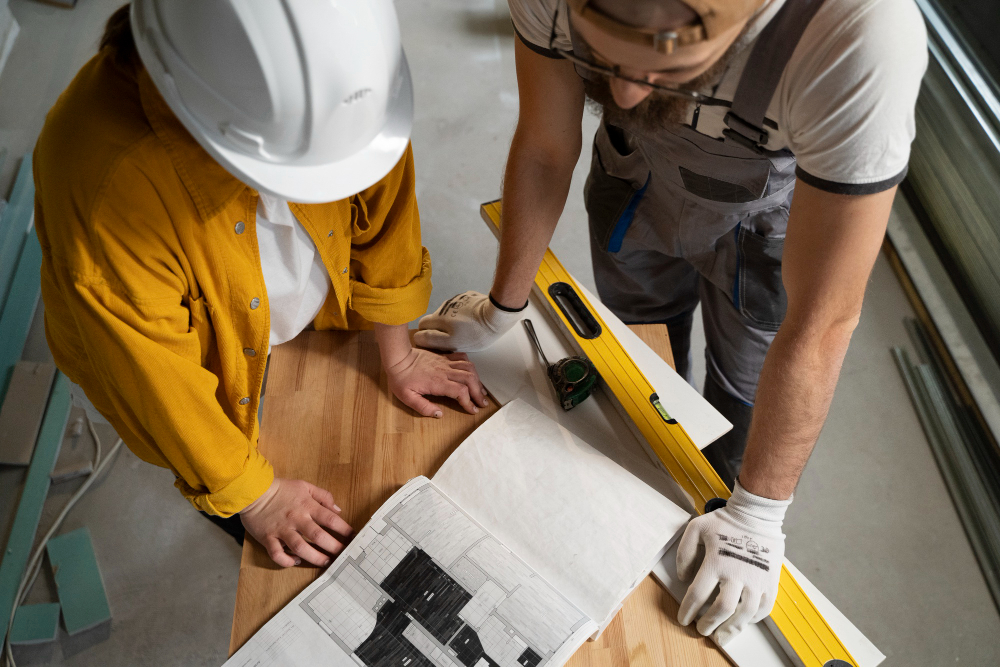 Amidst all growth, the increase in demand forms the new reality for the sector. The incorporation of BIM (Building Information Modelling) as a governmental construction standard has contributed significantly to this course, thus making construction managers and personnel conform to the new trend in construction innovation.
A typical example of such a standard is UK ISO 19650.
In addition, the development of the BIM dimension model, which ranges from 3Dto 7D, and some digital innovations, such as virtual and augmented reality, have made these trends more affordable and accessible for companies of different sizes.
Not only do these symbolize advancement in both the technology and construction worlds, but they also mean taking technological innovations in construction more seriously than ever before.
If you're eager to bring your construction business to the next level, this guide is for you! In this overview, we've selected the top construction industry trends and shown the indispensable presence of software development in the construction industry of the future.
Construction Market Overview 
Year in and out, the nature of the construction market varies. This is simply a result of constant change and growth in the industry. The change in market trends in 2020 can be wholly attributed to the pandemic, which the industry was resilient towards according to the global construction monitor chart.
The growth of the industry has been on an uptrend, which results from some key developments in the industry. Some of these developments include construction methods, technology and software innovations, prevailing market conditions and legislative involvement in new construction technology innovations.
Investments in the infrastructure, energy and utility sectors, which continue to be significant drivers of the increase in total construction production, were also associated with other market trends. Based on all these factors, we have seen several global forecasts and reports on the market overview of the industry.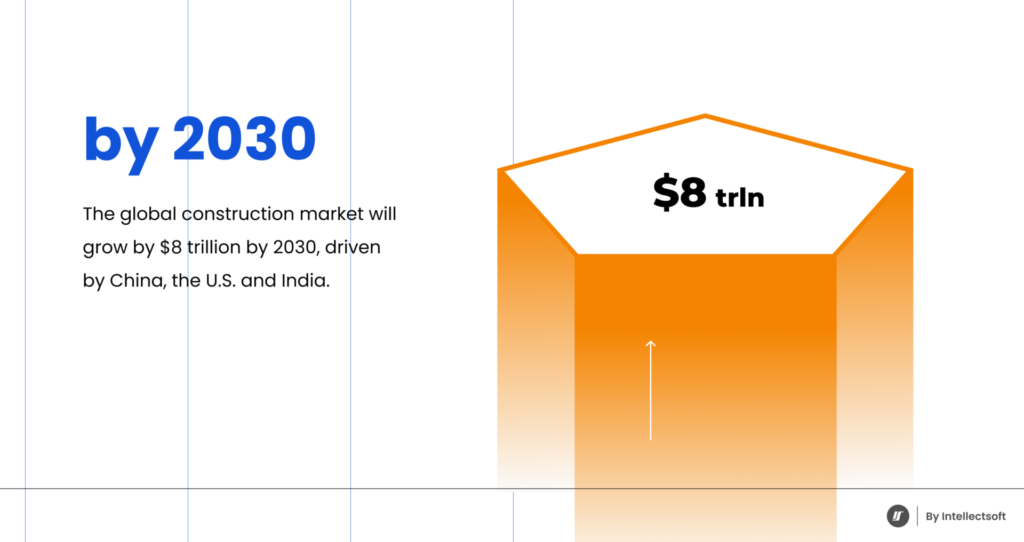 According to a report from the 2022 CIArb Webinar, The global construction market will grow by $8 trillion by 2030, driven by China, the U.S. and India. Another new study – Global Construction 2030 – forecasts that the volume of construction output will grow by 85 percent to $15.5 trillion worldwide by 2030, also showing China, the U.S. and India leading the way and accounting for 57 percent of all global growth.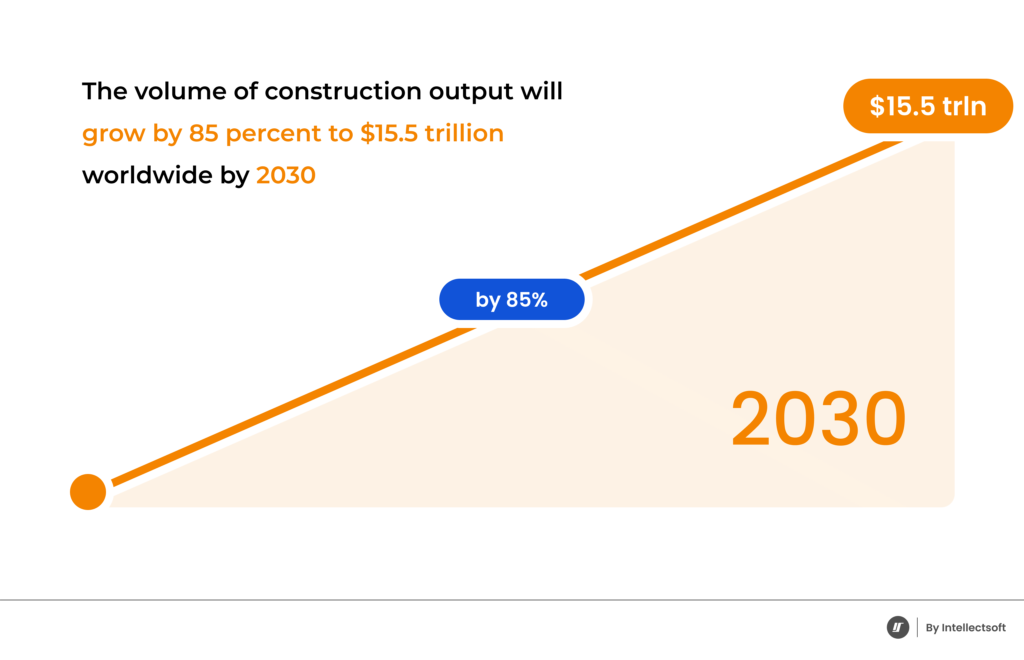 The implementation of construction software and innovative construction technologies covers all construction stages, from project initiation to the on-site activities and the complementation stage.
Construction software is mostly used by AEC (architecture, engineering, and construction) personnel for project management activities such as scheduling, planning, estimating, design, facility management and more.
8 New Construction Technologies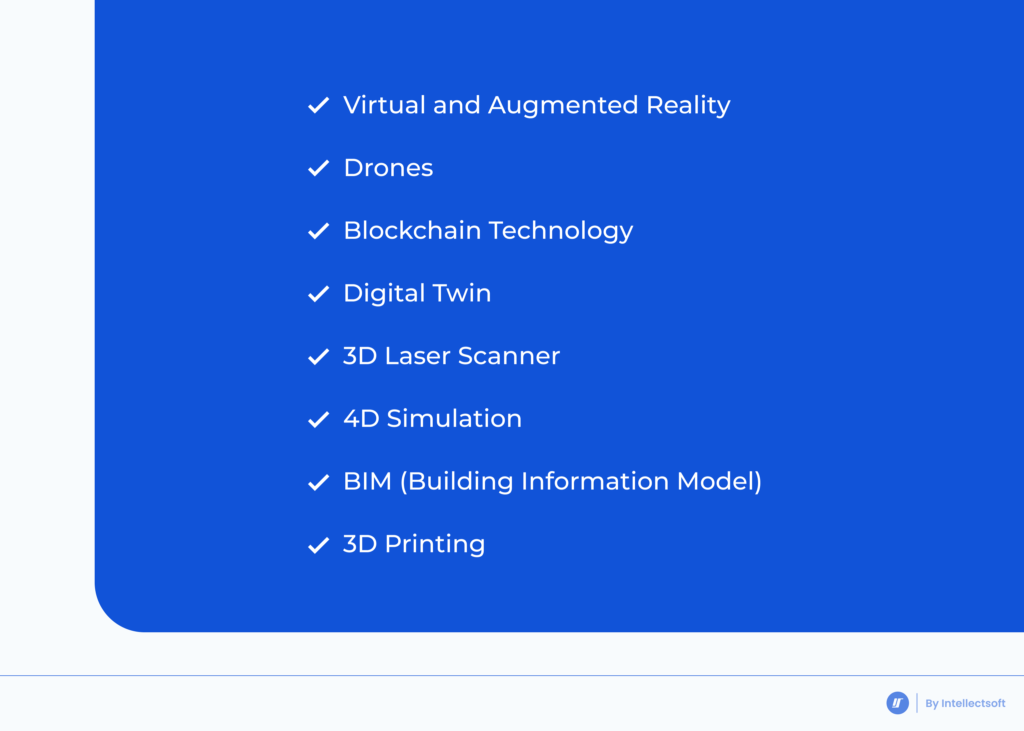 Virtual and Augmented Reality 
Among the new construction technologies, virtual and augmented reality have been a great innovation, providing visualizations. With the $8 trillion forecast in the industry's global growth by 2030, the use of VR and AR would surely be significant. Having mentioned the possibility of a 90 percent reduction in building costs when implemented in 2022, AR/VR technology has been seen in various remote site inspections. It also enables safety, collaboration and communication among AEC personnel.
Drones 
Drones have been used in construction for over a decade. In 2023 and beyond, expect more sophisticated and AI-oriented drones. With real-time aerial imagery and 3D lidar scans, drones are revolutionizing construction procedures.
Expect more interoperability with Scan to BIM mode on drones, taking microseconds to share construction data with other BIM-based platforms.
Blockchain Technology 
In 2023 and beyond, the entire AEC industry will have better cost management and efficient procurement strategies via blockchain. It was no more than a decade ago when this technology was introduced to the construction industry, serving as linked collections of data "blocks" that make up a digital ledger, with the records of all transactions and completed milestones. It can be compared to a literal chain, with each link representing a distinct transaction in a project, and it automatically balances itself. Unlike others, it is safe, decentralized and adaptable to projects of any size. 
Digital Twin
Solving operation management issues, the digital twin is the newest technology in the AEC industry. It involves the use of simulation in creating a building prototype. Digital twin trends and functionality cover the use of intelligent multidimensional digital models. In 2023 and beyond, there will be fewer buildings with operational issues, all due to the ability of digital twins to simulate, predict and inform decisions based on real-world conditions. Digital twins carry out performance analysis considering occupants' behaviours with the use of patterns and space.
3D Laser Scanner 
Among the newest construction technology in the AEC industry is the 3D laser scanner. Its interoperability and modifications each year make it a consistently fresh innovation. It's known for its ability to scan and analyse real-world objects. It has been deployed for on-site surveying, mapping, project inspection, safety and many other tasks in construction. Its accuracy makes construction planning easy with significant cost savings.
Use Case
A practical application of this technology was Aiguilles-Queyras Hospital Center, a hospital located in the French Alps, in France. FARO, a brand of 3D laser scanner, was used along with Scan-BIM by ATFF to capture every feature of the existing hospital and a new model was generated for renovation.
4D Simulation 
With the constant search for optimization in the construction industry, 4D simulations are one of the newest technical solutions to save time and cost for onsite and offsite projects.
Use Case 
The Mott MacDonald company applied 4D simulation to its  Haweswater Aqueduct's Bentley pipeline project, saving the company 20 days.
Building Information Modelling 
BIM is another fast-rising innovative technology in construction across the globe. It is a crucial tool for modern architectural, engineering and building processes. With good interoperability, this technology allows for the creation of one or more precise digital models of buildings.
With its applications to projects in levels and dimensions, it's a new technology backed by the governmentally approved ISO19650 standard. BIM software enabling interoperability in 2022 includes Revit, Navisworks, Tekla, BIM Collab, Plannerly and Autodesk BIM 360.
Use cases 
BIM covers a wide range of dimensions and levels. It has been used on several projects.
John Sisk & Son applied BIM in the Quintain Wembley project in London through its Digital Project Delivery (DPD) approach. It was also applied with Revit to model  the NHS Nightingale Hospital, East London
3D Printing
3D printing, although not as widespread as BIM, is one of the newest technologies in the construction industry. Its mechanism, which involves making three-dimensional buildings from digital models, was first used in 1995. In 2023, the current trend includes creating 3D models via 3D software programs.
Use cases 
Engineers at Arup used 3D printing to fabricate the steel nodes for a lightweight structure. In addition, Shanghai firm Win Sun Decoration Design Engineering applied 3D printing to spray a mixture of quick-drying cement and recycled raw materials.

Average Costs for Construction Software Development
As an individual or company who desires to own construction software, the first ideal question is, at what cost? As technical as this question might be, experts in engineering software still believe it might not be the first question.
Therefore, the first step is defining the design. Determine a brief idea of the necessary functionality, then the cost.
Richard Schmidt states, "Know what you are building before you begin to improve cost and scheduling accuracy."
Generally, the average cost to develop construction software is sometimes less direct than others since this is highly customized software. Amidst other factors, the cost of developing construction software in 2023 is still based on core factors such as the scope, time and budget.
Regardless, there are statistics that show what should be expected in building such a system.
In terms of construction management software, the costs are based mostly on plans, such as basic, premium and advanced, and monthly costs.
These costs can be as low as $44 and can be as high as $9,900 per contractor per month. In general and on average, the statistics online show software development can cost between $50,000 to $250,000.

How to Invest in Construction Software Development Wisely
The rise of new technologies in the construction industry results from technological evolution. Despite these evolutions, there are still challenges in fully implementing digital norms in construction.
The development of construction software, a huge aspect of the industry, has high demand but less turn-up rate and quality services. This has led to the birth of Intellectsoft. If you've never heard of Intellectsoft, now you do. We are a software development partner for businesses worldwide. We also provide business with top-notch UI and UX design services.
With over a decade of experience and thousands of completed projects, we have put companies into the world market. Regardless of size and industry, our commitment has helped enterprises accelerate the adoption of new technologies and untangle complex issues that always emerge during digital evolution.
For construction companies, we have offered construction software development and are ready to offer more solutions that address technology trends. Below is the list of our sector-specific capabilities.
Our scope of services covers the arrangement of digital transformation webinars for beginners and professionals in the construction industry. All the solutions and supplementary information regarding our service and software development are provided in this video.
In need of a personal consultation? Ask our experts directly! We are always happy to discuss how to improve quality in construction projects, establish strategic goals and select the best software development approach that will benefit you.
FAQ
What are construction site technologies?
Construction site technologies are the modern innovative tools or software applied to construction projects on-site and offsite, modernizing the processes. They include semi-automated and automated construction equipment.
What are the examples of technologies in construction?
In today's world, technologies in construction go far beyond software and include semi-automated and automated construction equipment. In general, examples of new construction technologies are BIM, drones, modular construction, AI, Digital Twins, blockchain technology, virtual and augmented reality, 4D simulations, 3D printing and more.
What is the role of software in construction site technology?
Software in construction site technology is known for its impact on the construction process The use in engineering industries has helped in many ways, including:
Simplifying construction tasks and saving time
Increasing profit with less risk
Integration with powerful planning and scheduling tools
Integration with simple and swift accounting tools
Reducing inefficiency
Using the power of automation to streamline important processes
Is BIM a construction site technology software?
NO! BIM is not software. Rather, it is a central process enabler for modern architecture, engineering and construction (AEC). With BIM technology, each process is enabled by different software. BIM software enabling its interoperability in 2022 includes Revit, Navisworks, Tekla, BIM Collab, Plannerly and Autodesk BIM 360.