The healthcare software development industry has yielded nearly $600 billion in revenue this year, proving its importance in medicine. Besides the apparent advantages of efficient patient care and streamlined data processing administrative tasks, other factors continue to drive this meteoric rise.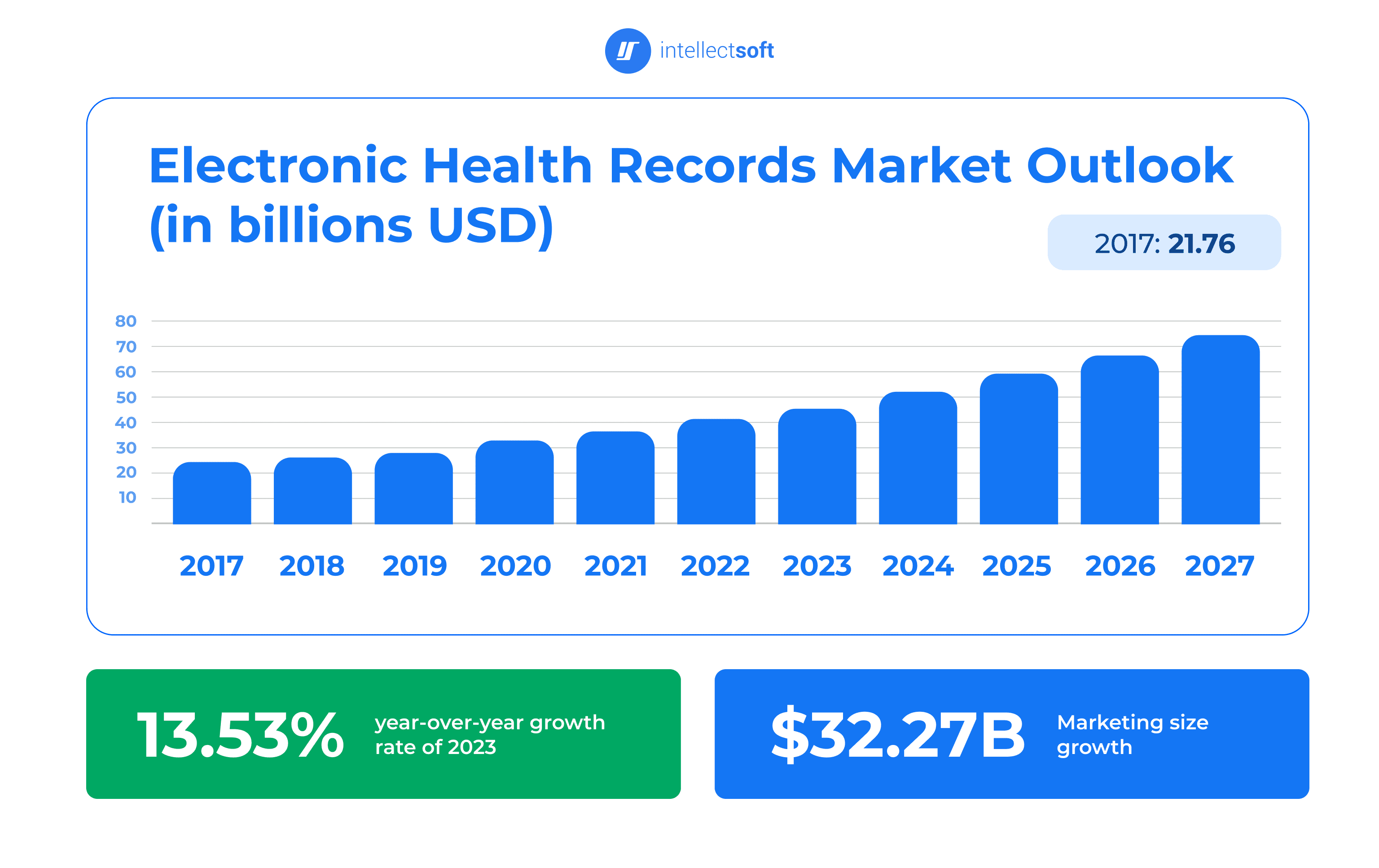 Source: Electronic Health Records Market Analysis Report 2023-2027
The leaps in technology in artificial intelligence (AI) and the use of the Internet of Things (IoT) — allowing seamless sharing of data and processes between platforms —  have forced medical companies to reinvent the wheel for the better by looking for new and innovative solutions in their healthcare platforms.
Consider telemedicine, which has experienced a massive surge in popularity over the past few years. With improved accessibility and ease of use, the technology is expected to generate $240 billion in profit by 2032.
In this article, we'll examine the landscape of software development in healthcare by defining it, breaking down its complexities and inner workings, and making predictions for the future. 
By the time you're finished reading, you'll appreciate what these platforms have to offer and clearly understand how to maximize them to make your healthcare organization more efficient in the future.
What is Healthcare Software Development?
In simplest terms, healthcare software helps organize and perform the countless interactions and administrative tasks that take place daily between patients, medical professionals, and health administrators. 
These platforms specialize in streamlining interactions, improving the quality of care, and ensuring privacy and accuracy of record-keeping in hospitals, clinics, research labs, financial service offices, and medical equipment providers.
Software development for healthcare systems establishes an ecosystem where healthcare services gain higher quality and accuracy.
Machine learning has accelerated the development of software for healthcare, with some of its many benefits, including making it easier to digitize patient records and diagnose illnesses. Of course, Big Data and e-health have also played a part in revolutionizing software development for healthcare.
Main Types of Healthcare Software Development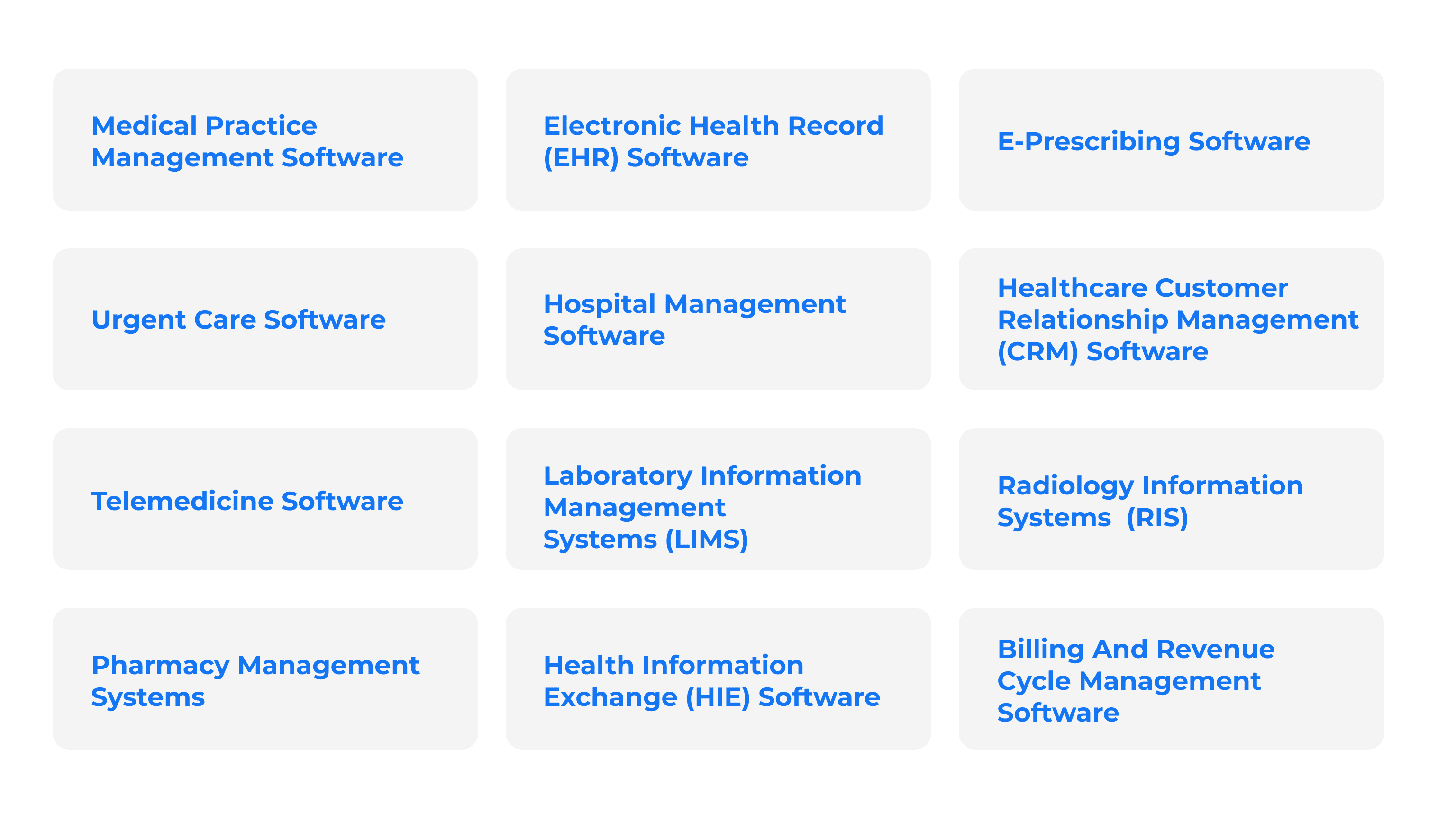 This technology is requested for maintaining clinical workflow and optimizing everyday operations. It assists in keeping medical records, setting appointments, managing finances, and accounting activities.
Electronic Health Record Software
The design allows the maintenance and management of patient data in electronic records. The reports stored include information about allergies, laboratory conclusions, the medical history of a patient, and demographic statistics. It's worth noting that EHR can be integrated into an ERP system for healthcare, which will grant even wider functionality for any healthcare institution. 
E-Prescribing Software
The technology allows sending medical prescriptions directly to drug stores and pharmacies. It strengthens the connections within the healthcare industry and serves the patient's comfort.
Urgent Care
This healthcare software category unites numerous apps that help patients get emergency aid without attending the doctor's office.
Hospital Management Software
This set of technologies optimizes hospital management. These solutions assist in billing, assigning insurance, managing patient information, and administrative work.
Healthcare CRM
This software type works with customer management. The main task is maintaining better client relations —  meaning better care quality, contact management, and accurate performance reports.
Telemedicine Software
Medical professionals like doctors, therapists, or psychiatrists can examine and diagnose patients remotely using video conferencing and file-sharing tools with this type of software.
Laboratory Information Management Systems
A LIMS provides more accurate results in laboratory settings by managing samples, collecting data from those samples, automating workflows, and integrating instruments into the environment.
Radiology Information Systems
This medical imaging software is great for tracking patients and their images, scheduling appointments, reporting results, and invoicing. A RIS system improves the quality and speed of patient care and diagnosis in radiology departments.
Pharmacy Management Systems
A pharmacy management system will ensure a safe and well-run pharmacy by managing expired drugs, re-ordering stock, sending SMS reminders to patients, storing and backing up data on all customers, and many other beneficial processes.
Health Information Exchange Software
This software, also known as HIE, allows all medical personnel to safely and quickly share patients' private health information with other organizations, resulting in faster, more efficient, and ultimately more reliable care.
Billing and Revenue Cycle Management Software
This software is designed specifically to track the billing and revenue across a patient's life cycle, painting a complete picture of the cost of treatment for each customer.
What Do Healthcare Software Development Companies Do?
The greater demand for technological solutions in the medical sphere caused the appearance of narrow-specialized healthcare software development companies.
They assist non-governmental organizations, hospitals, and medical schools through various optimization services. At the same time, the requested enhancement range calls for finding a truly reliable software development partner.
From the standpoint of medical institutions, the reason to introduce IT solutions is mostly cost-oriented. Among all, a hired software development company should solve the task of greater financial efficiency through cost optimization.
Here, the technologies can provide data to control financial KPIs, emergency analytics, and client behavior. With these parameters, the spending on a healthcare software development company becomes justified.
Below are 3 types of services that healthcare software development companies offer.
Healthcare Software
All the technologies to assist data management and improve care quality, such as:
Enhancing diagnostics

.

Intelligent imaging and radiology

.

Healthcare operations and resource management

.

Security and compliance

.
Healthcare Apps
Using your mobile device to track your health can include:
Telehealth and remote monitoring

.

Virtual assistants and chatbots

.

Personalized treatment through AI

.

Patient engagement

.
Custom Solutions
Task-oriented software or a mobile solution designed specifically on the customer's request addressing issues like:
Digital transformations

.

Patient-centric approaches

.

AI and machine learning applications

.

Data exchanges

.
Healthcare software development companies mainly focus on task-oriented solutions to provide the most accurate result and ensure client satisfaction. Nevertheless, the highest aim of any technological introduction is to establish an all-in-one healthcare ecosystem. And so, a high-end software development company always offers a comprehensive set of services for healthcare organizations — involving IT consulting, mobile/web development, cloud technologies, and IT outsourcing.
While there is still a lot of uncertainty and challenges around the digital transformation in the Healthcare Industry, our expertise allows us to consider a variety of technologies, use cases, and solutions for a software consultancy.
Intellectsoft has strong domain expertise for advising the right solutions to solve particular business challenges and avoid pitfalls while delivering and deploying them. Find these and other answers to your questions by getting in touch with our healthcare experts.
Cost of Software Development in the Healthcare Industry
If you're in the market for healthcare software development, you can expect to pay in the ballpark of $200,000 for outsourcing to $388,000 or higher if you want all the work done in-house. Of course, these costs will differ based on your budget, timeline, and specific needs, which we'll break down further: 
1. Type of Collaboration
Your first priority is to decide what type of team you want to work with. If you have enough resources, hiring an in-house team that will work by your side is an attractive possibility. 
The solution with the fewest headaches is to select an outsourcing team of software engineers who deliver software of the same quality as an in-house team but at significantly lower prices.
2. Team Composition
Another factor that shapes the development cost is team size and expertise. Consider that all the details, such as the number of employees, their experience and skills, and the technological stack of software developers involved in the project, might also affect the final price.
3. Project Complexity
The cost of your project will be defined by the type of software or medical website you want to develop. Such details as design complexity as well as the number of features that you want to include will play a crucial role in the final budget.
4. Development Timeline
This component is directly connected to the software development complexity. The more complex your software is, the more time-consuming and, respectively, costly your healthcare development project will turn out to be.
5. Team Location
If you opt for an outsourcing team of software engineers, the price will also vary depending on the region. If you want to get the best quality-price balance, it's recommended to consider American destinations.
What is Custom Healthcare Software Development?
No two healthcare institutions are alike. That's why custom healthcare software development services are necessary to hone in on clients' specific needs. Among various advantages, it can help medical entities establish a secure and unified platform for storing medical information. As a result, each applicant can get results of higher inclusiveness, performance, and scalability.
In general, clients request custom healthcare software development when they need a specific solution to one of these problems:
Optimizing the work with patient records

.

Facilitating communication between caregivers and patients

.

Encouraging collaboration between healthcare professionals

.

Integrating seamlessly with existing systems

.

Compliance with regulatory standards like

HIPAA.

Ensuring the smooth formation and interchange of individual health plans and strategies

.

Facilitating telemedicine and remote care

.

Providing a better accuracy of diagnoses

.

Cutting extra expenses

.

Incorporating new technologies like chatbots, virtual reality (VR)

,

and augmented reality (AR)

.
You can request a custom solution if you have any of these requests.
SDLC in Healthcare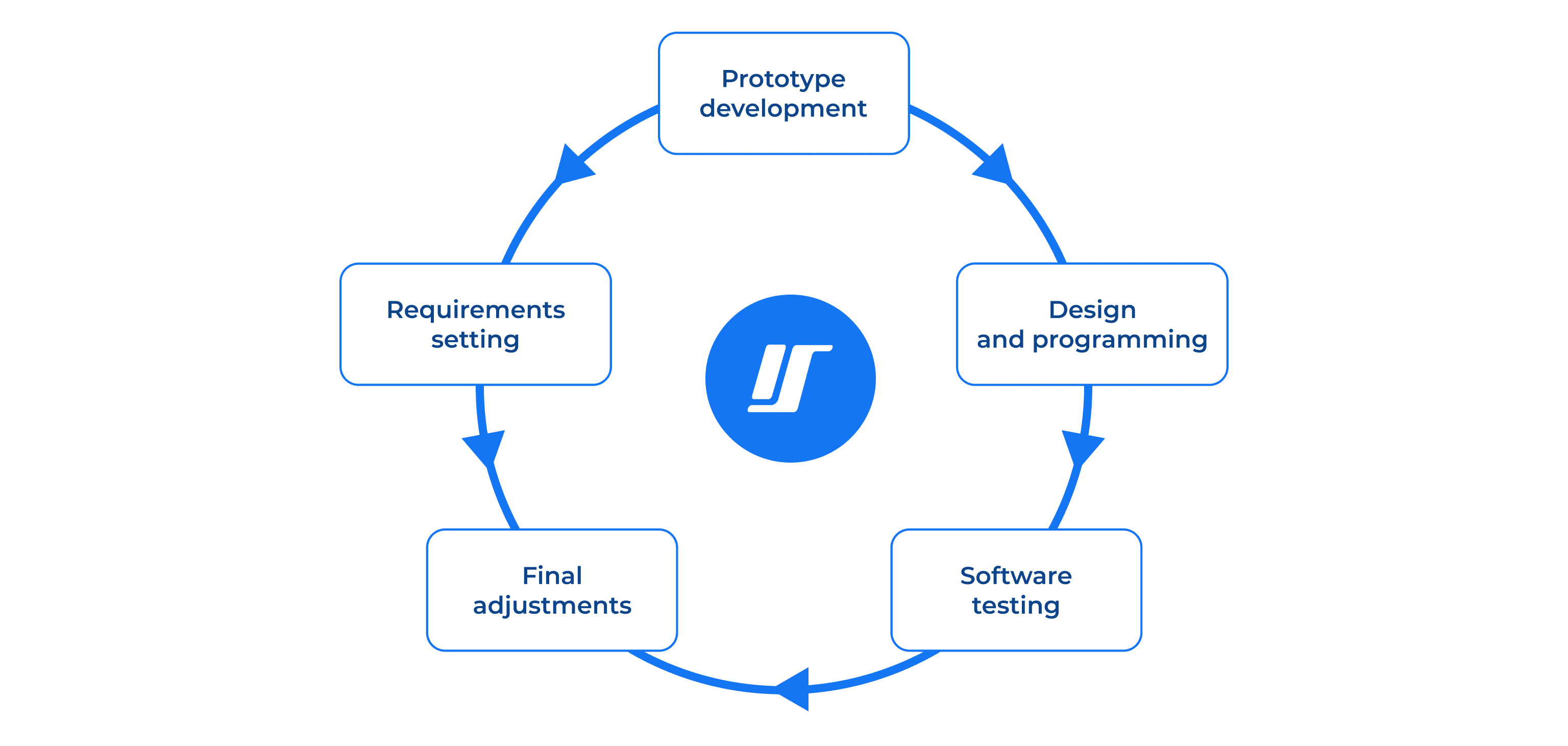 Here are the typical steps for leading the medical software development process (or software development life cycle):
Requirements setting.

 Determining the organization's needs and collecting the appropriate information.

Prototype development.

 Conducting assessments and gathering details to propose a raw solution

.

Get feedback.

 Stakeholder involvement in the proposed solution is critical before moving forward

.

Design and programming.

 Establishing a technological solution

.

Software testing.

 Verifying the absence of errors, bugs, and other problems

.

Final adjustments.

 Validating the software solution and ensuring regulatory compliance before delivering it to a healthcare institution

.
For custom software solutions, there is a slight change in the process:
Select the target audience.

 Identify the tastes, preferences, and typical behavior of clients

.

Sketch the software architecture.

 Establish a detailed idea of

healthcare IT solutions

that meets the needs and demands of your target audience

.

Incorporate feedback.

 Make sure the solution fits the client's problem before continuing

.

Elaborate UI/UX design.

 A customized solution requires closer attention to the usability and intuitiveness of an app

.

Protect the technology.

 Involve encryption for data protection

.

Ensure compatibility.

 Ensure the software can easily be incorporated into the IT infrastructure of an institution

.
What's the Future of Development in Healthcare?
Deloitte says the software development healthcare industry is on the verge of significant disruption. The focus will almost solely be open yet secure platforms, customer-driven care, and easy data exchange.
This direction especially strengthens the human-centered approach in healthcare, linking numerous solutions in the area, including optimization of treatment plans, easy tracking of health progress, and availability of online professional consultations.
From the business standpoint, this approach results in greater brand management, reputation increase, and better service delivery.
The key trends of software development in medical fields are:
Focus on self-care and online communication

(via a patient portal, especially). The focus should be accessibility and user-friendliness. The needs of specific demographics, such as the neurodivergent community, should be addressed.

Involvement of blockchain innovation.

 This technology significantly contributes to sector democratization. Specifically, blockchain safely discloses internal operations, making the exchange more transparent, trustworthy, and collaborative.

Expanded EMR software.

 In the new reality, each medical record will become digital and link all the specialties separated currently. 

Telemedicine.

 This innovation creates close remote connections between physicians and patients, eliminating all the traditional barriers between them.

AI.

 Diagnoses become more accurate, and you gain the ability to individualize treatment plans.

VR/AR.

Uses for this technology are endless, including training for medical professionals and patient education.

Chronic disease management tools.

 Mobile apps or wearable devices to help our aging population could be a game-changer.
Even though the prospects of healthcare IT solutions seem bright, we still have a way to go. Any new software should vigorously address safety concerns since this is one of the most common hurdles for contemporary digital solutions. Also, the management of Big Data should be a priority.
Summing It Up
Intellectsoft offers high-quality assistance in designing and developing various kinds of healthcare software. By consulting with us, you can be sure the solution provided will serve you long, integrate into your digital ecosystem successfully, and manage the data accurately.
At Intellectsoft, we empower companies and their workforce with cutting-edge transformative solutions and data-driven insights. We've provided advanced digital solutions for various healthcare organizations, including the dental industry, where our software increased revenue and attracted new patients.
Are you and your organization ready to shift your mindsets and get the most out of our innovative IT solutions? Talk to our experts and learn more about the latest healthcare software technologies and how your business or project can benefit from them today!