Every industry reacts to all the changes that take place in our world by making trends. The diverse software development community also responds to global events in a similar way. The current trends in software engineering reflect the needs of other industries that employ software solutions. They also represent the fascination of developers with the newest technological breakthroughs and their pursuit to work more effectively.
The Current Situation and Main Tendencies in the IT Industry in 2023
Recent years were full of historical events, and the latest software development trends reflect how the IT field adapts to those phenomena. Technological breakthroughs, climate changes, and local conflicts are among the many reasons that constantly change the preferences of the coding community. Let us review the most popular trends, observe their dynamics and find the reasons behind their current popularity.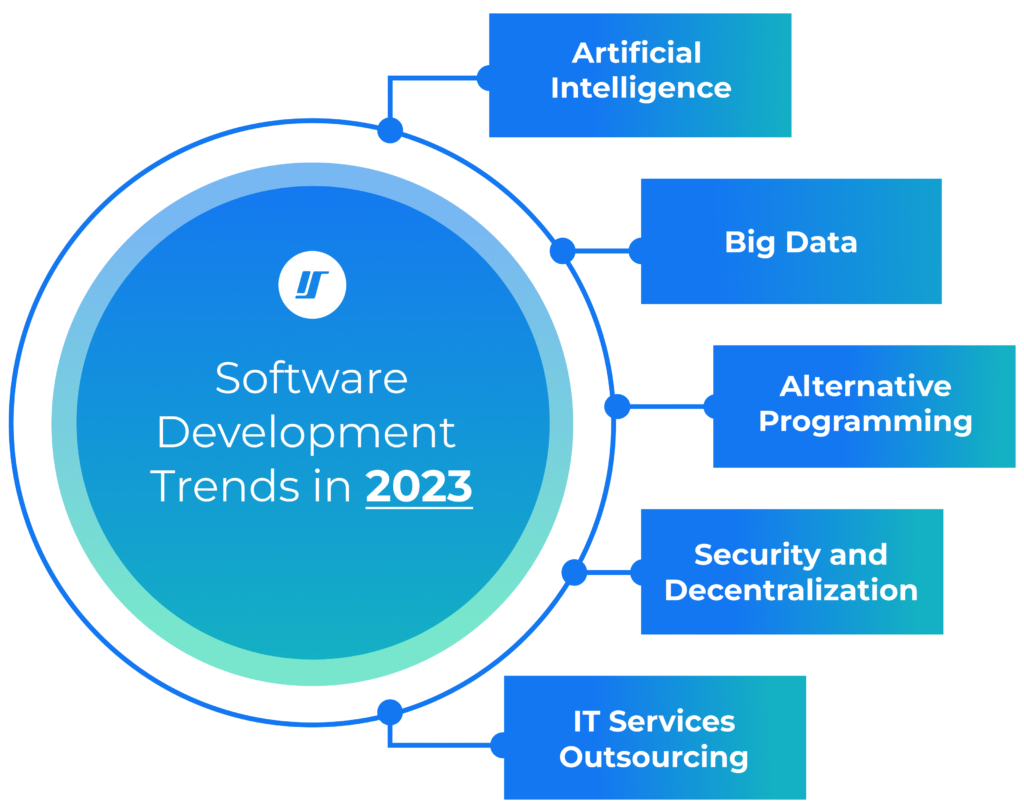 The Revolution in Artificial Intelligence.
While Artificial Intelligence was one of the top trends in software development over the last few years, the situation changed completely in December 2022. When Open AI launched its ChatGPT, the digital world experienced one of the biggest revolutions in its history. The immense scope of abilities of this chatbot is shocking and slightly frightening. It can maintain a meaningful dialog with the user, write an article or even a thesis on a given topic, and much more. For example, GhatGPT can write computer code based on a user's request.
Naturally, program developers around the world started to investigate and exploit this opportunity. This feature allows a person with little to no knowledge of programming to create a basic-level software product or module. The more this chatbot learns, the more advanced its skills become. It seems inevitable that before long the AI will both write programs and teach programming languages to junior developers. Such industry giants as Microsoft and Baidu have already integrated AI chatbots in their search engines, browsers, and other solutions.
Other brilliant examples of interactive AI are Midjourney and DALL-E 2. These tools use deep learning to generate images based on the written description. The rise and evolution of such self-developing models have already caused concern among professional designers. As a related trend, Tensorflow is still the dominant platform for machine learning, thus retaining its popularity over the last few years.
New Horizons for Big Data Analysis.
All modern IT "whales" are deeply involved in Big Data and successfully turn it into immense profits and influence. Google, Meta, Twitter, Amazon, and other huge companies gather tremendous amounts of information and analyze it to create user behavior patterns. This way, they can provide personalized services, such as advertising, selected content, services, and so on by predicting customers' needs.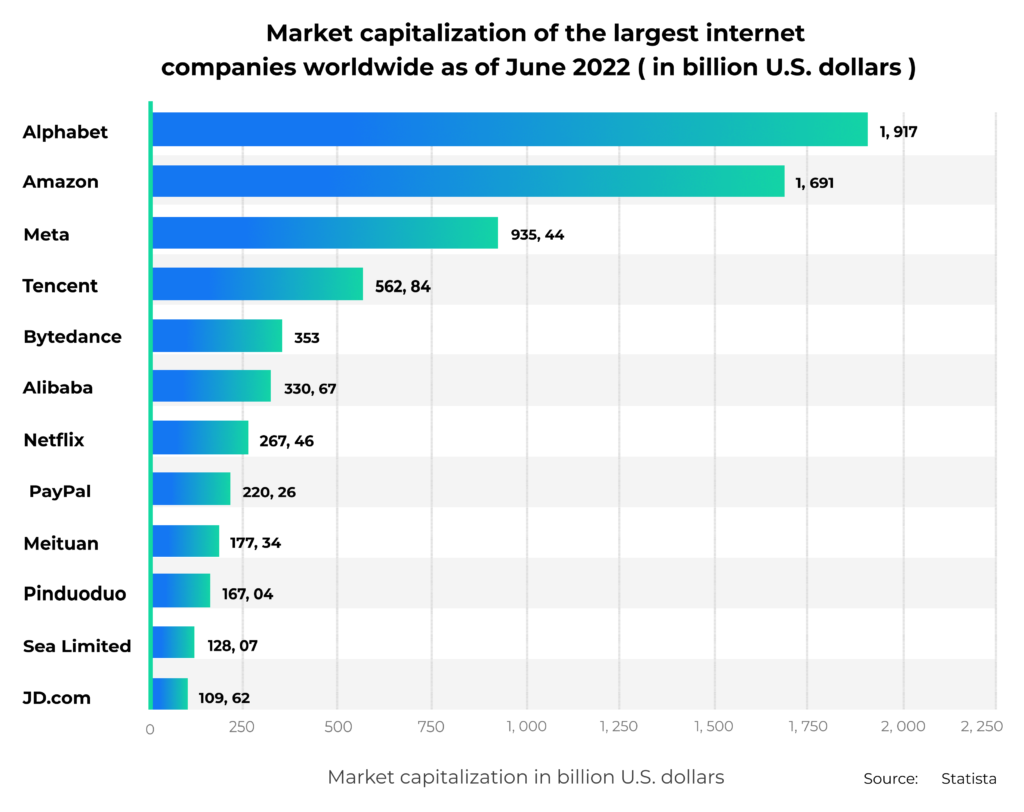 The related trend that has appeared just recently is called the Internet of Behavior (IoB). It combines the Internet of Things (IoT), predictive analytics, and behavioral research. This concept involves gathering data from a variety of smart devices, including wearable gadgets and household appliances. Then this data is combined with various information regarding online activities, such as search history, watched content, played games, ordered wares, and much more.
Ultimately, an IoB platform can create a concise database that summarizes the preferences and behavior of a particular person. This extensive structured information can be used for providing a variety of personalized online content, including ads, news, articles, videos, and much more. The increasing popularity of IoT devices greatly speeds up the development of IoB solutions. Overall, the Internet of Behavior will certainly remain one of the dominant trends in the foreseeable future.
Alternative Approaches to Programming
The preferences regarding programming languages among software developers generally remain unchanged in relation to the last few years. According to the TIOBE index, Python is still number one in the world, and C is still the runner-up. Rust and Scratch are gaining popularity and rose by 4 points in the index, while Swift has dropped by 3 points over the last year.

While the developers keep using the same programming languages, the situation around coding approaches has changed drastically. A few new ways of creating software have sparked massive interest among specialists. One of the hottest trends in this industry nowadays is no-code development. A step forward from visual programming languages and low-code development platforms, this concept reduces the requirements for developers' skills even further. Such services as Bubble, Webflow, or Adalo offer advanced functionality and various templates to create mobile and web applications without writing any code.
Naturally, the no-code approach will not seize the whole software development industry. However, it allows more people to express their ideas and create program products in an extremely easy fashion. The same purpose is one of the main reasons why AI-assisted programming also gets increasingly popular. Nowadays, virtually anyone can ask an AI bot like ChatGPT to write a fragment of code to solve a given problem. Of course, the no-code and AI-assisted methods do not meet many quality and security requirements. This way, they are not suitable for creating software for startups and businesses.
As an example of an ongoing software development trend, microservices remain very popular. Amazon Web Services, Microsoft Azure, and Google Cloud are still the top three players in the field of cloud computing. Their reputation and demand have not declined over the years, and they remain trusty platforms for providing a large variety of computing services and resources.
High Demand for Security and Decentralization
One of the new trends in software development is the novel concept of the World Wide Web called Web3. The idea involves making the Internet more decentralized and secure, mainly through the use of blockchain technologies. While nowadays blockchains are generally associated with cryptocurrency and non-fungible tokens (NFTs), tech specialists believe that this situation will change soon.
Decentralization is believed to be the potential solution to one of the biggest concerns in the IT industry. Some corporations have gained too much influence over the digital world and have almost monopolized several essential services and environments by suppressing their rivals. The software development community is actively looking for effective ways to minimize the dependence on those corporations and their products.
In the field of software development, the decentralization trend also refers to the structure and operation of an application. This approach focuses on ensuring the autonomous and uninterrupted work of software. For example, if one software module malfunctions, the rest of the platform should work. If several servers go down due to a sudden power shortage, the remaining part of the infrastructure should remain operational.
IT Services Outsourcing
The situation with human resources in the software development industry is extremely volatile. It seems just a few months ago, there was a dire shortage of tech specialists, and nowadays, the situation has reversed. There were massive layoffs by major IT companies, including Amazon, Alphabet, Meta, Twitter, and several others. The numbers are shocking: more than 70000 employees of the largest tech enterprises have lost their jobs, and new waves of layoffs are expected.
These measures show the new tendency when more and more companies resolve to outsourcing rather than having massive development departments. Businesses are desperately looking for ways to minimize their losses, and outsourcing is a very viable and cost-effective way of doing this. That's why the rapidly rising demand for outsourcing services is the latest trend these days.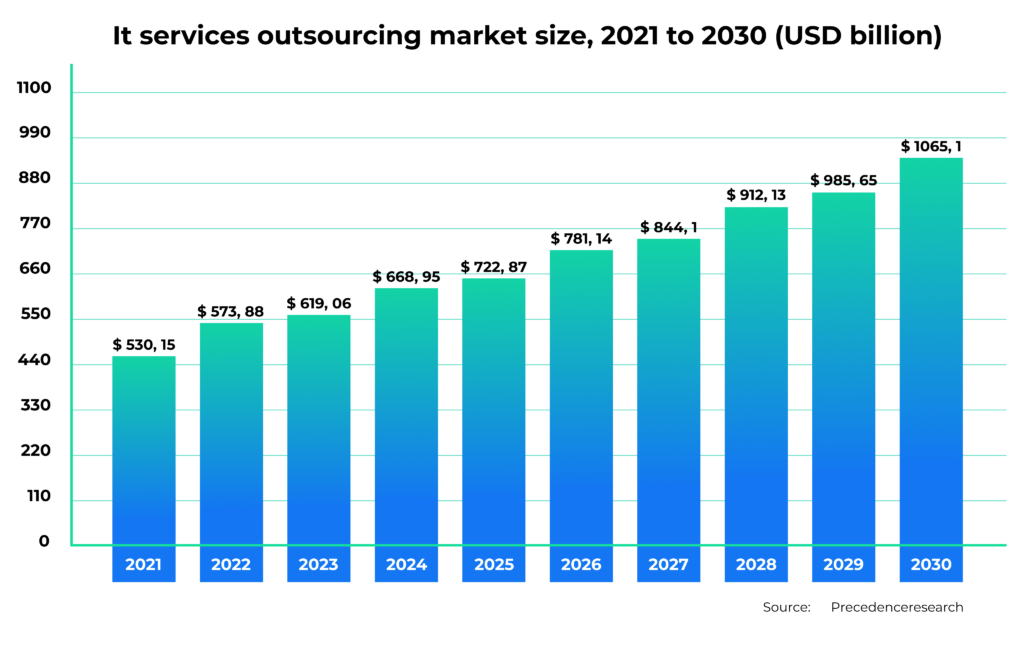 Why It Is Important to Monitor Trends
Modern software development trends represent the current needs and changes in the industry. If a company keeps a close eye on them, it understands and predicts the desires of its customers more accurately. That's why Intellectsoft realizes the importance of researching and following the latest tendencies.
Knowledge of trends allows us to learn and use advanced software development tools even before they become mainstream. To maximize the efficiency of our work, we combine cutting-edge tools with time-proven technologies, thus uniting modern trends and conventional means. This allows us to create secure and effective custom software solutions for businesses operating in various industries.
For example, our knowledge of the IoT and security trends allowed us to create a solution for smart fridges with RFID tags and other peripherals. The recent trend regarding cryptocurrencies also did not catch us off-guard. We have developed a secure yet simple blockchain wallet to manage operations with Bitcoin and Ethereum. Overall, the information about modern trends allows our company to remain competitive and able to deliver effective solutions. It also challenges our specialists to master new tech and skills.
Last But Not Least
The developers in Intellectsoft take a keen interest in various new trends in software development. Learning about new tendencies, tools, and methods allows us to improve our skills and remain in demand as tech professionals. If you want to implement the latest trends in a custom-built software solution, contact us. Our specialists will find efficient ways to embody your idea using modern tendencies in programming.