Implementing digital technologies in healthcare is a long-term trend that involves the combined efforts of experts from different industries. Engineers, software developers, and medics work together to ensure a better future for people. 
Healthcare is one of the oldest and most influential industries in the history of mankind. Due to its importance, many technological advances have been designed or adapted for this field. New technologies in software development are no exception. Here are a few popular types of medical software.  
Electronic Health Records (EHR)
EHR is currently the most widespread type of software used in hospitals around the world. It is an efficient modern alternative to hand-written charts that allows hospitals to store information in a more organized and secure way. Digital records can be shared across several healthcare providers, which is extremely convenient. 
The main advantage of digital health records is the reduced paperwork and easy transfer of data across different medical institutions. Patients do not have to fill in the same information in a paper form whenever they come to a new clinic that belongs to the same healthcare provider network. Electronic health records are also potentially more secure in terms of protecting confidential data, especially in comparison with hand-written paper charts. This is ensured by government-enforced regulations, such as HIPAA compliance, as well as advanced digital security technologies.  
EHR is helpful in the case of an emergency when a patient is unresponsive and doctors cannot obtain information directly from them. In such situations, medical staff can use accessible information on a patient's ID to try and retrieve their health records, including medical history, known allergies, and so on. 
Electronic Health Records, especially when they are implemented with the help of blockchain technologies, greatly improve the safety and security of patients' data. This type of medical software prevents data tampering and allows using encryption and backup means for additional protection of confidential information. 
Another important benefit of EHR is that they allow further processing of digital information, for example, for scientific research or statistics purposes. This process takes place with patients' consent, and data is depersonalized and analyzed in bulk.
Telemedicine Software
Telemedicine uses computer networks to arrange communication between patients and doctors. Traditionally, it was implemented in the form of email communication and phone calls. These days, thanks to digital technologies, patients and doctors use web or mobile apps to have online consultations as text, audio, or video chats. The communication is usually encrypted to maintain confidentiality.
The increasing demand, especially during the COVID-19 pandemic, spurred a great growth of web and mobile applications for telemedicine. There are many situations where patients cannot visit doctors and vice versa. Video conferences held with the help of appropriate software proved to be an effective solution to this problem.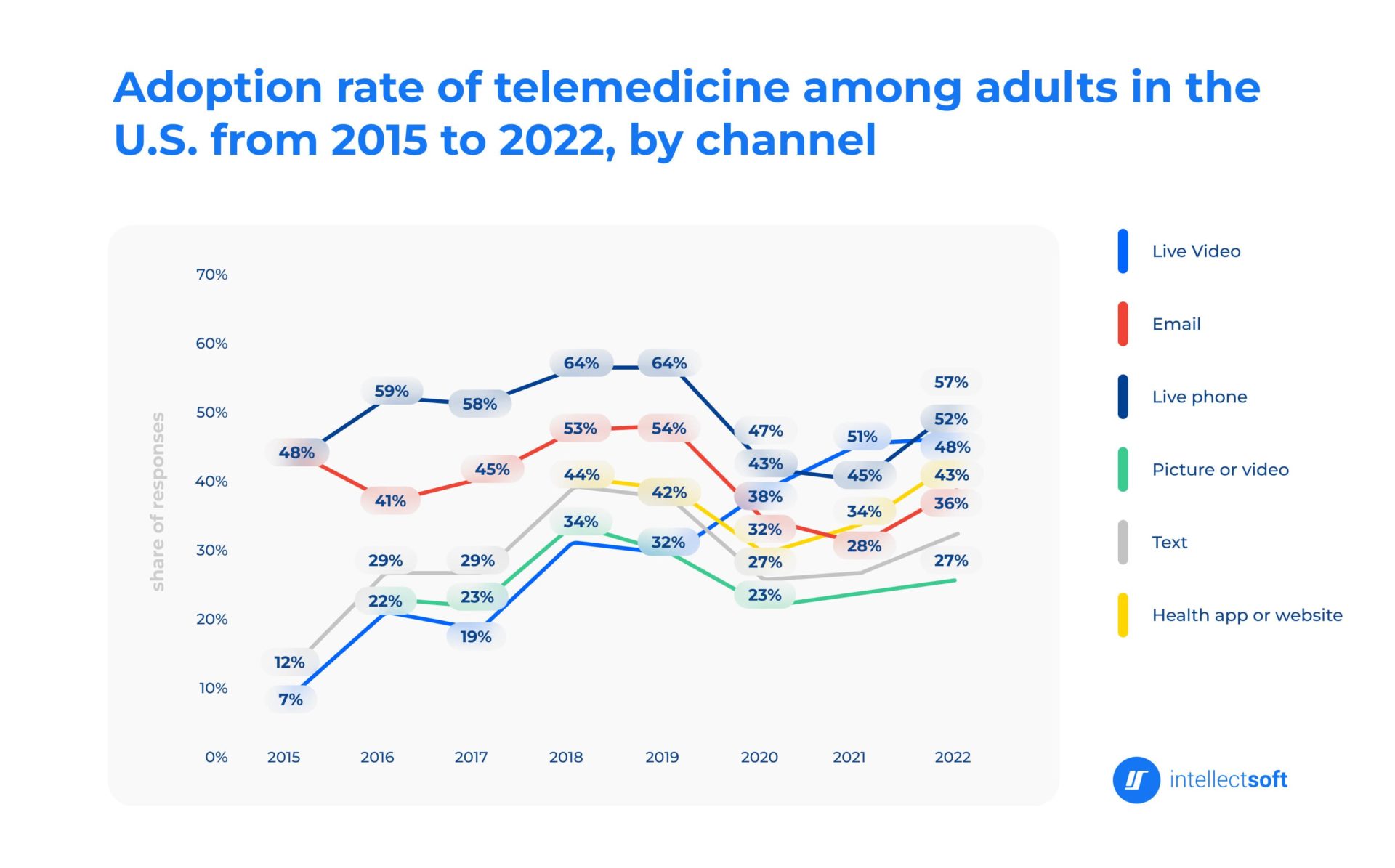 Doctor appointment scheduling software is often considered a part of telemedicine. It may be a separate app or a module integrated into a complex management system. In any form, it allows users to choose a doctor and schedule an appointment without visiting a clinic. More often, such applications also have additional functionality, such as billing and video conferencing. Telemedicine applications also allow patients to attach their test results or other relevant files to their chats with doctors. 
Some telemedicine apps combine features of social networks and marketplaces. For example, they may contain doctors' biographies, their specializations, awards, descriptions of expertise, and other career highlights. Such showcases allow patients to make a better-informed decision on choosing a particular medical specialist. 
As a rule, a telemedicine software product comprises at least two apps – for doctors and clinics, and for patients. These apps have different functionalities and access permissions but are connected to a common data platform. This way, doctors have a clear view of their schedules, and hospital management staff observe the workload of every individual doctor and department. In their turn, hospital clients are allowed to see only free spots and the part of the schedule related to them. Patients and doctors receive notifications to remind them of planned appointments or any other relevant information.
E-prescriptions Software
Electronic prescriptions are another attempt to reduce paperwork and introduce the benefits of digital documentation, similar to electronic health records. This type of software allows improved control over the process of prescribing and obtaining medicine, making it much more difficult to forge receipts. 
In some cases, e-prescription software allows patients to order the required medicine online. It improves convenience for people with low mobility and other conditions that make it difficult for them to go to a pharmacy.
Hospital Management Systems (HMS)
Hospital management systems are large software suites that usually comprise several modules with different features and levels of access. Often, they are used as core frameworks that integrate various types of software mentioned in this article into one infrastructure. In such cases, an HMS may contain: 
EHR database;
Appointment scheduling module;
E-prescriptions;
Integrated CRM system.
In some implementations, a hospital management system offers essential functions for hospital administration. These functions are usually aimed at automating routine processes, such as patient room management, inventory tracking, billing and accounting, operating room scheduling, and many others.
Customer Relationship Management (CRM) Software for Medical Institutions
CRM software is often used in clinics to optimize their communication with patients. This way, clinics may gather, store, and analyze information about their clients in an effective automated way. As a result, patients get personalized services and a better customer experience.
Usually, CRM systems interact with electronic health records since they both deal with the same information. Using this data, CRM software can provide automatic notifications to clients using their email addresses or phone numbers. Overall, the purpose of CRM is to improve customer satisfaction and streamline mundane processes. 
Health Tracking Software
This type of software gained popularity thanks to the various types of smart devices. Health tracking involves measuring vitals or other health-related characteristics of a person using a range of electronic devices. They include various wearables, such as fitness trackers and smartwatches. 
Health tracking software is commonly used for monitoring blood pressure, oxygen saturation, heart rate, glucose level, and other health indicators. Such applications are usually installed on smartphones or tablets and provide convenient notifications whenever the user's attention is required. Overall, they offer quality-of-life improvements for people with such conditions as diabetes or asthma, as well as post-op patients and elderly people.
Keeping track of glucose and calorie consumption is essential for many patients who must keep a strict diet. A combination of custom software and IoT technologies is very convenient for this purpose.
Medical Imaging Software
Medical imaging software takes signals from an MRI or CAT machine and converts them into a visual representation. Modern versions of such software implement AI and machine learning technologies for automatic analysis. Additionally, new imaging technologies create high-resolution images and 3D models that can be closely inspected by specialists. 
For example, this can reduce the chance of misdiagnosing and improve the accuracy and speed of diagnostics. The combination of medical imaging software and electronic health records allows doctors to visually track the progress of a disease by comparing several images taken at different stages of treatment. 
Additionally, imaging technologies can have other purposes in healthcare. For example, models created by medical imaging software may be converted into educational materials and used in medical training software. These models also help to improve tissue printing technologies, which are believed to be the nearest future of medicine.
Medical Research and Analytics Software
Large amounts of information regarding medical cases can be processed into a valuable source of scientific data. To do so, patient's data is depersonalized and subjected to several stages of analysis and classification. After that, the obtained structured data is integrated into relevant databases. 
Such scientific databases also require specific management software to keep them organized and accessible for research. Database management software should perform duplicate removal, regular updating, and other maintenance procedures.
Medical Training Software
The newest digital technologies offer incredible opportunities for medical training. The use of virtual reality and augmented reality has revolutionized the approaches to education. Specialized software allows medical students to study highly detailed 3D models of organs and systems of a human body in a healthy state or afflicted with various diseases.
Virtual reality has found an impressive application in surgery training. Today, thanks to VR/AR equipment and software, medical students can practice their surgery skills in a simulated environment. 
Exercising and Rehabilitation Assistants
This type of software is especially useful in combination with health tracking and telemedicine applications. Many patients need guidance and motivation to exercise at home, for example, if they cannot go to rehabilitation centers for every session. This is the case for postoperative patients or people with different disorders that lead to obesity. 
Rehabilitation assistant software can contain different exercise programs developed by doctors for various health conditions. Additionally, such assistant apps may be adjusted for every patient individually by their consultant physician. The integration with smart devices allows patients and their doctors to track their progress and vitals during exercising. 
The psychological aspect of such apps is also highly important. Some people are shy by nature and dislike gyms or socializing in general. Others may feel uncomfortable in public because of their appearance, for instance, if they have scars or extra weight. Rehabilitation assistant software may become a life-changer for them, preventing patients from giving up and encouraging them to exercise. 
The Importance of Medical Software
There are many other types of healthcare software that did not make the list, such as robotic surgery software, medical billing software, and so on. The industry of healthcare has many challenges, and software developers are doing their best to provide effective solutions. Here are a few examples of how specialized software benefits doctors, patients, and healthcare institutions:
Optimized hospital management processes
Better customer experience for patients
More secure handling of confidential information
Convenient appointment scheduling
Ability to consult with doctors using video calls
More accurate diagnosing and reduced chance of human errors
A whole new level of interactive medical training
Quality-of-life improvements for patients with low mobility and other conditions
The advances in medicine and software development will definitely lead to new types of healthcare software. The existing types and applications will also improve to offer even more advantages and adapt to the changes in respective fields.
Conclusion
Due to the constantly rising demand, developers keep creating and improving various types of healthcare software. Their advantages are highly appreciated by hospital management, medical staff, and patients. 
At some point, every provider of medical services needs one or several customized applications to optimize and promote their business. These days, even small clinics require at least a CRM system and EHR software to offer a competitive level of service.
Intellectsoft specializes in providing customized IT solutions for healthcare. Our specialists have built significant expertise in this field and take a personalized approach to every case. Contact us and tell what medical software solution you want to create.