San Francisco, a city known for its music and arts, is also synonymous with tech and innovation. The City by the Bay has been instrumental in shaping the digital frontier, with economic foundations that are deeply rooted in the tech industry. 
Home to iconic giants like Cisco and a haven for burgeoning startups, San Francisco's skylines are dotted with entities that have completely transformed the realm of technology.
So it's hardly a surprise that in San Francisco, we find a tech hub with a growing software development industry – and finding the right partner amidst this abundance can be a challenge. 
So for those on the lookout, here's a comprehensive guide to the 20 best software development companies in San Francisco.
What Criteria Did We Consider?
To curate this list, we've considered several critical factors:
Number of successful projects

Client feedback

Range of services

Adaptability to new technologies

Industry reputation

Overall experience
Every company listed has excelled in these areas, ensuring that you're engaging with the very best from San Francisco's software development scene.
20 Best Software Development Companies in San Francisco
With its history of fostering technological innovation, San Francisco stands out as an ideal location for seeking out software developers. Whether it's a startup making a mark, or an established business striving for innovation, the city offers a wealth of expertise and resources.
Below we have handpicked the 20 best software development companies in the Bay Area.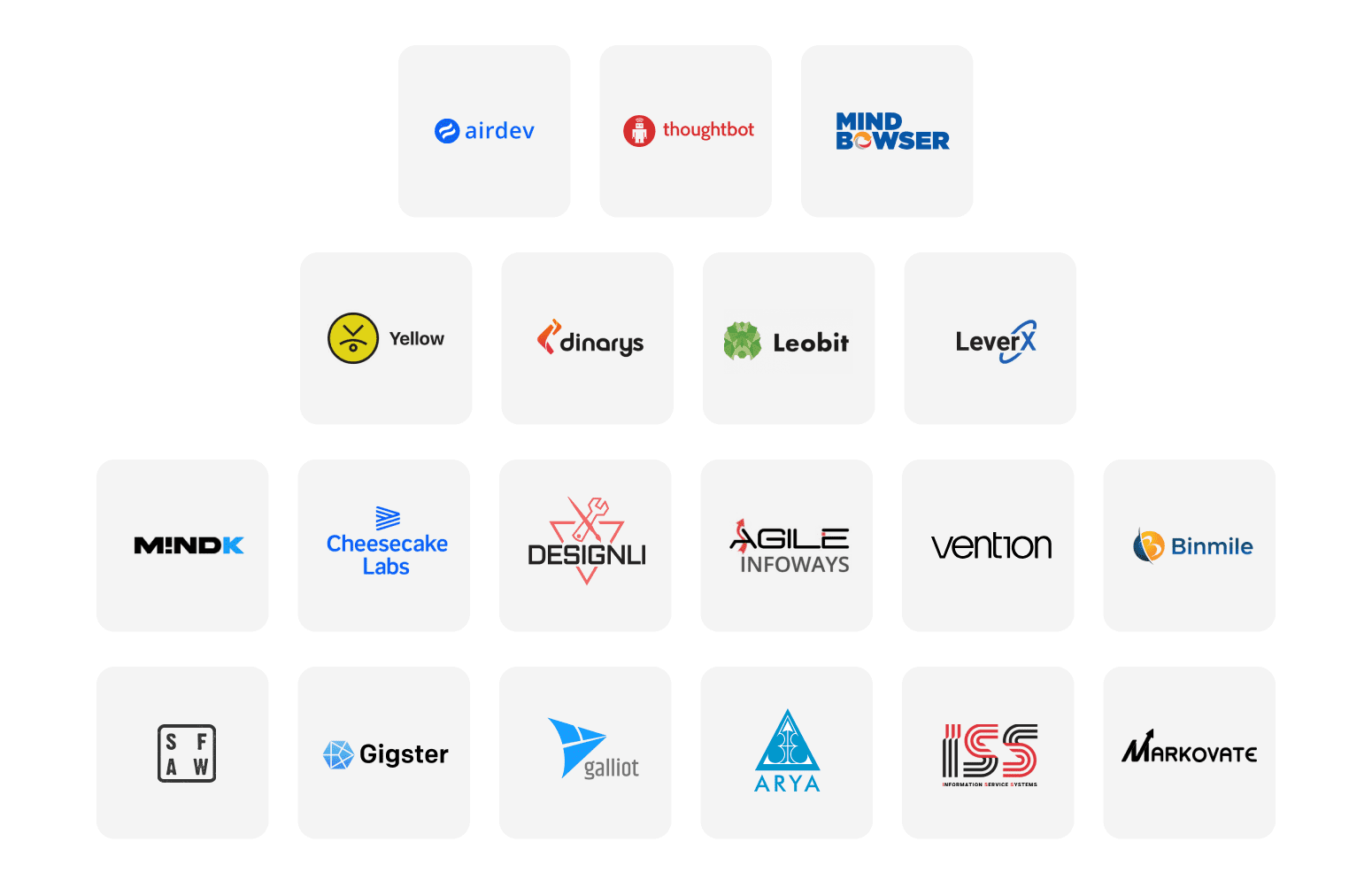 Serving the heart of San Francisco, Intellectsoft is an all-encompassing software development solution. Spanning across a vast range of industries and locations, Intellectsoft offers multifaceted and custom development services.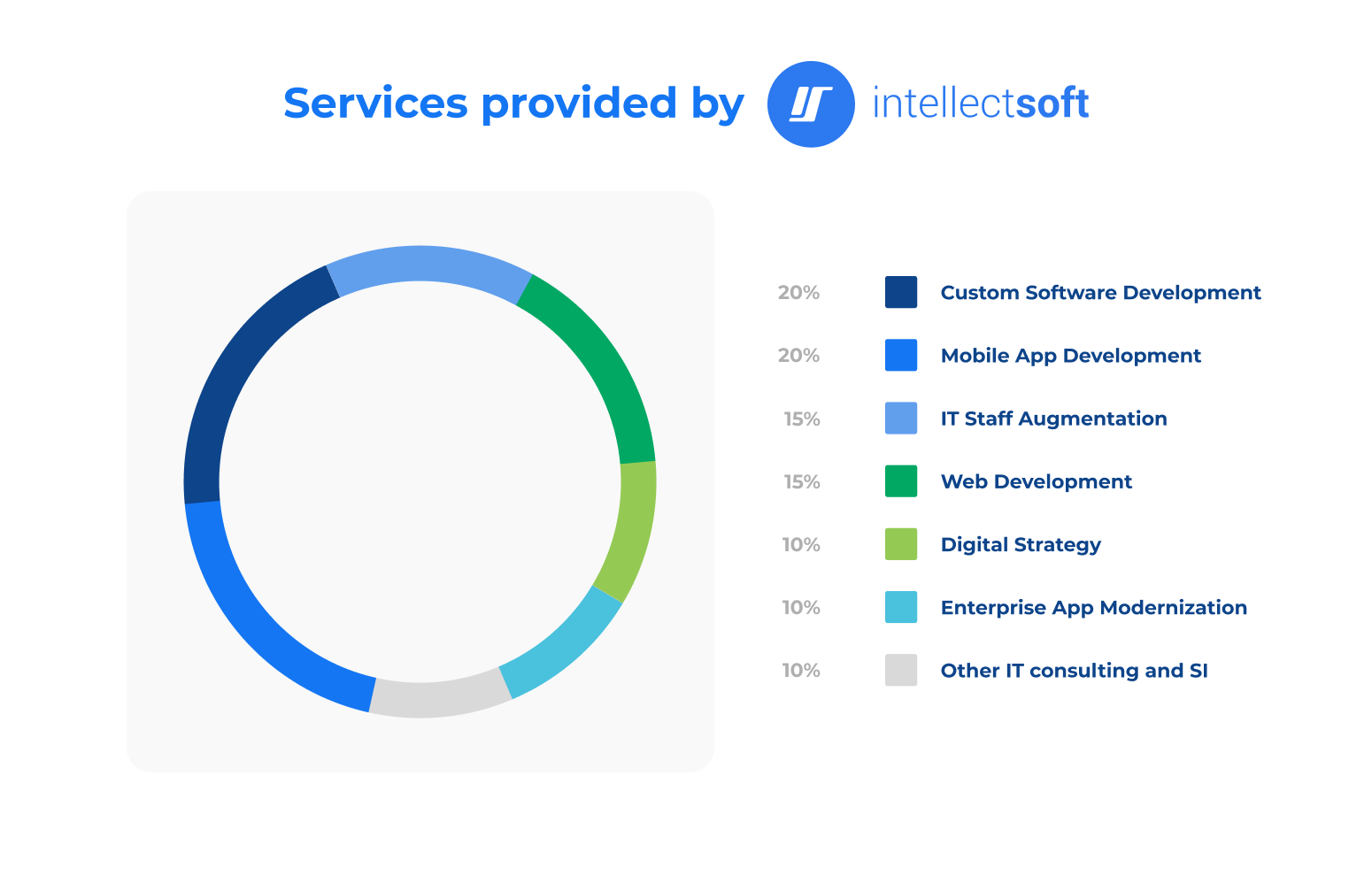 Intellectsoft boasts a diverse service offering, from mobile development and UI/UX design to IT consulting, product engineering, and rigorous QA testing.
Intellectsoft's client list speaks volumes, with notable names like Jaguar, Walt Disney, Universal, and Land Rover. 
Technically proficient, Intellectsoft developers have expertise in languages such as Java, C#, and C/C++ and navigate frameworks like JDBC/JPA and JMS Hibernate. 
With capabilities in both mobile and web platforms, database systems, and an array of cloud services, they are well-equipped to meet varied technological demands.
With over a decade of experience in custom software development, Intellectsoft provides tailored business solutions in the following industries:
Construction

Travel & Hospitality

Retail & E-commerce

Healthcare & Dental

Insurance

FinTech

Logistics & Automotive
With a vast array of tech and development offerings combined with deep industry insights, Intellectsoft is a trusted partner for business, ensuring tailor-made solutions regardless of complexities inherent in the industry. 
2. AirDev
A pioneering force in the software development industry, AirDev is a development solution with a specialized focus on creating custom web apps swiftly and cost-effectively. 
AirDev utilizes no-code frameworks and aims to revolutionize the traditional development process, creating a more efficient and accessible form of custom software development in San Francisco. 
When we delved into their partnership with Tributi, we thought these San Francisco developers truly know how to transform visions into reality without the coding barrier.
AirDev uses a proprietary roadmap system to ensure a streamlined project journey, enabling clients to have clarity every step of the way. By combining innovation with efficiency, Airdev has established itself as a go-to for businesses seeking rapid and budget-friendly web application solutions.
3. ThoughtBot
Catering to a diverse clientele, from budding startups to established enterprises, ThoughtBot stands out with its multifaceted software solutions. 
Their collaboration with Bark & Co. caught our eye, impressively showcasing their knack to innovatively launch product lines while ensuring quality code.
ThoughtBot's expertise spans a wide spectrum, including web and mobile app development, state-of-the-art UX/UI, and product design. 
With an added proficiency in interface design audits, they ensure digital touchpoints resonate with end-users. Their foray into AI and machine learning integration sets them apart, offering clients a cutting-edge advantage. 
ThoughtBot's adeptness doesn't stop there. They conduct meticulous code audits, champion the use of React Native for mobile optimization, and provide Site Reliability Engineering (SRE) services, solidifying their reputation as comprehensive tech partners.
4. Mind Browser
Mind Browser emerges as an expert in platform engineering, leveraging technologies like Python, PHP, Flutter, React, Java, and Angular. 
Rooted in tried-and-true UX principles, they prioritize an impeccable end-user experience. 
With a focus on open-source software, they champion transparency and flexibility. 
Their automated quality control and rigorous code audits ensure the highest standards, making them a favored choice for entrepreneurs aiming for top-tier, user-centric digital solutions.
Mind Browser's work with True Health on a virtual fertility counseling service truly stood out to us. The user interface, developed using a Well-Architected Framework approach, demonstrated their prowess in creating intuitive, user-centric platforms. 
5. Yellow Systems
Yellow Systems prioritizes utmost security, placing a strong emphasis on NDAs and data safety, ensuring client trust at every juncture. 
Their expertise shines in cloud application development and crafting Minimum Viable Products (MVPs) that serve as a solid foundation for scaling. 
Particularly renowned for their prowess in integrating AI into software, they push the boundaries of what's achievable. 
A shining example of their prowess that we loved was their collaboration with a global service that tracked CO2 emissions from farmland, where they adeptly built the analytics tools and optimized map clustering. 
Their specialty in developing chat apps further underscores their versatility. At its core, Yellow Systems is steadfastly client-centric, consistently putting business needs at the forefront of every project.
6. Dinarys
As one of the standout software companies in the Bay Area, Dinarys excels in the digital commerce landscape, specializing in crafting e-commerce websites, online stores, and mobile apps. 
Their template-based approach ensures streamlined and efficient development, while their emphasis on speed optimization guarantees swift user experiences. 
They provide a tailored layer of personalization, ensuring resonance with target audiences. 
Their prowess extends to ERP integrations, facilitating cohesive business operations. With a keen eye on excellence, Dinarys also offers UX audits, solidifying its position as a top-tier solution for businesses.
Dinarys collaborated with Rite Space from Australia, where they built an application to visualize room design with 3D models based on spatial measurements. This project truly caught our attention and exemplified their capabilities.
7. Leobit
Headquartered in San Francisco with branches in Austin, Estonia, and Ukraine, Leobit specializes in software development tailored for startups. 
Their expertise shines across sectors, particularly in real estate, e-learning, healthcare, and logistics. 
Offering a suite of services from .NET software development and mobile and web apps to exceptional UI/UX design, they guarantee holistic solutions. 
For us, one project that truly showcased their skills was a platform developed to assist disabled veterans through the VA claim process, where they deftly utilized .Net, C#, Microsoft Azure, and Google Cloud. 
Leobit's commitment to full-cycle software solutions solidifies its stature as a leading tech partner in the Bay Area and beyond.
8. LeverX
With its headquarters based in San Francisco, LeverX is an international authority in the world of SAP implementation. 
Boasting over two decades of unparalleled experience, they've carved a niche in areas such as SAP S/4HANA migration and guiding businesses through digital transformations. 
One particularly commendable project that caught our attention was their SAP/HANA modernization in Kazakhstan and Kyrgyzstan. Within a mere 9 months, LeverX transformed the data landscape of an agricultural sales division for John Deere equipment using a SAP cloud implementation. 
Beyond their SAP-centric solutions, they also offer custom software development tailored to specific business needs. 
Recognizing the challenges that come with digital evolution, LeverX further provides change management services, ensuring smooth transitions and adoption. 
9. MindK
Among the eminent software companies in San Francisco, MindK stands out with its unique expertise in sculpting Minimum Viable Products (MVP). 
With a strong emphasis on prototyping, they ensure that ideas transform into tangible, functional designs swiftly. 
Their prowess extends to both web and mobile app development, seamlessly integrating APIs to enrich functionalities. 
We are seriously impressed with their rapid and innovative approach. In just 38 days, they built a search engine for music beats named "Melody". This achievement not only showcased their technical prowess but also their creative ingenuity, as the platform won a design award and amassed thousands of active users in a short span.
Committed to steering businesses into the digital age, MindK offers solutions that not only digitize operations but also ensure scalability, priming enterprises for growth.
10. Cheesecake Labs
Positioning itself as a trusted software design and engineering partner, Cheesecake Labs excels in bringing innovative ideas to life. 
Their expertise spans a wide spectrum, from crafting impactful Minimum Viable Products (MVP) and delivering impeccable UI/UX design to developing cutting-edge mobile and web applications. 
Cheesecake Labs embrace new technology with Web3 and blockchain, they're at the forefront of the latest technological revolutions. 
Cheesecake Lab's capabilities also extend to the Internet of Things (IoT) and wearables, ensuring that businesses are equipped with the most advanced tools to get the most out of today's technology.
Speaking of bringing ideas to life, we loved their collaboration with Sodexo. Cheesecake Labs built the Wizeo app for fleet and fuel management using React Native, showcasing their ability to create efficient and user-friendly mobile experiences for industry giants.
11. Designli
As a premier software development company in San Francisco, Designli positions itself as more than just a developer — it's a design partner. 
Dedicated to making software accessible, they excel in UX and development for both web and mobile apps. Their unique offering of on-demand product teams ensures that businesses have the expertise they need exactly when they need it. 
Embracing the lean startup methodology, Designli emphasizes efficiency and innovation at every phase. 
One notable collaboration that grabbed our attention was with True Load Time. Designli crafted an innovative app that adeptly solves a unique issue for truckers, enabling them to determine wait times at loading locations and ensuring they stay on schedule.
Their prowess isn't limited to just development. They also shine in graphic design and prototyping, ensuring every project is both visually striking and functionally sound.
12. Agile Infoways
Agile Infoways champions a holistic approach to software development. With a strong foothold in DevOps and CI/CD development, they ensure streamlined and continuous software delivery. 
Their expertise in cloud engineering and web development is complemented by their prowess in crafting Android, iOS, and React Native applications. 
We were really impressed with their mobile CMS project with ThankX. They brilliantly developed a peer delivery system, providing innovative tracking technology that revolutionized personal deliveries. 
What sets them apart is their specialization in ChatGPT integration, making them a go-to choice for businesses aiming to harness the power of advanced conversational AI in their digital solutions.
13. Vention
Rooted in San Francisco's innovative tech scene, Vention is a software developer, specializing in projects which require modern solutions. 
Their expertise isn't just confined to traditional software, web, and mobile development, they delve deep into cutting-edge technologies like Blockchain, IoT, and the immersive realms of AR and VR. 
What really stood out to us was their work on the VerseX project. Harnessing their commitment to modern solutions, they brilliantly utilized their native token to craft a community environment where users could earn NFTs, showcasing their adeptness with blockchain technology. 
Their diverse tech suite makes them a preferred partner for businesses looking to integrate the latest in digital advancements. 
With their startup-friendly approach, Vention ensures that budding enterprises receive the tailored support they need to navigate the dynamic world of technology.
14. Binmile
Positioned prominently among the software developers in San Francisco, Binmile emerges as a paragon of enterprise software engineering excellence. 
The Binmile portfolio boasts a blend of traditional and advanced services, ranging from experience design and SaaS development to application modernization. 
With a forward-thinking approach, Binmile taps into next-gen technologies, integrating IoT, Artificial Intelligence, Machine Learning, AR, and VR into their solutions. 
Binmile also specializes in DevOps, while their proficiency in CRM development offers businesses tailored tools to enhance customer relationships and drive growth.
15. SF AppWorks
SF Appworks offers transformative solutions for businesses. Their prowess in no-code and low-code development empowers businesses to have self-reliant products, reducing dependency on continuous support. 
With a keen focus on innovation, they champion rapid prototyping, allowing businesses to test and validate apps before extensive development. 
Their offering extends to IT staff augmentation, providing short-term software development reinforcements to enterprises in need. 
One collaboration that truly caught our attention was their EdTech project with edureka!. Through this initiative, they showcased their prowess in creating impactful solutions, helping students in Bangalore secure better job opportunities. 
Balancing their tech suite, they also excel in design, UX, and web development, ensuring a holistic approach to digital solutions.
16. Gigster
Established in the heart of San Francisco, Gigster emerges as a premier custom development powerhouse. Their dedication to excellence is evident in their meticulous AI integration, including the likes of ChatGPT, setting them apart in the tech ecosystem. 
Gigster doesn't just stop at AI. They venture into the contemporary realm of blockchain solutions and are pioneers in the burgeoning world of NFTs. 
Their under-10-day average staffing time showcases their efficiency, while their unique offering of dev evaluation ensures that businesses always receive top-tier expertise tailored to their needs. 
One of their many awesome projects that caught our attention was "Kar Page." This unique website and app enable users to weave together car ownership histories, effectively creating a "family tree for cars." 
Their innovative approach to this unique proposal culminated in a platform that combines the nuances of social networking with car lineage tracing.
17. Galliot
With the ethos "you imagine, we build" at its core, Galliot carves a unique niche in San Francisco's tech landscape. 
More than just a developer, they specialize in team integration, ensuring businesses receive ongoing support long after initial project completion. 
Their exceptional work on object detection models, especially their adaptive computer vision engine API, stood out to us as a testament to their innovative capabilities. 
Their proficiency in DevOps guarantees streamlined operations, while their expertise in cloud architecture and optimization ensures efficient and scalable digital infrastructures. 
Complementing their foundational services, Galliot also excels in both web and mobile development. Galliot's foray into AI and machine learning showcases its commitment to harnessing the latest technological innovations to drive client success.
18. Arya
With over 12 years of experience in software development in San Francisco, Arya distinguishes itself with its comprehensive range of services. 
We really loved their Ozobi travel platform which exemplifies their innovative approach—designing a platform that enables users to connect seamlessly with travel experts to craft the ideal trip.
Specializing in SaaS development, they cater to businesses seeking scalable and efficient digital solutions. 
Venturing into the realms of AI and IoT, Arya showcases its commitment to next-gen technologies, further exemplified by their expertise in blockchain and bot development. 
Their proficiency extends to custom software development tailored to specific business needs. Arya also offers digital marketing solutions, ensuring their clients are well-positioned in the digital marketplace.
19. ISS Art
Since 2003, ISS Art has provided custom software development solutions to San Francisco and beyond. 
ISS Art blends innovation with practicality, offering extensive research and development services to ensure that every solution is both state-of-the-art and functional. Their commitment to quality is evident in their comprehensive QA services, ensuring every product meets the highest standards. 
One of their standout projects that seriously impressed us was crafting a solution for a brewery: they developed a script that expertly analyzes microscope images to distinguish between live and dead yeast cells, streamlining the brewing process.
ISS Art also aids businesses in validating ideas with their proof of concept offerings. Their emphasis on full-cycle software development ensures a seamless journey from ideation to deployment. 
For enterprises grappling with outdated infrastructures, they provide legacy system replacement, ushering businesses into the modern digital age.
20. Markovate
With a remarkable portfolio boasting over 450 completed projects, Markovate stands as a luminary in the San Francisco tech scene. 
Their specialization in AI is extensive, covering machine learning, AI consulting, AI as a Service (AIaaS), and chatbot development, with notable expertise in generative AI, including platforms like ChatGPT and Midjourney. 
Markovate is also adept in blockchain technology, further amplifying its cutting-edge service offerings. 
Balancing their advanced solutions, Markovate excels in traditional realms as well, providing top-tier mobile, cloud, web, and software development services for businesses of all sizes.
Markovate developed Canada's first cashierless grocery store. We loved this developer for their groundbreaking work with Aisle24. An automated grocery store, tailored to the purchasing habits of the communities it serves.
Summing Up
At the heart of Intellectsoft's unique selling proposition lies a profound commitment: 
To guide enterprises through the intricate maze of digital evolution, ensuring swift adoption of innovative technologies and continual transformation. 
A testament to the Intellectsoft expertise is the cloud solution crafted for EuroStar iTM.
This web and iOS platform enhanced reservation management, introduced an internal chat feature, and equipped train managers with a comprehensive tool to address in-journey concerns and efficiently collate crucial end-of-journey data. 
For deeper insights into Intellectsoft's transformative projects, explore case studies and client testimonials.
If you're seeking a partner to champion your digital journey in the San Francisco area, look no further than Intellectsoft.
FAQ
Why is San Francisco considered a hub for software development companies?
San Francisco, often dubbed the tech capital, houses Silicon Valley and has a rich history of technological innovation. The city attracts top talent, startups, and established tech giants, creating a vibrant ecosystem that fosters growth, collaboration, and cutting-edge software development.
How do San Francisco's software companies, like Intellectsoft, stay at the forefront of emerging technologies?
San Francisco developers and software companies invest heavily in research, development, and talent acquisition. Companies like Intellectsoft prioritize ongoing innovation, tapping into trends like AI, IoT, and blockchain, ensuring they deliver state-of-the-art solutions tailored to evolving business needs.
Are San Francisco software development firms equipped to handle the growing demand for next-gen tech solutions?
Yes. With a blend of experienced tech veterans and fresh talent, San Francisco's software firms are adept at harnessing next-gen technologies. Their proximity to tech innovations, continuous upskilling, and collaborative environment make them uniquely positioned to address emerging tech demands.