Dallas is rapidly becoming a tech hub where businesses thrive, primarily due to the region's growing reserve of tech talent. Paired with attractive tax policies and affordable living costs – Dallas is undoubtedly drawing software companies in droves.
If you're searching for top-tier Dallas software development companies, you're on the right track and in the right place.
Distinguished software companies in Dallas are plentiful, and this article will guide you in finding the best fit for your needs.
What Criteria Did We Consider?
In curating this list, we've selected these exceptional companies based on a few crucial factors. We evaluated the range of their use cases and their ability to serve both small businesses and large corporations with equal efficacy. 
We also relied heavily on user reviews to attest to their real-world performance and customer satisfaction.
15 Best Software Development Companies in Dallas
The best software development companies in Dallas are filled with some of the most diverse and innovative tech talents in the nation. 
Below, we explore 15 that stand out in this competitive field for their superior quality and proven industry expertise.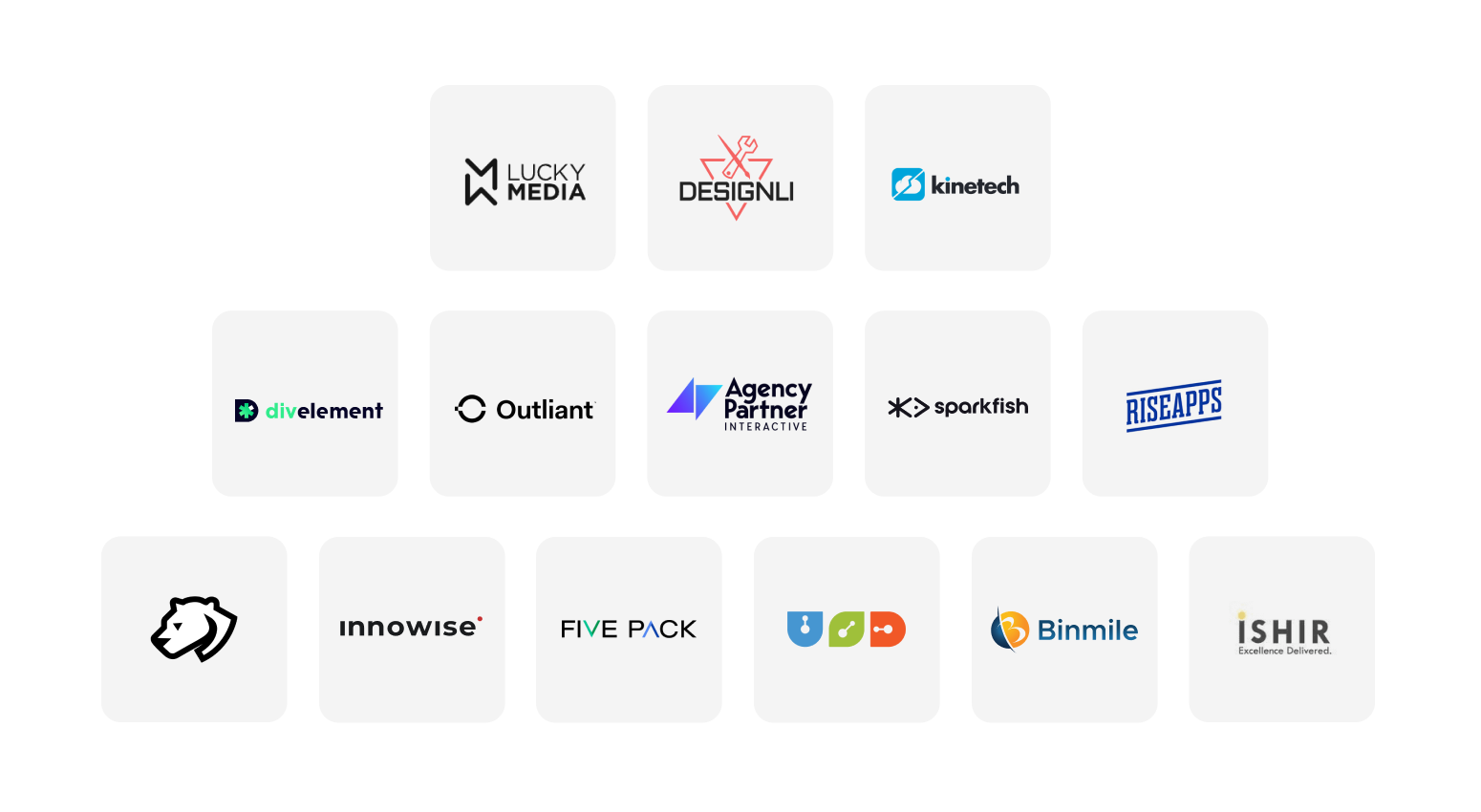 Intellectsoft is a leading software development company in Dallas and an all-around software solution catering to several industries on a cross-regional scale. We offer multifaceted custom services, including mobile development, UI/UX design, IT consulting, product engineering, and QA testing.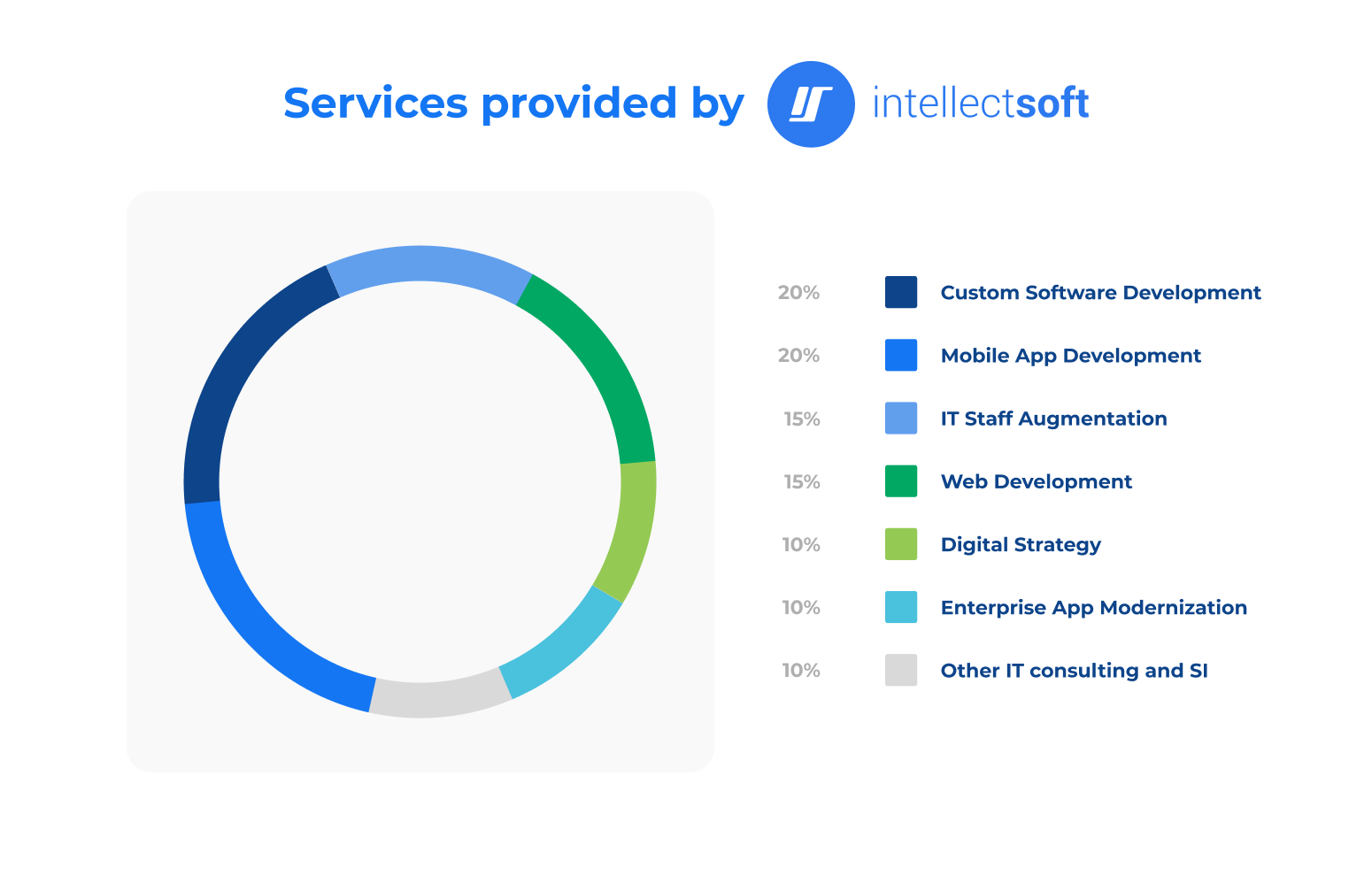 Over a decade, we have successfully provided custom-tailored services for industries like: 
Construction

Travel & Hospitality

Retail & E-commerce

Healthcare

Dental

Insurance

FinTech

Logistics & Automotive
Our technology stack equips developers with a robust understanding of various languages and tools. It allows us to service clients regardless of industry complexity. 
Intellectoft's team has a technical proficiency that extends to languages like Java, C#, C/C++, and frameworks like JDBC/JPA and JMS Hibernate. 
Meanwhile, mobile and web platforms, database management systems, and multiple cloud services also form part of our arsenal.
We pride ourselves on having an esteemed list of major clients, which includes Fortune 500 companies and global brands such as Nestle, Walt Disney, Universal, and Harley Davidson.
2. Cheetah Technology
Cheetah delivers exceptional services as a flexible and dynamic player in the tech industry. These include software design, software development, AI development, mobile app development, and web app development. 
Unique to their portfolio is a dedicated provision for marketing assistance. Cheetah has comprehensive marketing strategy support, including digital marketing, social media marketing, brand management, and E-commerce. The company also offers specialized services for Amazon. The company specializes in building next-gen distributed web3 applications.
Their ability to fuse technology and marketing sets them apart, making them a preferred choice for businesses seeking integrated solutions.
3. Five Pack
Offering a comprehensive suite of services, this firm specializes in the design, development, and testing of mobile apps. Since the historical opening of the App Store in 2008 and up until these days, the company has kept its core management and development teams.
Five Pack's unique, proven approach involves the innovative Launch Lab. It's a pre-development process designed to mitigate risks, maximize returns, and optimize strategies. 
The Launch Lab delivers meticulous wireframes, prototypes, documented requirements, technical research, and detailed estimates. 
Their key offerings encompass mobile and web development and specialized staffing solutions – showcasing their commitment to holistically assisting businesses in all aspects of software development.
4. ISHIR
ISHIR shines differently in the software landscape with its unique Project Rescue service. With it, ISHIR tackles stalled projects – swiftly identifying root causes, providing feasible recommendations, and redefining project timelines. 
They offer the availability of a local team based in Dallas Fort Worth and an offshore team in India to assure speedy delivery without compromising quality or innovative software architectures. ISHIR's prominent clients include the University of Auckland, New Zealand, and HYATT restaurants.
Also, ISHIR steers projects back on track while ensuring optimum resources and technology use. This team also extends its expertise in legacy software modernization and maintenance.
The company is a comprehensive rescue, rebuild, and maintenance support system for businesses experiencing project challenges.
5. Unique Software Development
This company sets itself apart with a unique focus on IoT and hardware, web applications, IT management, and 3D model printing. Their efforts leverage Microsoft Licensing & Azure Cloud Services. 
Using a robust .NET stack, they are well-equipped to manage complex environments within financial, healthcare, and B2B transactions. 
Unique Software Development is fueled by a vast library of pre-built assets, reusable frameworks, and ready-to-integrate code amassed from years of .NET projects. An adaptable delivery model seals their commitment to timely and budget-friendly initiatives. They are a certified Microsoft partner, boasting direct licensing from Adobe, Amazon, and Oracle along with a whopping 768 additional partners.
6. Sparkfish
Creating game-changing custom software and mobile applications to drive innovation or platform unique marketplaces is Sparkfish's core expertise. 
They provide solutions tailored precisely to business requirements, ensuring immediate ROI. 
All solutions from Sparkfish are engineered from scratch to deliver concrete results. They specialize in custom-built EHR/EMR systems with automated data analytics and efficient scalability.
They also excel in data analytics, offering managed services such as DevOps and NetOps. Software testing, modernization, and Microsoft, cloud, and open-source consulting further solidify their diverse service offering.
7. Kinetech Cloud
Kinetech Cloud brings razor-sharp focus to low-code enablement, custom software development, product strategy, and digital workflows. They pride themselves in building a low-code enterprise application for a 90-year-old construction company.
With their aptitude for creation, they've built cloud-native fintech solutions designed for originators, investors, and diligence providers. These solutions are strengthened with a low-code approach – enabling effortless compliance, workflow control, and audit performance. 
Beyond financial technology, they've taken strides in government tech – becoming a leading low-code implementer for local governments. Kinetech Cloud is transforming how municipalities worldwide offer digital services through innovative technology.
8. Outliant
Outliant navigates the realm of analytics expertly. Their insightful approach sees them fashioning sturdy data warehouses and intuitive, KPI-driven dashboards. Beyond that, they offer services in data strategy, message marketing, and product analytics development. 
This team recognizes that standing out and scaling in today's marketplace is about more than tech. So, they design modern brands, systems, and experiences for a comprehensive digital presence. For example, they developed an online marketplace where athletes can directly find brands and monetize their names.
Their prowess extends to marketing assistance, offering strong creative content and ad services to boost revenue and user base.
9. Divelement Web Services
This company's approach begins with a bright idea, progressing to meticulous strategy analysis. They specialize in making EdTech intuitive and user-friendly. For instance, they enriched the functionality of an educational platform by making sophisticated features simple to use, like custom algorithms for flashcards and drag-and-drop text editing.
Beyond that, Divelement dives into development–adopting a well-calculated approach to ensure strategic alignment with pre-set goals. Rigorous QA testing follows to iron out bugs for a flawless end product. 
The cycle doesn't stop there. With ongoing operations, they consistently monitor projects, ensuring a smooth run. Their service offerings include DevOps, full-stack development, cloud architecture, UX/UI design, and project management, making them a well-rounded solution provider.
10. Binmile
Many software development companies in Dallas operate with a broad focus, but Binmile shines in custom software development. Similar to Intellectsoft, their technically progressive approach has enabled them to serve Fortune 500 companies. 
One prominent project that shows their expertise is an integrated travel platform that raked in over half a million downloads 4 months after the app was launched.
Always ready to step in, their dedicated team provides preventive and proactive repair for software maintenance woes. Their capabilities extend to marketing services – CRM and sales portals, automating marketing processes, and setting up call center software. 
11. Innowise Group
Interestingly, Innowise taps into Metaverse, AR, and VR technologies, pushing the boundaries of their expertise. They build top-tier iOS and Android mobile applications, reflecting the latest tech trends. One of their successful projects is a cross-platform GIS application that allows to reduce the resource consumption by 65%.
Their proficiency in custom blockchain apps drives digital futures further. Meanwhile, this company also develops cloud-based applications, seamlessly transitioning client-server software to the cloud. Their data engineering capabilities transform raw data into actionable business insights. 
With digital transformation as a spotlight, they excel at data analytics, visualization, and electronic human resource management system deliveries, further enriching their portfolio.
12. Riseapps
Navigating the sea of tech can be a daunting prospect. Riseapps smartly intervenes during such struggle points, helping startups and midsize businesses realize their digital solutions. 
They turn ideas into value-based products, with AI & ML at the helm, orbiting healthcare and education tech. One such project is a clinically tested AI health assistant.
As a full-cycle product development company, they provide tailored solutions for startups, SMEs, and enterprise-level vendors. Their services extend from custom software development, team augmentation, product re-engineering, and consulting to auditing. These services leverage their eight years of hands-on expertise to deliver superior service quality.
13. Agency Partner Interactive LLC
For businesses with a growth-focused vision, Agency Partner Interactive offers an innovative approach. They craft tailored technology solutions and digital marketing strategies to achieve strong ROI.
As a decade-strong legacy, Agency Partner Interactive has garnered an impressive portfolio with over 1800 digital projects for distinguished clients. They operate a unique distributed agency model that cuts operating costs significantly. These savings directly benefit clients through reduced investment costs. 
This company's specialties encompass SEO, pay-per-click, custom web design and development, web applications, and mobile apps.
14. Lucky Media
As another leading custom software development company in Dallas, Lucky Media specifically focuses on creating web apps, websites, and mobile applications. For instance, they helped one client with a painless migration of their WordPress blog to another platform which is a notoriously difficult task.
Whether designing an online ordering and delivery system or deploying a content management tool, every solution is tailor-made to suit your needs. For startups in a rush for quick returns, this team's adaptability to tight timelines is a significant advantage. 
15. Designli
Designli asserts its expertise in UX and application development, serving as a key translator for visionary ideas into market-ready products. Their skilled team employs a clear process and goal-oriented approach to ensure seamless product delivery. They have a specialized SolutionLab for building efficient blueprints.
Top-notch communication and their commitment to meeting timelines and budget constraints set them apart. 
The aim? To secure a vital, long-term partnership with clients. Their approach transcends regional recognition. This established Designli as a leader in digital solutions, enabling clients to plot a lucrative journey to success.
Conclusion
Renowned as a digital transformation consultancy and software engineering company, Intellectsoft has been reimagining businesses through digitalization since 2007. 
Our competitive edge is in creating cutting-edge solutions for global firms and innovative startups, marking us the go-to resource for the best custom software development in Dallas.
We've had proven experience, such as streamlining client management for UK dental clinics and transforming Harley Davidson's product showcase with a sophisticated iPad app. 
Even EuroAccident, a leading Swedish insurer, utilized our comprehensive mobile solution for a remarkable digital transformation. Learn more about the companies we serve by checking out our case studies.
Still looking for the top software development company? Look no further. Reach out to us today – let's join forces to reimagine your business landscape together.
FAQ
What is the major industry in Dallas?
Dallas boasts a robust and diverse economy. However, one of the major industries that shine is the tech industry. Other different sectors all over the world have a demand for software tech, making the city a hotspot.
Why are so many companies moving to Dallas?
The city's appeal as a tech hub comes from two main factors: the global demand for custom software solutions and the concurrently growing pool of tech talent in Dallas.
Are there companies that offer software development in Dallas?
Absolutely, Dallas is booming with stellar companies specializing in software development. They cater to diverse industries, offering tailored solutions. Among the top contenders, Intellectsoft stands out for its extensive experience, varied services, and prominent clientele.
When looking for the best software development in Dallas, you can depend on Intellectsoft as a solid and versatile choice.