According to the latest research by Statista, the United States holds about 36% of the global information and communication technology (ICT) market share in 2023. In order to keep the leading positions in the ICT market, the U.S. has been creating infrastructure for the software development industry in many states across the country for over a decade. According to Indeed and Zippia, the oldest IT hubs, such as New York, California, and Texas, are still the favorites among software experts.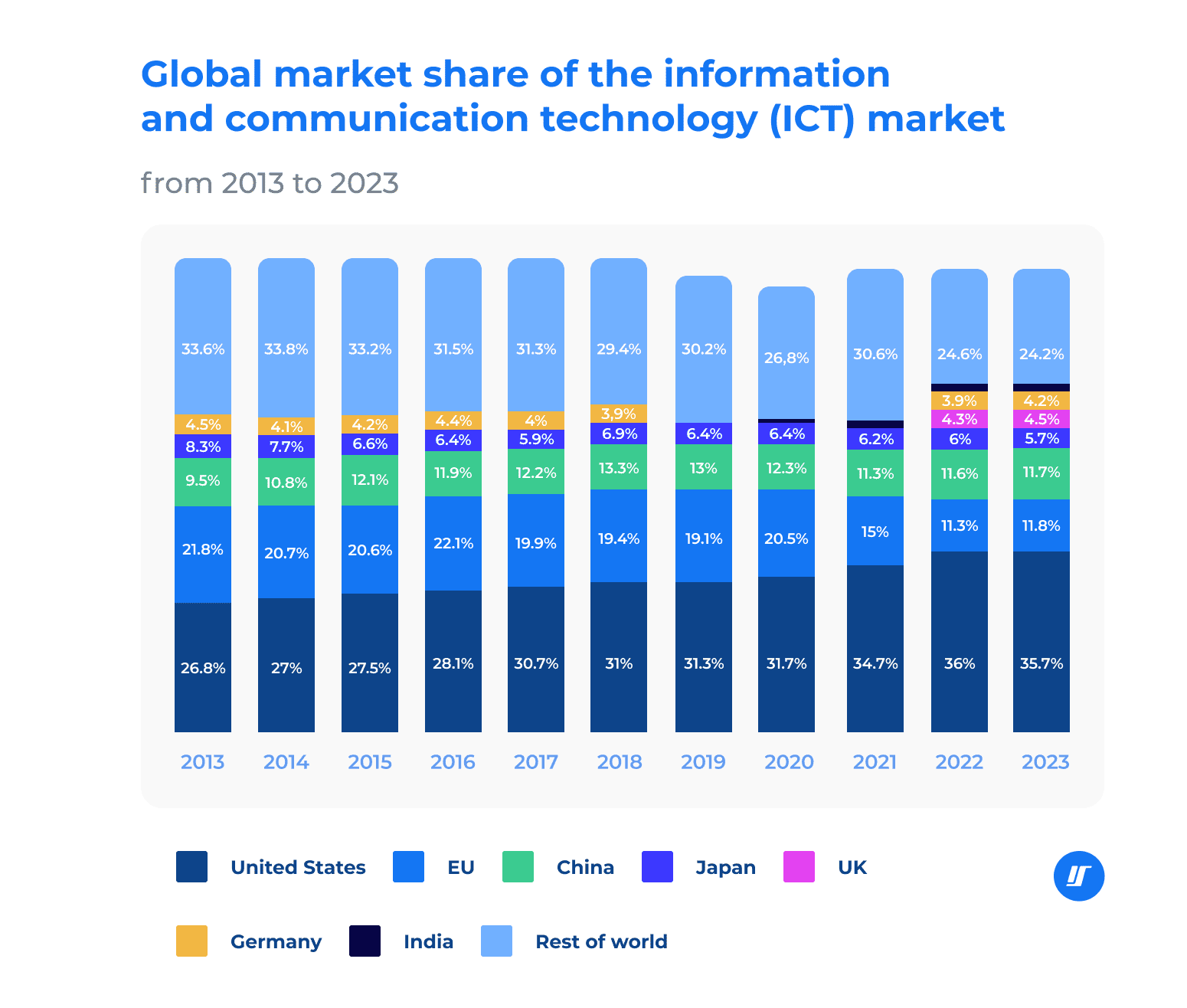 Being one of the world's largest and most popular megalopolises, NYC has transformed into a valuable source of tech talents and advanced companies ready to develop industry-specific innovative solutions. The rising demand for IT services and the well-established environment for running a business further promote software development in New York.
Considering all this, it became more challenging to find out which company fits best for a specific project and how to choose a winning option exactly for your business concept. So, today, we'll take a look at the top IT companies in New York, explore their service range, and analyze the most notable hallmarks that can help you make the right decision specifically for your upcoming project.
Why Did We Choose These Software Companies?
In order to make this list, we have reviewed and compared several important criteria. Here are some of them:
The range of provided services

The set of technologies

The number and complexity of projects

The age and experience of a company

The number of employees

The reach of a company beyond New York City.
These factors allowed us to select the best service vendors in the given region. Hopefully, this list will help you to choose the software development company in New York that will be a perfect fit for your project.
List of the Top 20 Software Development Companies in New York
In this article, you'll find the core information about the following first-class software development companies in NYC. As a part of our discussion, below we'll cover a brief overview of each company's size, service range, specific industries they work with, pricing policy details, and more.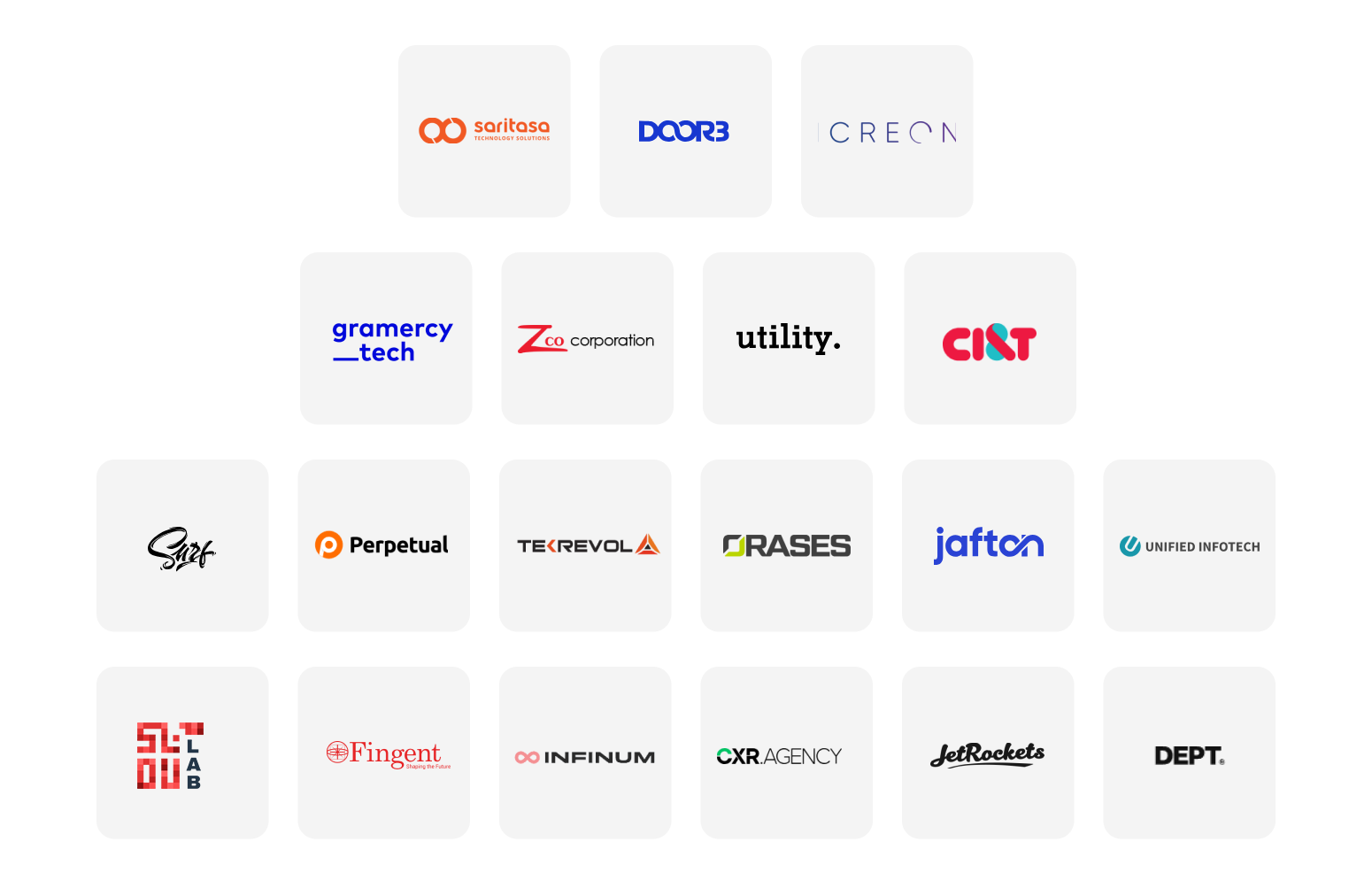 Intellectsoft is a global software development company with an engineering workforce in 21 countries on both sides of the Atlantic, including New York. The company has an extensive technical talent pool and provides top-quality software development and consulting services to companies of all sizes – from early-stage startups to Fortune 500 enterprises. Being one of the most notable software development companies in New York, Intellectsoft has already delivered over 600 digital solutions for businesses in many industries, including a discount and promotions app, healthcare web portals, banking and crypto wallet solutions, and others. It's worth mentioning that 27% of Intellectsoft teammates are females.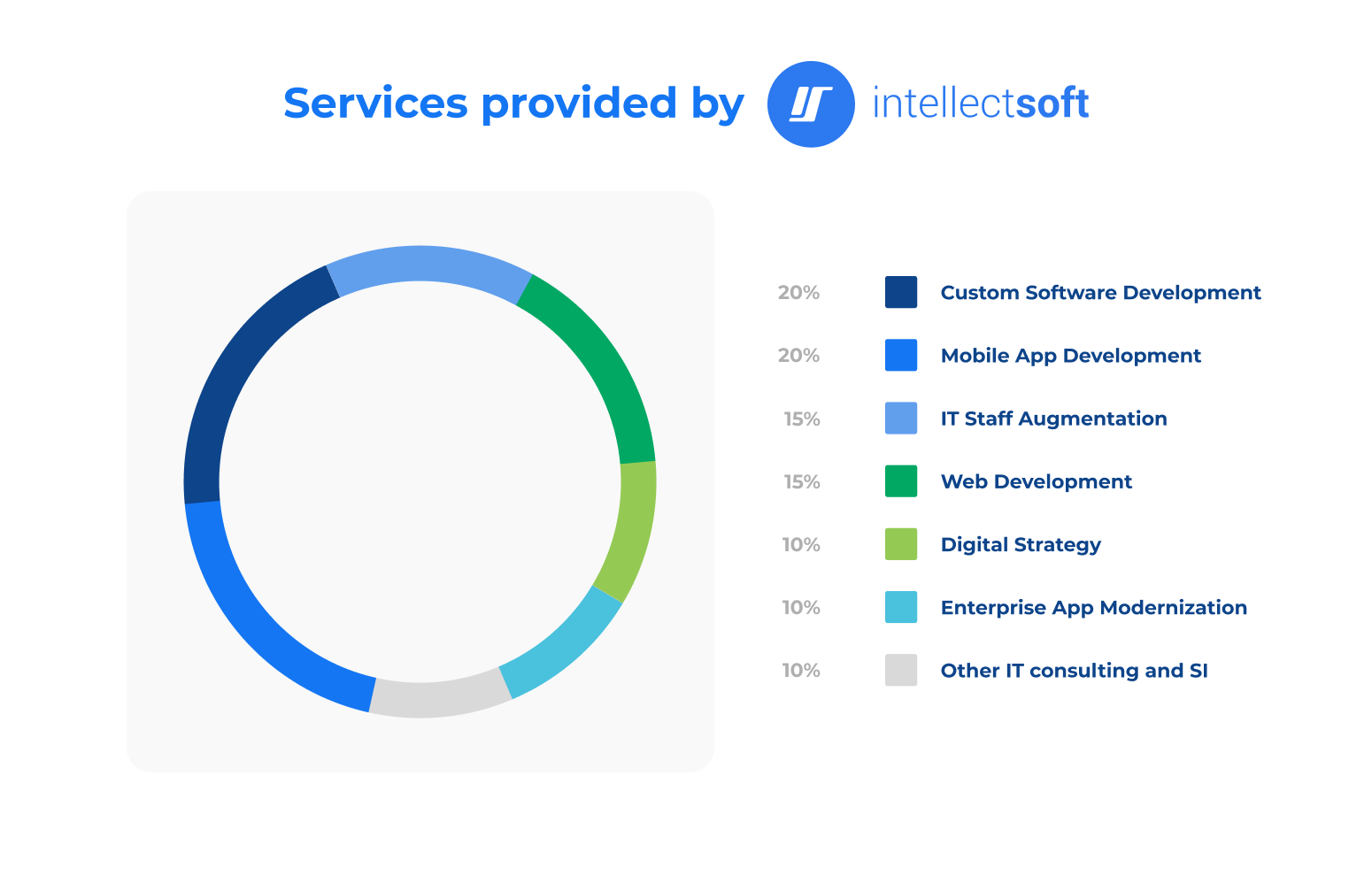 Development Services:

web and mobile app development, MVP, PoC, enterprise software development, IT consulting, UX/UI design, QA and testing, software architecture and DevOps solutions, IT staff augmentation, dedicated development teams.

Minimum Project Size:

$50,000+

Hourly Rates:

$50-$99 / hr

Industries:

Fintech, Construction, Healthcare, Insurance, Dental, Logistics, Transportation, Travel, Hospitality, E-commerce, Retail, Real Estate.

Major Clients:

Guinness, Ernst & Young, Jaguar, Eurostar, Harley-Davidson, Cirrus Insight. 

Number of Employees:

100+

Foundation Year:

2007

Tech Stack:

C#, Typescript, Java, JavaScript, Kotlin, Swift, .NET, React, AWS, Azure.

Clutch Review:

4.9 stars and 36 reviews

GoodFirms Review:

4.9 stars and 5 reviews

Google Review:

4.3 stars and 3 reviews

LinkedIn Profile:

https://www.linkedin.com/company/intellectsoft

Location:

USA (NY, CA). UK (London). Norway (Oslo).
2. Saritasa
Saritasa is one of the few providers of software development services in NYC that feature AR/VR development. Founded in 2005, this vendor mainly focuses on the midmarket client segment. The company has many impressive cases, such as a web-based gym management system for the U.S. Gymnastic Development Center or a workflow management system for Nationwide Rail Services. 
Services:

Mobile & web development, AR/VR development, IoT Solutions, DevOps, Database development, IoT.

Hourly Rates:

$100 - $149 / hr

Minimum Project Size:

$50,000+

Industries Covered:

Fintech, Education, Retail, Healthcare, Real estate.

Major Clients:

iHeartMedia, ASCO Power Technologies, The Cheesecake Factory, Sports Thread Inc., TIPMed.

Number of Employees:

140+

Tech Stack:

Python, ASP.NET, Unity, JavaScript, AWS.

Foundation Year:

2005

Location:

USA (NY, CA, IL, TX, FL).
3. DOOR3
DOOR3 features a proven experience in software development, technology strategy, and UI/UX design, and the core hallmark of this organization is delivering on-time and on-budget solutions safely and reliably. For over 20 years, this vendor has been delivering innovations to many world-famous companies as well as startups and non-profit organizations. DOOR3 created an efficient intranet system for Cadwalader, Wickersham & Taft LLP, the oldest law firm in New York.
Services:

Portal development, Mobile development, Enterprise architecture, Automated QA, Front-end development.

Hourly Rates:

$150-$199 / hr

Minimum Project Size:

$25,000+

Industries Covered:

Fintech, Insurance, Legal, Construction, Education.

Major Clients:

Cadwalader, the New Jersey Institute of Technology, DAA Enterprises.

Number of Employees:

50+

Tech Stack:

C#, JavaScript, Angular, .NET, React. 

Foundation Year:

2002

Location:

USA (New York, NY). Switzerland (Zürich). Ukraine (Kyiv). 
4. Icreon
Icreon is one of the leading software companies in New York and is a proud Sitecore Platinum Partner. It is mostly oriented toward non-profit organizations, mid-market companies, and Fortune 500 brands across all industries. With over two decades of experience, it delivers innovative solutions in automating operations and customer experience improvement for various clients all over the world. For example, Icreon successfully performed the complex digital transformation process of the New York Road Runners organization and achieved astonishing results. 
Services:

Web development, Digital strategy, Cloud engineering, E-commerce development.

Hourly Rates:

$100-$149 / hr

Minimum Project Size:

$50,000 

Industries Covered:

Fintech, Manufacturing, Non-profit, Retail, Legal.

Major Clients:

Ferrari, Lincoln, Pepsi, National Geographic, the Major League Baseball Association.

Number of Employees:

350+

Tech Stack:

ASP.NET, Java, PHP, Sitecore, React, AWS, Azure. 

Foundation Year:

2000

Location:

USA (NY, CA, FL, DC), UK (London), India (New Delhi).
5. Gramercy Tech
Gramercy Tech is a software development vendor truly born and raised in New York. It combines 20 years of experience in delivering efficient solutions with skills in modern digital technologies, including VR and AI. This is one of the few agencies in our list that builds Mixed Reality solutions that offer interactive experiences: from interactive walls and displays to VR/AR games. Many of them were created specifically for world-famous shows and conventions, including ComicCon. One of the most prominent cases of the company is the 10-person interactive table for the Frazier History Museum.
Services:

UI/UX design, AR/VR development, AI development, Technology consulting.

Hourly Rates:

$100-$149 / hr

Minimum Project Size:

$10,000+

Industries Covered:

Fintech, Healthcare, Education, Energy, Gaming.

Major Clients:

Bloomberg, Blizzard Entertainment, Comedy Central, American Museum of Natural History.

Number of Employees:

35+

Tech Stack:

PHP, Ruby, JavaScript, Laravel, Ruby on Rails, AWS.

Foundation Year:

2003

Location:

USA (NY).
6. Zco
Zco is one of the custom software development leaders in New York, providing dedicated teams of engineers, artists, designers, and project managers. It is known as a trusted software development vendor that has been delivering innovative tech solutions for entrepreneurs, startups, and Fortune 500 companies for nearly three decades!
One of the many focuses of Zco is software solutions that rely on geolocation and mapping. For example, the company created "Best Coffee Shops" - a mobile application that covers over 1600 locations, including New York City. Users can find coffee shops in their area, review them, add photos, earn in-app achievements, and share information with fellow enthusiasts. 
Services:

Mobile development, Web development, IT Staff Augmentation, AR/VR development.

Hourly Rates:

$25-$49 / hr

Minimum Project Size:

$10,000+

Industries Covered:

Healthcare, Marketing, Retail, Sports, Gaming.

Major Clients:

Keystone Automotive, Volkswagen, Songwave, Cambridge Credit. 

Number of Employees:

250+

Tech Stack:

C#, Java, JavaScript, PHP, Swift, Kotlin, React Native, NodeJS, .NET

Foundation Year:

1989

Location:

USA (NY, NH, MA).
7. Utility
Utility is primarily focused on mobile app development and has earned the recognition of many world-famous brands. The company finds the optimal approach to every client and works equally well with funded startups and industry leaders. For example, Utility designed and created a video ecosystem for Forbes that offers access to live-streaming events as well as on-demand content.
Services:

Mobile development, Web development, UI/UX design, Web design.

Hourly Rates:

$100-$149 / hr

Minimum Project Size:

$50,000+

Industries Covered:

Marketing, Healthcare, Education, Fintech, Gaming.

Major Clients:

Coca-Cola, NBA, NYC Health + Hospitals, Samsung, Verizon.

Number of Employees:

100+

Tech Stack:

JavaScript, Swift, Java, Objective C, PHP, AWS.

Foundation Year:

2013

Location:

USA (NY, CA). 
8. CI&T
CI&T operates in nine different countries and is primarily focused on providing scalable digital solutions for emerging companies and large Fortune 500 companies as well. For example, this company created an AI-powered product recommending system for Nestlé.
Services:

Digital transformation, IT staff augmentation, UX/UI design, Legacy optimization and cloud migration, eCommerce integrations.

Hourly Rates:

$50-$99 / hr

Minimum Project Size:

$100,000+

Industries Covered:

Retail, Media, Manufacturing, Logistics, Healthcare.

Major Clients:

Google, Johnson & Johnson, Motorola, 

Number of Employees:

7000+

Tech Stack:

Drupal, AWS, Azure, Google Cloud.

Foundation Year:

1995

Location:

9 countries, including the USA (NY, NJ, CA, DC, SC), Canada (Toronto, Vancouver), UK (London, Bristol), Japan (Tokyo).
9. Surf
Surf is a top software development company mainly focused on native mobile and hybrid app development for B2C and B2B businesses. Though Flutter is the preferred tech of this company, it also delivered functional solutions for process automation, resource planning, and other tasks using other technologies. One of the most notable cases that show Surf's proficiency is the custom ERP system for KFC. 
Services:

Mobile development, Web development, UI/UX design. 

Hourly Rates:

$50-$99 / hr

Minimum Project Size:

$25,000+

Industries Covered:

Healthcare, Fintech, Foodtech, Retail, Enterprise.

Major Clients:

KFC, Burger King, Raiffeisen Bank, SAP, Mars.

Number of Employees:

250+

Tech Stack:

Flutter, Java, Swift, Kotlin, JavaScript, Objective C.

Foundation Year:

2011

Location:

USA (NY, DE, DC).
10. Perpetual
Perpetual is one of the top UX design agencies in New York, though it provides a range of other software development services. It provides high-quality solutions to companies of any size, from industry leaders to startups. Among other successful projects, the company created a captivating and responsive website for Fox Sports PressPass according to the strict brand guidelines. 
Services:

UX/UI Design, Web Development, Mobile Development, Technology Consulting.

Hourly Rates:

$50-$99 / hr

Minimum Project Size:

$25,000+

Industries Covered:

Marketing, Fintech, Media, Healthcare, Real estate.

Major Clients:

Reuters, Fox Sports, Colgate, Elle, Iowa State University. 

Number of Employees:

50+

Tech Stack:

Java, JavaScript, Python, AWS, Azure.

Foundation Year:

2012

Location:

USA (NY), UK (London), India (Mumbai).
11. Tekrevol
Tekrevol is one of the youngest New York-based companies on our list. It focuses mainly on mobile app development and has created a diverse range of software products, from games to social networks. The company released several applications that help users improve productivity and deal with emotional stress, such as AMJ Workplace Wellness and S.E.L.F App.
Services:

Mobile development, Web development, Web design.

Hourly Rates:

$50-$99 / hr

Minimum Project Size:

$25,000+

Industries Covered:

Education, Healthcare, Retail, Fintech. 

Major Clients:

Mobius Risk Group, University of Toronto, Oz Leasing, UCSF.

Number of Employees:

300+

Tech Stack:

ASP.NET, C#, JavaScript, PHP, Swift, AWS.

Foundation Year:

2018

Location:

USA (NY, CA, TX, FL), Canada (Alberta), UAE (Dubai)
12. Orases
Orases is a 100% US-based company with offices all across the country, including New York City. Over twenty years of hard work resulted in 950+ successfully delivered products for a wide range of clients, from medical companies to sports leagues. Among other illustrative cases, Orases built a Grant Application Management System for the NFL Foundation.
Services:

Web development, Mobile development, UI/UX design, Tech consulting.

Hourly Rates:

$150-$199 / hr

Minimum Project Size:

$50,000+

Industries Covered:

Fintech, Healthcare, Sports, Retail, Insurance.

Major Clients:

NFL, MLB, American Immigration Lawyers Association, NPR.

Number of Employees:

60+

Tech Stack:

C#, PHP, Java, JavaScript, .NET.

Foundation Year:

2000

Location:

USA (NY, MD, IL, DC, TX)
13. Jafton
Jafton is one of the few software development companies in NYC focused mainly on mobile applications. Though the majority of its clients are small and medium businesses, this company also worked with several enterprises. For example, Jafton created the KIA Access app and assisted in building mobile applications for Alaska Airlines and Chevron.
Services:

Mobile development, Web development, UI/UX design, Staff augmentation.

Hourly Rates:

$50-$99 / hr

Minimum Project Size:

$25,000+

Industries Covered:

Retail, Travel, Healthcare, Media.

Major Clients:

Alaska Airlines, KIA, Allbirds, Chevron, Royal Caribbean.

Number of Employees:

120+

Tech Stack:

Swift, Kotlin, Java, JavaScript, Objective C.

Foundation Year:

2013

Location:

USA (NY, CA, TX, FL), UAE (Dubai)
14. Unified Infotech
Unified Infotech delivers a wide range of top-quality software solutions, from scalable mobile apps and fast-performing websites to SaaS platforms. This company successfully performed the digital transformation of Boards & Beyond, an e-learning platform to prepare students for the United States Medical Licensing Examination.
Services:

Web development, UI/UX design, Tech consulting.

Hourly Rates:

$50-$99 / hr

Minimum Project Size:

$25,000+

Industries Covered:

Education, Healthcare, Fintech, Media.

Major Clients:

NBCUniversal, Citibank, McGraw Hill, Colorcon.

Number of Employees:

150+

Tech Stack:

JavaScript, Java, PHP, .NET, AWS.

Foundation Year:

2008

Location:

USA (NY, DN)
15. SoluLab
SoluLab chose AI and blockchain as its preferred sectors of software development. With over 1500 projects in its portfolio, the company successfully integrates cutting-edge technologies in many industries. SoluLab built Versafit – a feature-rich social fitness app that required high data security, precise geopositioning, and other demanding features.
Services:

Blockchain, Mobile development, IoT development. 

Hourly Rates:

$25-$49 / hr

Minimum Project Size:

$25,000+

Industries Covered:

Healthcare, Education, Retail, Real estate, Fintech.

Major Clients:

Cambridge University, UnionEdge, Goldman Sachs, Citrix Systems.

Number of Employees:

250+

Tech Stack:

Swift, Kotlin, Java, NodeJS. 

Foundation Year:

2014

Location:

USA (NY, CA), Canada (Oshawa), Australia (Adelaide), India (Ahmedabad).
16. Fingent
With 20 years of experience and 700+ projects behind its back, Fingent knows how to create top-quality solutions even for the most demanding customers. An excellent example of the company's proficiency is InfinCE – a multifunctional cloud platform aimed at streamlining all aspects of management and communication within an enterprise. 
Services:

Web development, Mobile development, Cloud Native development, AI/ML solutions.

Hourly Rates:

$25-$49 / hr

Minimum Project Size:

$25,000+

Industries Covered:

Education, Fintech, Real estate, Logistics, Healthcare.

Major Clients:

Sony, Mastercard, Johnson & Johnson, Asteco, PwC.

Number of Employees:

500+

Tech Stack:

ASP.NET, PHP, JavaScript, Python, AWS.

Foundation Year:

2003

Location:

USA (NY, MA), UAE (Dubai), Australia (Sydney), India (Bangalore, Kochi)
17. Infinium
For 18 years, Infinium has designed and built digital solutions of various complexity, from web apps to enterprise systems. This vendor is a trusted partner for many global industry leaders. For instance, Infinium developed convenient IoT solutions for Philips, including MasterConnect and NutriU.
Services:

Mobile development, UI/UX design, Web development, Tech consulting.

Hourly Rates:

$50-$99 / hr

Minimum Project Size:

$25,000+

Industries Covered:

Healthcare, Transportation, Fintech, Retail, Utilities.

Major Clients:

Samsung, Virgin Mobile, AstraZeneca, P&G, Coca-Cola.

Number of Employees:

350+

Tech Stack:

Ruby, Java, JavaScript, Swift, Kotlin.

Foundation Year:

2005

Location:

USA (NY), UK (London), Netherlands (Amsterdam), Croatia (Zagreb, Varaždin)
18. CXR.Agency
This full-cycle software development company delivers a wide range of services to turn an idea into a functional product. The award-winning vendor focuses on cutting-edge technologies with a special passion for virtual and augmented reality. Overall, CXR.Agency developed over 400 projects for 200+ clients, including an innovative VR training application for Millennium's fiber optic technicians.
Services:

AR/VR development, Web development, Staff augmentation.

Hourly Rates:

$50-$99 / hr

Minimum Project Size:

$10,000+

Industries Covered:

Media, Education, Fintech, Retail.

Major Clients:

HBO Max, Pacifico, LiveNation, Richemont.

Number of Employees:

150+

Tech Stack:

C#, Java, JavaScript, Unity, Unreal Engine.

Foundation Year:

2009

Location:

USA (NY), India (Pune)
19. JetRockets
One of the smallest companies on our list of software companies in New York, JetRockets creates reliable solutions with efficient technologies. The company's portfolio has over 90 completed projects, including several apps focused on improving the physical and mental health of users. One such case is Saymore – a safe platform that offers social functionality and other resources to people who seek support and understanding.
Services:

Web development, Mobile development, AI development.

Hourly Rates:

$50-$99 / hr

Minimum Project Size:

$25,000+

Industries Covered:

Fintech, Real estate, Hospitality, Media, Legal.

Major Clients:

eBay, EventSpace, Safari Portal. 

Number of Employees:

70+

Tech Stack:

Ruby, Ruby on Rails, React, React Native, Flutter

Foundation Year:

2012

Location:

USA (NY), Georgia (Batumi).
20. DEPT®
Dept goes beyond mere software development by combining digital technologies and marketing strategies to create effective solutions. This approach allowed the agency to expand across five continents and reach over 1,100 clients. The company's portfolio is incredibly massive and diverse, including a website and mobile application for Inter Milan, a web app for teaching sign language for the American Society for Deaf Children, and much more.
Services:

Mobile development, Digital strategy, UI/UX design, Web development.

Hourly Rates:

$150-$199 / hr

Minimum Project Size:

$100,000+

Industries Covered:

Retail, Healthcare, Fintech, Fashion, Arts.

Major Clients:

eBay, Canyon, Vineyard Vines, the World Health Organization.

Number of Employees:

4,000+

Tech Stack:

Kotlin, Objective C, Swift, Unity, React.

Foundation Year:

2016

Location:

30 offices in 20 countries.
Wrapping Up
As you see, there are New York software development companies to choose from. While all of them are prominent in the field of custom software engineering services, when it comes to choosing the one for building from scratch or upgrading your business product, pay closer attention to Intellectsoft.
In addition to having an office in NYC, we also have offices and R&D branches in San Francisco, London, Oslo, and other cities. Our software development company covers a wide range of industries and offers its clients the following solutions to empower businesses:
– Discovery projects;
– PoC/MVP services;
– Business process automation;
– End-to-end system integration;
– Cloud solutions;
– Product-oriented delivery;
– Master data management;
– Blockchain development;
– AI, ML, IoT, and other solutions.
In case you want to learn more about the company's expertise, here are our most prominent cases. And if you want the best NY developers to work on your project, don't wait to contact us and tell us your requirements. Our team will put all its knowledge and expertise into your new or existing business product.
FAQ
Is software development a popular industry in New York City?
Yes, NYC is one of the oldest centers of the IT industry in the country, similar to Los Angeles and San Francisco in California and Austin and Houston in Texas. New York still remains the biggest software development hub on the East Coast.
Does Intellectsoft provide custom software development services in New York?
Yes, visit our office on the 27th floor, 222 Broadway, New York, or call us at +18558673387.