The relations with traditional medicine has changed to the core. As The Washington Post found out, Coronavirus caused delays in regular hospital visits. Patients stay home and ignore severe health problems that need hospital treatment.
The new reality calls for new approaches to appear. In the business world, brands try new communication styles and revise common business processes. Some of these changes have already shown their benefits. In traditional medicine, virtual health care demonstrates such results.
What is virtual health care?
Virtual health care means applying traditional medical practices remotely. The term gained its title as doctors consult their clients during virtual visits.
What is Telehealth?
Telehealth is a broader term. Here, the virtual visit involves technology. Its tools can be simple (a phone call) or sophisticated (collecting analytics and creating the infection images). When it comes to mobile technologies and apps, Telehealth turns into mHealth.
What's the difference between Telehealth and telemedicine?
The contemporary Telehealth technology started as telemedicine, adopted in call centers. These days, Telehealth relies on various channels of distant communication: videos, e-mails, and even fax.
Besides, it evolved by including augmented reality and artificial intelligence. These days, Telehealth opportunities already include these and other options:
Google AI Calculation — the tool for distant analyzing and curing diabetic retinopathy,
Big Data — to prevent calamitous diseases by identifying early symptoms,
Robots — to provide in-house help for older people.
How virtual health services and Telehealth services transform the contemporary health system
All the Telehealth technologies had appeared long before the international lockdown announcement. Nevertheless, the development of the industry is outstanding these days.
For several years, US Telehealth has been serving the needs of teleradiology, teledermatology, and telepathology. Back in 2014, the majority of healthcare organizations already provided their patients with three key opportunities of telemedicine:
Store and forward — the electronic tool for storing clinical data and sending it forward for evaluation,
Remote monitoring — self-monitoring the signs of clinical diseases (like asthma and cardiovascular problems),
Real-time interaction — virtual care services to get immediate medical attention.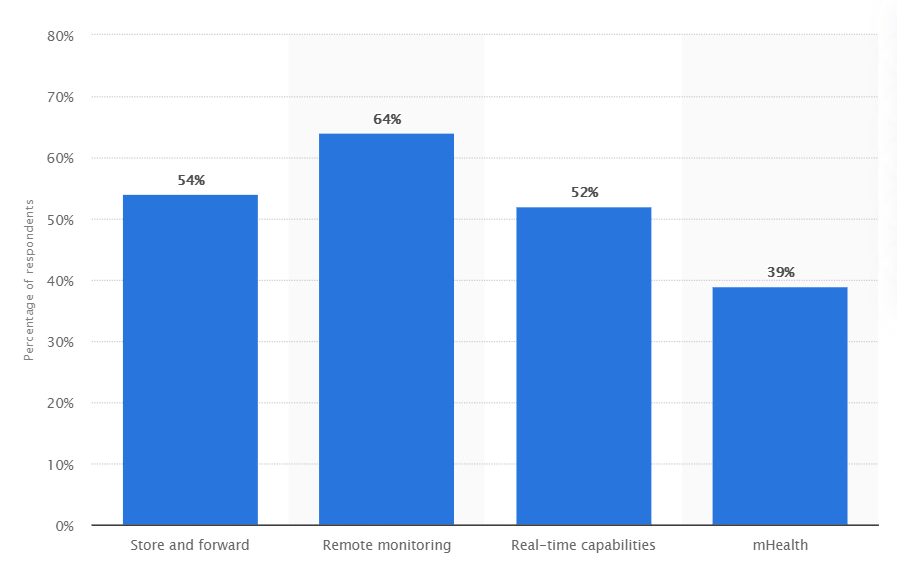 Source: Statista, Availability of selected telemedicine practices to U.S. patients as of 2014
With virtual health care through Telehealth solutions, doctors can make better diagnoses, take eldercare to a higher level, and provide stable patient monitoring. All these possibilities raised extra importance with the Coronavirus spread.
Specifically, Telehealth can address the problems with distant monitoring, the vulnerability of elderly people, and hard-to-track symptoms. Moreover, the national lockdown has fueled Telehealth adoption through the increasing number of mHealth apps.
What are examples of Telehealth and mHealth apps: Successful cases worth your attention
Here's the list of successful Telehealth technology examples: 3 Telehealth solutions and 2 categories of mHealth apps. They both demonstrate great results and provide a meaningful service in the age of Coronavirus lockdown.
USC Telehealth
USC Telehealth is a Telehealth online clinic that provides medical interventions in the form of video conferences. Being an academic institution, USC Suzanne Dworak-Peck School of Social Work guarantees professional online counseling and psychotherapy services to its clients. The sessions last 50 minutes on a weekly basis for three months. The center is situated in Los Angeles, and its working languages are English and Spanish.
The evidence-based practice from the school includes:
Motivational interviewing,
Problem-solving therapy,
Cognitive-behavioral therapy,
Other forms of psychotherapy.
Contact: Call (866) 740-6502 or write here
Home Telehealth
Home Telehealth is a tool that helps patients manage their chronic diseases. Among various Telehealth solutions, it's the best option because it combines the achievements of all three types of telemedicine. You can self-monitor your health state, send the data for evaluation, and contact your doctor for health coaching. For consultations, the system has audio and video conferencing options.
The tool has already proved its extreme effectiveness in Veteran Health Administration and treating chronic diseases. Moreover, Home Telehealth is the basic equipment you need during the lockdown for the regular doctor visit during self-isolation.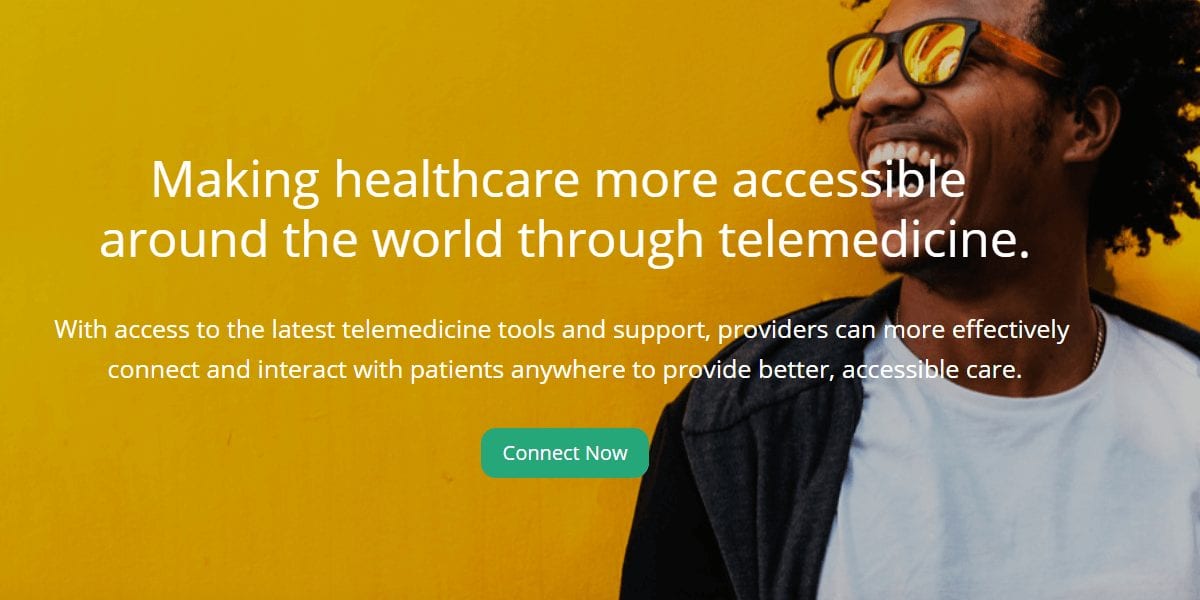 Salus Telehealth
Salus Telehealth is the telemedicine institution that makes a difference globally. It aims at popularizing Telehealth among patients, healthcare IT services, providers, and businesses. For patients, the company grants access to virtual treatment.
This list of treatments includes allergies, bronchitis, aches in ears and eyes, sore throat, flu, infections, and bug bites. For providers, the Salus network works as an online team that helps to expand reach.
The company developed the Salus app and several setup devices. This way, it connects patients with the best doctors remotely. The set of Telehealth solutions includes consulting patients, making diagnoses, and choosing the best treatment. In times like these, Salus Telehealth sees its mission in relieving the pressure from the national healthcare system and saving critical space in emergency rooms.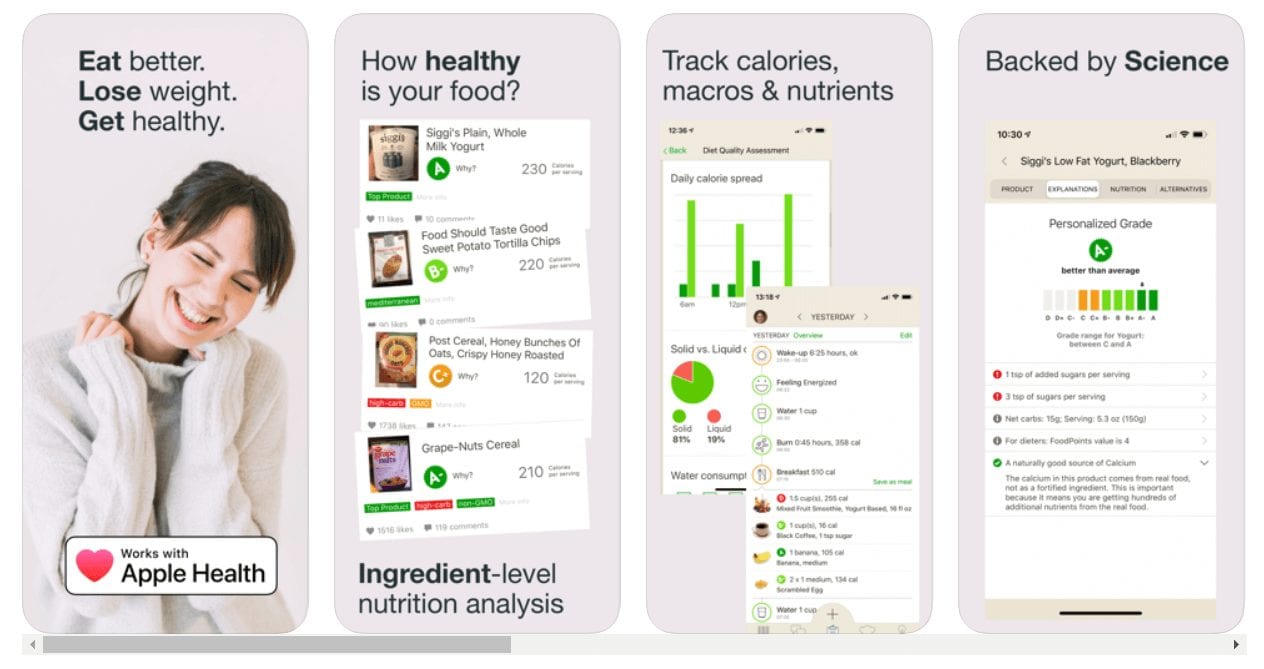 Fooducate and MySugr, top mHealth apps for diabetes
Many mHealth apps have already shown their effectiveness. Among many available options for managing diabetes remotely, Fooducate and MySugr are the best picks.
Fooducate is the eating couch that assists in normalizing nutrition. It has everything needed to track your health state: intake of calories, nutrients, macro elements, sleep quality, and daily activity. For diabetes control, it can calculate the amount of sugar in all the foods, both organic and processed.
MySugr is another option for nutrition management. It assists in tracking sugar in your blood. The app is synced with a glucose monitor. Also, it can send you notifications to follow-up with extra data to make the most of your app. Later, this information can be discussed with your doctor during a virtual visit.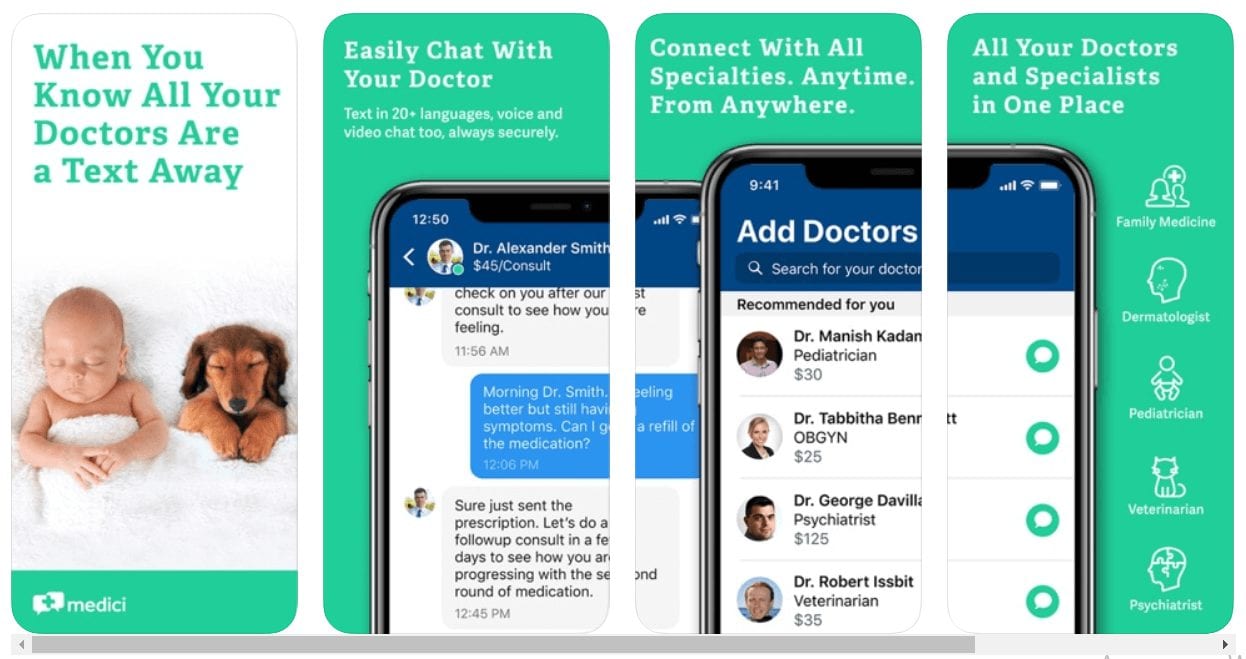 Medici and PingMD: Some of the best mHealth apps for patients
Another category of great mHealth apps is patient-oriented services. Among various mobile solutions, we recommend paying attention to Medici and PingMD.
Medici is the platform for connecting with your hospital online through video chats and texting. With it, you can reach your personal doctor who has a Medici doctor app from his/her side. This feature allows your medical adviser to set the fees and working hours. If you invite all your doctors, you will establish the complete network for your remote consultations. This is the most convenient way to make your regular visits in the pandemic era.
PingMD doesn't offer video chats but has another helpful feature. It's the platform to discuss the most interesting information in healthcare, including verifying the news about Coronavirus. However, be careful with the software updates — check the compatibility of this app with your smartphone before filling your information in it.
Pros and cons of Telehealth
Among the most evident advantages Telehealth shows, there are
broader access to the healthcare system — meaning treating more groups of patients and those living in backwoods,
cost-effectiveness — minimizing traveling time and costs, and
service improvements — including greater self-discipline of patients and better shipment quality.
But this success of Telehealth has its flip side. Here arise three types of issues:
legal compilations,
ethical and communication problems,
technological difficulties.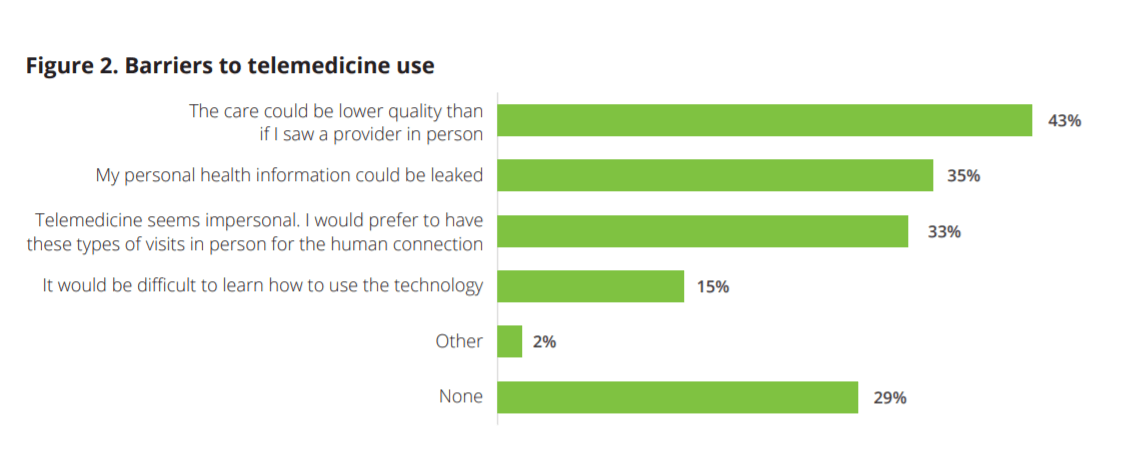 Source: Deloitte Center for Health Solutions, 2016 Survey of US Health Care Consumers
Legal problems arise because Telehealth technology is still associated with old-fashioned telemedicine. These days, the same problem has another root: this complex platform needs management by governmental norms to work better. Before that happens, the issues with trust in doctor-patient relationships will inevitably appear.
The virtual connection also causes communication problems: a phone call challenges doctors with finding new approaches to evaluating the client's health state. And even if the doctor manages this situation, the ethical problems with Telehealth remain sharp. They involve security concerns and confidentiality of virtual visits.
Finally, the poor Internet connection and novelty of technologies is also the problem for Telehealth expansion. People are still cautious of using smartphones and computers for treatments and consultations, which are used in traditional in-person contact.
Telehealth and other forms of virtual care: Is there a future for them?
The quarantine accelerated the pace of virtual care development, but what will happen when it ends? Many experts believe in this way of healthcare progress. According to Deloitte Insights, the future of virtual health care is more than promising: it will improve procedures, client service, and the overall quality of treatment.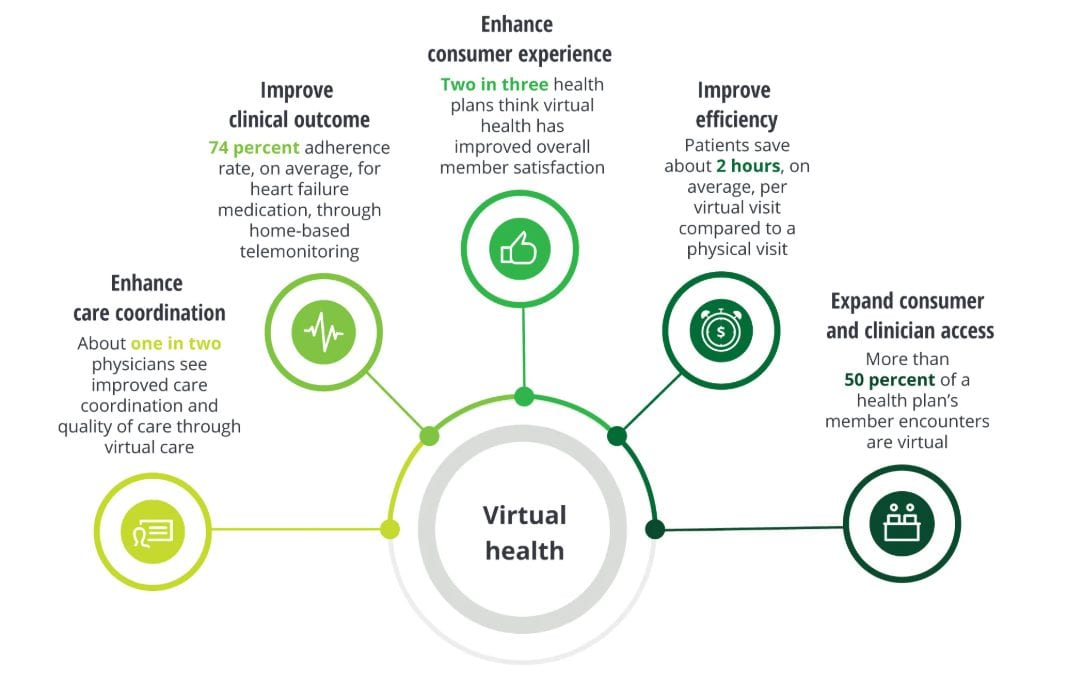 Source: Deloitte Insights analysis
Even though Telehealth still experiences legal and ethical problems, the technology possesses many perspectives. The current lockdown showed its potential to become the real solution for maintaining the well-being of the nation. It can treat both diseases other than Coronavirus-related and mental health.
Moreover, the abilities of virtual health care include saving traveling costs and conducting more accurate patient monitoring. All these factors will fuel the development of this technology long after the Coronavirus lockdown ends. And if this pandemic really shapes new social norms and drives new social rules, humanity should get prepared for starting today.
We, at Intellectsoft, empower companies and their healthcare workforce with cutting-edge transformative solutions and data-driven insights. Are you and your organization ready to shift the mindsets and get the most out of innovations?
Talk to our experts and find out more about the topic and how your business or project can start benefiting from it today!