The global pandemic has altered the way many companies do business. It was a sharp learning curve, forcing us to sink or swim.
Like many industries, the banking sector wasn't immune to the tsunami of instability - quite the contrary. Covid-19 was only the start of uncertainty. It may have been the catalyst for rising interest rates, inflation, and political disruption, but what has become unquestionable is the fragility of financial institutions.
So, where does this leave commercial and business banking? To understand the challenges it faces, one needs to identify the threats.
Accelerated digital banking, a surge in cyber hacking, geopolitical threats, and climate change are all disruptive forces that can potentially reshape the sector.
According to The Banking in 2035: global banking survey report, about 76% of banking executives surveyed believed the industry has an obligation to address societal needs and issues, while 82% were of the opinion that financial services organizations can simultaneously better society while pursuing profit.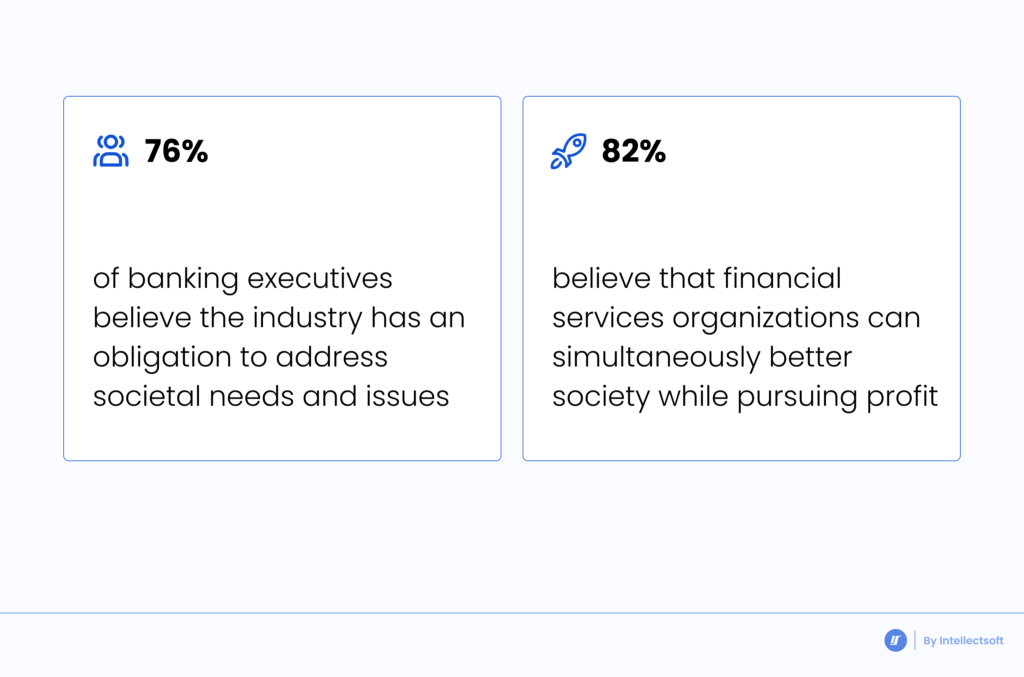 How do banks go about doing this? By prioritizing client needs without compromising on profit. In this article, we'll take a look at the future of business banking and how adopting certain business models can help you be at the forefront of future banking trends.
Future Business Models and Competitive Arenas in Business Banking
In the ever-changing business landscape, banking institutions have to fight to stay relevant. According to EIU's financial outlook 2023 report, fintech and cryptocurrency sellers will find it harder to weather the storm.
Adapting to your new reality isn't always easy, but adjusting your business model is one way of keeping abreast of the latest developments.
Banks that are open to change can benefit directly from disruptions "by combining their unparalleled domain expertise, reputation, and relationships with innovations in technology and a client-centric approach," said Dr. Christian Thun while writing for Moody's Analytics Risk Management: The Decade Ahead.
"Fortunately, the business banking sector has proven its resilience over the past decade by bolstering their capital and liquidity positions, and leaving behind non-core activities and markets," EIU's financial outlook 2023 report found.
It also sets up the sector for benefiting from future trends by improving digital services, becoming more financially inclusive, and investing in sustainable banking services.
So, what will business banking look like in the future?
Accenture's Global Banking Lead Michael Abbott's predictions could soon become a reality. According to him, business and corporate banks' innovative products could mirror that of the Amazon Prime model.
Just like mobile platforms, banks will take a dip into the metaverse, which will open a world of possibilities, but Abbott warns this won't be without risk.
As a way of outperforming their peers, banks must help their clients solve their problems rather than increase their customer base. This taps into the notion of "life centricity", whereby institutions take a holistic approach to customer wellbeing.
Abbott also believes data should be viewed as a product "that has the potential to transform the foundations of banking."
The Banking in 2035: global banking survey report mirrored Abbott's predictions when listing its most important outcomes for banks over the coming decade, with improved cybersecurity and data protection leading the pack with 46%.
The Impact of Data and Money Regulation on Business Banking
Banking regulations are a way of enforcing rules to protect the client, ensure financial stability and prevent financial crime. By design, they ensure sound banking practices.
Who regulates the banking system? In the US, four federal agencies have been tasked with this duty, namely the Office of the Comptroller of the Currency, the Federal Deposit Insurance Corporation, the Federal Reserve System, and the Consumer Financial Protection Bureau.
Easier access to data has become a building block for successful business practices, and a way of doing this is via application programming interfaces. APIs have been utilized in the banking sector for years, even more so in recent times.
But like other innovations, data sharing raises questions around privacy and regulations in the digital market.
The 2007-2009 financial crisis was a huge eye-opener for banks, prompting governments to install their own initiatives.
OECD cited an example of this with the 2015 EU Payment Services Directive II (PSD2) - a regulation that aims to enhance competition by granting open access to certain types of customer banking data for nonbank licensed providers.
During its research into Digital Disruption in Banking and its Impact on Competition, the NPO mentioned how Japan revised its Banking Act in 2017 to include provisions encouraging banks to open their APIs and facilitating banks' acquisition of or collaboration with FinTech firms.
Nonetheless, banks can leverage their digital technologies in response to regulatory authorities' questions by improving both regulation and supervision and, in turn, helping regulators and firms decrease the costs of compliance, OECD recommended.
Implementing Digital Transformation for Business Banking
Customer expectations are growing, and so too should your business if you want to grow with them.
Digital transformation is a given when it comes to business banking. By taking advantage of the huge data pool, businesses can automate processes and reduce costs.
Simple changes such as AI, cloud technology, and automation can help improve services and functionality, resulting in customer loyalty.
Below are the key drivers to consider when going digital: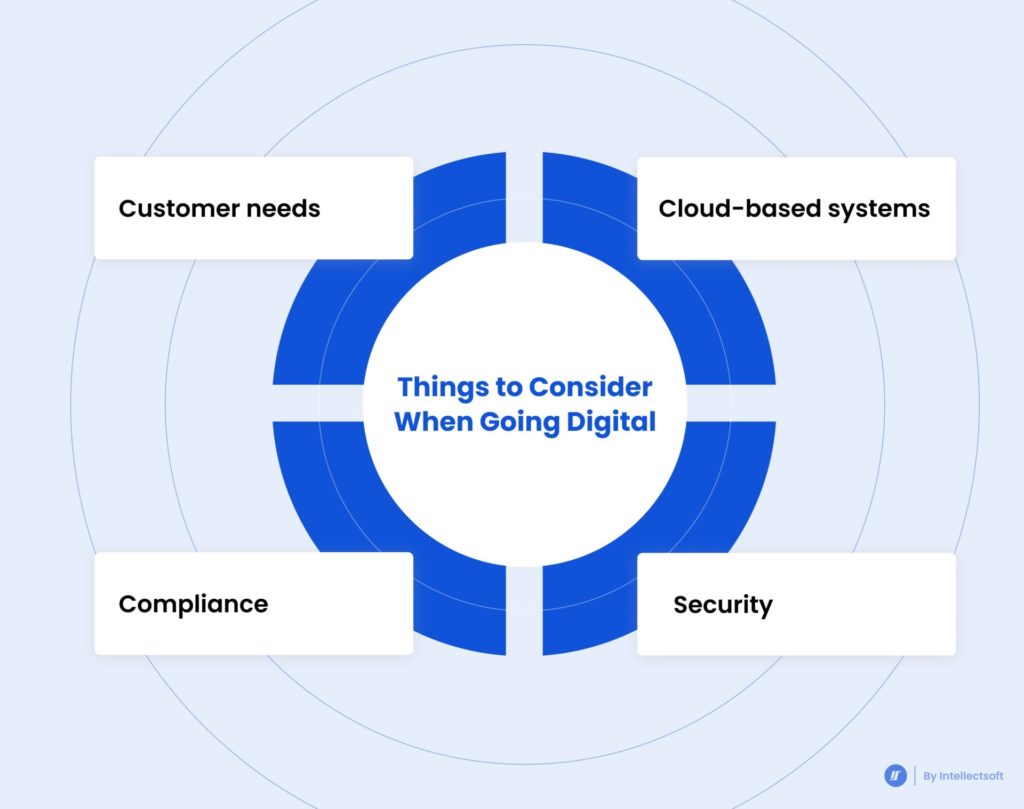 Customer Needs
Here's where data aggregation takes the lead. It can be challenging at times, but analyzing it leads to a clearer understanding of who your customer is and your targeted audience.
When segmenting your strategy, consider the following: Which products are generating the most profit? Which of your digital services mostly appeal to your customer? Which new offerings could encourage growth?
The intention here is to offer digital services via targeted marketing.
Cloud-based Systems
Previously, business banking was only sought out by big corporations and brands. It was associated with companies that had clout behind their names. Today, the environment is fast-changing and becoming accessible and inclusionary.
With a complete cloud-based system, banks can close the socio-economic gap by offering full access and functionality to clients, from loan applications to international money transfers.
However, there are setbacks to using this type of technology. Old legacy software systems might not be adaptable to comply with new software. The challenge coming with this is the huge costs involved to ensure a fully integrable system.
Thankfully, there is a workaround - some cloud-based technologies are consumption-based, meaning clients can experiment with them before doing a complete rollout.
Compliance Ready
Regulatory requirements are growing steadily, and to make sure your systems are compliant, you need to keep up-to-date of the latest rules and regulations governing the banking sector.
Dismissing these could lead to costly repercussions, which could easily have been avoided.
Security
In June 2022, Flagstar Bank, one of the USA's largest financial providers, fell victim to a massive data breach whereby the Social Security numbers of almost 1.5 million customers were leaked.
Initially, the bank failed to disclose how cybercriminals hacked into the system, but investigations showed that the attack may have happened as early as December 2021, highlighting the urgent need for ransomware protection.
The Credit Sussie data leak from February 2022 saw the details of accounts linked to 30 000 of its clients leaked. This resulted in one of the world's biggest private banks having to do brand damage control after it was discovered some of its clients built their wealth on drug trafficking, money laundering, and corruption.
Building the Future of Banking
Overall, banks should future-proof themselves by investing in products that give them a competitive edge. This doesn't only apply to business banking; commercial banks are finding themselves in the same boat, jostling for a larger clientele.
Major trends are reshaping the industry, forcing the sector to evolve instead of fighting against the current. The good news is that digital business banking has embraced rapid change, considering the environmental, social, and governance (ESG) concerns the world is currently experiencing.
Australian author James A. Gardner poured his years of experience as a career innovator into his book 'Innovation and the Future Proof Bank: A Practical Guide to Doing Different Business-as-Usual.' In it, he discusses in detail how banking institutions can become future-proof by "leveraging the power of the new to establish unexpected revenue lines, or make old ones grow."
Steps to Success in Digital Business Banking
According to Statista, about 27% of Americans use an online-only bank, and 60% of consumers say they are very interested in using digital banking in the next year.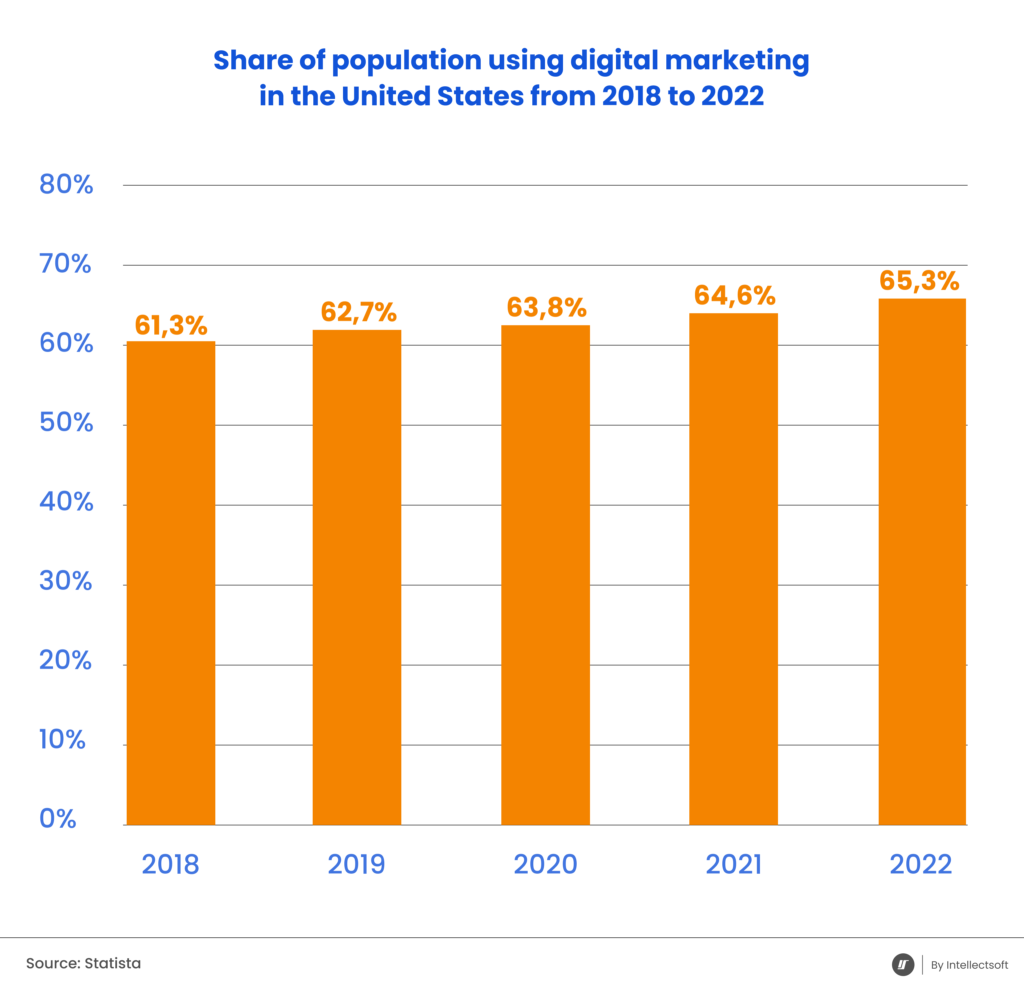 If your company is not using innovation and the latest technology to snag customers, you're setting yourself up for failure. How do you go about rewriting your success story?
For starters, by hiring a reliable and professional fintech software development partner, you're already halfway to reaching your goal.
Intellectsoft is a financial software development company that helps clients accelerate innovation by creating tailor-made software solutions.
Why Choose Intellectsoft?
Specializing in banking and financial institutions, Intellectsoft has a proven track record. Our clients include some of the most prominent brands in the world, including the NHS, Universal, and Jaguar.
Some of the financial software development services we offer are online banking, blockchain and cryptocurrencies, digital wallets, AI and ML, trading and securities, and robotic process automation (RPA).
To Sum Up
One positive that the pandemic produced was the uptake of digital payments. About two-thirds of adults worldwide now make or receive a digital payment, resulting in growing developing economies from 35% in 2014 to 57% in 2021, the World Bank found.
One could look at it as purpose-driven banking, a social responsibility of sorts, which we may add, has been predicted to be another big banking trend in the next decade. Banks that are more engaged with societal issues could have the biggest positive impact.
Microsoft CEO Satya Nadella once said, "Longevity in this business is about being able to reinvent yourself or invent the future."
It's fitting words, considering the world is always in flux. Reinvention is the name of the game. Ask yourself, can you afford to be left behind? If the answer is negative, get in touch with us to get the most efficient digital business or commercial banking solution.