Since 2020, the healthcare sphere has been experiencing the most severe challenges, calling for accelerated development and digitalization.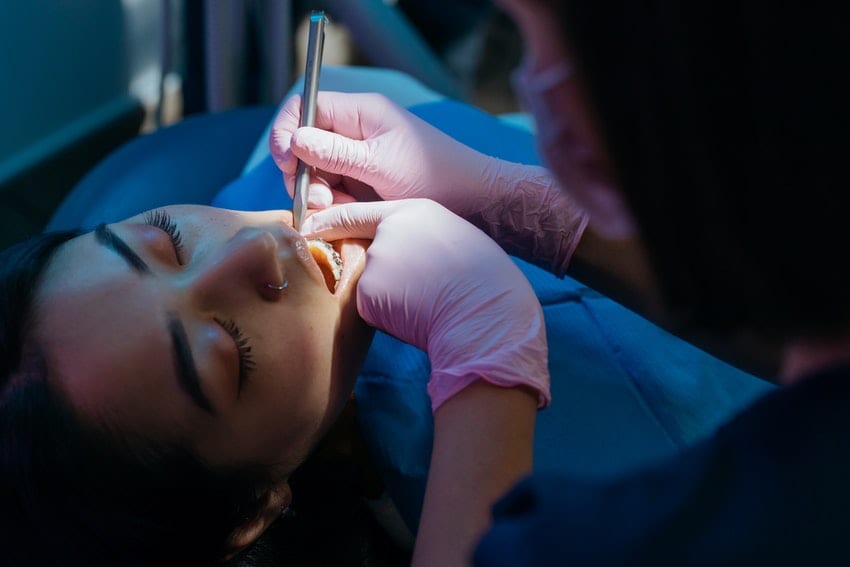 By 2021, the need for digital healthcare transformation is widely acknowledged by numerous startups and praised by their investors, including Oscar Health (valued at $3.2 billion), Babylon Health ($2 billion), One Medical ($2 billion), and Devoted Health ($1.8 billion), according to the information provided by BCG.
In this context, the appearance of practice management software for the orthodontic field fits the healthcare digital transformation trend in 2021.
In particular, the innovation contributes to the more effective work of dentists and their better communication with patients, along with creating the environment of next-level innovation and automation. Intrigued?
Check our overview of what the orthodontic management software is and what to expect from this technology in 2021 in terms of must-have features, expected advantages, and implementation peculiarities.
What Is Orthodontic Practice Management Software?
In essence, orthodontic management software is the set of tools specially designed for dental offices to facilitate the specialists' work.
These systems can do many things, including managing CBCT and cephalometric files and demonstrating the results of a treatment plan before putting them into action.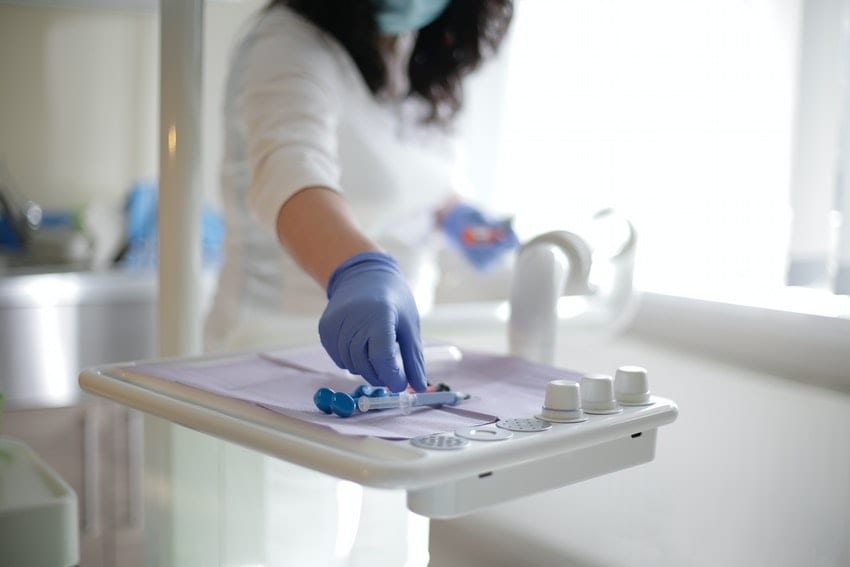 The prime objectives are to increase the effectiveness of orthodontists and to improve communication with patients.
Optionally, the orthodontic practice management software functionality can be empowered by other technologies, including mobile health, telemedicine, Internet of Medical Things, Artificial Intelligence, AR/VR, blockchain, or even robotic process automatic enhancements.
This way, you'll already get the IT solution that will affect not only daily but also large-scale operations in your clinic.
Why Do You Need Management Software for Orthodontic Practice?
With technological assistance in managing the orthodontic practice, your workers can get support for the main activities done in the clinic.
In particular, the technology lets arranging appointments, filing and storing essential information, establishing document correspondence with patients, and checking the daily tasks.
All in all, this tool facilitates your everyday work with numerous benefits and helpful features.
Here are the things you can instantly do in software designed for orthodontic practice management:
Check financial data
View the snapshot of each patient's balance and payment status
Schedule medical notifications
Be aware of the patient's safety situation
Record patient visits and treatment status
Install the treatment plan
Integrate images and graphs
Check the treatment progress and make instant adjustments
Manage documentation and other dental-related data

Key Benefits of Orthodontic Practice Management Software
Intuitive. The software for orthodontic practice management is the workflow-based solution that mimics the way orthodontics work. After training, you can rely on the machine as your true assistant.
Remote access. The tool is transportable and its functionality lets you work anywhere. In addition, you can share essential information with your patients without the need to send separate files from different doctors — the software securely stores everything in one place.
Document management. The technology allows maintaining patient files, enhancing exam effectiveness, and implementing recorded treatment plans. Again, direct access to all the information needed in one place is guaranteed.
Efficiency. Paperless flow enables easier task management and improves overall performance. Without the need to cope with numerous papers, all the routine tasks can be done faster and more accurately, especially once your orthodontic practice management software is linked with other healthcare applications.
Cost and time optimization. The software for orthodontic practice management is an effective tool in saving time for orthodontists, letting them perform their routine tasks faster and performing better.
Better accuracy. The software lets you create detailed treatment plans that include all the relevant details and images.
Faster decision-making. With the software for orthodontic practice, all the doctors can work in one place, which enables instant adjustments in the treatment plans without the need to clarify and negotiate on the current status and progress with them in person.
Better patient awareness. The technology lets patients see the whole picture of the treatment progress and expected outcomes at each stage.
Features of Orthodontic Practice Management Software
Patient photographs. The technology allows arranging and flexibly editing all the photos and X-ray images done. For example, you can switch between different viewing modes and link the pictures with treatment recommendations for making easy-to-use and clear patient reports.
Comfortable records appointment. The software for orthodontic practice management enables making automated intraoral records, which saves time and increases patient treatment accuracy. In this case, the technology applied is integrated CS 3600.
Integrated word processing. Within the software, you can manage communication with patients and referrals and access images and charts directly.
Treatment plan tool. The exact features in this section may include slideshow viewer, the ability to overlay images, movie player and editor, before-and-after comparison, stretching, red-eye reduction, and online support.
Analysis module. This useful feature for ceph tracing provides all the necessary guidance and detection of landmark points. The software includes several analysis modes and the ability to customize your own mode.
Planner module. In ortho software, you can make predictions and track the progress of the prescribed treatment plan. What's more, the planning module allows comparing several treatment plans at once.
Aesthetic tool. The visual representation of the expected outcome facilitates mutual understanding between doctors and patients.

Implementing Orthodontic Software: On-Premise vs. Cloud Configuration
If you're about to try ortho software, decide on the exact platform you want it to work. It can be either on-premise or hosted on the cloud. Each configuration type has its benefits.
On-premise configuration is more expensive due to the need to buy a server to store all the data. For its proper work, consider installing licenses and managing IT resources.
This way, the software lets you work remotely via VPN, excluding the connected services you may add. In terms of development, expect the longer time frame, need for staff training, and the involvement of a separate IT team to install and maintain the technology after the project delivery.
All these efforts result in getting the customized and totally controlled software at your service.
In its turn, cloud technology is cheaper, faster, and easier to execute. You can access the technology on any device with Internet connectivity.
In general, the orthodontic practice tool of this type is more flexible, as you can quickly configure the basic functionality and add the extra services on the go.
Moreover, your staff can start working with the technology right away, without the need to pass extra training. Check more information on the advantages of cloud technology in healthcare in our recent blog post.
Whichever configuration type you choose, you'll get the software that allows you to instantly check images and patient data, track the treatment progress, create reports, and adhere to HIPAA standards.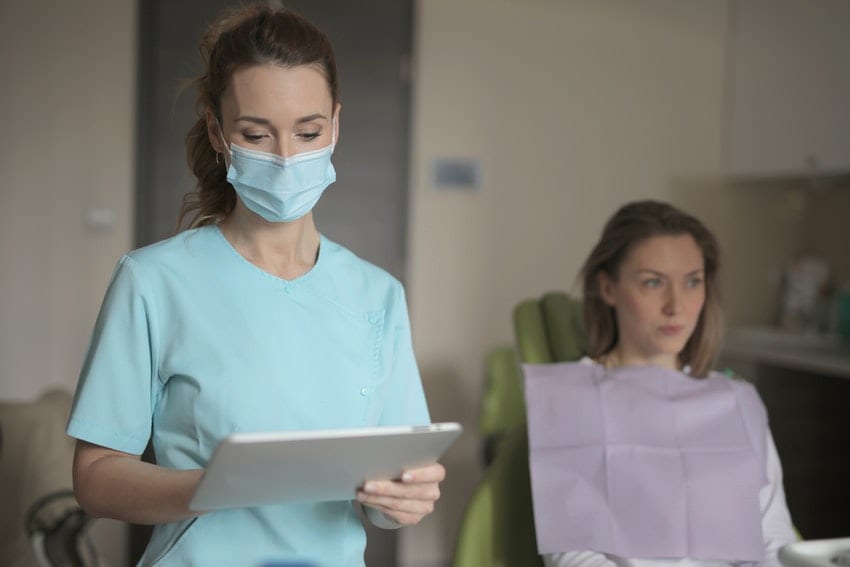 Intellectsoft Can Install Orthodontic Software for You
Orthodontic practice management software is an emerging technology, so finding a reliable IT partner for its implementation is tough. If you're looking for the options to get a high-quality and customized solution, reach Intellectsoft experts!
We're offering various healthcare IT solutions and software services. Among them, you can spot hospital information systems, data engines, the Internet of Medical Things, remote medical care, health awareness, and electronic health record.
Be sure: your orthodontic software programs will be effectively included in the entire healthcare IT management system, working properly as its inevitable element.
Ready to discuss the details or need a consultation on the service? Talk to our experts, and let's find together the solution that will automate your routine processes and help you benefit in the long run!