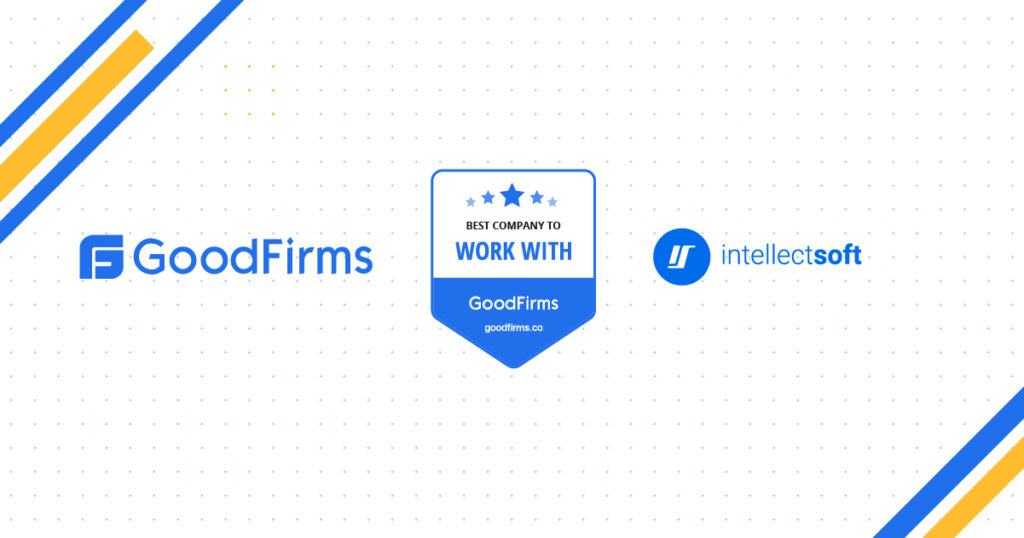 Product development and mobile app development involve complex processes with numerous intricacies, including generating a unique idea, leveraging innovation, understanding the users, following market trends, and creating a high-quality product or app that matches all the requirements of potential customers. Businesses are thus looking for the top mobile app development and product development companies that can offer them end-to-end services and support, from ideation to launch and maintenance.
GoodFirms has recognized Intellectsoft for its versatile skills and unparalleled experience that put the Company as one of the top industry contenders and market influencers through the Leaders Matrix program, and was identified as the "Best Company to Work With." With multiple offices spread across the globe, including Miami, New York, London, and Oslo (Norway), Intellectsoft offers broad-ranging, professional mobile app development and product development services with leading capabilities in product engineering, mobile development, IT consulting, digital transformation, QA testing, and many more services. Come up with an innovative idea, and Intellectsoft has all it needs to turn it into a miracle beyond imagination.
For the year 2022, GoodFirms named Intellectsoft as the "Best Company to Work With."
If you are looking for the top mobile application development companies specializing in Android development, Intellectsoft is the right development partner for you, recognized by GoodFirms Leaders Matrix. Right from its inception in 2007, Intellectsoft has been embracing the power of talent, innovation, and quality to create a difference for businesses worldwide. The company takes pride in owning a winning team that delivers high-grade services, ensuring success and profitability for its clients. GoodFirms recently recognized Intellectsoft as the "Best Company to Work With" in 2022.
Intellectsoft - Vision, Strength & Scope
As an experienced app and product development company, Intellectsoft believes its success lies in the success of its clients. The company follows a customer-centric approach and leaves no stone unturned to solve the clients' issues and deliver the best mobile app and product development solutions. This attitude enables the Intellectsoft team to easily accomplish even the most challenging tasks.
Some notable projects by Intellectsoft include an app development project that required building an app to combine the client's music-making mobile applications with the intuitive interface of a drum machine. Intellectsoft achieved this with exceptional performance. The client was impressed with their team, quoting them as very proactive and reliable developers. They also highlighted that Intellectsoft completed the project well within time and budget.
Intellectsoft developed an Android app for the largest manufacturer of modular homes in the USA. The goal of this project was to let contractors collaborate and help people find their dream homes. Intellectsoft turned this great idea into reality. The home finder app became a huge success, making searching for modular properties faster and easier. Intellectsoft has many such success stories to its credit.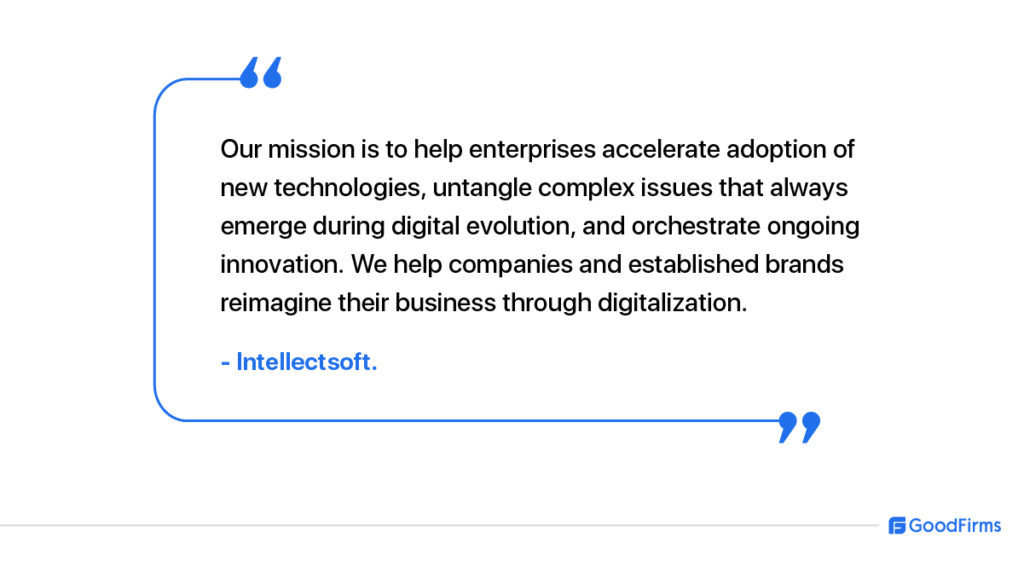 A few reviews of Intellectsoft: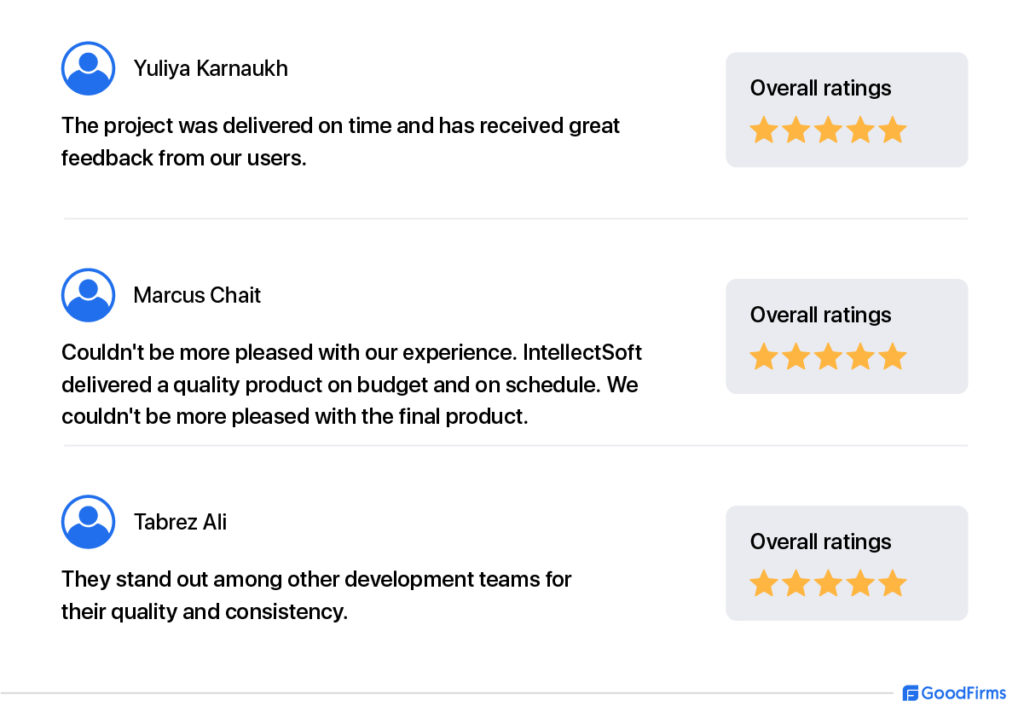 Why is Intellectsoft the Best Company to Work With?
Creativity, innovation, quality, customer-centricity, out-of-the-box thinking, and the ability to create the most budget-friendly solutions for clients are the core traits of reliable mobile app and product development partners. Intellectsoft has a perfect blend of these capabilities. The company has earned numerous loyal customers by offering exceptional app and product development services.
"We believe Intellectsoft's positioning in GoodFirms' Leaders Matrix report reflects the company's phenomenal performance and ability in offering broad-spectrum product development and mobile app development services in a manner that helps the clients boost their profits and seamlessly grow to the next level," said GoodFirms.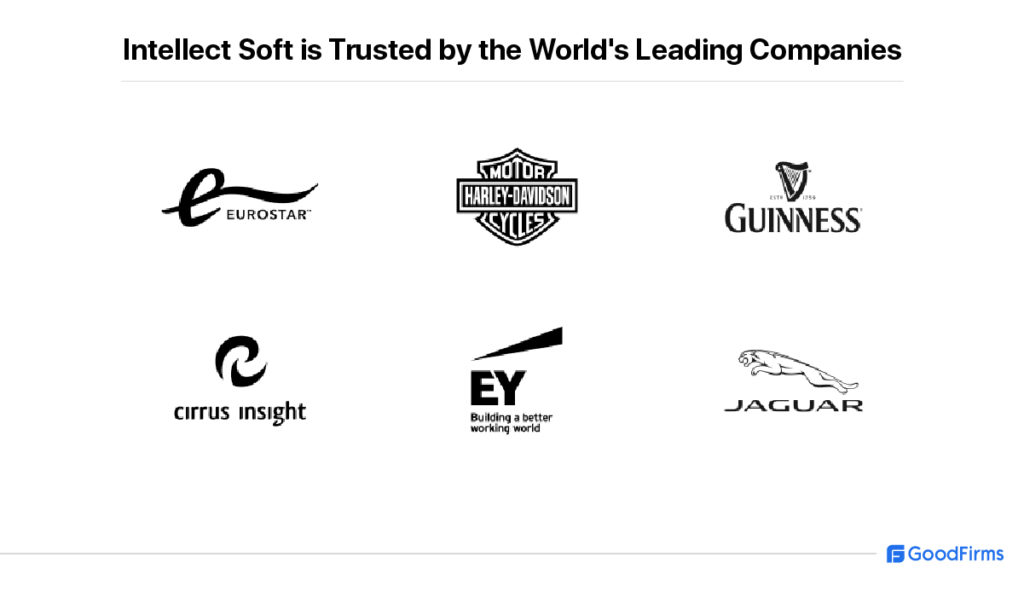 Intellectsoft had to undergo a rigorous assessment under the GoodFirms Leaders Matrix program. The evaluation covered the service landscape, verified client reviews, experience in the domain, market, competitive positioning, and much more. Such analysis helped unveil comprehensive information about Intellectsoft's capabilities, competitive differentiation, and market position.
About the "Best Company to Work With" Badge
"Best Company To Work With" is an exclusive program run by GoodFirms where the Leaders Matrix companies are recognized with a Badge, an exclusive article about the Company, and a supporting PR. Such recognition stands as a support to developing trust and authenticity within the B2B community. It also allows the participating companies to improve their ranking - rank higher in the Leaders Matrix categories, receive inbound backlinks from GoodFirms LeadersRoundtable podcast campaign, and get a certified Badge saying, "Best Company to work with."
About GoodFirms
GoodFirms is a B2B research, review, and listing platform helping businesses accelerate their digital journey and to maximize the value of modern technology. The company connects service providers with service seekers through a comprehensive and thoroughly researched fact-based list of the best services and solutions. Recognized as the most reliable source for the B2B market, GoodFirms has world-class experience with partners across the globe.