To succeed, a potential software product must meet various aspects. This includes a unique selling proposition, a thorough marketing strategy, competitive pricing, sufficient funding, and more. However, the last word of all of that gets the product's quality. It refers to product functionality, performance, aesthetic interface, and user satisfaction. 
The quality depends on software developers' skills and dedication, which is why it is vital to know how to choose the right software development company. This article reveals fundamental do's and don'ts when selecting your potential tech vendor. 
What to avoid when choosing a software development company
Ordering a custom-made software product is a crucial, cost-intensive undertaking for business companies, especially startups. There are many reasons why a startup may fail. Some failures are caused by the inability to attract investments, while others are related to quality, which depends on the skill set of engineers and other specialists who build the product.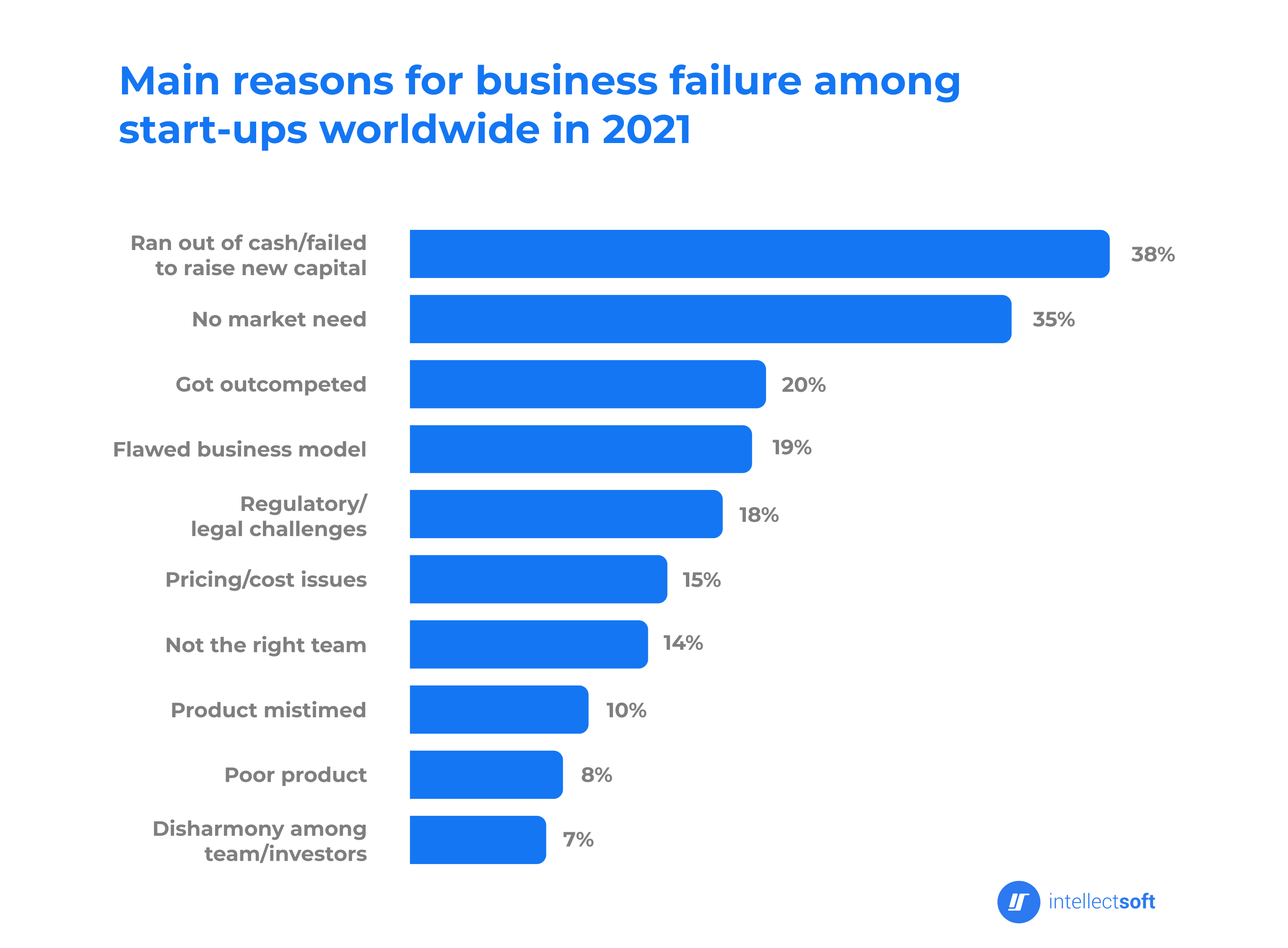 Source: Statista
A dedicated team provides huge advantages for startups and businesses. When selecting the best software development company, consider if a potential provider is capable of meeting the tech requirements of your product.
Before we take a closer look at the process of determining the best candidate from a range of available options, let's name several common mistakes in the shortlisting.
Rush your decision.

Rely on one source of information.

Hesitate to ask questions.

Neglecting to consider the tech vendors' portfolio.
Let's examine these mistakes. Each of them can lead you to a wrong decision and jeopardize the future of your business project.
Do not jump to conclusions.

Although time is money in the business world, choosing the right software development company requires research and must not be rushed. 

Do not rely on a single source of information.

You need to process a lot of data to make an informed decision. Furthermore, you should verify if the information about software development companies is accurate and up to date. Hence, try to cover as many sources of information as possible: companies' websites, social networks, reviews on independent platforms, and so forth. 

Do not hesitate to contact companies.

Call the managers and ask many questions related to your project.  

Do not disregard the portfolios.

Every software development company showcases its most impressive works and its biggest clients unless an NDA explicitly forbids it. Learn such references and case studies.
6 Steps for choosing the right software development partner
Now, let's talk about what to do and how to choose the right software development partner. This process involves several steps to find the optimal candidate and establish further cooperation. 
Step 1: Define your goals and timelines
You should have a concept of your future software product, its requirements, functionality, target audience, monetization, and other business objectives. This way, you will be able to focus on companies that match your goals and specialize in relevant types of software. Well-defined and structured data on your business project will help you communicate with development teams efficiently. You will be able to tell them straight to the point what you want and make sure they are on the same page with you.  
Step 2: Make a list of candidates
Refer to specialized websites that collect reviews, comments, and ratings of software development companies. For this purpose, Clutch and Goodfirms are the most popular and reliable sources of information. They provide decent data to create a summary of a company, including location, size, rates, expertise, services, and so forth. This information will help you build a long list of potential partners and refine the list in later stages.
Also, remember to browse the web pages of IT events, conferences, and digital exhibitions related to your product's niche. Take note of participants as they may be a good clue for your list. Reputable companies rarely miss a chance to attend such events and send their representatives as speakers to share their insights and expertise.
Step 3: Visit companies' websites and social media
To narrow your list, you will need additional information. First of all, see how your potential software development partners present themselves online. A company's website showcases achievements, expertise, technologies they use, case studies, feedback from clients, and more. If their website or social media page looks careless and deserted—it may be a red flag to cooperate.   
Step 4: Contact managers
Reach the company's sales manager. This step allows you to test communication between you and your potential business partner. If a company does not respond or takes too much time to reply, your future business relations are unlikely to be productive. As a product owner, you have to stay in touch with your hired software development team during the whole development process as well as after the release, if needed. Poor communication leads to poor outputs.
Step 5: Have a talk with the candidates
Consider this stage an interview. Remember, you are an employer who needs to hire capable workers to create a software product. Websites of software development companies are their CVs: they list skills, accomplishments, and experience, but you have to find out if they are true. That's the point of your conversation with the companies' representatives. 
At this stage, you double-check the expertise, preferred technologies, scope of services, and other information mentioned on the company's website. Find out more details about the practices, methods, and steps adjusting in the software development process, such as security standards, quality assurance, code writing approaches, and so on. 
This stage helps you to understand if you have a common vision in the development process with a potential team. On top of professional skills, you can also check the soft skills of a tech vendor crew.
Step 6: Negotiate the contract
Find out the terms of the potential contract, including an estimated budget, timelines, post-release support, and other specifics. Ensure that the proposed conditions suit you and are in unison with your business plan.
Why choose Intellectsoft as a software development company
As a custom software development company with 15+ years of expertise, we offer multiple advantages to our clients. Looking for a reliable team to build your web or mobile solution from scratch or enhance the ones? Check this out. 
By choosing the Intellectsoft team, you'll get:
Multi-industry expertise. Over the years we delivered more than 600 custom software products for startups, SMBs, and enterprise-level companies. We cover Fintech, Insurance, Healthcare, Construction, eCommerce, Logistics, and many other industries. Review our Case Studies to see the variety of business solutions we deliver.
Custom solutions. Business solutions we create for our clients are always based on specific requirements and a custom set of services and technologies. Since every client has their unique goals, expectations, and needs, there cannot be a one-size-fits-all solution. If you need a solid custom solution, we'll build you one.
Bespoke-cycle development. We are flexible. If you need to outsource only a part of your project or launch a full-fledged product to the market—we get you covered.
Fast time-to-market. Our pool of talents comprises all the specialists to build and MVP. While the MVP engages the first clients, we are here to update the product upon collected feedback from the first users.
Latest technologies. Software development technologies develop and change rapidly. We use the latest and time-tested technologies for web and mobile solutions.
Top-quality result. The variety and number of our awards, along with the positive feedback from our clients on Clutch, Business of Apps, and Goodfirms prove we are among the best software development providers in the industry.
Conclusion
Choosing the right software development company is vital for the success of businesses. The process requires much attention to detail and takes time to research. However, with the right approach, you can find a reliable team having proven skills and experience to build your software product.
Intellectsoft is an excellent example of a reputable software development company. We have over 15 years of experience and dozens of successful cases with satisfied customers. We are proud of our large team of skilled specialists who allow us to offer a wide range of development services and create software products for various industries. Feel welcome to check our ratings and awards on Clutch and Goodfirms. If you still have doubts or questions, contact us, and our managers will be happy to provide more information.