Many companies find it difficult to decide between developing custom software and buying commercially available software. Custom-built software is made to meet particular requirements. On the other hand, pre-made software is less expensive and saves time. Hence, the dilemma.
This is why understanding custom software advantages and disadvantages is necessary. By doing this, you can weigh the advantages and disadvantages to determine whether or not customized solutions are appropriate for your overall business needs.
You can choose the best option for your brand using certain prerequisites. This includes the size of your organization, the difficulty of your work, the types of customers you serve, your plans for scaling up, and the profitability of the solution.
In this article, we'll discuss the pros and cons of bespoke software. But first, let's examine what custom software entails and why business leaders should give careful consideration to this choice.
What Does Custom Software Mean?
The process of developing custom-built solutions involves creating, designing, launching, and maintaining applications specifically for a set of end-users, functionalities, or brands. Comparatively, commercial off-the-shelf software (COTS) is a tailored solution with features adapted to generic market needs.
Businesses occasionally require specialized solutions to handle challenges peculiar to their processes or sector. While it may be easier to deploy, COTS just doesn't solve those problems.
This is why bespoke software has become popular for small-scale businesses and enterprises. However, there are many more custom software benefits beyond customization.
Advantages of Custom Software 
Are you planning to solve a problem in your market? Building a custom-made solution might be your best chance. Below are some benefits of custom software development: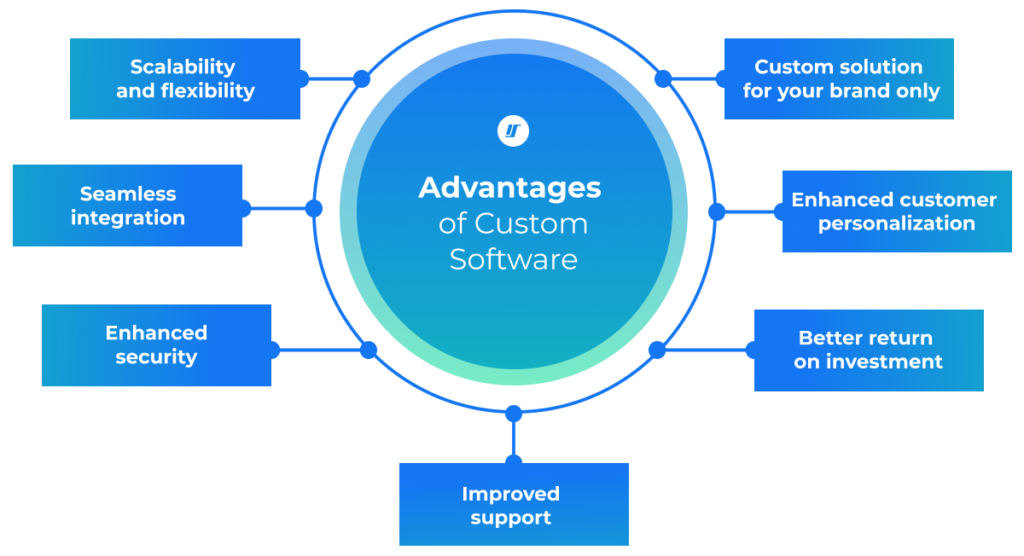 Personalized Solution for Your Brand Only
This is one of the notable advantages of custom-made software over off-the-shelf software. Bespoke solutions allow you to build exactly what your business wants or needs.
This means you can solve a specific problem rather than respond to a generic market. As such, you will differentiate your business and have a competitive edge. You will also have full control over the software, meaning you can make changes at any time, add key features, and implement customer feedback.
More Customer Personalization 
The modern user wants a personalized experience, not a generic-looking service. In fact, 80% of customers are more likely to patronize a business that provides a tailored experience. This is because customers want to feel like they're being treated as a person.
With customized software development, you can provide more personalized solutions and add value to the business-customer relationship. This is bound to increase customer loyalty, retention, and satisfaction.
Better Return on Investment
Although high cost is one of the disadvantages of custom-made software, there is a better ROI in the long run. You won't have to pay for unnecessary hardware or pointless features you don't need. If your software is worth the value, it's a smart investment regardless of cost.
Scalability and Flexibility
Every business wants to grow. However, using off-the-shelf solutions is as good as setting yourself up to remain stagnant for a long time.
Scaling ready-made solutions to meet company growth or new market demands is almost impossible. They can't be manipulated at will, and you may infringe licensing contracts if you do.
However, custom software development grows with your business to meet future needs and requirements. You can make changes at any time based on customer feedback, upgrade based on emerging technologies, and conduct regular maintenance.
Seamless Integration
If your business has existing tools or technologies, building custom software facilitates seamless integration. You might want all business systems to communicate with one another or need to create interfaces that make data exchange smoother.
These functionalities are often challenging to find in a ready-built tool, especially due to arbitrary APIs. However, this compatibility can be included in a custom-made application. Although there may be some alternatives for off-the-shelf software to merge with other programs, this integration may not be as seamless as you might prefer.
Enhanced Security 
Since you're building from scratch, you have control over software security by creating it in. Off-the-shelf software is notoriously easy to hack because they use open-source code and are available to everyone. This means attackers already know the vulnerabilities of such software.
On the other hand, custom-made software is a closed-source project. In addition, your developers can observe secure DevOps even before writing the first line of code.
Improved Software Support
Custom software has the assurance of a reliable technical support team involved during the development life cycle. They can deal with any problem because they are familiar with your software.
You'll get a swifter response and resolution time as long as you include Service Level Agreements (SLAs) in your contracts.
Note that support is usually out of your hands with ready-made solutions.
Disadvantages of Custom-Made Software
Bespoke software solutions aren't all roses. There are a few drawbacks to note before you begin development.
Let's look at the disadvantages of custom software: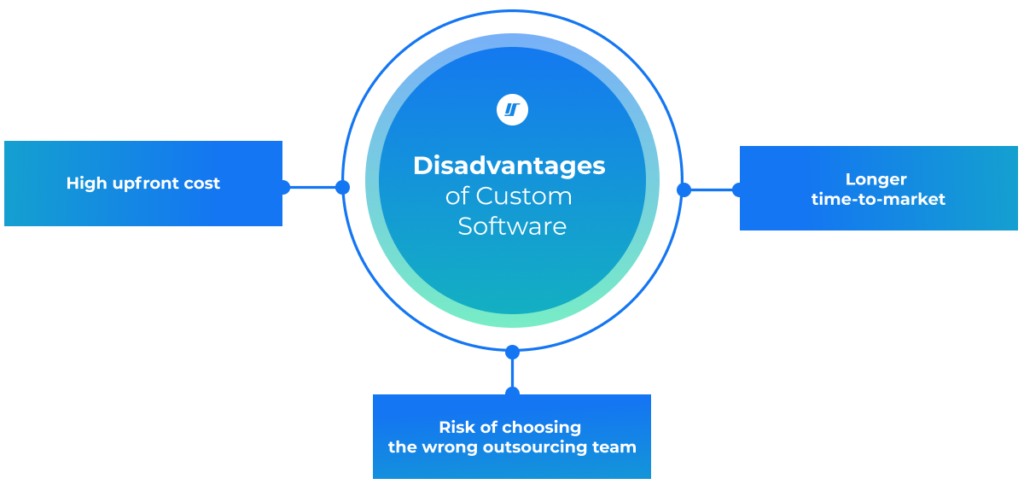 High Upfront Cost
Perhaps the biggest flip side to bespoke software is the initial investment. Developing customized software can be expensive because you're starting from scratch.
While this upfront cost may yield better ROI in the long run, it can be challenging for certain organizations without sufficient finance.
However, the increased productivity your employees will experience, the competitive edge for your business, and the personalization for your customers will rapidly compensate for the expenditure.
Longer Time-to-Market
Custom software can take time to develop and deploy into the market. This can be a problem for businesses that want to get a solution into the market quickly. Depending on your needs and project specifications, it takes around 4-9 months while off-the-shelf software is ready to use.
Bespoke software requires organizations to invest time into providing specific requirements to the outsourcing vendor or in-house development team.
Time will also be dedicated to developing and testing software from a user's perspective. This may include multiple iterations and bug fixes before getting the desired results.
Risk of Choosing the Wrong Vendor
There is the risk of choosing a wrong outsourcing company to develop your custom software. Unfortunately, picking an unprofessional vendor might cost you even more. This is because you would have invested time and money into a project that won't be completed or won't be built to satisfaction.
Choosing a reliable software development partner to outsource your project is essential for the best outcomes.
Why Choose Intellectsoft for Custom Software Development
Intellectsoft is a best-in-class software development company with over 16 years of experience in custom software development across different industries. We have a track record of the world's leading enterprises and Fortune 500 companies.
At Intellectsoft, our professional services cover software engineering, consulting, and outsourcing. We understand that pricing can be a concern in bespoke software development. As such, we provide a competitive and reasonable pricing model that fits your budget and business needs.
We consider time-to-market, so we provide a dedicated team for your project. Our team of skilled developers is happy to get to work immediately after signing a contract.
You can also check out our client success stories involving small-scale businesses to enterprises. We have provided custom-made solutions to companies in oil & gas, transportation, entertainment, fintech, construction, tourism, and healthcare, among many others.
Final Words
Each organization has unique requirements. Most of them are aware that commercial software won't live up to their expectations or solve the problems their customers face.
You know your customers' pain points more than anyone because they are the center of your business. Once you understand the problems your customers face, you'll be able to develop custom software solutions that address those issues.
As a rule of thumb, you should have software that can accommodate your company's requirements, which is not always the case with off-the-shelf solutions. This is why businesses hire a development team to build unique applications that satisfy their needs and requirements.
In addition, bespoke software provides customers with more personalization. This is likely to generate higher customer satisfaction, loyalty, and retention.
Ultimately, the pros of customized software outweigh the cons. Building bespoke software is your best chance to succeed if you want a competitive advantage and make a real difference in the market.
Do you have a big idea in mind? Then you should get the best hands for the job. Our team of experts at Intellectsoft is more than happy to discuss your project.
Regardless of industry or company size, you can trust us to successfully implement your business requirements. Contact us today, and our managers will answer any questions you may have.