The dental industry is traditionally fragmented. Inability to transform dental operations lies in the fact that the specialists are accustomed to high prices and uncertain utilization levels of critical devices such as scanning and milling. All these factors force dentists to stay away from any technology adoption in the sphere.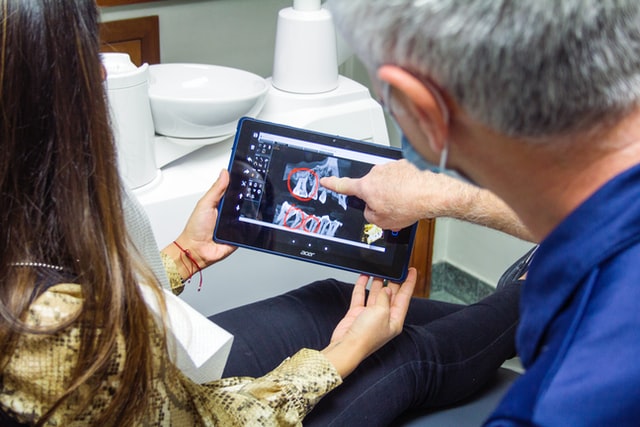 Nevertheless, the situation has changed in recent years.
The rising speed and affordability of digital dental solutions fuel the extent of dental transformation.
In this post, we'll provide an overview of the key achievements and best practices of dental digital transformation.
Digital Dentistry: How Modern Software Can Revolutionize the Dental Industry
In technological terms, dental transformation means implementing innovative tools to increase service quality and improve customer experience in the dental sphere. These days, digital dentistry unites several tendencies that aim at enhancing the industrial capacities in these dimensions.
7 Main Trends of Digital Dental Transformation
Consolidation. The industry players recognize the importance of building chains and strong relationships to improve their investment capabilities and start applying integrated workflow solutions.
Better solutions. The quality of entry-level solutions is in the spotlight these days. Industry players are searching for ways to ensure adequate quality of affordable and commoditized services.
Software development. After reaching the affordability of computer software and prosthetics production, the future of dentistry technology is connected with AI and ML solutions.
Optimizing customer experience. Customer demands change with time. Since digital dental solutions minimize the time and effort on treatment, industry players are looking for new possibilities of advanced aesthetic and orthodontic treatments.
Changes in dental education. Current technologies transform dental school curricula, as a professional dentist should master advanced hardware and software these days.
New standards. Technology digitalizes the dentists' work, and the industry standards adjust to the new reality.
Digital-savvy specialists. Further technological development changes the requirements for new personnel.

The Software Potential for Dental Specialists
The main set of digital dental benefits addresses service quality, resource management, and labor cost reductions. However, these advantages go far beyond the limits of a given clinic. Potentially, digital dental solutions can improve overall industrial efficiency and help overcome personnel shortages in entire countries.
This way, digital transformation can cover the dental workflow as a whole.
5 Key Software Benefits for Digital Dentistry:
Ability to digitally replicate the entire operations. Digital dental services bring tremendous positive effect on the industry as a whole. With the capabilities of dental digital transformation, the innovation offers a set of tools that address professional needs on any stage and level.
Greater personalization. The digital dental capabilities enable improvements in customer experience, meaning easier access and safe storage of personal data. As most industries have proved, the personalization of data is the foundation for delivering a highly relevant and omnichannel experience.
Ability to make more accurate diagnoses. Software increases the service quality, starting from precise determination of health problems to designing better treatment plans.
Better patient-dentist communication. The technologies enable customers to be fully involved in their patient journey, being informed and aware of each stage in their treatment plan. These factors increase patient loyalty and the level of customer satisfaction.
Cost-effectiveness. Dental digital transformation has a positive impact on time savings and labor cost reductions. Enabling the shift from manual processing towards automation minimizes production and treatment time and significantly shortens treatment times.

Examples of Digital Dental Solutions Specialists Can Already Use
Although the real digital transformation for dentistry is still in the making, various software types already fuel the extent of dental transformation. In this overview, we'll explain the main enhancements in this list.
Electronic Dental Records
Electronic medical records appear to be the best optimization tool when it comes to adjusting workflow in a dental clinic. In essence, this technology enables creating, managing, and storing patients' data as electronic patient records. This way, the dental clinic can safely store and quickly share health information within the organization or across multiple healthcare settings.
The best practice of electronic dental records implementation covers the following steps:
Prior assessment of practice state, aims, and objectives.
Creating a business plan that reveals the awareness of dental practice workflow and effectiveness.
Setting partnership with a tech vendor by making an informed decision about solution architects.
Create an implementation plan that considers all the business objectives, standards, and legal requirements.
Work in close cooperation with a tech vendor and communicate on each development stage.
Test the digital solution and fix bugs and mistakes.
Go live and work on the solution's maintenance and adjustment.
As for the most important benefit, electronic dental records can enhance patient information accuracy and processing speed, which improves patient care quality and safety in return. The improved efficiency also refers to accurate scheduling of operatories, wise allocation of human resources, and relevant treatment planning.
Patient Management Software
Establishing and maintaining mutually beneficial relationships between dentists and patients is the key to customer loyalty and clinic profitability. In this regard, patient management software offers the set of tools and solutions that make this strong bond happen.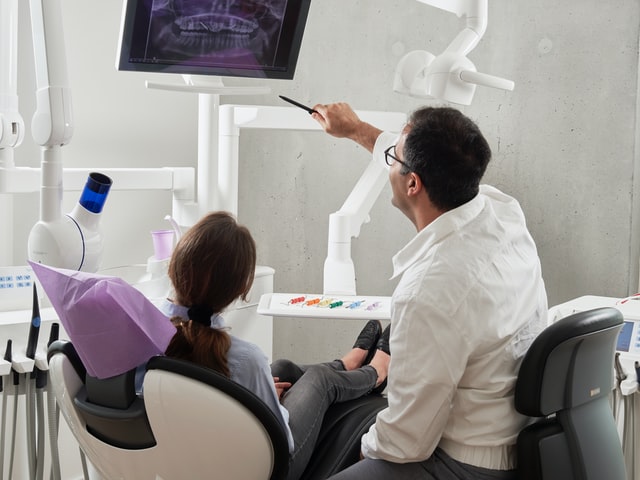 For example, patient scheduling software serves as the system that adopts virtual care, robotic surgery, AI, biosensors, and drones of prescriptions formulation and delivery. In particular, the technology is capable of these improvements:
Optimized administrative workflow;
Reduced number of empty slots;
Reminders about the scheduled visits;
Patient waiting list creation;
Personal health information privatizing and encryption;
Customized care plans;
Wearable and mobile devices integration;
Patient self-scheduling function.
This way, the patient management solutions are the tools for increasing revenue through access to the detailed statistics that can serve as the solid background for strategizing and normalizing relationships with patients.
Dental Practice Management Software
This technology provides the tools dentists can use for overseeing their daily operations. The typical set of features includes appointment arrangement, storing essential patient data, leading document correspondence with patients, and daily task tracking. To address these functionality requirements, the extended list of features for orthodontic practice management software includes:
Arranging and flexibly editing photographs and X-ray images;
Making automated intraoral records;
Integrated word processing;
Treatment plan tools, including slideshow viewer, overlay feature, and movie player;
Analysis and planner modules;
Visual representation of the expected outcome.
If you're interested in getting dental practice management software, check this blog post to learn about key development tools and implementation pitfalls.
Dental Office Management Software
This set of software solutions is aimed at optimizing dental clinic workflow as the set of business functions. The technology deals with appointment scheduling, charting, billing, customer communications, payment processing, and social activities. All in all, the solution creates the foundation for a paperless office.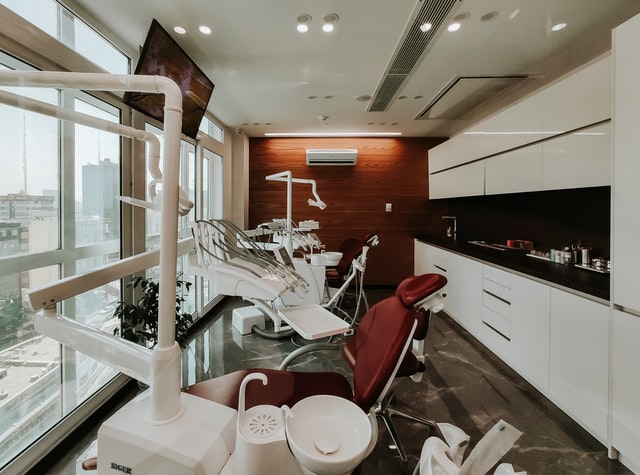 The basic package of features for dental office management software includes:
HIPAA compliance: This international standard ensures the strong security of patient data.
Easy-to-use interface: The staff should access and work with the software quickly and effortlessly.
Intuitive dashboards: Each software screen should provide easy access to information, record new data points, and provide understandable visualization.
Analytics: This module provides the basis for better and faster decisions, collecting statistical data and looking for tendencies and causal relationships in them.
Automation: The tool should be capable of automating repetitive tasks to let your personnel concentrate on strategic things.
Integration: All the modules in the system should work together, and the dental office management software itself requires proper implementation in the existing computing environment of your clinic.
Payment processing: The software should have a clear subscription model, and the tech vendor should work on a safe payment gateway.
Once implemented wisely, a dental office management solution can cover most of the functions taking place in your clinic.
Request Digital Dental Solutions from Intellectsoft
Let our expertise in the dental industry serve the needs of your dental clinic! Contact Intellectsoft experts now, and we'll build the best-fit software solution to overcome all the challenges on the way to dental digital transformation.