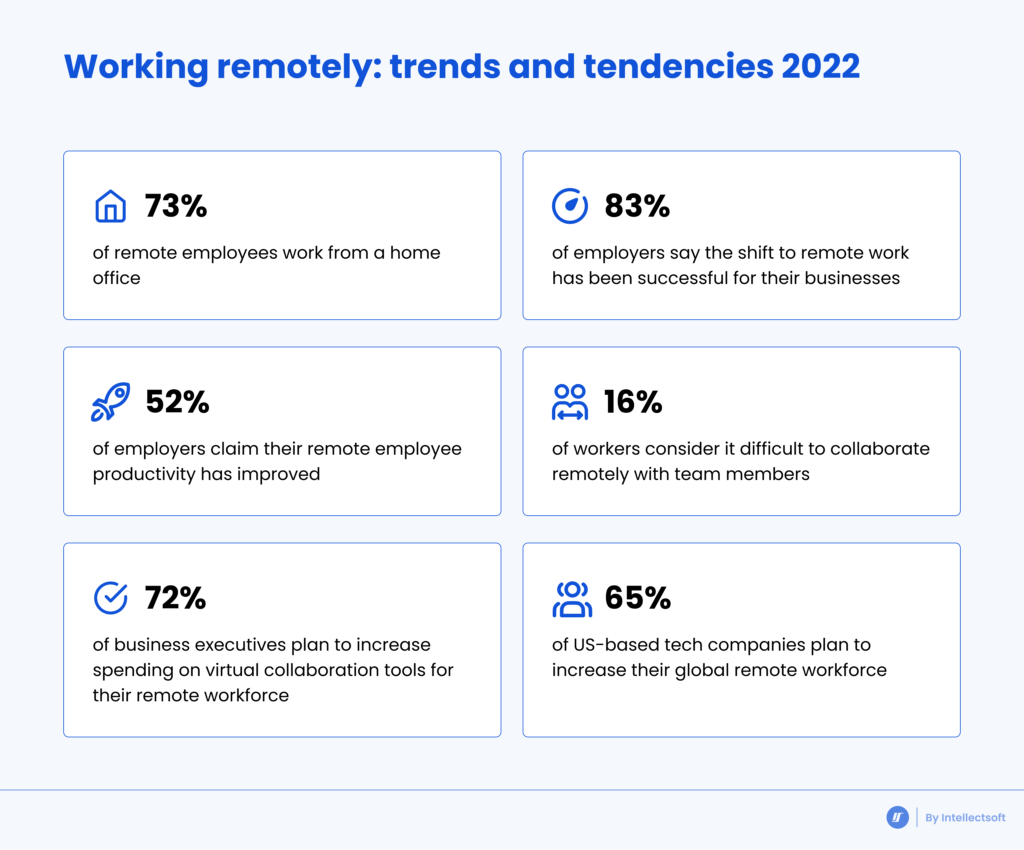 Remote work became a new reality for most employees and companies right now. Along with the rising demand for software developers, not only do companies let their employees work from home but also hire full remote software engineering teams to work on implementing the latest technologies.
It's worth noting that the industries with the highest number of remote workers are healthcare (15%), technology (10%), and financial services (9%). However, other industries also consider hiring remote developers to help them digitize their businesses.
As you can see from the latest statistics, the popularity of remote work keeps growing and has a positive impact on businesses.
Nevertheless, some owners still feel skeptical about hiring remote employees especially when it comes to software engineers. Most of their concerns are related to managing a remote development team. As we have offered remote software development services for 14 years already, we decided to share our unique experience to make your decision-making process easier and management more effective.
In this article, you will find an extensive overview of managing remote software developers. You will get priceless tips from our experts to make the most of your collaboration with a software development vendor, achieve higher productivity, and meet your long-term goals.

7 Tips For Effective Management Of a Remote Software Development Team
Now, let's dig deeper into the basic rules of remote software development team management. 
Importance of Team Structure Composition
Managing a remote software development team is a very complex process that requires a lot of responsibility and organized approach. You have to structurize your requirements and goals in the first place.
However, in order to have a successful partnership with remote employees, you should also start by structuring your future software development team. To make it happen, it's paramount to define the scale of your project.
Document all your project details and provide the broad description of an end product. It will help you and your outsourcing vendor to define the team size and select the specialists with the most relevant knowledge and skills.
Through this, you will be able to have a smooth workflow without interrupting to search for extra developers, or paying extra for the employees that are not bringing any value to the process.
Have Your Remote Team's Time Zones in Mind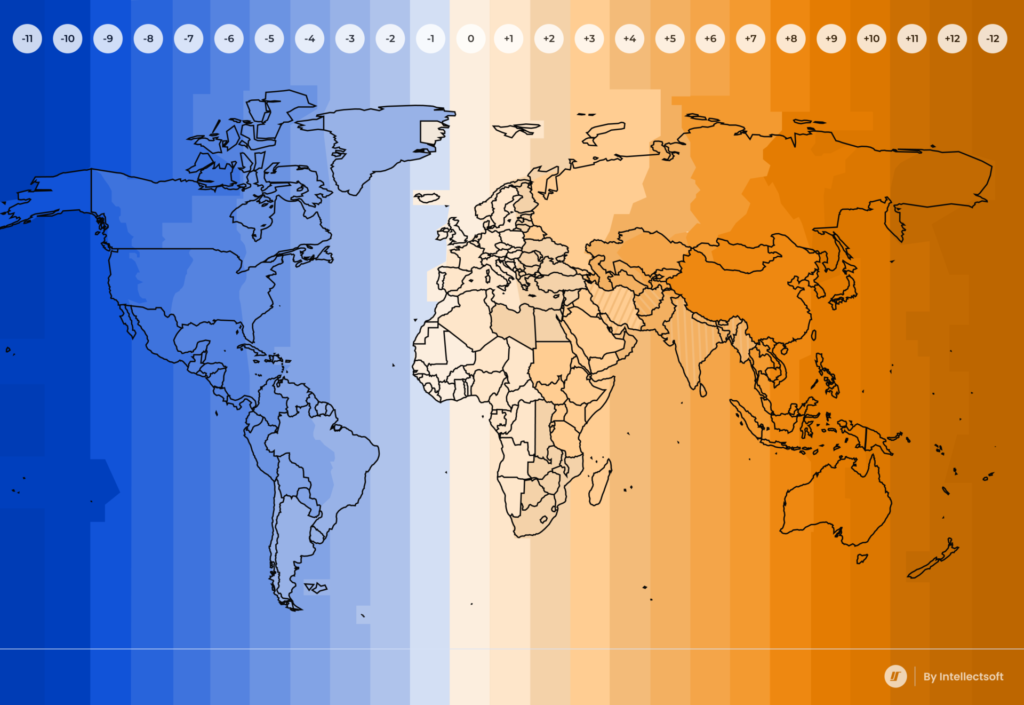 Another very important tip if you want to have an effective remote software development team. As you probably know, most outsourcing companies are located overseas and because of their remote locations, those companies offer very budget-friendly options while delivering fantastic service quality. Most typically, outsourcing companies are located in Asia or in Easter Europe.
Although Asian service providers offer a little bit more cheap services, the main drawbacks of collaborating with them are a huge time difference, bad knowledge of English, and significant cultural differences. Speaking of Easter European outsourcing companies, they have a similar mentality and have more convenient locations. No matter what option you choose you should have time differences in mind.
According to the latest research, 59%  of remote workers claimed that their company operates in two to five different time zones.
Therefore, to make your collaboration as smooth and effective as possible, you should schedule meetings, distribute tasks, and manage the performance taking into account the time zone of your team. In order to make the most of your partnership, you should adjust the working hours of your team accordingly to share as much work time together as possible.
Create Ground Work Rules for the Team
Given remote geographical locations, time limits, and other challenges that you might encounter during your collaboration with software developers, your main focus should be aimed at documenting all the project ground rules that will be the guide for you and your employees.
It will be the core document that will contain everything from the main business goal, to the project description, and other employee requirements and work rules that they should follow while partnering with you. This is your chance to share your company culture and values, and demonstrate what employees have to take into account.
Project guidelines for productivity and effectiveness are a pillar of an organized team that will be so easy to manage. Transparency and clear communication of your rules are essential when working with remote teams.
Create a Comfortable Environment for Remote Communication
Partnering with a remote team has a few keys to success. The main one is clear and timely communication. To manage remote developers you have to invest your effort into the following aspects.
Schedule regular meetings
Communication cannot be effective and beneficial for your project's success unless it's regular and consistent. You have to define your needs to communicate with your remote team and schedule video and phone calls regularly throughout the month to stay up to date with all the progress.
Establish personal connections with developers
To break the ice and build loyal and trustful relationships within a team, it's also important to establish personal connections. Try to always find some time and space for small talk to make sure that not only the tasks are done but all your employees are happy and satisfied with the project.
Face-to-face meetings (virtual and in person)
Having individual calls with each separate employee in your team is extremely important for ensuring work quality and building trustful relationships. It will be highly recommended to plan in-person visits to your remote office to add a more personal touch to collaboration as well as track progress.
Reward employees
To maintain a positive team spirit and keep employees motivated and success-driven it's important to incorporate a reward system. It can be anything from corporate gifts, and cash bonuses, to mere praise and encouragement for a well-done job.

Track Performance of Your Remote Development Team
It goes without saying that it's required to track the overall performance of a team as well as the progress of each individual team member to make sure everyone stays productive and all the job is done on time. To make it happen, the previous communication tips will come in handy.
In addition, you should consider using management tools to make the process of tracking task status very easy and transparent. It's your main job to evaluate the contribution and value of each team member so don't underestimate this aspect.
Among the most widely used tools, it's possible to name Jira and Asana. They are very user-friendly and even if you don't have prior experience using them, it won't be a problem to learn its sleek interface features and use them with comfort.
Hire Self-Managed People
A self-managed professional is a person who doesn't require constant supervision and direction from an authority team member. They have an exceptional ability to work autonomously and provide excellent results while taking full control of their actions and outcomes. They are reliable, independent, and self-motivated.
The best way to hire top-performance and well-organized people who can self-manage their workflow is to conduct interviews in person. Yes, it will take some extra time and resources to fly to another country but it will enable you to meet and select the best candidates. You will be the one accountable for the future success of the remote collaboration.
As an option, you can make soft skills and personal aptitude tests as part of your recruitment process. It will take only a few extra minutes from a candidate, but it will help you evaluate their personal skills and ability to perform well while working remotely (individually or within a team).
Build Workflows for the Remote Development Team
The last but definitely not the least tip in this remote team management recommendation is to build workflows for your overseas employees. Probably you understand that people who gather in another continent cannot start doing an impeccable job right away after signing a contract.
To boost the working process you have to come up with your procedures for a remote team. You can use your own approach or rely on a classic Agile method that will help you set up and build effective workflows for new team members.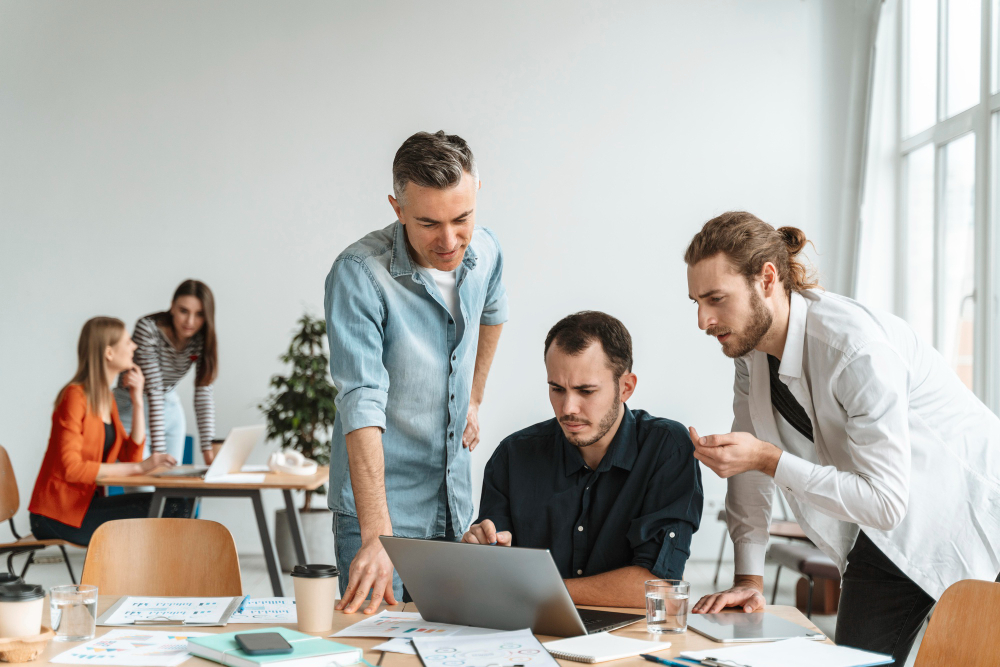 6 Mistakes In Remote Team Management And Possible Solutions
Knowing the tips for managing a remote development team is not enough for a successful collaboration with partners. In addition, it's also crucial to acknowledge what outsourcing mistakes businesses can make while managing remote workers. So here are some pitfalls to avoid and to learn from.
1. Inability to clearly communicate expectations
While forming a team, it's the biggest mistake not to invest time in defining and clearly communicating your goals and expectations. It's crucial to share your future product vision and mission as well as to prepare the relevant documents that will serve as a guide to your remote employees.
2. Team micromanagement
Some managers don't invest enough time supervising remote workflows, and some make the opposite mistake of micromanaging the team. Even though you cannot see your team doesn't mean they require constant supervision on your part. This will create unnecessary stress and tension. The recommendation for an effective remote development team is to define the main KPIs, use management tools wisely, and focus on more important business tasks.
3. Ignoring time-zone differences
If you opt for a remote team of developers you should understand that most likely you will have to collaborate with people all over the world. Some managers neglect this aspect and don't adjust their workflows to a new overseas team. It's crucial to take into account time-zone differences and schedule video meetings and overall communication accordingly. Schedule emails for the working hours of your developers so they don't get lost and you get answers more quickly.
4. Keeping your communication solely digital
When collaborating with software engineers remotely, many business owners think that holding a meeting online once per week and exchanging emails is enough for having a fruitful collaboration. However, that's not true. Your remote team is still a team and you have to nurture your relationship. Create team-building opportunities and try to visit your team as much as possible during  your partnership to build trustful relationships and boost team spirit.
5. Inconsistent feedback
Another very significant mistake that managers make is giving inconsistent feedback. Taking into account different locations, you should prioritize regular meetings where you will give clear and constructive feedback to make sure all efforts are aligned with business goals and desired quality of services is maintained.
6. Not using management tools
Some employers neglect the importance of using quality remote work tools. They are essential for assigning tasks, tracking progress, managing task completion, etc. Management tools significantly boost performance and productivity.
In-House vs. Remote Software Development Team: Pros & Cons
If you still hesitate and don't know which format, remote or in-house, will be suitable for your business then take a look at this table that will help you to see clearly all pros & cons of each option for your dedicated software development team.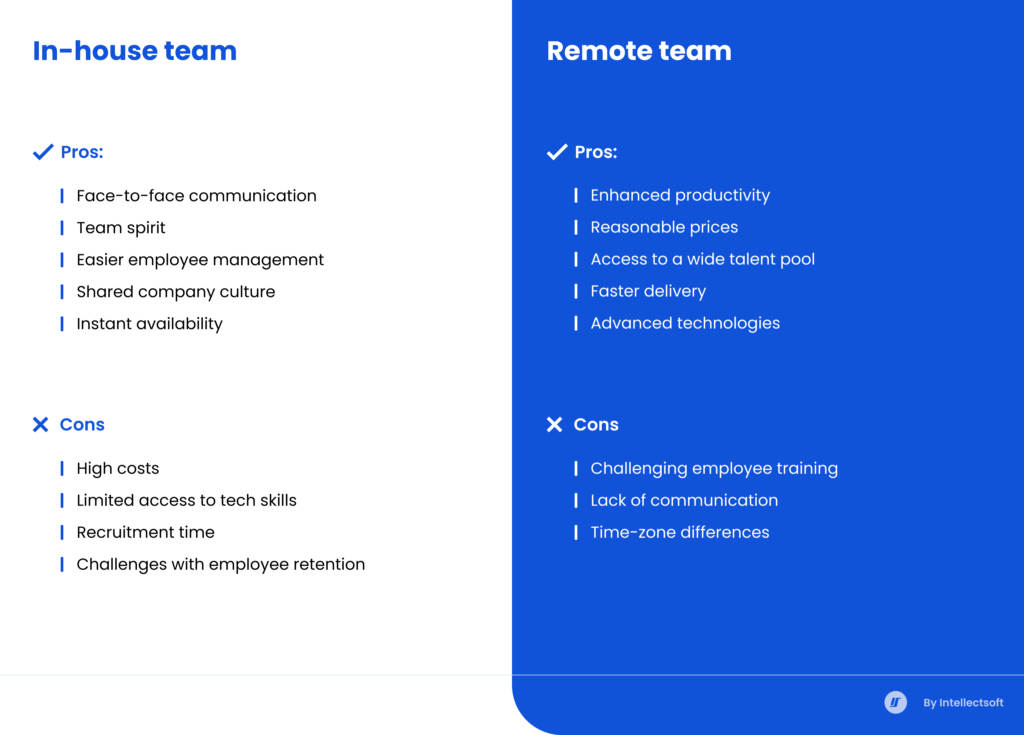 Basically, a remote form of collaboration will be perfect for growing companies without software development expertise that wants to have a cost-effective partnership to successfully digitize their business.
Not all companies can afford to have an in-house team as it involves a wide range of extra expenses starting from hiring and training, ending with expenses on hardware, office space, payments for vacation, and insurance. The in-house format is suitable for businesses with enough resources and who need to constantly work on their product to improve and scale up.
If a company can take into account our best practices on how to effectively manage a remote custom software development team it's possible to make the most of this collaboration and achieve top-notch results.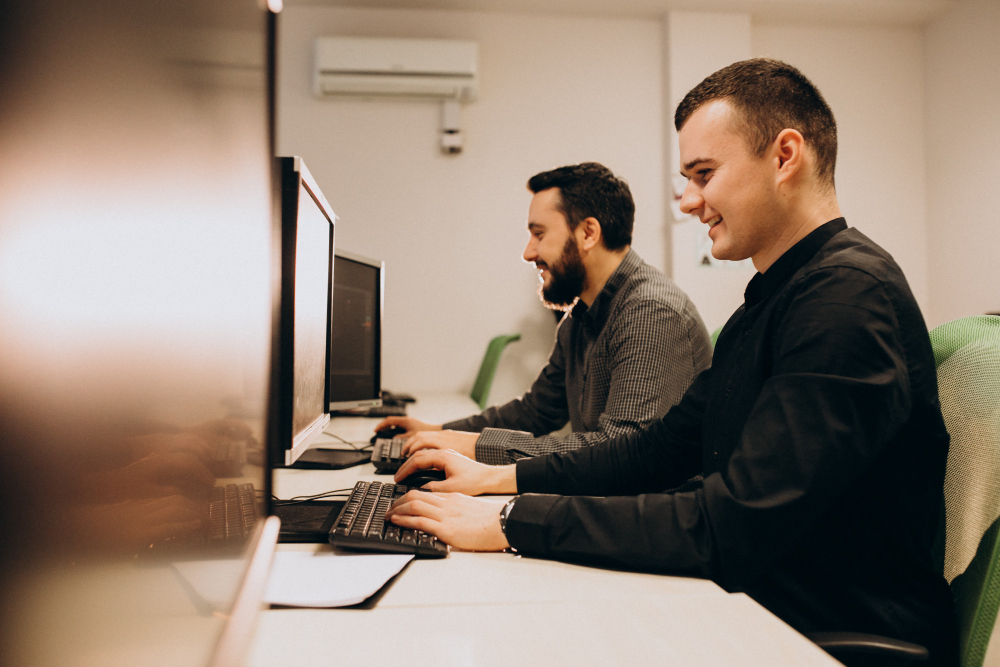 Intellectsoft Is a Trusted Software Development Partner
If you have a software project in mind and are looking for a trusted and reliable software development partner then consider collaboration with Intellectsoft.
For more than 14 years already, we operate in an outsourcing software development market and offer top-notch services to our clients all over the world. We have successfully finished more than 300 projects in various industries.
Our domain expertise includes experience with fintech, healthcare, hospitality, and construction. Our best software engineers possess various technical as well as soft skills and knowledge to become a perfect match for projects of different complexity and length.
We can offer you unique access to a remote company team software development that will be at your disposal and will help you to achieve desired results.
Intellectsoft has vast professional expertise. Our team offers a wide range of services to meet all your business needs and implement your ideas into reality.
In addition, check out our most prominent client cases to see what solutions we have built for international companies across industries.
Don't hesitate to reach out and discuss potential collaboration with Intellectsoft.
FAQ
How to manage a remote software development team effectively?
There are a few simple but valuable tips that will help you manage remote developers more effectively and boost their performance. First of all, share a clear product vision and business goals.
After, it's crucial to prepare all the relevant documentation for facilitated knowledge transfer between your company and offshore developers. Another key tip will be to set achievable yet clear KPIs and milestones to track progress.
And the last one is ensuring regular and transparent communication in order to avoid any misunderstandings and make sure that everyone stays on the same page.
If you want to get some extra information on how to effectively manage remote teams, check out this article.
What are the main challenges of remote team management?
When it comes to collaborating with offshore development teams, there are a few management challenges that you should be aware of in order to boost your efficiency and avoid potential bottlenecks.
The first time is the time zone difference. This one depends on the country you opt for so you have to keep that in mind while choosing your software development partner. The next one is related to language and cultural differences. If you decide to choose an offshore vendor, remember that the team will have a different mentality.
Make a wise decision and go for Easter European countries as they have a similar mindset and their knowledge of English is usually on a decent level.
How to effectively measure the performance of developers?
Collaborating with a remote software development team might be a bit more challenging than having an in-house team on your premises. However, there is one thing you can also do to ensure the highest quality and top-notch performance. It's conducting performance reviews of developers on a regular basis.
There can be different types of reviews which include manager reviews, self-appraisal reviews, peer reviews, etc. Usually, the main things that matter are the code quality, teamwork, as well as productivity.
Everything you should know about how to run a successful software engineer performance review is here, in our expert blog post.