The importance of quality time with people you see eye to eye with has never been as crucial as it is these days. Who could have thought that we would be locked in our houses for so long? This definitely takes dating to a new level.
Meeting people online and spending hours connecting with the like-minded is just what everybody needs during these unprecedented times of coronavirus quarantine. For this reason, check out the best dating apps in 2020 to have fun, find your match, and even fall in love with a perfect partner.
How Do Dating Apps Work?
Getting matched with people based on some algorithm doesn't scare users away any longer, as we're living in the era of Big Data being analyzed, everything is personalized and customized to meet user's peculiar needs. Online dating hasn't become an exception.
Basically, one creates an account, goes through some set of questions, then the matching algorithm does its job and voila – one finds what they have been looking for (whether it was a friend, a date to have fun with, or a soulmate for long-lasting relationships). The rest depends on the app; one can plunge into messaging in chats, send photos, and just keep connecting with the like-minded.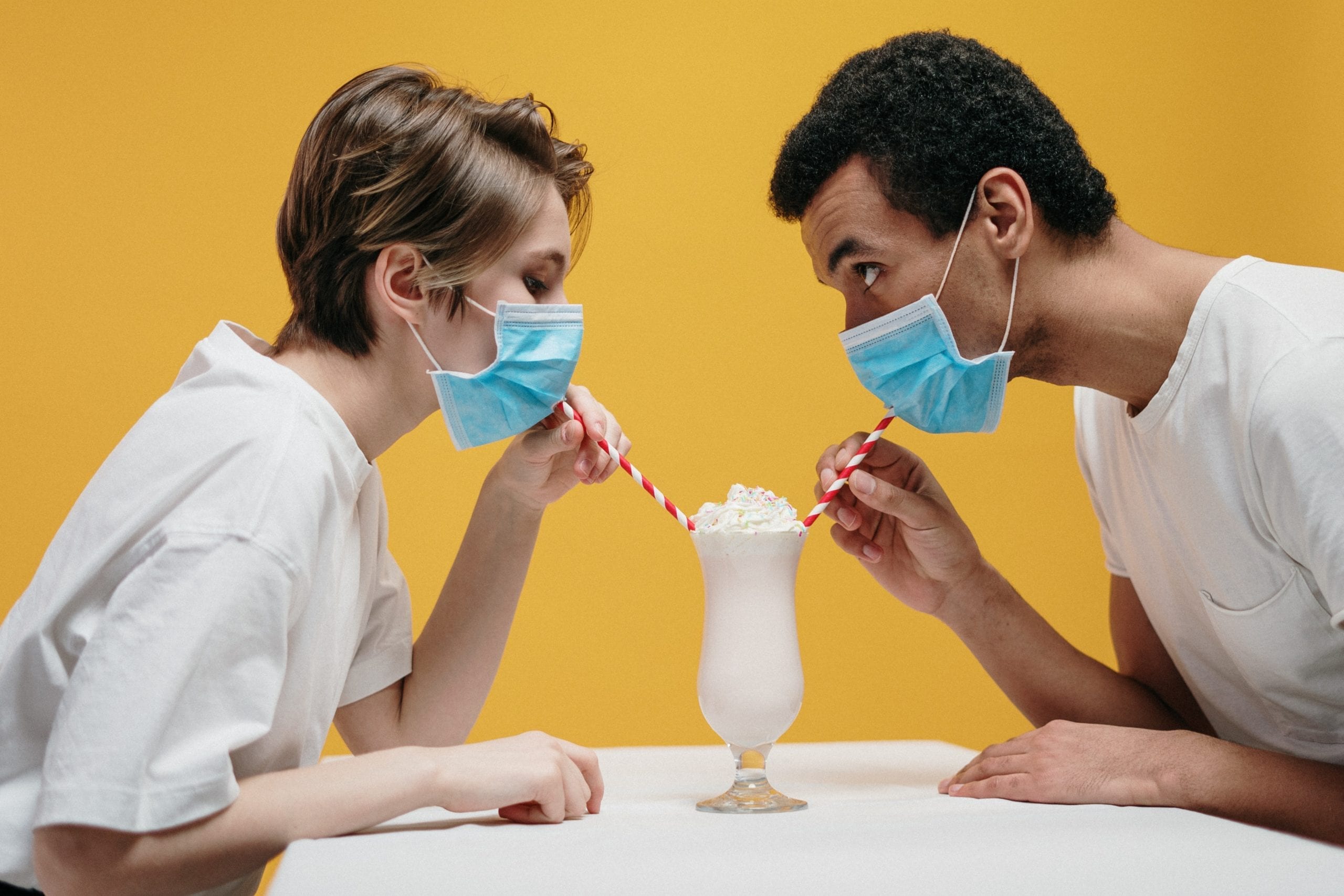 Why Do People Use Dating Apps?
The reasons for using dating apps are endless. Some people are looking for a person who will share their interests and hobbies. Some find such apps a great means to break the records and meet awesome people in any part of the world. Others just feel lonely and bored after a break-up or sitting stuck at home during a coronavirus quarantine, having nothing else to do but for connecting with new and exciting people. However, there is one thing that is the same behind all these reasons – the need to communicate and have a good time.
How Many People Use Dating Apps?
Did you know that in 2019 there were 30.4 million users of dating apps in the USA? And it is predicted to be only increasing. What is more, you'll probably be surprised when we tell you that the age group of those using dating apps isn't just the young ones – users aged 18 to 65+ enjoy connecting online, as love conquers all. Still, the majority of adults using apps for dating are aged 18-44. However, it doesn't mean that those aged 65+ don't enjoy online dating; it's just they prefer website versions more.
What Are the Best Rated Dating Apps?
All being stated, in the ranking below, we have singled out the best dating apps for relationships in 2020, so you can find the app that will be right up your street. We have outlined the main benefits and drawbacks of each app, their peculiarities as well as pricing plans.
1. Tinder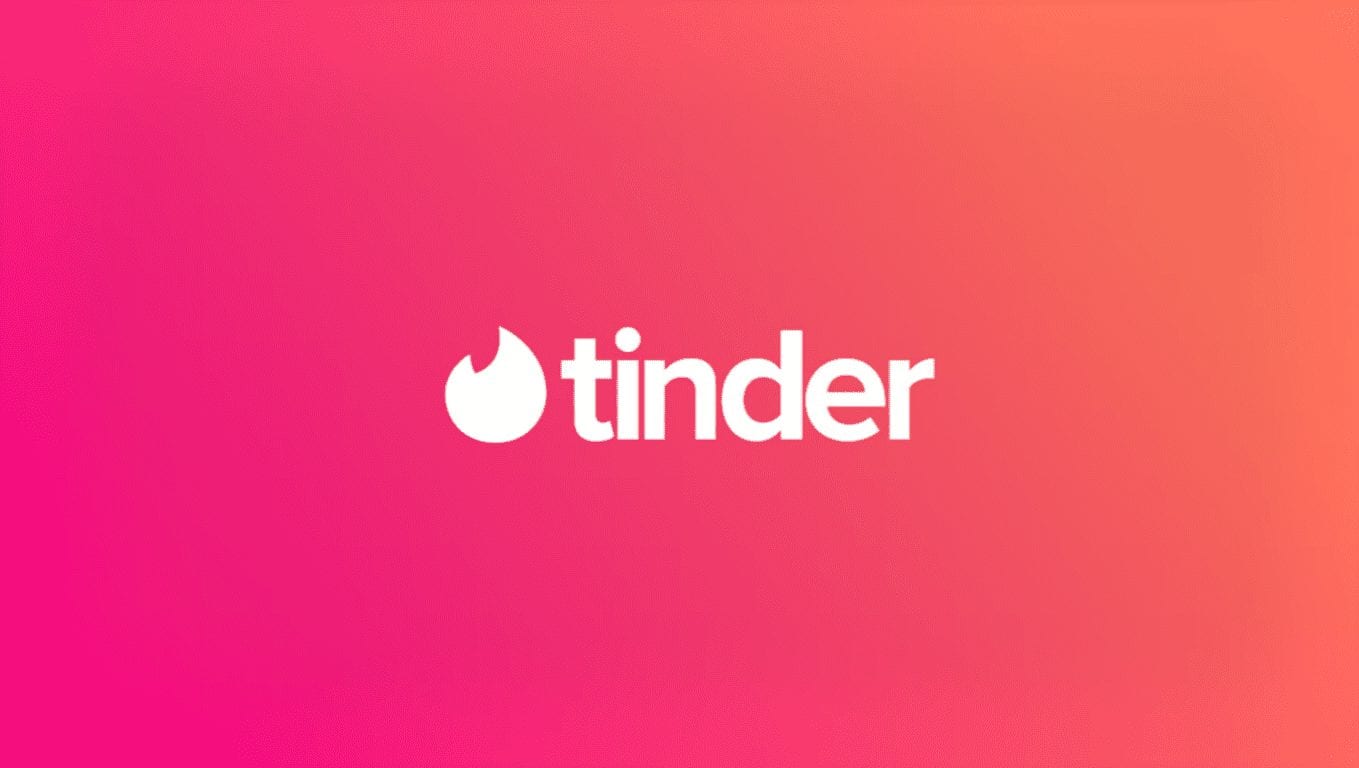 It's already 2020, and Tinder still remains one of the most popular places to meet new people. And it is for a reason, by claiming to arrange near 26 million matches per day, this application definitely will help one to find a match wherever they go.
Pros
User friendly interface, and simple design.
No unsolicited messages, as a person can only text you if you are as well interested in them.
An enormous database of people to date, and a wide range of matches nearby.
If you're logged with Facebook, the algorithm will take this into account by matching you with more compatible companions, using mutual friends' function.
Cons
For those looking for long-term relationships, Tinder might be a bit of a challenge, as many users claim it is mostly about casual dating and hookup culture.
Sometimes there isn't enough info about your matches; you only see a name, the age, and a phrase of 2-3 words.
It's available on phones only, with no access to tablets or laptops.
Pricing Plans:
Free Plan;
Tinder Gold – $29,99 per month, $18,83 monthly for 6 months, $12,5 monthly for 12 months.
2. S'More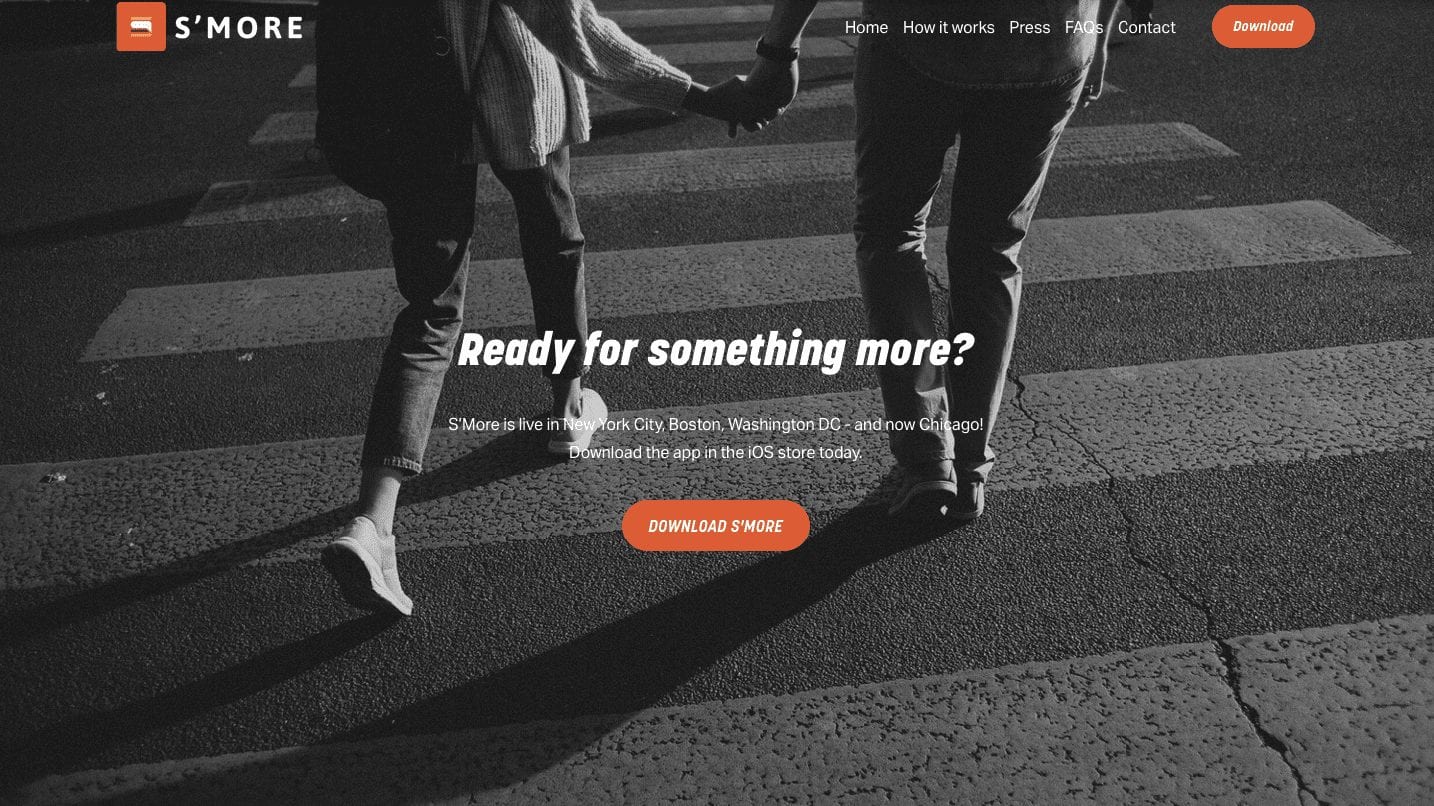 It may be difficult to stand out in 2020, though S'More managed to. The idea behind this app is that you don't see the photo of your match until you've started interacting with their profile (reading about them, listening to the audio answers to the questions, watching their favorite music clips, etc.) Only after the interaction, the photo will start to unblur.
Pros
For those who are looking for a meaningful connection, the fact that S'More focuses on personality rather than looks is definitely an advantage.
A truly interactive way to get to know a match by learning about the colour of their eyes, their education, and the voice-recorded responses to the personal questions like their favourite music or a dream trip.
To quote Marie Claire, 'This app was named #1 for those who hate dating apps'
It is anti superficial swipe culture oriented.
Cons
The main disadvantage is the fact that right now, the app is live in New York, Boston, DC, and Chicago only.
It is time-consuming getting to know people there.
Pricing Plans:
3. Grindr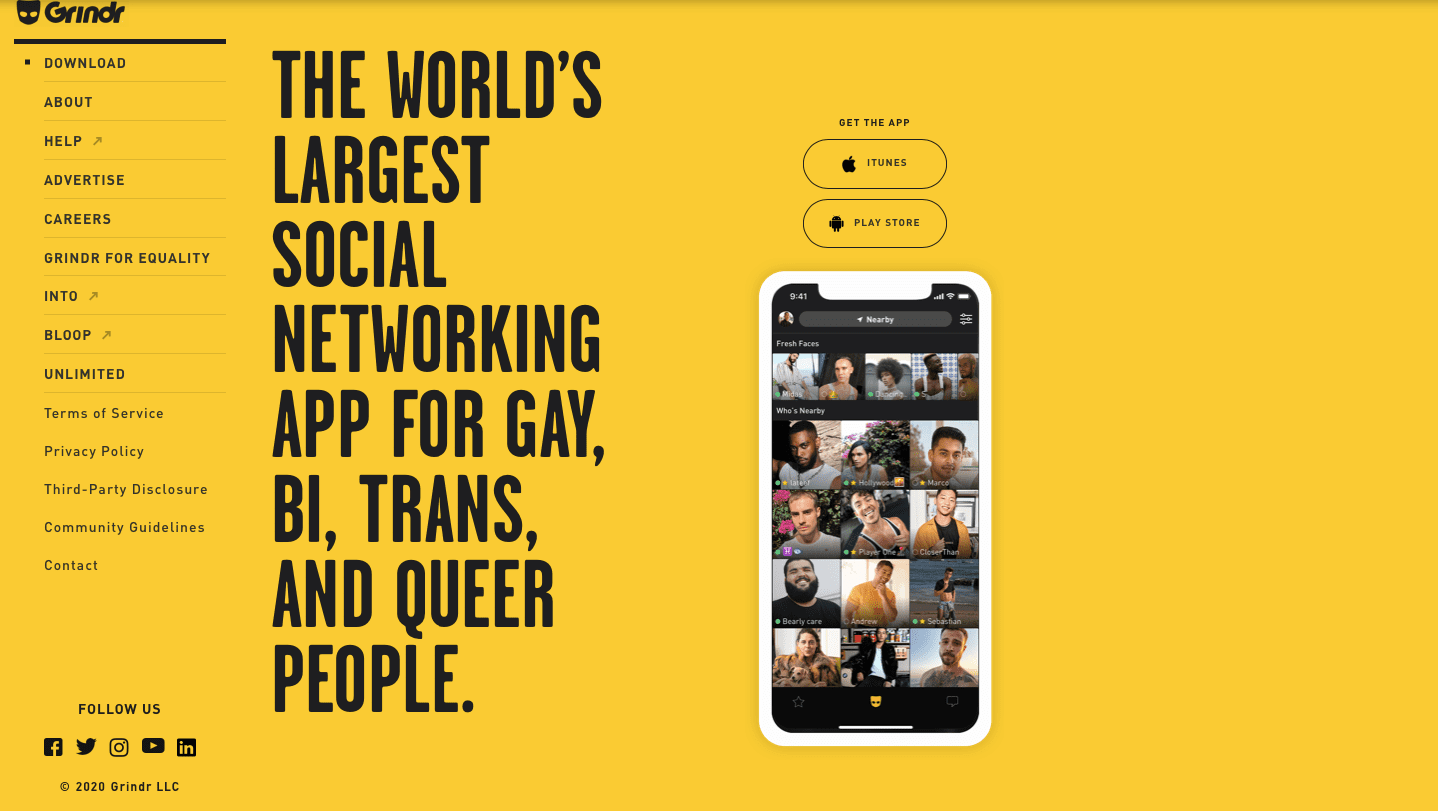 Whether you're looking for a bi, gay, or trans partner – it is a perfect place to go for it. Love has no bounds, and today Grindr is one of the biggest LGBTQ social media and dating sites, as well as one of the most popular apps to find love, a hookup, or make new friends.
Pros
An opportunity of a quick sign-up with your Facebook profile.
An easy-to-use interface with a convenient chatting space.
If something goes wrong, there is an ability to block or report accounts.
Some users claim it is both a pro and a con – there are so many men on Grindr. It is both a huge advantage, as well as a disadvantage, as it is difficult to choose someone.
You can definitely find the like-minded, no matter the kinks you may have.
Cons
It is anonymous, so it may feel like you need to be more cautious.
Pricing Plans:
Free Plan;
Grindr Xtra $24,99 per month;
Grindr Unlimited $ 49,99 per month.
4. eHarmony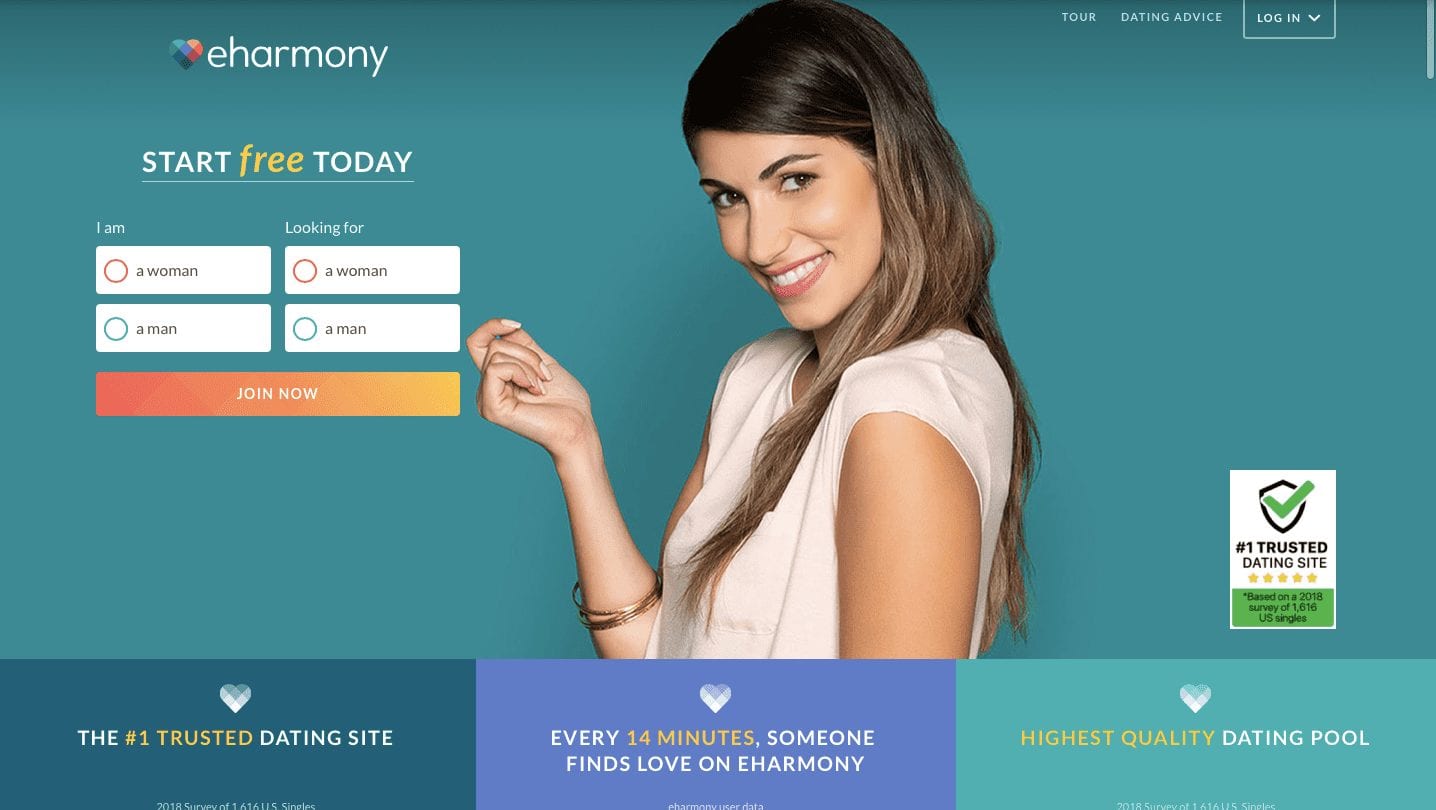 Yeah, you get it right, it is still functioning, and it's still among some of the best apps for dating. It is regarded as one of the most trusted apps, as it was a pioneer at the dawn of online dating. Their matching algorithm is truly a good one, so if you're not into quick 'swipe left/right', you'll enjoy the process of connecting.
Pros
You will have to fill in a truly long profile personality questionnaire – as a result; there will be more partners looking to invest their time into relationships.
Generally, the connection on eHarmony is deeper than via other dating apps.
It offers great opportunities for those seeking a long-lasting and meaningful connection.
Cons
One cannot search for people, as you are only given a few matches a day by the app.
The process of signing up is way too long for some people.
Long profiles don't exclude lies.
One cannot see the photos or text messages with people if they don't subscribe.
The subscription is quite pricey.
Pricing Plans:
Free Signup;
$29,90 monthly for 6 months;
$29,95 monthly for 3 months;
$59,95 per month.
5. Bumble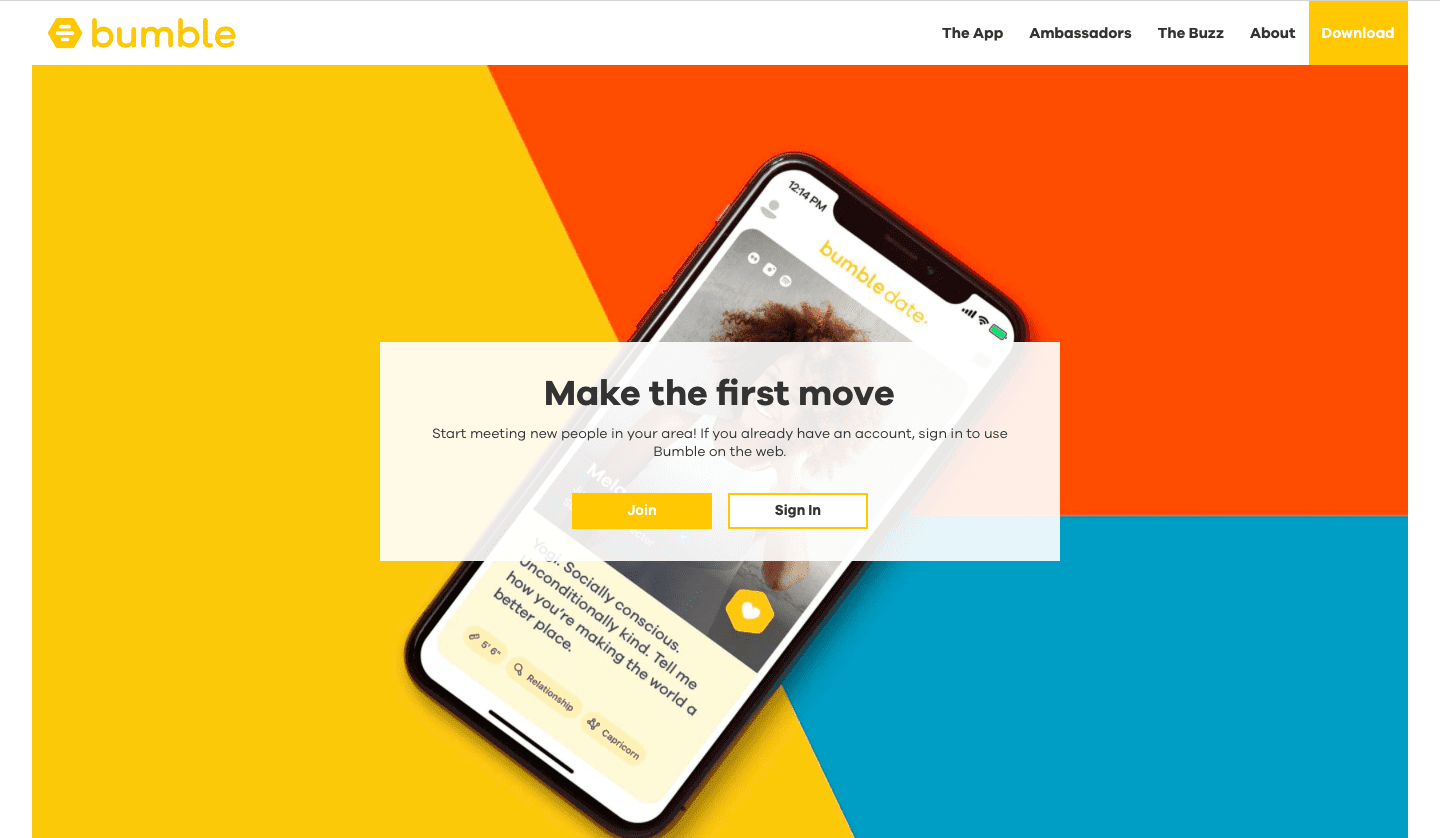 Though it may seem like Tinder at first, there's one peculiarity that makes Bumble stand out. When opposite genders match, it's a woman who needs to make the first step. In other words, women get to start messaging, so one can enjoy the initiative.
Pros
A woman doesn't have to deal with an overwhelmingly huge amount of messages, as they are the ones to initiate a conversation.
In case you are of the same gender, you can both start a conversation.
There is a quick and concise profile setting up process.
The gender demographics are pretty equal.
It is easy to use video calls within the app.
Cons
As it is a pro, it can also be a con – men cannot send the first message.
There is a limited amount of time given to a woman to react to her match – 24 hours only.
The matching algorithm is quite superficial, mostly taking into account age, gender, and location.
Pricing Plans:
Free plan;
$10,99 per week;
$24,99 per month;
$54,99 per 3 months;
$149,99 per lifetime;
There are various one-time features that can be bought to boost the experience like SuperSwipe, or Spotlight.
6. Ship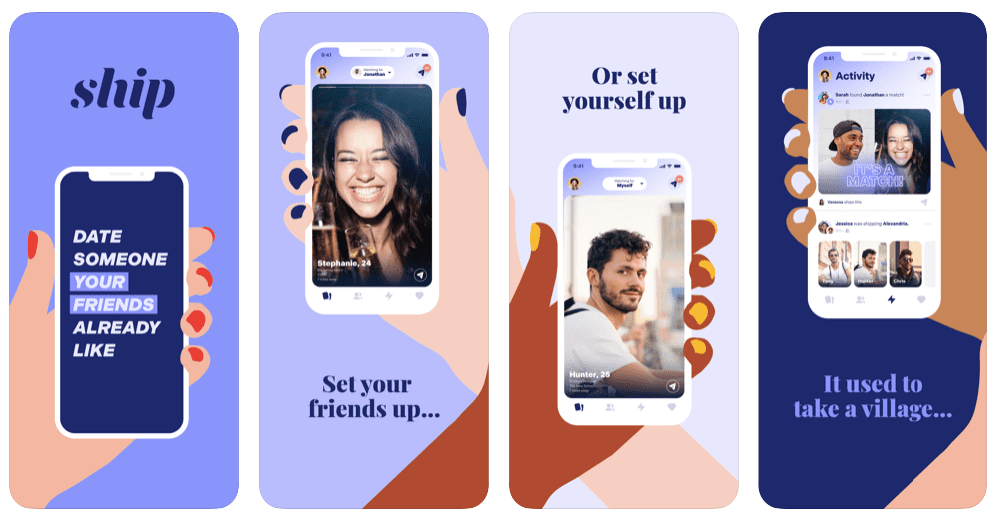 Finally, you can dish about your crush without sending your BFF all of the screenshots. Ship allows friends to plunge into the dating process and 'veto' incompatible matches or send you the one they may think will be a perfect companion for you. Yet, it's just a function; you can use this app like any other dating application.
Pros
A unique opportunity to create your 'crew' and chat up with your friends while choosing a potential match.
It's truly fun to swipe for your friends, on the condition, you both enjoy such an activity.
Some find it a definite 'plus' – there's extra bio information, so you can find out more about a person.
It is a good app for those looking to have some fun.
Cons
There's extra bio info that may question the compatibility before even you get to know the person.
The database on Ship is yet quite small in comparison with apps like Tinder, for example.
Pricing Plans:
7. Hinge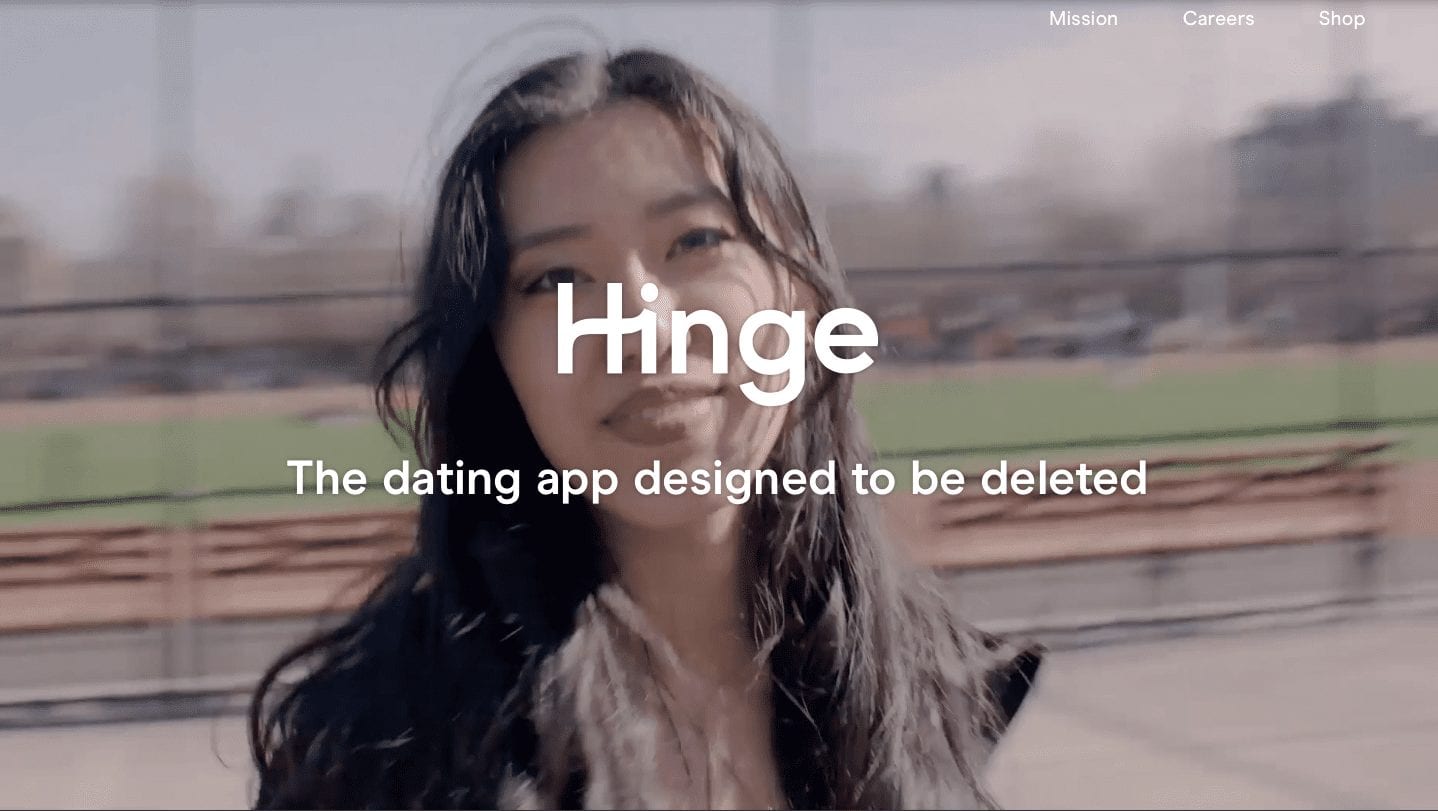 While, to some extent, it may be compared to Tinder, Hinge stands out with a more profound matching algorithm. Its primary focus is to find a match among friends of a friend of a friend, this, in fact, truly enhances compatibility. Plus, these apps are more relationships-oriented.
Pros
A well-crafted functionality that enables higher chances of compatible matches for meaningful relationships.
Profiles are stylish, as someone put it 'It's like Instagram for dating.'
There is considerable interaction with the profile info (photos, videos, facts) that helps to get to know the person rather than just focus on appearance.
By using Facebook data, it matches you with compatible partners; you may have mutual friends with.
Cons
The dating pool can be considered a bit small, so you will see the same matches sometimes.
Free trial only for several days.
Pricing Plans:
8. MeetMe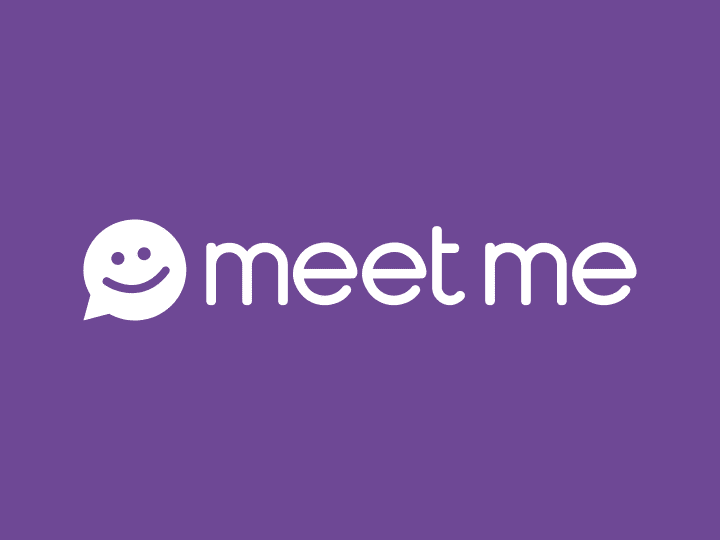 Even though this app was caught having tons of fake accounts and bots, it still remains popular as it offers an amazing live stream opportunity. This app incorporates the elements of social media blended with online dating.
Pros
An opportunity to socialize first, share your life with others, find the like-minded, and in the long run, take relationships to the next level.
There's a wide range of sections to include in your profile: your background, things you're into, and even going into real details what your perfect date should look like.
One can enjoy lots of games to get to know each other, so it's truly fun.
Going live and watching live streams of other members.
The signing up process is truly quick.
Cons
The search feature is quite limited.
Pricing Plans:
Free;
Paid features like Matching Spotlight and Live Feed Spotlight $10-$40.
9. Happn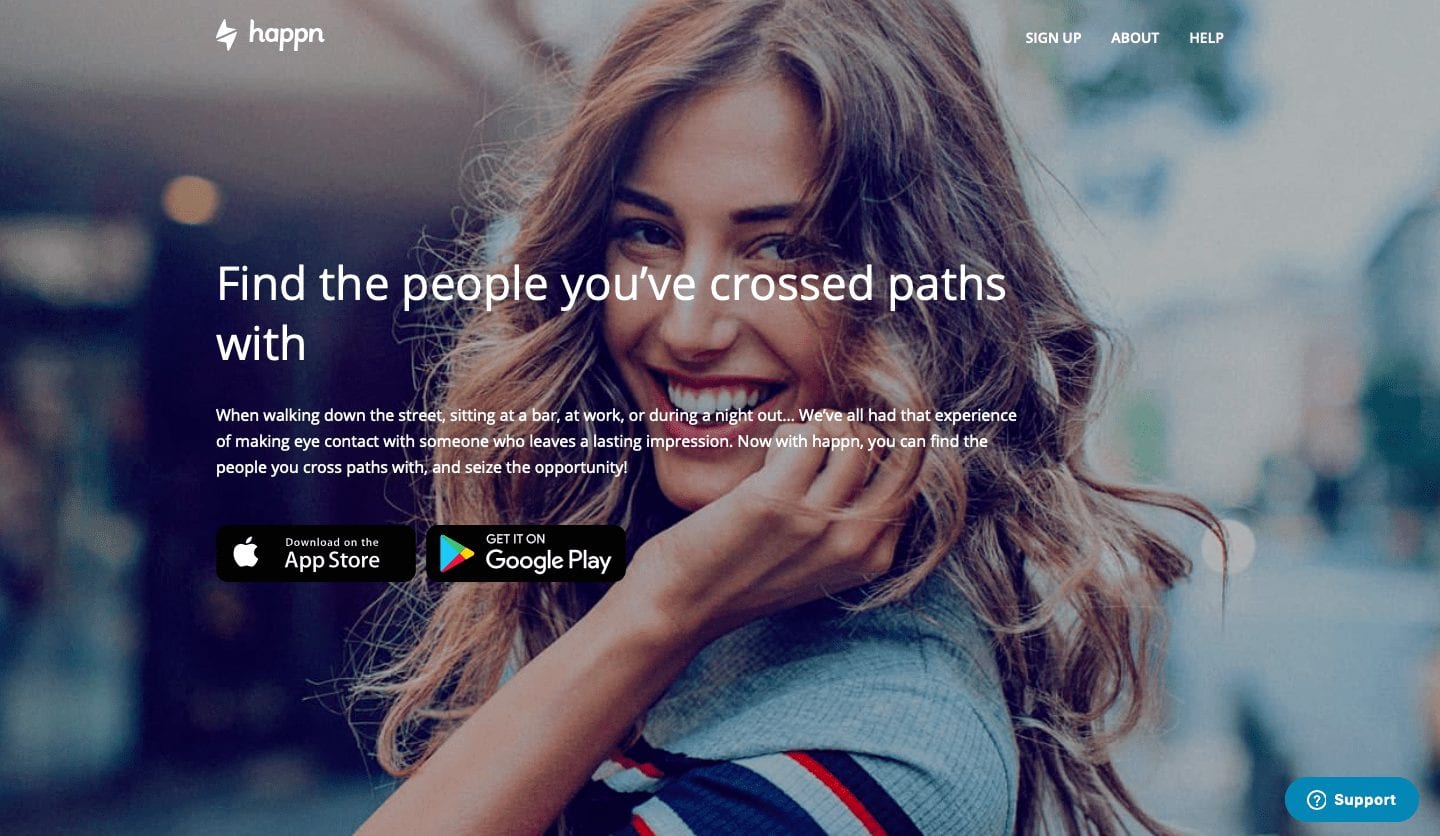 It's like a movie come true. Have you been bumping into the same person on the subway, or in your favourite coffee shop, but was too shy to start a conversation? With Happn you can get matched with people who were or are near you.
Pros
Easy to use functionality, with the ability to hook up your Instagram or Facebook account, so that all your photos will be automatically uploaded to Happn as well.
With GPS, it matches you with potential partners within your area.
You choose whether you want to contact a person by tapping the Heart on their account. Otherwise, they won't be able to text you.
The privacy policy is very strict, and your location is never displayed to anybody in real-time.
Cons
Generally, people are matched by taking into consideration their proximity to each other.
Not a good choice for small towns.
Despite strict privacy policy, some concerns about your safety may sometimes arise.
Pricing Plans:
Free Plan;
Happn Premium from $10 to $24,99 monthly.
10. Tastebuds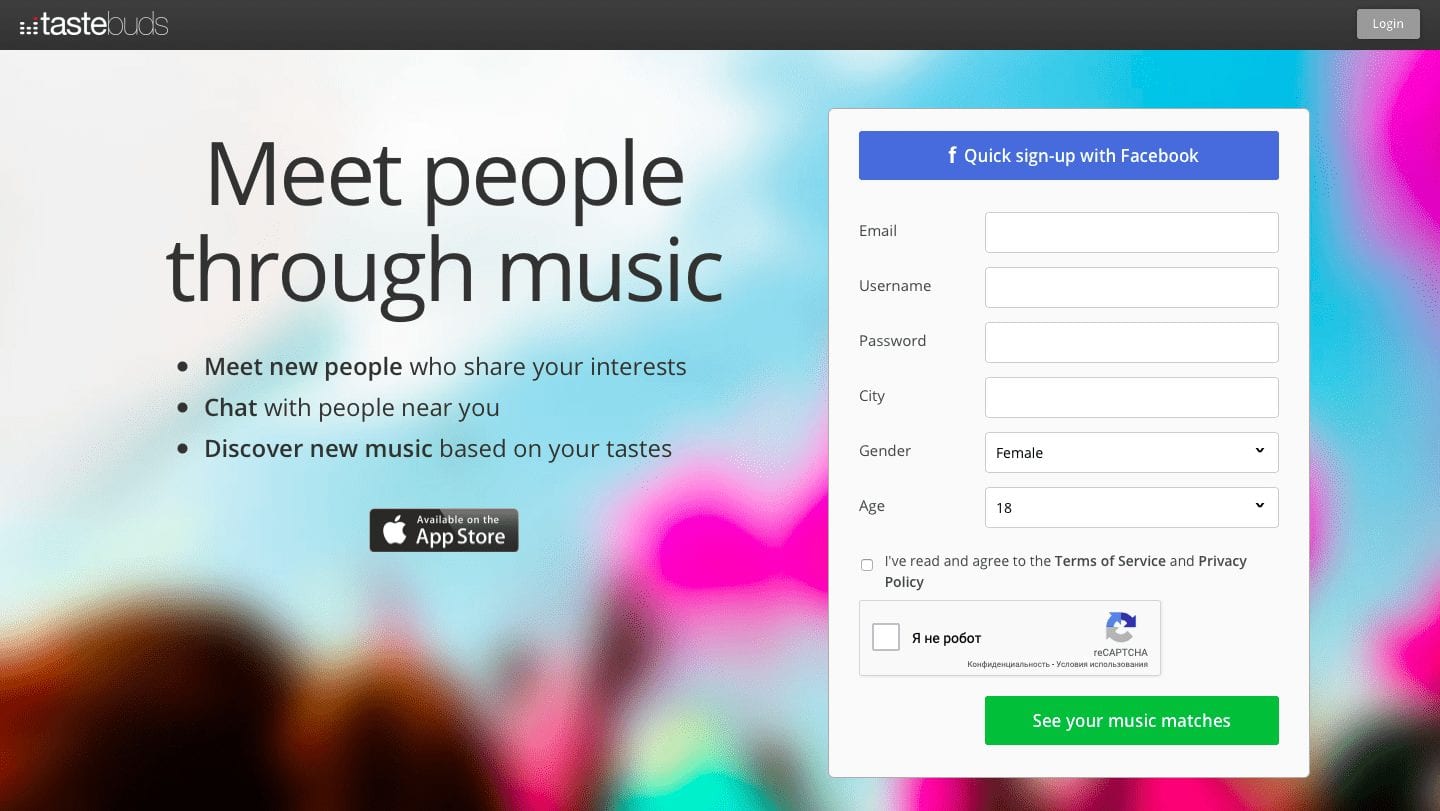 Music buffs, this app is just what you need. It matches people based on their musical preferences. If this isn't a dream, we don't know what is. That is why it made it to our list of the best online dating apps. The app is perfect for finding friends, concert buddies, and even discover a soulmate.
Pros
A unique app that allows people to connect based on their music tastes.
It is definitely low-pressure and low-commitment.
Inspiring chats with people who you are on the same wavelength.
It offers an opportunity for meaningful connections through discussing the same interests, basically those in music.
There is lots of fun functionality to keep the tone of the app extraordinary.
Cons
It cannot be regarded as a dating app in a standard way.
Pricing Plans:
We, at Intellectsoft, empower companies and their workforce with cutting-edge transformative solutions and data-driven insights. Are you and your organization ready to shift the mindsets and get the most out of innovations?
Talk to our experts and find out more about the topic and how your business or project can start benefiting from it today!