On June 4, Intellectsoft's top experts of the Healthcare Industry went live for a 60-minute webinar to discuss challenges, trends, and in-depth, real-life cases of emerging technologies in the healthcare industry during uncertain times.
Our innovation leaders discuss how healthcare industry executives should act now to survive one of the greatest humanitarian crises of humankind and grow their businesses using emerging technologies.
The "Digital Health Strategy. Leveraging Emerging Technologies in Healthcare" tackled the use of digital technologies and ways they provide the industry to achieve better outcomes, opportunities for lower long-term healthcare costs, and a rapidly growing digital health market.
Watch The Webinar
Emerging Technologies Use Cases
None of the healthcare systems were ready for the COVID-19 pandemic. Staff shortage, the danger of getting infection right at the hospital, doctors who are getting infected too.
This is the picture and reality we were living in for a couple of months now. And during the webinar, we've tried to consider several the most demanding solutions of nowadays:
Telemedicine healthcare software solutions
Healthcare staff management solutions
AI-based solutions for medical treatment, diagnostics, and medical predictions chatbot platform
Digital transformation solutions for health insurance
Mental well-being and stress-reducing apps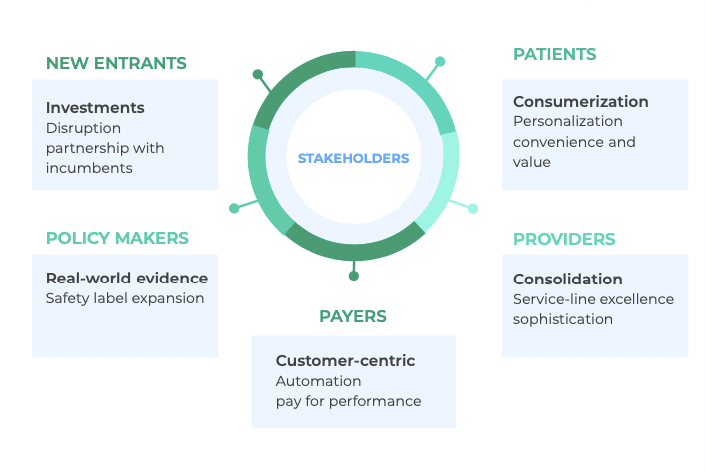 Talking about the ecosystem stakeholders, there were five parties of system interactions: patients, providers, payers, policymakers, and new entrants. As health care sector stakeholders prepare their roadmap for the future, they need to have a panoramic view of what's working and what's not, what's redundant, and what's hot in their circles.
Digital Health Strategy: Ecosystem Analysis & Technical Design Workshop
Throughout our experience in Intellectsoft, we have faced a bunch of challenges for the healthcare domain. We've successfully solved and implemented them as solutions for our clients.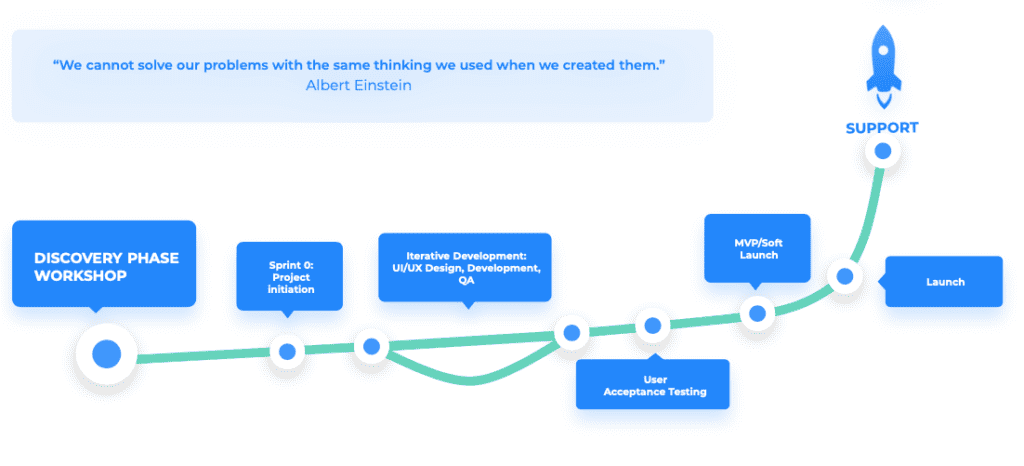 Our experts kindly presented you with the product vision and technical design workshop. Among the essential goals of the workshop are:
Define the existing and desired business processes
Define what stakeholders want and expect from a custom solution
Identify technical and architectural limitations
From steps 2 and 3, develop a "shared understanding of project objectives" for all stakeholders/participants of the workshop team
Transform business requirements to functional requirements
Create the initial vision of the architecture of the project
Create a Project plan/Backlog with a definition of project risks, budgeting and release strategy
Engineer Your Vision With Intellectsoft
While there is still a lot of uncertainty and challenges around the digital transformation in the Healthcare Industry, our expertise allows us to consider a variety of technologies, use cases, and solutions for a software consultancy. Intellectsoft has strong domain expertise for advising the right solutions to solve particular business challenges and avoid pitfalls while delivering and deploying them.
Find these and other answers to your questions by watching the webinar. And if you have any additional questions left, or want to discuss your next project with us, get in touch with our experts today!