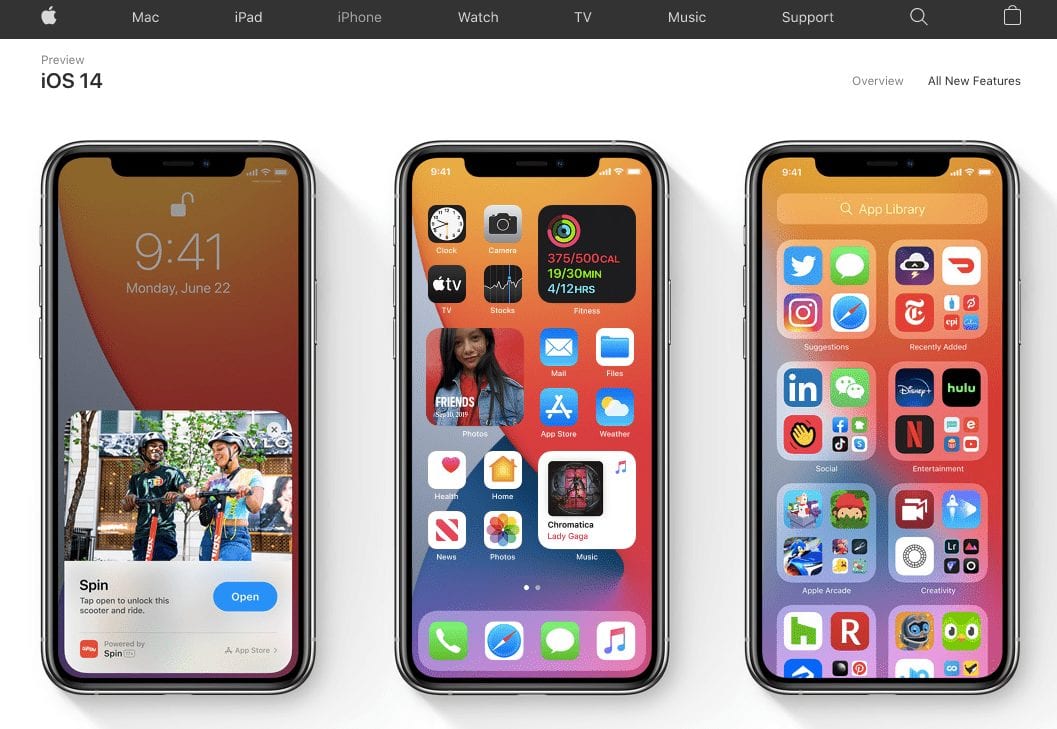 iOS 14 Release Date
On June 22, 2020, iOS 14 was announced at WWDC 2020, but Apple representatives didn't mention when it would officially launch, saying only that it would be this fall.
While we can't predict the date for sure, we're witnessing that iOS 14 reimagines the most iconic parts of the experience to be even more helpful and personal. This means you will be able to do more with your iPhones than ever before.
Here's our comprehensive overview of upcoming enhancements and key features of iOS 14.
iOS 14 Features: App Clips
As creators describe the app experience themselves — an App Clip "is associated with a particular product or business, and loads within seconds to complete a specific task."
The tasks range from buying a coffee to renting a car. To activate the App Clips customers is suggested to use one of the following ways:
By scanning a new
Through NFC tags and QR codes
Through shared in Messages or from Safari
Messenger: Quicker, Easier Conversations
Besides new Memoji in Messenger, there are a few more essential features to look at in upcoming updates:
Pin important conversations to the top of the list to make sure you're always staying connected with essential people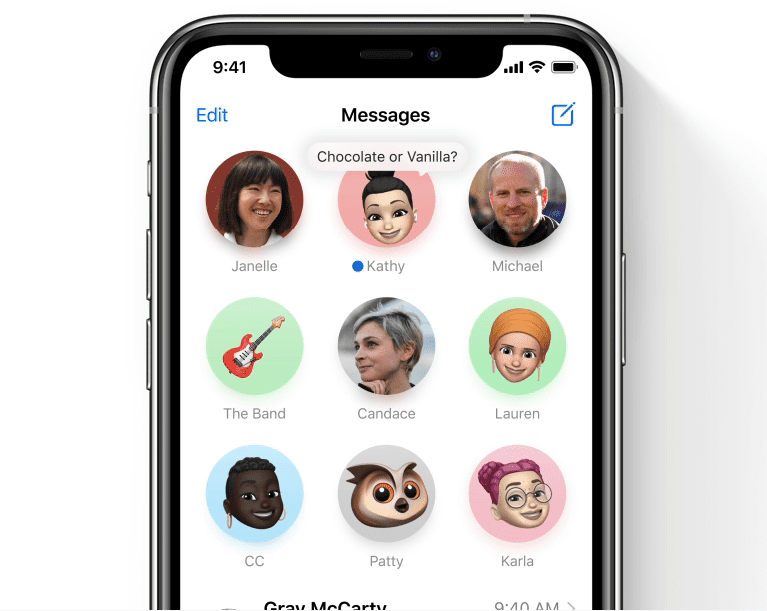 Easily keep up with lively group threads through mentions and inline replies
Conversation customization through adding a group image or emoji
Maps: New Environmentally Friendly Ways to Go
Maps present upgraded and easy ways to explore new places in your area. It becomes easier than ever to navigate and explore with new:
Cycling directions
Electric vehicle routing
Curated Guides
Cycling directions count the route elevations, street traffic, and even stairs in your way. Electric vehicle routing maps charging stops and even types. Guides provide a list of interesting places to visit in your city.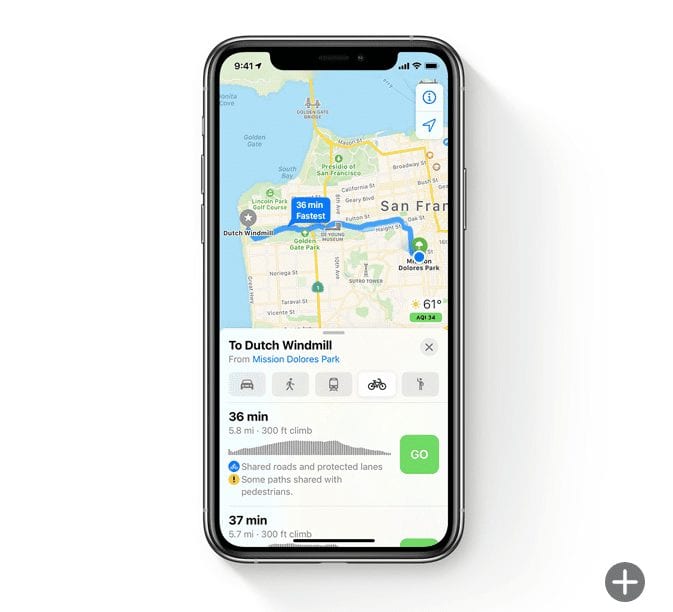 Guides are a great way to discover hot new restaurants, find popular attractions, and explore new recommendations from respected brands, including AllTrails, Complex, The Infatuation, Time Out Group, and The Washington Post, among others.
Privacy: More Transparency and Control
All apps will now be required to obtain user permission before tracking.
Later this year, App Store product pages will feature summaries of developers' self-reported privacy practices, displayed in a simple, easy-to-understand format.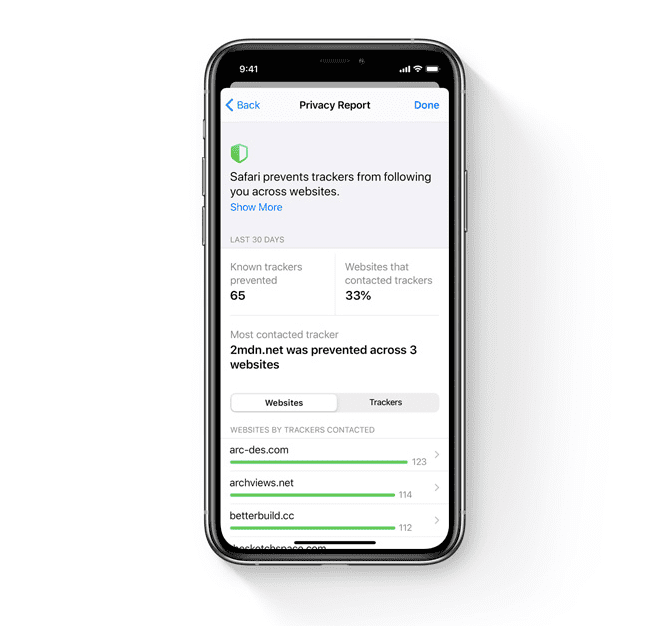 Apple's Exposure Notification System
In iOS 13.5, Apple has introduced an exposure notification API, which lets apps from public health authorities and governments worldwide help people figure out if they've been exposed to COVID-19. Moreover, it includes guides on how to minimize exposure.
Exposure notification has a self-explanatory name, and in a nutshell, the feature is designed to send you a notification if you've been in proximity to a person who is diagnosed with COVID-19.
Exposure Notification works on devices running both iOS 13 and iOS 14.
To access a list of all features, go here.
iOS 14 Supported Devices
iOS 14 is compatible with these devices:
iPhone 11
iPhone 11 Pro
iPhone 11 Pro Max
iPhone XS
iPhone XS Max
iPhone XR
iPhone X
iPhone 8
iPhone 8 Plus
iPhone 7
iPhone 7 Plus
iPhone 6s
iPhone 6s Plus
iPhone SE (1st generation)
iPhone SE (2nd generation)
iPod touch (7th generation)
What's Next?
The developer preview of iOS 14 is available to Apple Developer Program members at developer.apple.com starting today, and a public beta will be available to iOS users next month at beta.apple.com.
New software features will be available this fall as a free software update for iPhone 6s and later. Note that features are subject to change. Some features may not be available in all regions or all languages.
We, at Intellectsoft, empower companies and their workforce with cutting-edge transformative solutions and data-driven insights. Are you and your organization ready to shift the mindsets and get the most out of innovations?
Talk to our experts and find out more about the topic and how your business or project can start benefiting from it today!
_________________________________________________________________________________________
F.A.Q.
When Is iOS 14 Coming Out?
While no one knows the exact date of the iOS 14 official launch, some predict it to be this autumn. iOS 14 was introduced at WWDC 2020 on June 22, 2020.
Will iPhone 6s Get iOS 14?
Yes, it will. iPhone 6s is in a list of devices iOS 14 is compatible with.