2021 quarantine got us like we are all watching another 'Black Mirror' episode. Though it is the reality, we're living in, and many of us start learning how to get the best of it.
Long gone the days when you had to wake up at the break of dawn to make it to the first lecture. Can't stop thanking the digital era, as today you can have your schedule and learn exactly what you want with online learning platforms.
So get yourself comfortable, as we're about to dive into the best platforms to expand your skills and knowledge in 2021.
What is an online learning platform?
Generally, an E-learning platform is a portal or a learning environment that enables a person to get educational content or/and online instructions on a particular topic. The format of the content can vary presentations, video lectures, webinars, quizzes, articles, and even educational jokes. What is more, depending on a platform, you can get access for free with/without registration, or you will need to pay for membership/or courses. In other words, an online learning platform is a space with endless opportunities to acquire comprehensive knowledge via easy-to-use and engaging tools.
What are the best online learning platforms?
In the list below, we have reviewed and picked the best e-learning portals in 2021. The ultimate guide ranks and compares the resources based on the methods and formats of learning, areas of knowledge, recognition, reliability, and pricing plans. Whether you are a freelancer looking to expand your skills, or a professional in need to find a new hobby, or an enthusiast always eager to learn something new, you will discover platforms to suit your interests ideally.
The Ultimate List of Online Learning Platforms
Udemy
Educational space for nearly 12 million learners from over 200 countries, Udemy is one of the most popular e-learning platforms, as it is believed to have the best educational content on any topic you can think of: from complex machine learning to extravagant World End of the World (not so odd now, though).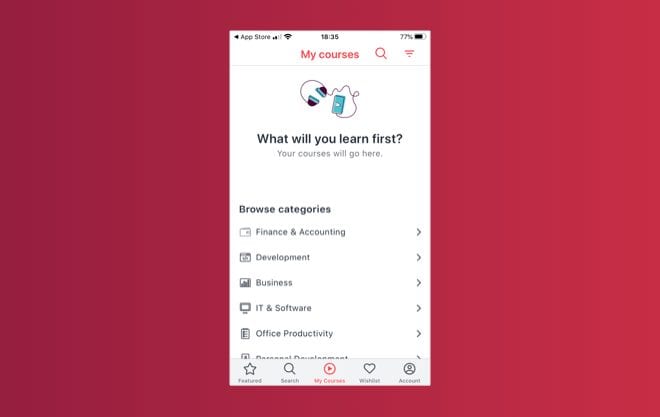 Pros
It offers a truly wide choice among over 100 000 online courses.
You can enjoy a great range of free online materials.
There's a creative approach to learning.
The pricing rates are reasonable enough.
Expert teachers and tutors in any field imaginable, challenging the stereotypes of the educational system.
Udemy is internationally recognized as a high-quality content online learning platform.
You receive lifetime access to your courses.
There is a possibility to request a refund.
Cons
Teachers have high commissions on most of their sales, sometimes up to 50%.
The learning experience is a bit inconsistent, taking classes from various tutors on one topic.
There's a lack of interaction between a student and an instructor.
Lessons are in video-lectures format mainly.
Best for: Business-minded students who like engaging lecture material, you will find it all. If you're looking for a certificate, though, it's not the place.
Pricing Plans
Free trial for two weeks;
Udemy Team – $240 a year;
Udemy Enterprise – Need to contact a vendor;
The price of courses start at approximately $20.
Skillshare
Among learning platforms online, Skillshare stands out combining creativity with the traditional method of learning (that of a class structure). You may be asked to do homework and create a class project to accomplish real growth. You can explore new skills and get first-hand knowledge from expert teachers.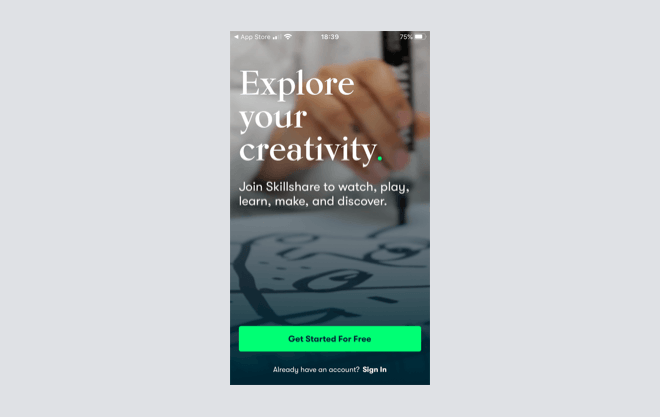 Pros
The platform offers an enormous range of creative courses focused on photography, art, writing, and freelance work.
There's a wide choice of free classes.
Teachers never stop impressing with interactive videos and activities.
Pricing is truly reasonable at the platform.
Convenient community tools that enable one to communicate with instructors in comments, as well as upload the completed homework projects.
Cons
There is no refund policy. In case you signed up, paid for the subscription, and didn't find what you need, you won't be able to get your money back.
There is a lack of business-based courses in comparison with Udemy, for instance.
Instructors are not examined; anybody can become an instructor.
Best for: It's great for creative personalities who know exactly what they want to learn or brush up on. Having no one-on-one classes, users studying at this platform should be great at self-organization.
Pricing Plans:
Free Trial for three months;
Skillshare Premium Monthly – $15 a year;
Skillshare Premium Annually – $8,25 a month.
Lynda.com
Another engaging portal to enhance your skills in software development, business, marketing, and other fields. It specializes in video learning format and offers a full scope of courses for those seeking self-study. With flexible and cost-effective solutions, this subsidiary of LinkedIn has a lot to offer.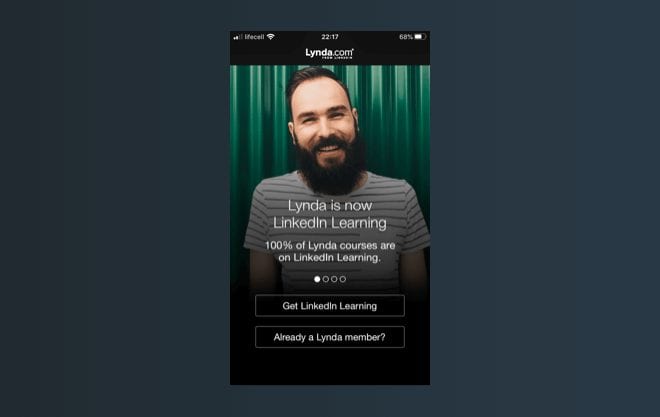 Pros
The platform offer certificates of completion once you've finished the course.
Instructors are examined and pre-qualified to teach on Lynda.
Users can see teachers' credentials and achievements to choose the first among equals.
The platform adds more credit to the user's LinkedIn profile, showing the courses you've completed.
Your LinkedIn profile with Lynda courses will be displayed first to the employers looking for a particular certificate or skill-related candidate.
Cons
Users cannot review or rate the courses they have completed.
After the end of your subscription, you will no longer have access to any of the learning materials.
There is a lack of hands-on experience, as there are few projects given as individual assignments.
Best for: Developers, marketing specialist, freelance photographers, and designers will enjoy fair rates for high-quality educational video content from industry experts who have been vetted.
Pricing Plans:
Free Trial for one month;
Basic individual monthly Plan – $29,99 a month;
Basic individual yearly Plan – $24,99 a month;
Corporate Plan – $350 a user.
Udacity.com
An innovative online learning platform that stands out for its recognized nano degree among employers. The courses are crafted by ultimate demand among companies. That is why the content on this platform is always industry-relevant. The pricing is quite high, though, in comparison with other spaces.
Pros
Collaboration with companies enables the platform to offer the most relevant content, in turn, providing skills that are in high demand these days.
The lectures are well-thought-out, high-quality, and genuinely engaging.
The courses are planned, taking into consideration hands-on experience, so you will be given projects to complete.
All the instructors are industry experts having first-hand knowledge of the topic they're teaching.
There are free materials to enjoy.
The achieved nano degree after completing the course is recognized among employers.
There is a possibility to receive a full refund.
Cons
Many courses include challenges that are too difficult to tackle within a few months.
Some may consider it a drawback and someone as an advantage; the complexity of courses is University-degree.
Considerable previous knowledge is needed to take up courses, as they can be almost impossible to handle by beginners.
Best for: Learners with significant basic expertise in the area eager to enhance their education and strengthen their skills. Plus, learners should be ready for rather complex University degree material.
Pricing Plans:
Individual pricing plans for Nanodegrees ranging from $399 to $7000 per course.
Coursera.org
One of the few online learning platforms providing the opportunity to acquire knowledge from the best Universities. It is a dream come true for those aspiring to attend lectures at Ivy League schools, Harvard or Cambridge, free of charge. Plus, you can receive a certificate of participation after having completed the course.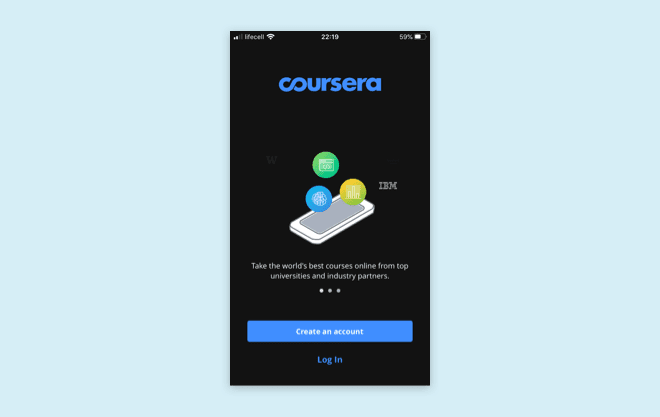 Pros
Free lectures from the world's most recognized institutions.
There is a possibility to get a paid certificate that you have attended lectures at top schools.
It offers nearly 1600 courses available.
The classes are provided in 8 languages: Turkish, Spanish, Russian, Portuguese, French, English, Chinese, and traditional versions of the Chinese language.
Instructors are the leading experts in the best schools in the world.
Lectures are updated now and then.
Cons
There are courses for beginners only.
All the instructors are university professors only.
The courses are often focused on popularity rather than skills relevance.
Best for: Beginners who can try out, experiment, and find the field that speaks to them. What is more, for those thinking about changing careers, it may be a good start.
Pricing Plans:
Free general lectures;
Free 7 day trial for Specialization programs;
Paid subscriptions ranging between $39-79 per month.
Edx.org
Another educational portal is offering access to fascinating lectures at top tier universities, Harvard being a priority. You can receive a Micromasters (kind of a slight degree) after completing the course. Employers recognize certificates you receive at the end of a program.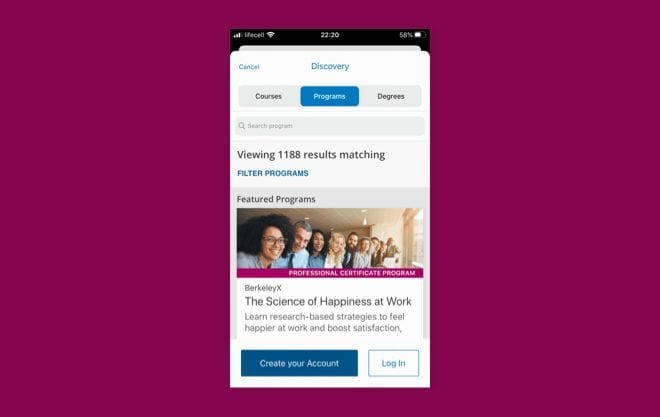 Pros
Access to 2500+ online courses from the leading institutions worldwide: MIT, Harvard, Australian National University, The Hong Kong Polytechnic University, and others.
There is an enormous scope of online courses: from business and management to engineering, from computer science to humanities – you can find any are you are interested in.
Easy-to-navigate website and mobile app that only has relevant info with no annoying popups.
High-quality content from expert university professors around the world.
They offer great corporate solutions.
Truly reasonable pricing for massive online courses.
Cons
Disastrous testimonial section that makes user question the reliability of the platform.
There is a limited selection of Micromasters.
Discussion forums are not easy-to-navigate.
Best for: Students from modest-income countries can benefit by having an opportunity to explore new skills from recognized professors at top world universities.
Pricing Plans:
Free online courses;
Fees for upgrade or professional course enrollment range between $50-$300 per course.
Futurelearn.com
An innovative space to get up-to-date knowledge studying with online courses, exploring creative programs, and even getting a degree from first-class institutions, business schools, and industry organizations. Enjoy the variety of activities: video lessons, articles, quizzes, and in-depth discussions for affordable rates.
Pros
One of the most extensive scopes of various methods and activities.
There is a possibility to gain an internationally recognized qualification after completing the course created by leading institutions.
Learners can enjoy an enormous scope of free industry-specific videos, articles, as well as take up free online courses.
Website design and structure are truly pleasing to the eye and easy-to-navigate.
High-quality content from qualified instructors at top universities.
Cons
Certifications of completion and degrees must be paid for.
There is no mobile application.
Best for: Professionals who want to expand their skills, as well as explore a new hobby in humanities mainly. Though, it's a bit mediocre for software developers.
Pricing Plans:
Free access for ten weeks;
Upgrade – $84;
Unlimited Plan – $269 per year.
No App yet
Top Online Learning Platforms: Final Words
No doubt, E-learning is paving its way to shape the way we see education and is no longer perceived as something trivial. By 2025 E-learning is predicted to reach revenue of $325 billion. The demand for engaging and interactive learning is rising, and these days learning platforms online can rise again sharply, leaving traditional institutions behind.
Among the main reasons why online learning continues gaining its popularity are affordability, interactivity, and relevance. Generally, massive institutions are falling behind, being unable to adjust the curriculum and the scope of knowledge fast. Nowadays, the demand for particular skills can change overnight, and online platforms can tailor the courses way quicker to meet the needs of learners. Not to mention, the new challenge of being isolated and having to study from home during the coronavirus crisis.
Summing up, quarantine exposed people to many problems, and education has become one of them. However, thanks to endless opportunities open online, not only can we tackle the challenge, but we can also reap all the benefits of having flexible schedules and acquiring relevant knowledge. We hope you have found this guide useful and picked the educational platform that is just right up your street.
We are a devoted and professional team that has vast experience in mobile app development. Our developers will offer you the most suitable solutions, give you tips on design and features that might be a great advantage of your application. What is more, we can take the project into work at any time, as we have all the necessary tools and technologies to work remotely.
Help others to become better versions of themselves with your awesome ideas for an app. Talk to our app developers and experts to find out more about the topic and how your business or project can start benefiting from it today!