We have conducted numerous meetings with enterprise clients to deliver blockchain projects. Airspace has validated itself as one of the most critical fields for optimization and security enhancement, and we have modeled one of these cases. Now, we share the details with you.
In the past, Intellectsoft Blockchain Lab has reviewed blockchain technology trends. Generally, they fit within the three waves of digitalization when the first to disrupt the industry are startups and SMEs. During the second wave, the enterprise starts to catch up while carefully observing the market and studying ways to upgrade its business verticals. Finally, iconic corporations from a traditional and overregulated space with gargantuan infrastructure and decades of history begin to accept the new reality.
There is one case from an old good business that urges for blockchain implementation both in terms of cost savings and military-grade security — it's aviation. In the future, the growth of this sector will depend on the increasing wealth of emerging economies with new consumers representing an astounding 6 billion people. Whereas the next-generation airline fleet introduces opportunities to optimizing operations, it will also require significant investment in the in-service commercial planes.
Why AOG matters: Aircraft Market Dynamics
When an aircraft signals to pilots that something is wrong, there is a delay. The plane is forbidden to take off until the issue is handled and the crew is safe to proceed a voyage. Such cases are commonly referred to as Aircraft on Ground (AOG) situations. It is also when each tick of a clock costs an airline thousands of dollars.
The problem may not concern original equipment manufacturer (OEM) or firms responsible for maintenance, repair, and overhaul (MRO) directly since a planned repair is a different case. But the moment an airline realizes a detail replacement is necessary as soon as possible, it is left one-on-one with the issue. Suddenly, its managers are forced to start searching for the exact piece at the current airport or nearby locations. It can be either an entire engine or a little tube in the lower shell of a fuselage.
Even if the crew gets lucky and their colleagues possess a missing piece, the price may triple or quadruple due to numerous brokers being involved. There is an entire secondary market for aircraft components where managers exchange information upon the request:
Whether they have the needed part
Part ID
Maintenance history
Rapid shipping availability
Cost for the part and service
Since the airline loses more when the plane doesn't operate, it is ready to pay almost any price the seller and a reseller would offer it. Moreover, the process itself is lengthy and costly. It is bizarre and yet true that airlines are eager to follow these bureaucratic procedures and even deliver a single piece using another plane since that still would be cheaper than losing reputation and money from reimbursement.
The problem only gets bigger as Oliver Wyman estimates in-service commercial airline fleet to increase up to over 35,000+ by 2027 from 25,000+ aircrafts today. With aircraft deliveries growing to 20,000 over this period, the retirement of older technology will total 10,000 in six years, resulting in 58% of the new-generation planes. Such a massive technology shift will significantly increase the need for the Used Serviceable Material (USM) market. Increased USM has the potential of reducing material costs for airlines and MROs.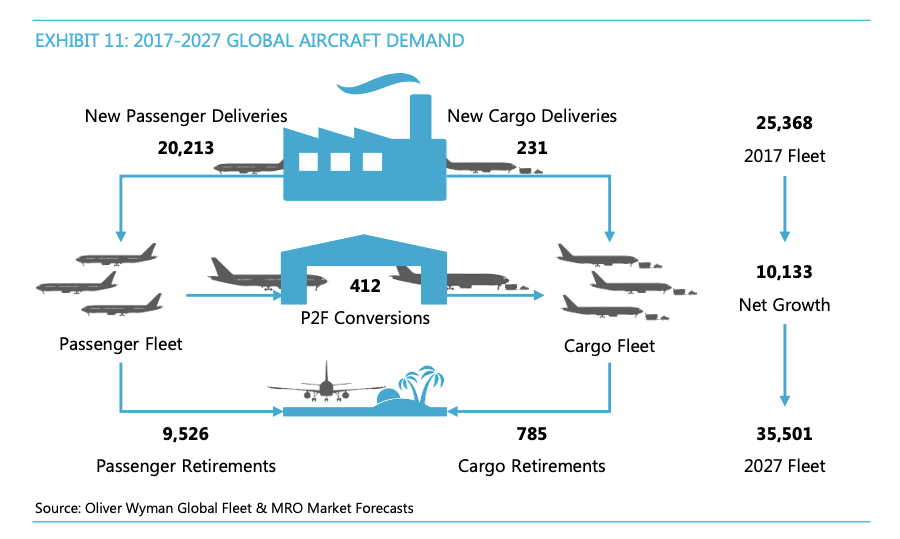 Commercial airline MRO is forecast to grow at a 3.8% compound annual growth rate (CAGR) by 2027. Thus, the market demand will change from the current $80+ billion to almost $109 billion over the 7-year period. In fact, net fleet growth by region will vary: the major growth is observed in Asia, specifically in China and India. On the other hand, North America is going to lag behind Asia and Europe as the third-largest region.
An eBay for Airlines on Blockchain
In the aviation industry various factors matter: the source of the detail, its material type, modification number, the full time of usage and its current state, the history of the detail maintenance since it left a factory and all respective documentation available. Since the novel aircraft technology introduces additional construction materials (such as carbon fiber composites, hybrid fusions, and special coatings), it adds complexity to the MRO market.
New data collection and measurement tools are designed to offer advanced forecast capability. Platforms like Partsbase and E-plane already support this secondary market with a list of millions of inventory items and automated requests for quotations (RFQs). However, the need for properly harnessed maintenance for aviation organizations remains. Service companies must introduce a formalized approach to the necessary level of security that airlines demand and integration with their legacy systems of inventory management.
During a regular SOW meeting with a team of the client company, we presented a Proof-of-Concept for the new generation tracking and procurement system. We responded to the challenge by offering an elegant solution: a blockchain-based marketplace for selected manufacturers and trusted airline partners.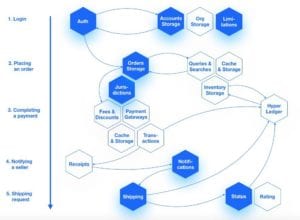 This is a simplified chart for a system workflow
As depicted in the chart above, it aggregates data on ownership movement, parts condition and maintenance history, and is securely shared on a consortium blockchain network. Within such a network, each participant would have a chance to host their own node to enable real-time data security and decentralization. Our "eBay for Airlines" can help take action before a component fails and significantly enhance reliability, cultivate proactive decision-making and reduce costs.
Aviation Procurement Platform: Closer Look
Tech Stack
Our case with the client to deliver a supply chain platform for a revolutionary aviation needed to cover the following goals:
Military-grade security
Real-world assets tokenization capability
Transparent parts and ownership history
Provenance and maintenance tracking
Fast search and purchase process
To achieve this ambitious task, we referred to Hyperledger Family of frameworks, in particular, Hyperledger Fabric in combination with modular platform architecture. It is the most mature enterprise-grade blockchain framework with consortium capabilities.
Hyperledger Fabric is an open-source private network with custom logic, simple permission levels, sophisticated queries and mixed data formats. With its medium speed, dynamic block time and block size, absence of transaction fees and native support by infrastructure providers, we chose it as a great fit for the aircraft management and procurement platform.
Platform core services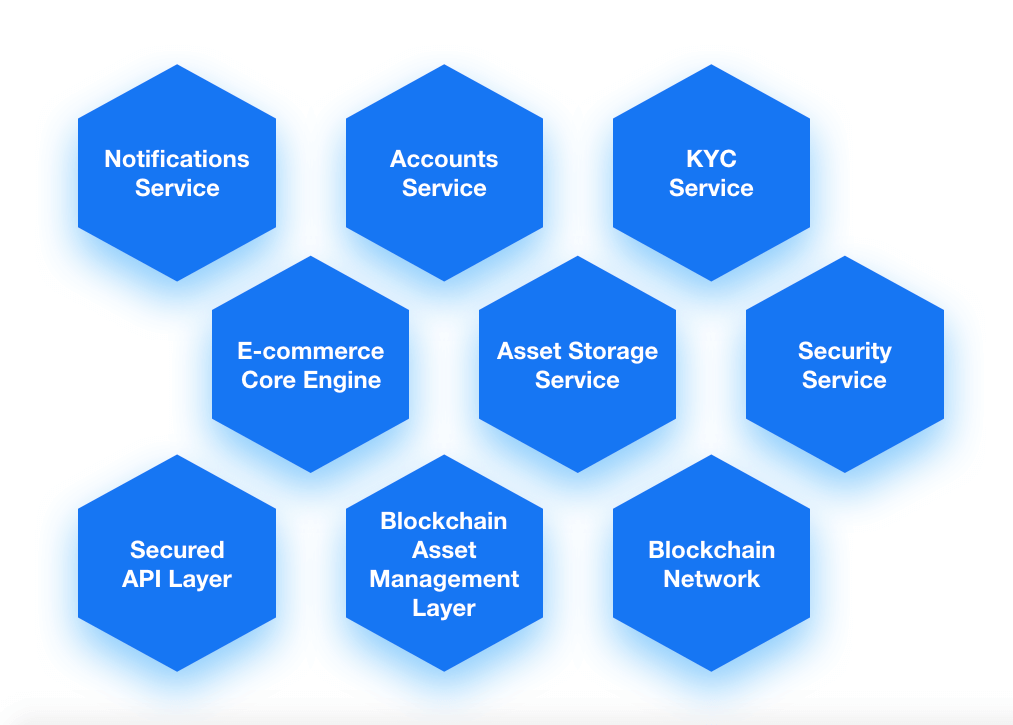 The system needs to include various vital components to guarantee access and accounts control, transaction validation, asset management, private data management, transaction execution. Specifically, a secured API layer with DDoS protection guards the main point of contact with its database and information exchange. Security and accounts services ensure the validity of digital ID and flexibility of settings to oversee account permissions, limitations and overall access.
E-commerce core engine handles e-commerce functionality management whereas an asset storage service tracks all assets, transactions and requests keeping their status relevant. KYC service communicates with KYC/KYB providers and stores encrypted user data. Notifications service provides multiple channels for communicating with clients: email and SMS.
Finally, the blockchain asset management layer covers all asset history and transactions and broadcasts information to a secured blockchain network. As a result, the history of all successful transactions is stored permanently on an immutable ledger and serves as a rock-solid proof for airline's activities: MRO, insurance, and asset management.
Payment gateways related services
The irrevocable element of our procurement system is seamless interaction with legacy banking networks such as SEPA, SWIFT, Visa, or PayPal. Notably, the system can be as fast as its slowest chainlink. Therefore, we added a range of options not only for a quick search but also for payment and delivery.
This module covers fiat payments service that acts as an interface to banking service, an international wire transfer service, and localized rates, jurisdiction and limitations details. Perhaps, we will add virtual assets management in the near future. Although, the companies from our case are usually paying with net 60, meaning that even solutions like TransferWise are quite rapid.
On the other hand, the US dollar is currently considered a global reserve currency, especially within aviation. However, the world is changing so quickly that we might witness an emergence of an alternative. As an advantage, our system can introduce ether or bitcoin when necessary.
Shipping services
Shipping is the inevitable part of the process, and our system counts on integrations with the biggest shipping providers to bring maximal transparency and automation. This component enables worldwide coverage and includes:
Integrations with DHL, FedEx
Delivery status tracking
Specific configurations for different locations and jurisdictions
Concluding the AOG Blockchain Case
Intellectsoft has been witnessing how the three waves of digitalization penetrated global industries: first startups, then enterprises and traditional companies. Aviation is among the most regulated sectors; simultaneously, it is the one that calls for radical optimization. We introduced one of the solutions that can save airlines millions of dollars while remaining excellent customer service. It simplifies a complex process of searching, querying, paying and shipping MRO parts in the overly formalized market and promises to achieve a competitive edge to those companies that implement blockchain in their business verticals.
Don't hesitate to contact our team in order to explore all the potential of blockchain and discuss your project details to see how you can digitalize your processes and services to grow your business.