Nowadays, having a custom software product is vital for many businesses. At some point, business owners can be at a crossroads: to hire dedicated software developers or establish an in-house software department. Both choices are viable and have their advantages and drawbacks. 
In this article, we enlighten the essence of both approaches, describe their fundamental advantages and disadvantages, and talk about the factors to consider when choosing a software development concept.
What is a dedicated development team
?
Dedicated development (or outsourcing software development) is a business relationship model where companies hire a team of software specialists from an external tech vendor. A dedicated team may include any number and type of software engineers, designers, managers, and other specialists required to perform set tasks. The size and composition of each team are determined individually for each project to fit the requirements. It's a cost-effective alternative to the in-house software development approach.
Explanation of an in-house development
Creating an in-house development team is another way to get the required software development services. In this case, companies directly employ in-house developers, provide them with equipment, workspace, HR support and take care of other organizational aspects. Having a team of software engineers seems an optimal solution for companies. However, this model is more resource and time-consuming than outsourcing, so it all depends on the specific project when companies make their choice.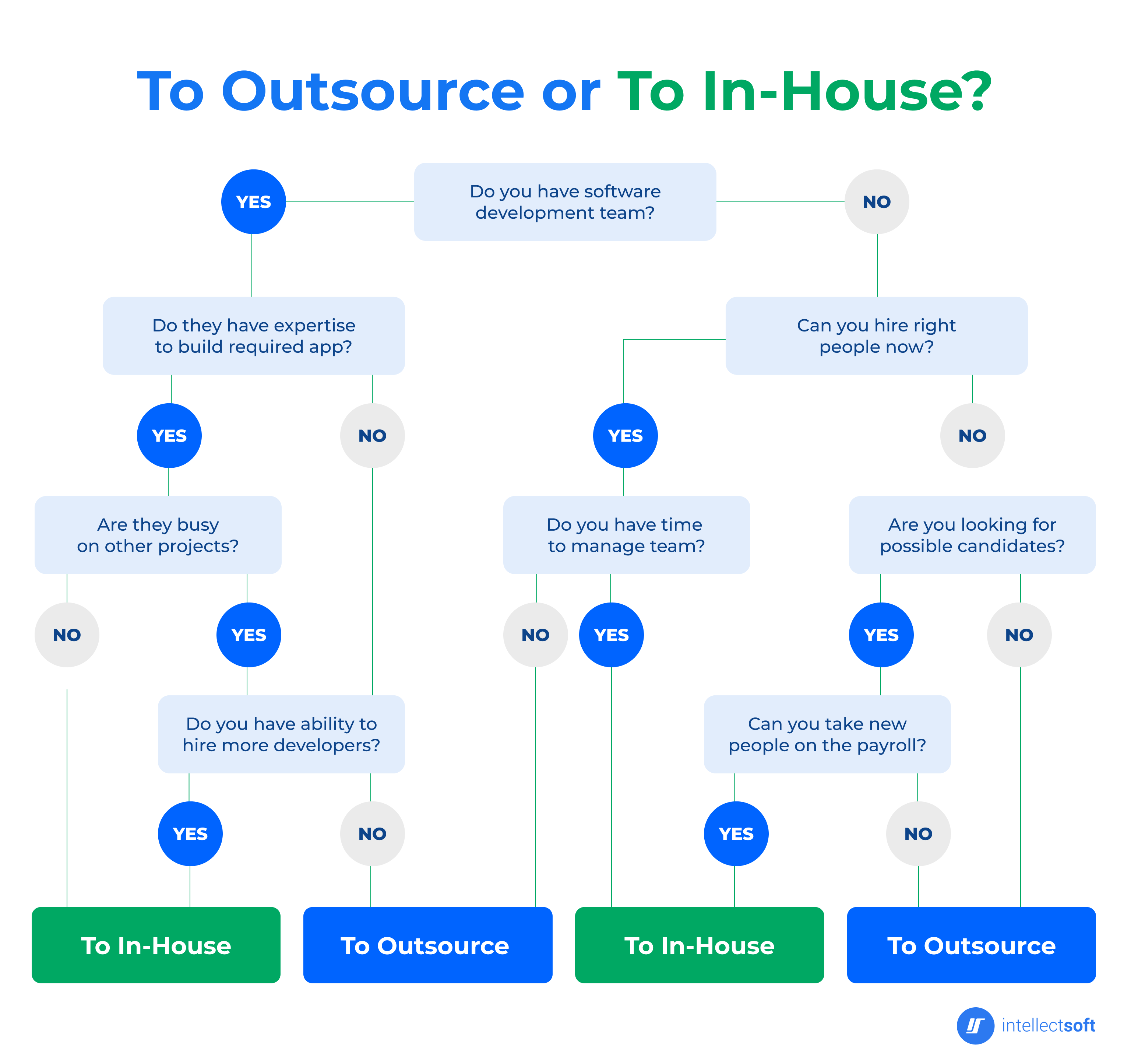 Comparison between the dedicated development team and in-house development
Let's reveal their core advantages and disadvantages to find the most suitable scenarios for the dedicated development team and in-house alternatives. 
Pros and cons of in-house software development
Establishing and running a personal software development department allows companies to have more control over the process, and create a team structure according to their own vision. Despite the model has other benefits for businesses, there is also a flipside.
Pros:
Higher efficiency in long-term projects. If a business company relies heavily on custom-made software, it's essential to have a solid, reliable team with experience in a product and knowledge of its structure and specifications. 
An example of such software can be an enterprise resource management system with several modules and external systems integrated into a corporate digital infrastructure. Such complex management systems are long-term projects that grow and evolve with their business companies. Their continuous development, optimization, and maintenance usually require too much time. 
After a certain point, hiring a dedicated team turns out to be too expensive for such an extensive task, and an in-house department becomes a more cost-effective alternative.
Better corporate security and leak prevention. Though dedicated developers usually sign NDAs to preserve confidential information, in some cases, it is better to keep secrets completely within a business company. This is especially true for corporations where leaks may lead to multi-million losses, high-tech businesses that research and develop unique technologies with pending patents, medical institutions, banks, and others. That's why running an in-house software development team and performing background checks on its members is better for securing a company's digital infrastructure and sensitive data.
Cons:
Large initial investments. Right from the start, a new department needs a lot of money. It takes a lot of time and money to find and buy or rent suitable office premises, computers and peripherals, and other equipment and utilities to make the working process effective and comfortable. The setup and maintenance are also expensive and require experienced specialists to prevent or minimize any infrastructure issues.
Intense staff management. Selecting workers for an in-house development team is long (from weeks to months), tedious, and cost-intensive. Recruiters spend a lot of time contacting potential candidates, inviting them to interviews, and persuading them that your company can become their dream job. To "hunt" professionals, your salaries and job conditions should be higher than those offered by your rivals. You will also need talented managers and HR specialists to turn a group of newly hired individuals into a well-coordinated team. Overall, in-house team management can be a headache, especially in the early stages of a team-building process.
Pros and cons of dedicated development teams
Dedicated development teams also come with peculiar benefits and drawbacks. Still, the model is in demand since it's possible to get high-quality services for a very attractive price.
Pros:
Require significantly less management. One of the greatest perks of hiring a dedicated team is that it comes with its own management. Although a client supervises the development process and receives regular reports, they don't have to handle routine management issues. On top of the work process, such management includes monitoring sick leaves and finding substitutes to keep up with the schedule.
Much faster to assemble a team. Skilled workers are hard to come by, especially when a project requires a specific area of expertise. Dedicated teams consist of specialists with proven proficiency who recruiters and interviewers have handpicked. Software development companies also invest heavily in improving the skills of their staff by arranging various refresher courses, training programs, and so on. 
Another relevant benefit of dedicated teams is their flexibility. In particular, they can adapt to changing requirements relatively quickly and easily. For example, suppose a sudden need arises for a specific specialist during the software development process. In that case, the management of a dedicated team can cover this need much faster than an in-house department.
No expenses on equipment, office upkeep, or employee benefits. Since a dedicated team does not become the client's staff, a software development company should maintain the functioning of a team. This task includes buying and maintaining hardware and software, paying salaries and utility bills, and much more. A company may continue focusing on its departments without reducing its funding to provide for a brand-new in-house department. 
Cons:
Possible lack of control. Clients must be confident in their work and management skills when hiring dedicated development teams. If executive officers are used to absolute control over every operation in their company, they might find it difficult to trust a manager "from the outside." Also, a dedicated team is often located in another country and another time zone, complicating communication.
 Finding a reliable tech vendor can be a challenge. When an employer hires a worker, they usually conduct a thorough interview, discuss information stated in the applicant's CV, or have a test task. All these measures should prove that applicants are honest about their declared sets of skills, knowledge, and experience. This procedure cannot be applied to a dedicated team as a whole or to its individual members.
Instead, a client has to research the backgrounds of dedicated development service providers. For this purpose, a client usually visits the websites of software development companies, checks their ratings and reviews on specialized online aggregators, and speaks with companies' sales managers. Unfortunately, such research sometimes leads to unreliable conclusions.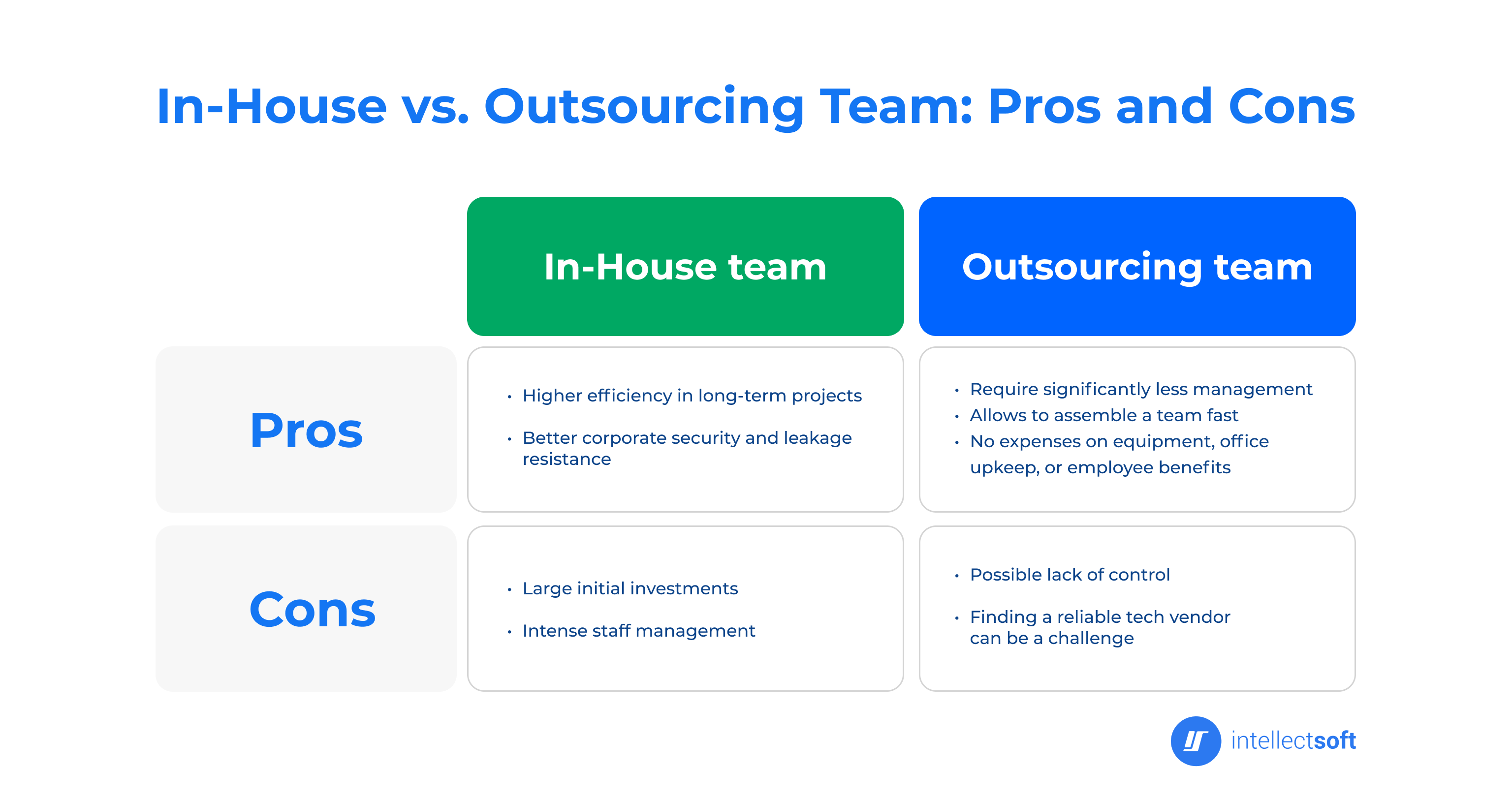 Factors to consider when choosing between the two options
Both in-house and dedicated software development teams are viable options. However, due to their unique combinations of benefits and drawbacks, each fits best to specific project requirements. Let's look at scenarios defining the efficiency of the two approaches. 
Budget. Choosing a dedicated development team will make sense if you are tight on budget. This is especially relevant to startups and small companies that cannot handle the financial burden of in-house development. On the other hand, if you manage to get significant investments or have a well-performing business company, consider employing an in-house software development team.  
Time limits. If you need a final software product as soon as possible, a dedicated development team will help you save time assembling a team. A premade team with well-established coordination and internal synergy will perform all stages of the software development process as fast as possible while maintaining high quality and other requirements. 
An in-house team takes a lot of time to recruit, assemble, and become fully operational. That's why there is a lengthy downtime period before a development process can begin. Such a lag may impact the future of your software project and even make it obsolete compared to rival products when it finally enters the market.
Management. Dedicated development teams require significantly less oversight, but you may need more control as a business owner. You will get regular updates about the state of development and otherwise participate in the process as a paying customer. On the other hand, in-house developers are your employees, meaning you have better control over their work. At the same time, you are also responsible for providing them with adequate management and working conditions.
Security. Dedicated development teams offer a high level of security for most software projects. Usually, it is achieved by signing NDAs and implementing relevant data protection and quality assurance standards. Still, in some cases, a project may require different levels of security that include more strict protocols regarding the work process and choice of staff and conducting their background validation. Then, an in-house development team can be a better option.
Conclusion
Overall, a dedicated software development team is a much more efficient alternative to in-house software development for most cases. Dedicated development is faster, more cost-effective, and requires significantly less management from a company. These advantages are invaluable for startups and small businesses but also appeal to larger companies that decided against creating their software development departments.
To choose an effective dedicated development team, consider its expertise and accomplishments. Intellectsoft has over 15 years of experience creating custom software solutions for different industries. Our abilities are proven by dozens of cases and satisfied customers. So, contact us if you need a skilled and responsive dedicated development team to deliver a high-quality software product.