Whether you lead a startup or a much bigger company, every enterprise often needs external help in completing their software solutions or digital transformation efforts. Technologies evolve quickly, new ones emerge from time to time, and you simply cannot expect every software engineer on your team to know it all.
As learning always takes time, the deadlines are pressing, and consumer demand changes fast, the question of how to find an app developer or an entire team to complete a project could arise at any moment. Still, projects differ in size, and budgets are not limitless. How do you find the right app developers then?
In this article, we show and explain how to find an app developer or development team for any project and business size, as well as different scenarios — so you can find the solution for your case as soon as possible.
First, we address four common situations when you might need hiring app developers, and provide possible solutions, explaining how you can hire the right experts. Second, we list six ways you can find app developers for any project.
Let's start.
4 Ways You Can Hire App Developers
1 – How To Hire App Developers & Teams For Big Projects
Outsourcing mobile app development has long emerged as the top choice for businesses across industries. When you outsource, you hand over your project to a team of external experts, provided by an outsourcing company.
Companies turn to this service for a number of reasons:
Lack of the necessary expertise

. Some companies might have an in-house software development team, but it could lack the expertise in a certain technology or be involved in another project. For example, a business needs to create an AR app, but they only have a busy web development team. As a result, finding and hiring app developers with AR expertise from an outsourcing company emerges as a good option.

Pressing time frame

. Today, customer demand changes extremely fast, and the quicker you deliver the product, the better. If you do not have the right experts, training the existing team or hiring new developers may take up a substantial amount of time. Outsourcing companies are built to solve that issue and help you find and hire app developers that would suit your project demands and company culture.

Cost-efficiency

. Maintaining an in-house team brings many benefits, but it is also highly expensive. Count in monthly salary, office and equipment expenses, as well as other costs, and you will get big numbers, especially if you need niche expertise. With outsourcing, you have immense budget flexibility in hiring app developers: you can scale your team up and down — or add an expert only for a period of time needed to finish a certain part of the product. On top of that, you do not have to pay for equipment or office space, as the outsourcing company covers that costs.

High Flexibility

. There is more to outsourcing's appeal when it comes to flexibility. As outsourcing services have been growing in toe with customer demand, modern providers offer a multitude of benefits for companies that want to hire app developers on specific terms. With outsourcing, a team can work onshore (a provider's office are located in the same country of origin as your business or business branch), nearshore (a nearby country), or offshore (faraway countries). Whether you want close collaboration, satisfied with video meetings, or need a combination of both, there is an option for every business case.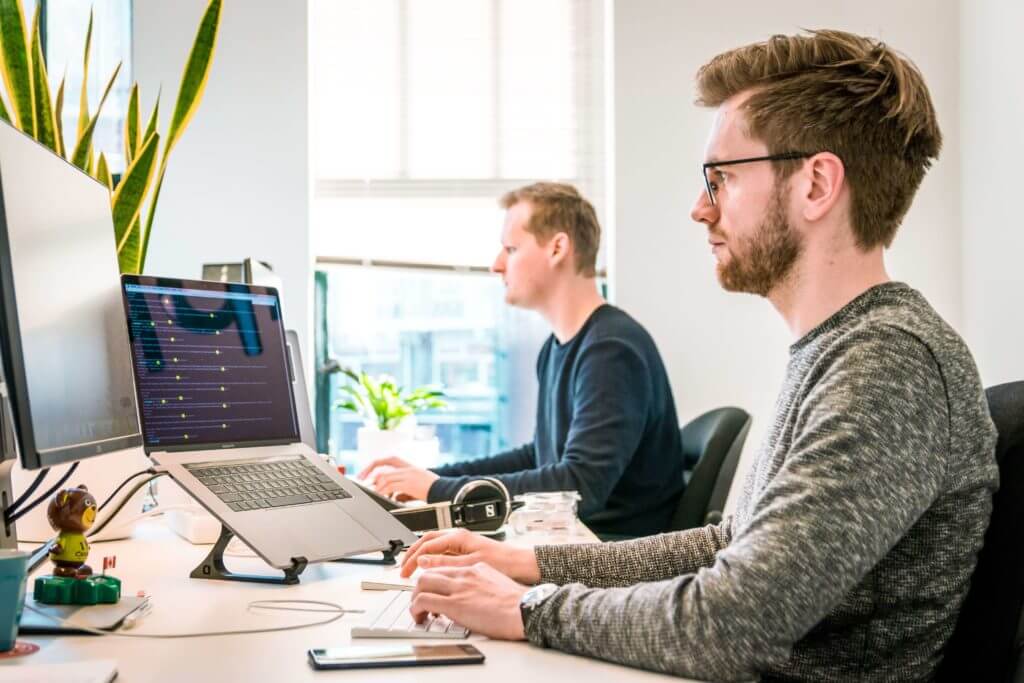 When It Is Better To Outsource?
Outsourcing is the best option for well-funded startups, medium-sized companies, and enterprises. All of them might lack either resources or expertise for certain projects. If you are in charge of a relatively small company, you may only need to hire an app developer that will single-handedly cover all your needs. Otherwise, it is not cost-efficient (find out more on how to find an app developer for small projects and companies below)
2 – How To Hire a Mobile App Developer With Niche Skills, Without Hiring an Entire Team
Let's say you have a large project rolling forward at full speed. It is innovative, and involves multiple technologies. Everything is going according to plan, and there seems to be nothing ahead to prevent your team from meeting the deadline. Suddenly, one of IoT experts on your team (for example, a very experienced embedded software engineer), receives a job offer they cannot refuse. No matter what you say and how satisfying everything is, the engineer says they cannot simply ignore the offer. Unfortunately, you are left without an important expert.
A service called outstaffing will help you fill in the gap as quickly as possible. With this model, you can hire a mobile app developer with the right skills who can quickly fit in with your team and help you get your project back on track and further to the fast lane.
If you need to add a certain technology to an existing product, but do not have the right experts, you can use outstaffing services to find and hire app developers with the right skills. For example, you want to add AR to your mobile product, which has Android and iOS versions. In this case, you will need to hire mobile app developers for both platforms who also have AR expertise (and, maybe, an AR solution architect).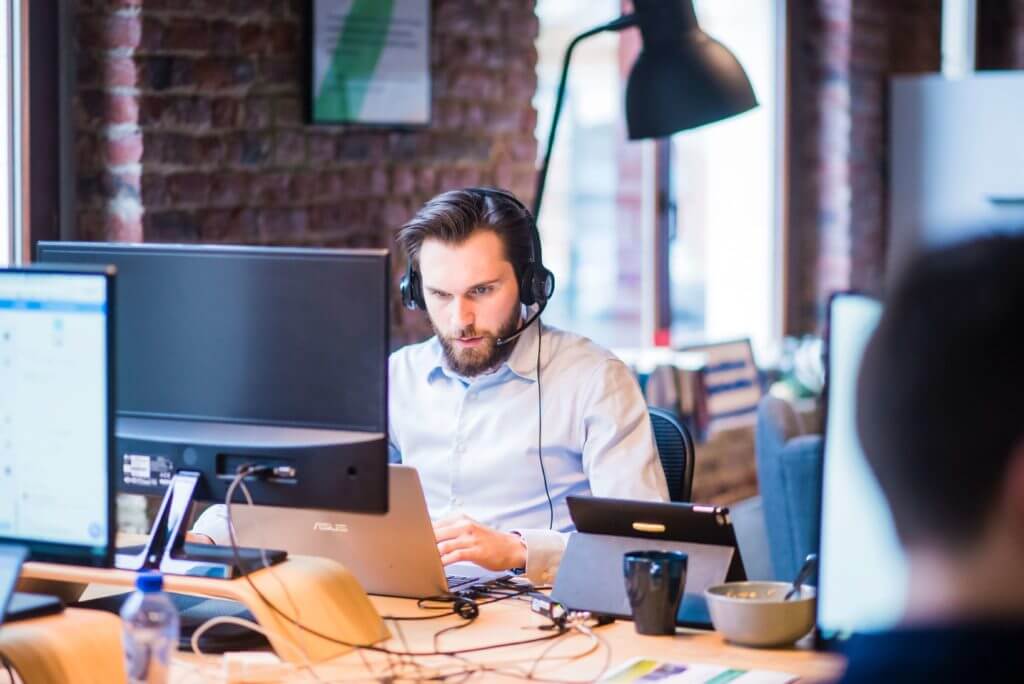 Another big benefit of outstaffing is shared knowledge. Any developer prefers to share their knowledge and expand it beyond the field they started from. For instance, you have mobile app developers, but they lack AR expertise for one of the projects. When you hire app developers with the skills that your team lacks, they will share that knowledge in the process of cooperating on a project. That is, when you outstaff you also invest into education of your employees and, consequently, into your business. More so, your developers will be learning not from a lecture, workshop, or else, but a real-life project with an expert in the field.
Outstaffing is also cost-efficient and flexible. If you need to add a DevOps engineer for a limited time to the experts you already hired for a project, you can do so. Outstaffing providers offer scalability as required.
3 – How to Hire Mobile App Developer for a Small Project/Company
Turning to outsourcing, outstaffing, or similar ways of hiring mobile app developers (you would also come across team extension, for example) is rarely the option for small projects or companies. These services are aimed at bigger companies, projects, and teams, and do not make sense for smallers ones from the business perspective. Instead, small companies or projects can win from more suitable options to hire a developer to make an app.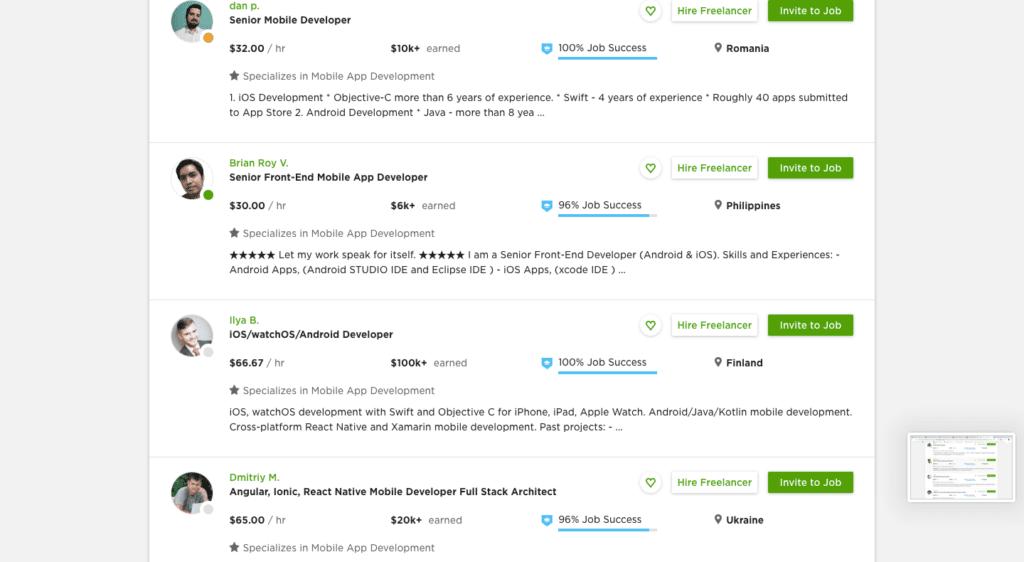 Upwork
Freelance websites

are a great option for short to mid-term projects. Existing freelance platforms like

Upwork

and

Fiverr

have many app developers for hire across a wide array of technology areas and programming languages. With simple and streamlined user experiences and rating systems, you can use these platforms for hiring app developers you can rely on. However, if you consider hiring freelancers for the long-term due to tempting cost-efficiency possibilities, we do not recommend doing so. Freelance app developers usually like to have a number of different projects, and often they take on several at a time. Therefore, with this option, you cannot count on long-term consistency and commitment.

Job search websites

. Although freelancing is a popular mode of work/lifestyle choice, it does not fit everyone. Hence, you can rely on a tried-and-true option and hire mobile application developer with a job search website. This option can work both for long and short term, it all depends on what a developer expects and what you both can agree on. You can also expect a large number of CVs to choose from.
4 – How To Hire Mobile App Developers For an In-House Team
So, you need to build a reliable in-house team. This is the most expensive way to go, but it has some major advantages over other options. First, high dependability and consistency. An in-house team is always there, ready to get to work and solve an issue. Second, an in-house team would be familiar with your IT infrastructure, software projects, and how your business works in general. As a result, they would be able to provide better solutions to issues and challenges, and do it faster.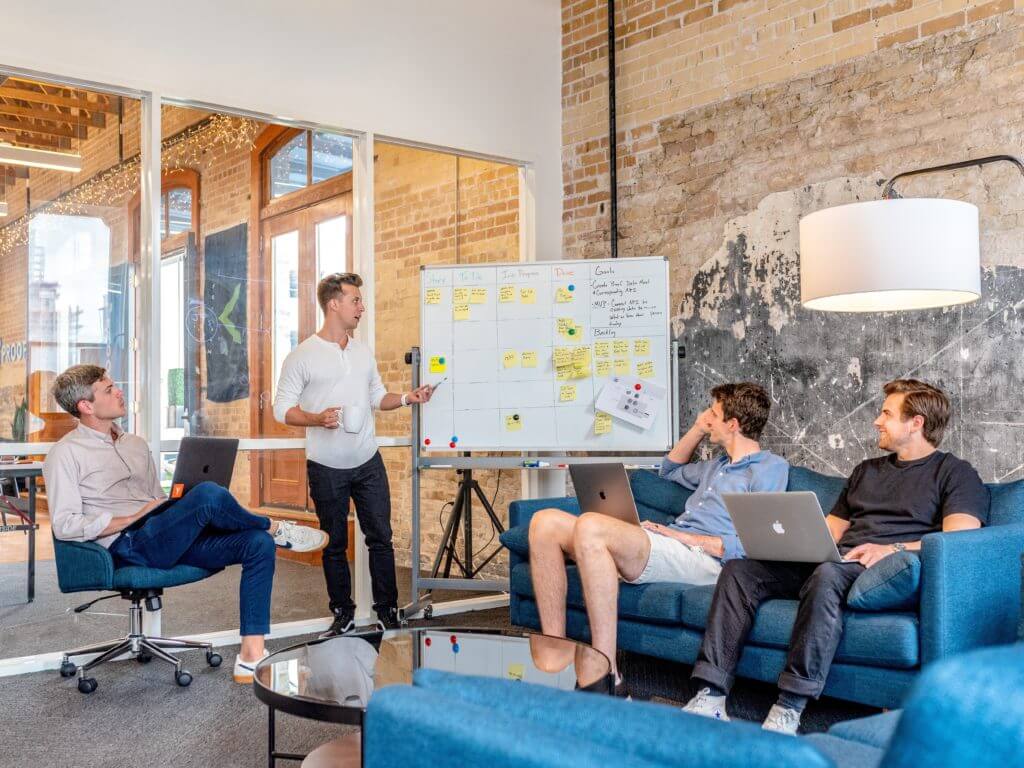 On the other hand, building a solid in-house team for the long-term takes a lot of time and effort. You will need several in-house HR experts or help from a recruitment agency to secure the developers you need. Here, finding an experienced project manager could be a great start.
In any case, an in-house team will be a costly option in every aspect. Your company would need to allocate costs to monthly salaries, equipment, office space, training, as well as other costs. The good news? Big urban centers offer flexible workspaces that provide office essentials and a comfortable environment in general. Some of them are built solely for software and mobile development companies, so your experts will also gain benefits from sharing knowledge with colleagues from other companies. If your business is small and growing, or you are a startup, you can find options to stay flexible.
6 Ways You Can Find App Developers
When you finish selecting the most fitting mode of operation for your business, it is time to compile a list of potential partners/developers. There are many different places and platforms online where you can find mobile app developers.
1 – Find mobile app developers with B2B research firms & ratings
If you need to find an outsourcing or outstaffing partner to hire app developers from, this is a solid option. B2B firms like Clutch offer comprehensive rating systems, which allow for finding the right partner quickly by putting the spotlight on reviews and concise company profiling.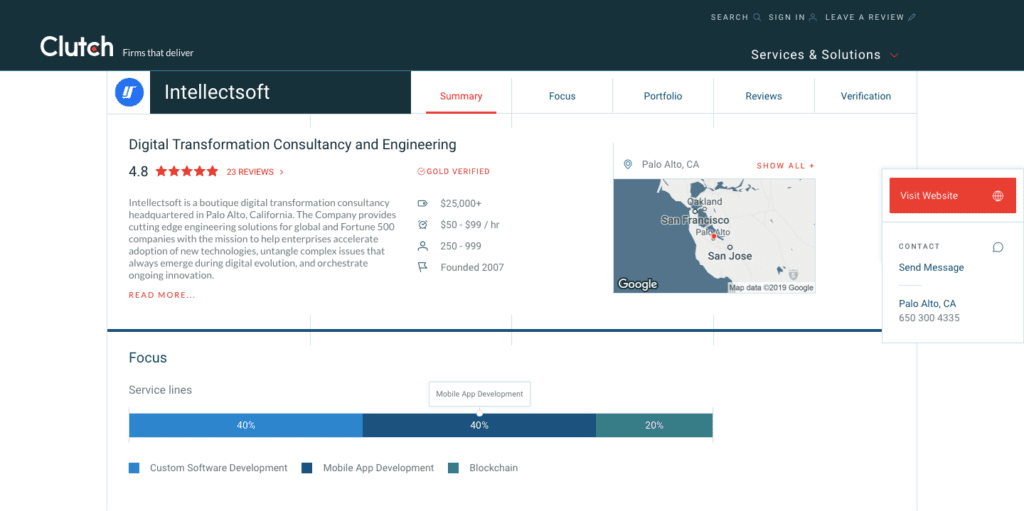 Clutch
2 – Hire a team or developer based on recommendations
Whether you need a team or only looking for mobile app developer, getting in touch with partners and friends who currently have or had the same challenges may solve your problem. They would recommend an outsourcing service provider or a developer, providing you with front-row feedback that is often missing from reviews and elsewhere online. That is, you will know the real advantages and disadvantages of your potential partner. When you are investing a lot of money in a project, this is the best way to go.
3 – Find & hire a mobile app developer on freelance platforms
As we detailed above, you can always find an app developer on freelance websites like Upwork. If you only need to solve a small issue or have a small project, you can hire an app developer shortly after finding them at the website. Rating and profiling systems like Upwork's are clear and feedback-driven, providing a foundation to make a reliable decision.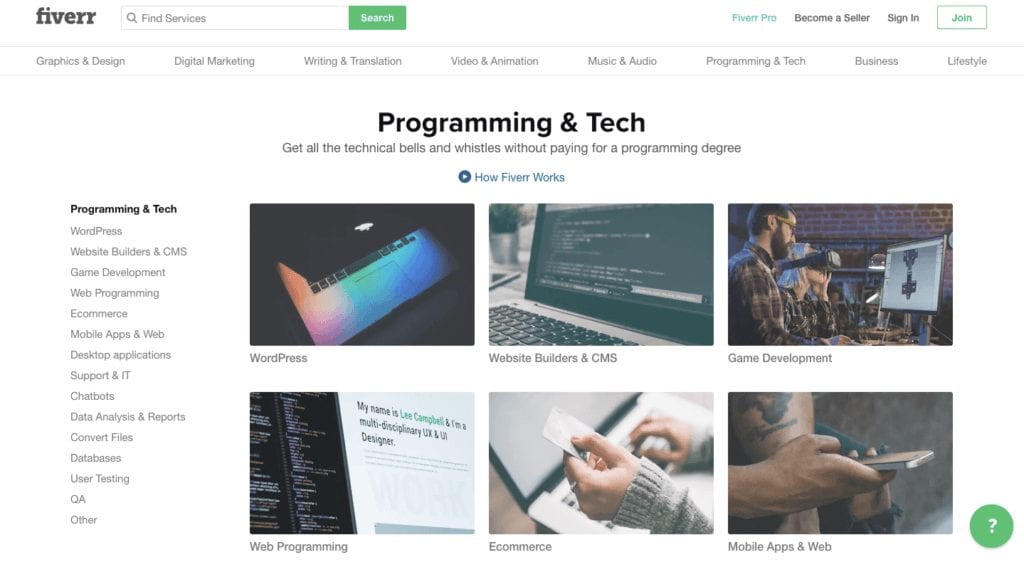 Fiverr
4 – Looking for an app developer with niche skills? Check out their blog
As we pointed up earlier in this article, developers enjoy sharing the knowledge, and a great many have their own blogs where they share insights and expertise. This is how developer communities work and the software world spins. So, if you need an IoT engineer, you can browse IoT publications on, for example, Medium, and try and find the right expert there.
5 – Find a programmer for an app by doing online research
If you know how to choose reliable outsourcing partners and where to look on their websites, this option may prove to be a good starting point. If not, look at these three things first and foremost: clients and case studies, years on the market (ten years of experience is great), and a clear and established development process. Also, couple this option with other ones on the list, like checking potential partners you found on B2B firms' ratings and getting in touch with your partners.
6 – Find a programmer for an app on GitHub
While not the most evident way to find an app developer, the world's largest code hosting has millions of experts from across technology areas who contribute source code to millions of repositories. There, you or an expert on your team can find the right experts and check their code quality as it is.