We've come a long way from Casio calculator wristwatches.

In less than a decade, smartphones and tablets have evolved from convenient consumer distractions into essential components of our personal and professional lives.

Soon, we'll enter a wearable app era in which smartwatches, activity trackers, smart glasses, augmented reality headsets and e-textiles form the foundation of our everyday experience.

And while there is still much speculation surrounding exactly how tomorrow's wearable world will take shape, the consensus is that the seeds to this massive marketplace have already been planted.
Wearables Gain Ground
According to IDC analysts, total global shipments of wearables devices jumped 198% between Q3 2014 and Q3 2015, topping 21.7 million units in total. Wrist-worn devices continued to lead the charge, with Apple exceeding expectations and shipping 3.6 million Apple Watches in their debut quarter alone. But what exactly introduced the spark that exploded this formerly slow-burning adoption curve?
Yes, some of these advances were fueled by technical breakthroughs. Sensors, battery life and analytical capabilities have all come a long way since wearable prototypes initially arrived. But just as importantly, people's expectations have grown.
We have come to expect greater mobility, easier accessibility and faster delivery of data, goods and services. We are no longer content with technology meeting our needs, we need it to predict our needs and deliver solutions in context.
Lastly, there's no denying the impact Apple Watch apps have had in legitimizing the wearables sector. The Cupertino company has taken a technology formerly categorized as a DIY hacker hobby and converted it into a viable consumer electronics commodity. And in its wake, we've seen a stream of affordable, design-focused alternatives like Misfit Shine enter the fray.
Wearables Report to Work
The recent surge in sales has confirmed the case for wearables in consumer settings, but it won't be long before they infiltrate the workplace as well. Whether it's tech-savvy employees integrating their own devices with their professional agendas, or companies investing in true enterprise-grade solutions, existing wearable apps already cover categories ranging from general productivity tools to industry-specific offerings.
One of the more encouraging indicators of enterprise wearable possibilities has been the recent moves made by Salesforce. The CRM leader recently released an Apple Watch app of its own designed to deliver hyper-relevant notifications to sales and customer service professionals. Since then, it has also issued a developer pack for customers and partners to explore.

Workforce management specialist ClickSoftware is one of many that's tapped into these resources, using them to empower field service professionals with a smartwatch application that facilitates hands-free appointment scheduling and customer communication.
Wearable apps have also proven their worth in more industrial settings. Supply chain specialists have seen the rewards of wearables since the earliest Google Glass pilots. Oil and gas workers have trusted environmental sensors to keep their crews safe. And now the Department of Homeland Security is expected to deploy wearable radiation detectors designed to help Coast Guard, Border Patrol and Transportation Security Authority agents thwart nuclear threats.
But perhaps the most impactful deployments of wearable app will be seen in the healthcare sector. Early progress has typically centered on preventative medicine, where fitness data is captured by wearable devices to provide real-time patient feedback. However, this is hardly the extent of the technology's medical applications.

From an administrative perspective, the massive amount of data passively collected through wearable apps is expected to promote smarter, more efficient decisions around the delivery of care. From a clinical perspective, powerful new devices like Evena Medical's vascular imaging smartglasses are fundamentally transforming how doctors see the human body. And with several dozen separate hardware platforms already gaining Food and Drug Administration approval, it's become clear that wearable innovation can persist even in the face of extensive industry regulation.
What's Next For Wearables
Forrester reports that 21% of U.S. adults have now used a wearable activity tracker, up from 10% just a year ago. That double-digit year-over-year growth has certainly caught the attention of financial forecasters, generating a wide range of wearable market valuations.
Statista puts the number at $12.6 billion by 2018 while Juniper Research expects $53.2 billion.
Still others suggest that the medical wearables vertical alone could command $41.3 billion by 2020.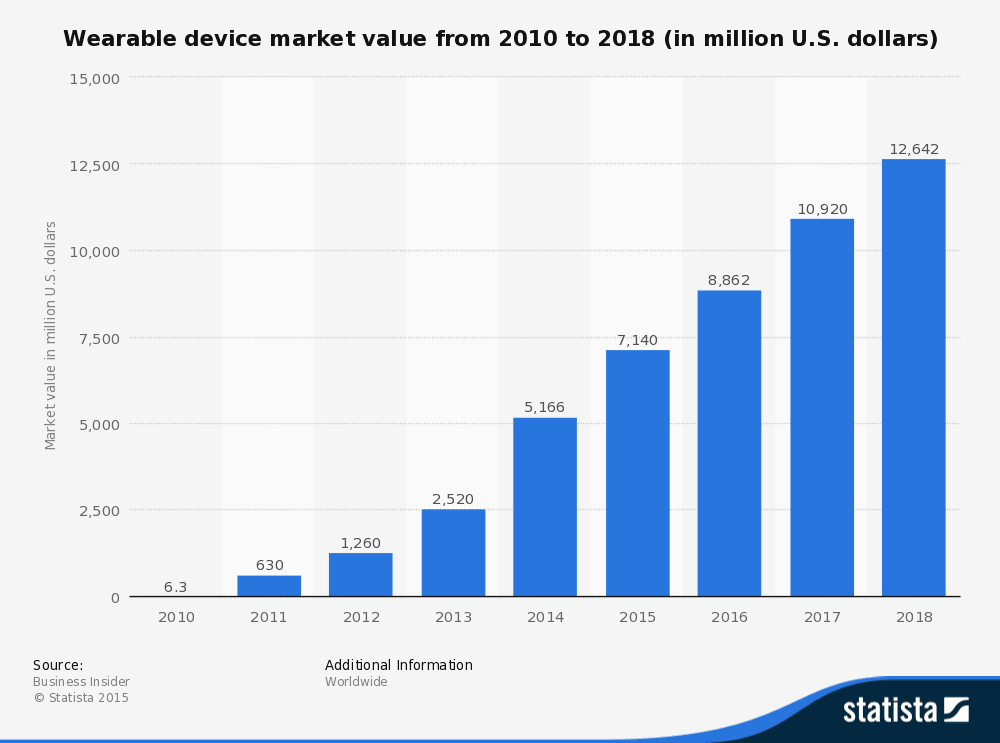 Nevertheless, industry leaders are undoubtedly making moves on the ground. According to Forrester, more than half of key decision-makers in technology and business sectors consider implementing a wearables strategy as a "critical" or "high" priority for their businesses.

This insistence on innovation seems well-founded. Among enterprises that have already embraced wearable apps, a recent Salesforce report confirmed that 76% saw tangible improvements in business performance since deployment.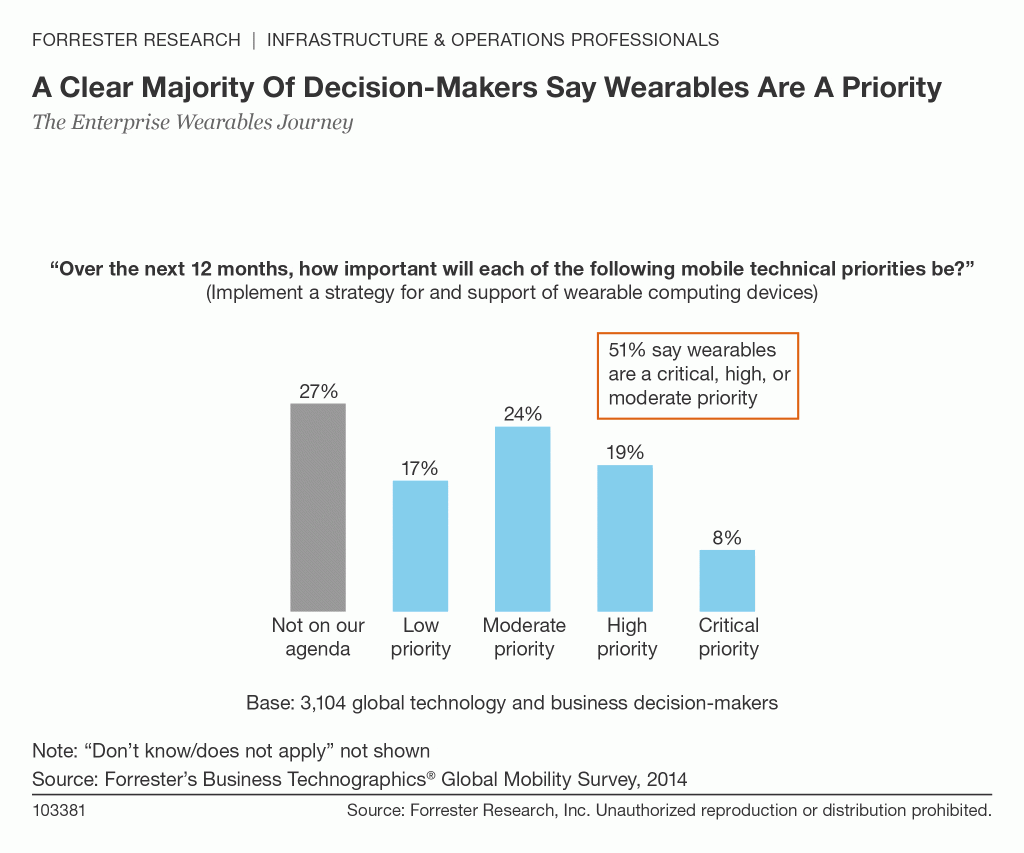 What's Still Standing In The Way
While the future for wearables remains bright, there are several legitimate obstacles standing in the way of immediate success. For one, a lack of compatibility has kept a low ceiling on convenience. With a dozen or more different development standards currently competing for their share of the wearables marketplace, users can rarely assemble the complete systems they envision.
Platforms like SmartThings and Apple's HomeKit are gradually improving the efficiency and reliability of inter-device communication, and application developers are responding with their loyalty. But proactive standardization, or significant market consolidation, may be the only ways forward.
Additionally, as the Internet of Things moves closer to effectively encompasses everything, vigilant security will become more important than ever. With medical, financial and energy grid data moving more frequently between a greater number of touchpoints, cybercriminal opportunities will increase exponentially.
These concerns are certainly not new, and in many ways they are a logical continuation of the ongoing mobile security dialogue. As a result, a number proactive initiatives on user education and security protocol standardization are already underway. But, as is often the case in digital innovation, privacy and security assurances could be the most important variable determining when wearable apps officially achieve critical mass in the marketplace.   
Intellectsoft Has Your Back
We know it isn't enough to adapt existing apps for wearable hardware and hope for the best. That's why we've cultivated a group of wearable app engineers who are laser-focused on the latest Apple WatchKit SDK and Android Wear SDK trends.
If you're looking to create an app experience that goes beyond traditional handheld devices, get in touch today. We love talking wearables, and we're pretty good listeners too.