The most popular events in the world have placed their bets on mobile apps for events to elevate the event experience. The TEDConnect app ensures strong networking, Coachella's VR/AR application adds even more thrills, and Cannes festival is now as classy as it is digital with the spot-on event app.
See the full list and draw inspiration from the stand out features below.
TEDConnect event app
TED is one of the world's most influential and impactful conferences where leaders from a multitude of industries share their knowledge and experience. TED speeches are available on Youtube for free, but TED events still draw big crowds of entrepreneurs and wisdom-seekers. People come over for professional advice, knowledge, networking, and inspiration.
TEDConnect, TED's official event app is built with openness, networking, and guest comfort in mind.
Stand out features
– Messaging any speaker and attendee.
– Building a TED network.
– Viewing the full list of attendees.
The features are as promising as they sound (you can try to get in touch with someone like the founder of Airbnb), but in order to use TED's event app one should have an account and a confirmed registration at a TED or TEDx event.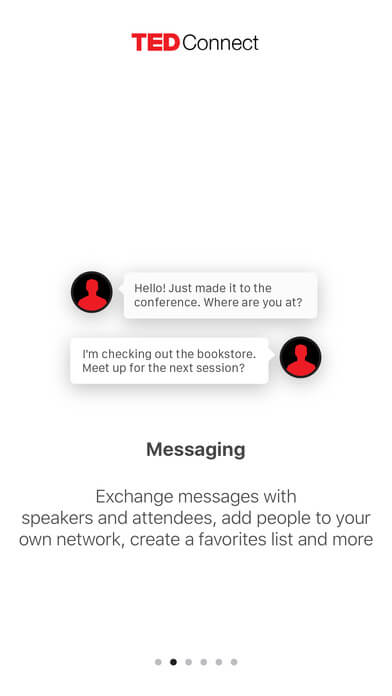 Coachella event app and VR/AR app
Every generation has their own musical festival to go down into history. When it comes to the current generation of millennials, Coachella has rightfully taken the slot. The headliners always include the biggest names from the music industry, and it's festival spirit is so strong that it attracts the people who aren't interested in the musical line-up.
Coachella offers five-star entertainment, and there are two stellar apps to help deliver the spectacle.
The main application is a comprehensive event app with a host of features that ensure the festival experience is comfortable.
Stand out features
Viewing the entire lists of artist and performers.

Adding favorite acts to create personalised schedules and receive notifications on when the shows begin.

Live streaming.

Smart social media integration.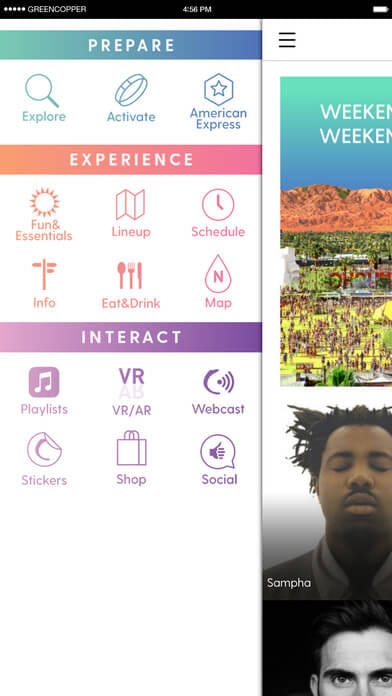 Meanwhile, the VR/AR app provides additional, current-day entertainment for the festival's tech-savvy demographic. Attendees can do the following:
Search for "easter eggs" on the festival grounds.

Immerse in VR/AR art installations.

Engage in a library of VR videos.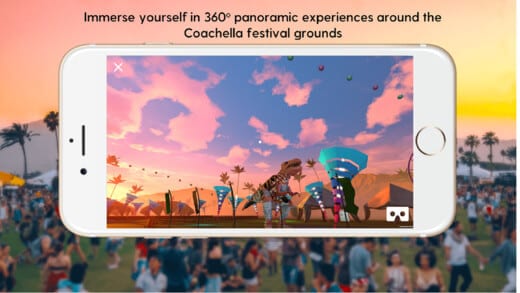 In the end, Coachella's approach to mobile apps for events is an effective example of how to deliver comfort and spectacle with the paired power of software and the latest technologies

SXSW event app
SXSW (South by Southwest) is a conglomerate festival of events and conferences converging film, music, and interactive industries in Austin, Texas. With nine days dedicated to film, six to music, and five — to interactive, SXSW's scope is bigger still. The festival is a creative hub where the people from across all the creative industry can network and showcase their work. Another focus is education, as influential personas take the stage discuss important issues (this year Joe Biden talked about cancer, as Nile Rodgers gave a keynote speech about music).
This type of event scale would demand several mobile apps for events. Still, SXCW manages to cover everything with a single event app called SXSW GO.
Stand out features
SXSW's custom chatbot Abby.

Personalised event and attendee recommendations (based on a wide array of factors).

A multitude of maps, from maps of Austin to separate exhibitions and venues.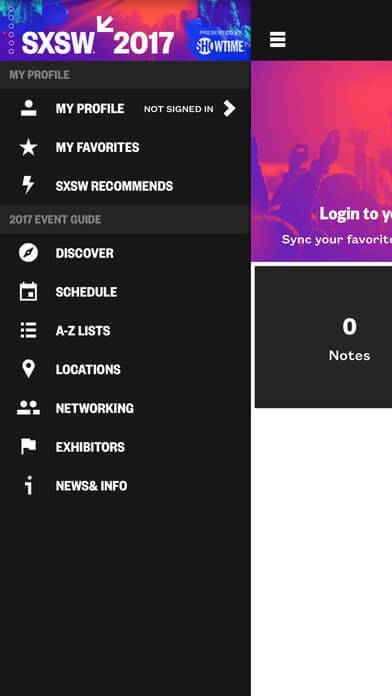 Cannes event app
This year the Cannes film festival — an event on par with the Oscars — celebrated its 70th anniversary. Although the always classy event protested the growing digital domination of Netflix, it embraced the promise of an event app.
The official application is as elegant as you would expect from a festival taking place on the French Riviera. The design is eye-pleasing, user experience is incredibly smooth, and there are several elegant animations that improve the overall user experience further.
Stand out features
Live streaming: videos, photos, news, and more.

Diary.

Smart geolocation.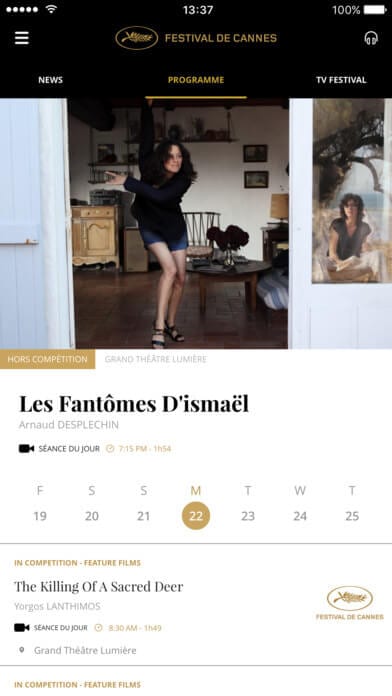 New York Fashion Week event app
Like Cannes festival app, the event app of New York Fashion Week is a strong example of how to extend a brand digitally. The event app succeed to do so through a clean and appealing minimalistic design, set of chosen features, and rich content features. Everything is catered to the potential show attendee.
Stand out features
Beacon-based

personalised notifications.

Inbox for all notifications.

Live streaming.

Latest news feed.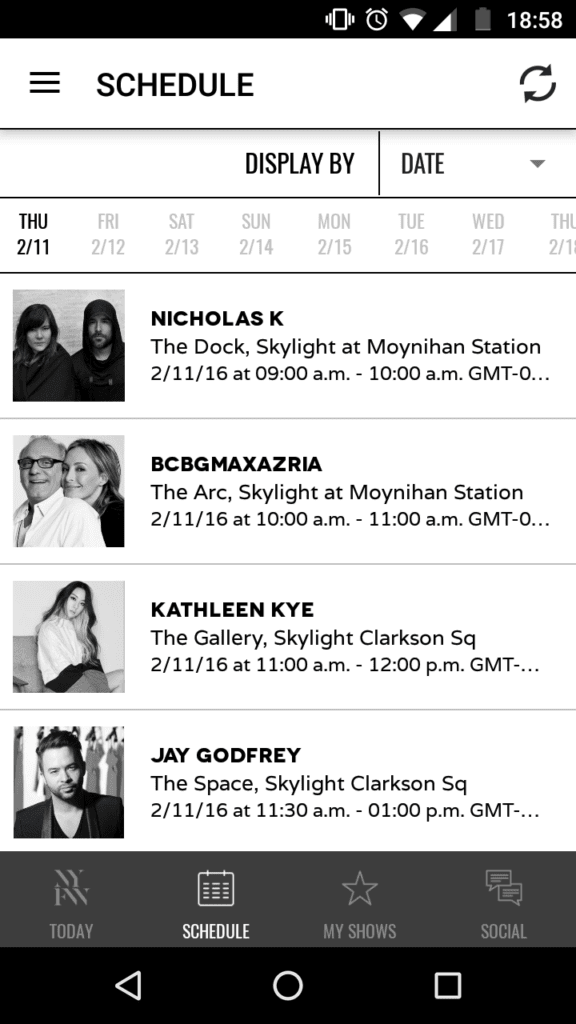 Spider-man musical event app
As rich on spectacle as the New York art scene is, Spider-man: Turn Off the Dark came as surprise.  One of the most unusual productions at the beginning of this decade, it was the first musical in the history of the eminent character. The production was grand: U2's singer Bono and guitarist The Edge wrote the music and lyrics.
Upon the the musical's presentation, mobile apps weren't a big trend yet (the first iPhone was released only a couple of years before Turn Off the Dark). Still, the producers decided to create an event app, delivering a rich mobile experience.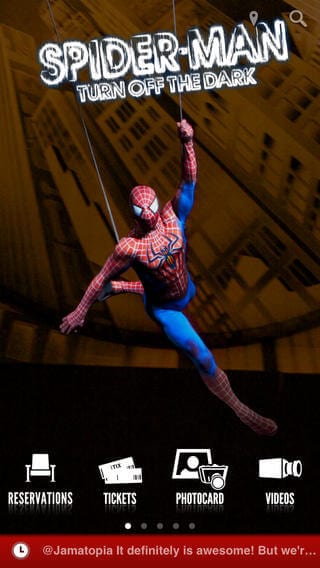 Stand out features
Fan Wall: general chat where the app users could communicate and share photos.

Exclusive Spider-man NYC guide, video content, and ticket offers.

Ability to quickly create images with the characters.
If your event or venue needs to open its doors to software at short notice, get in touch with us. Our mobile app platform is built with event apps in mind.