Chat bots were one of the hot topics of 2016 and their use is only going to grow in 2017 – not just through big-name AI assistants like Alexa and Siri but also in cut-down, bespoke versions of these bots created by businesses and brands.
Facebook launched its chat bot platform back in April, inviting companies with a Facebook Page to add a bot to it — an automated, AI-powered service appearing through Messenger, using natural language processing to answer customer queries and provide help. Rather than placing orders through the website or over the phone, for example, users could get them through a branded chatbot instead.
Plenty of brands have already jumped on board with Facebook's vision of a bot-filled future, particular retail outlets, where ordering and searching can be reduced to a series of simplified text commands.
Take the chat bot for 1-800-Flowers.com, for example, one of the creations Mark Zuckerberg showed off on stage at F8 as he introduced the new platform. As with most Facebook chatbots, the first interaction is a prompt to Get Started, which then leads to two options: order flowers or talk to support.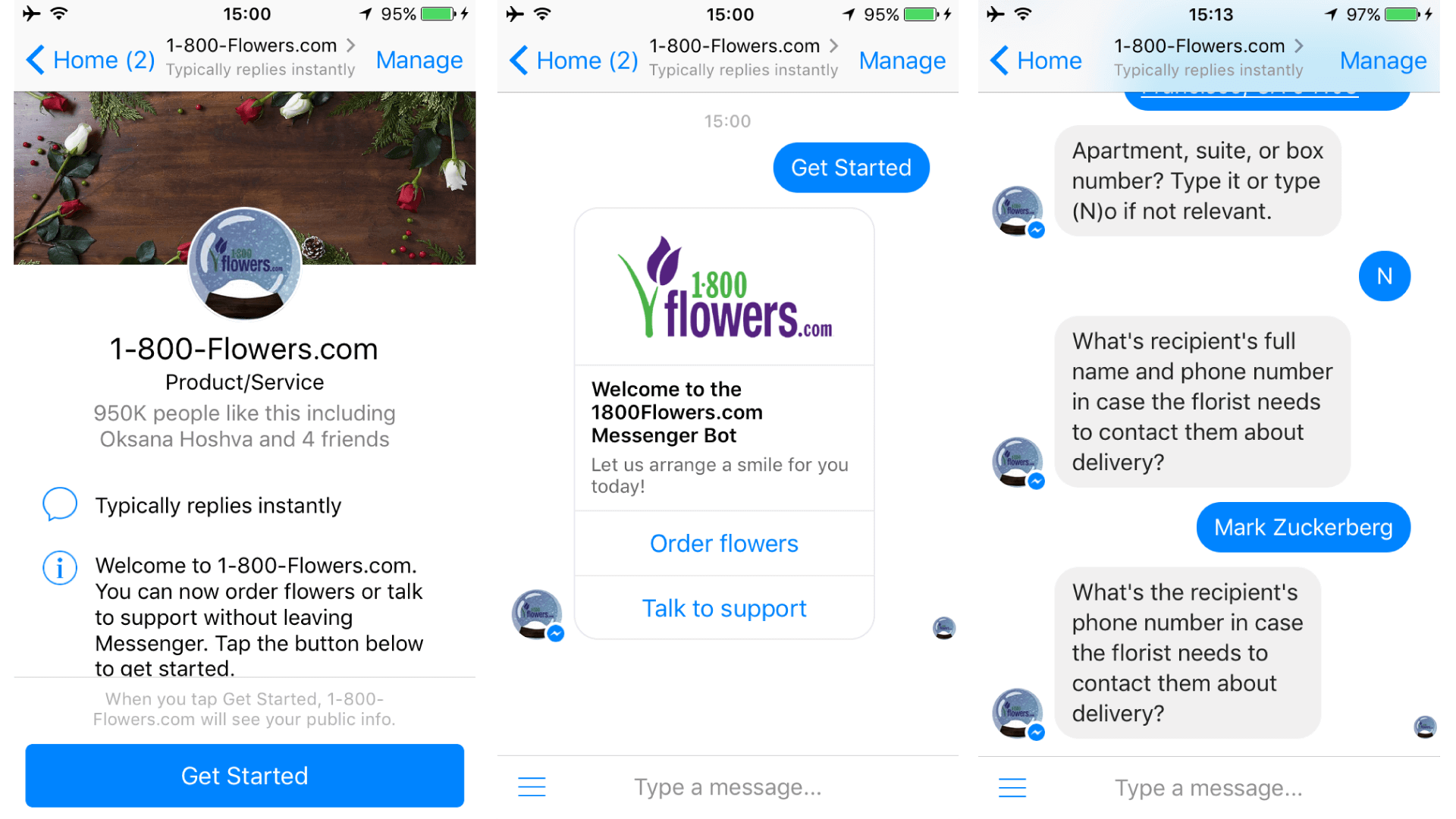 This is typical of a branded retail chat bot. Product ordering and customer support are two of the areas where the bot approach fits the best, because there's a lot of automated input and output involved — bear in mind that whenever you ring up customer support on the phone, a lot of the time the human operator on the other end will be reading from a pre-approved script anyway.
Opt to order some flowers and you then get a prompt to enter a delivery address — it's just like filling in a web form for a lot of the time. Users are then asked to browse through bouquets by category, with a simple scroll-and-click interface.
Ready to build a conversational bot for your business? We've already made successful bots for media companies and e-commerce businesses. Let's move forward with your project. Contact Us.
Then there's Tommy Hilfiger, more of a traditional retail outlet, now available via chat bot interface in Facebook Messanger. The Tommy Hilfiger chat bot puts more of an emphasis on conversation, so there's some actual character behind the exchange, not just a list of options to pick from.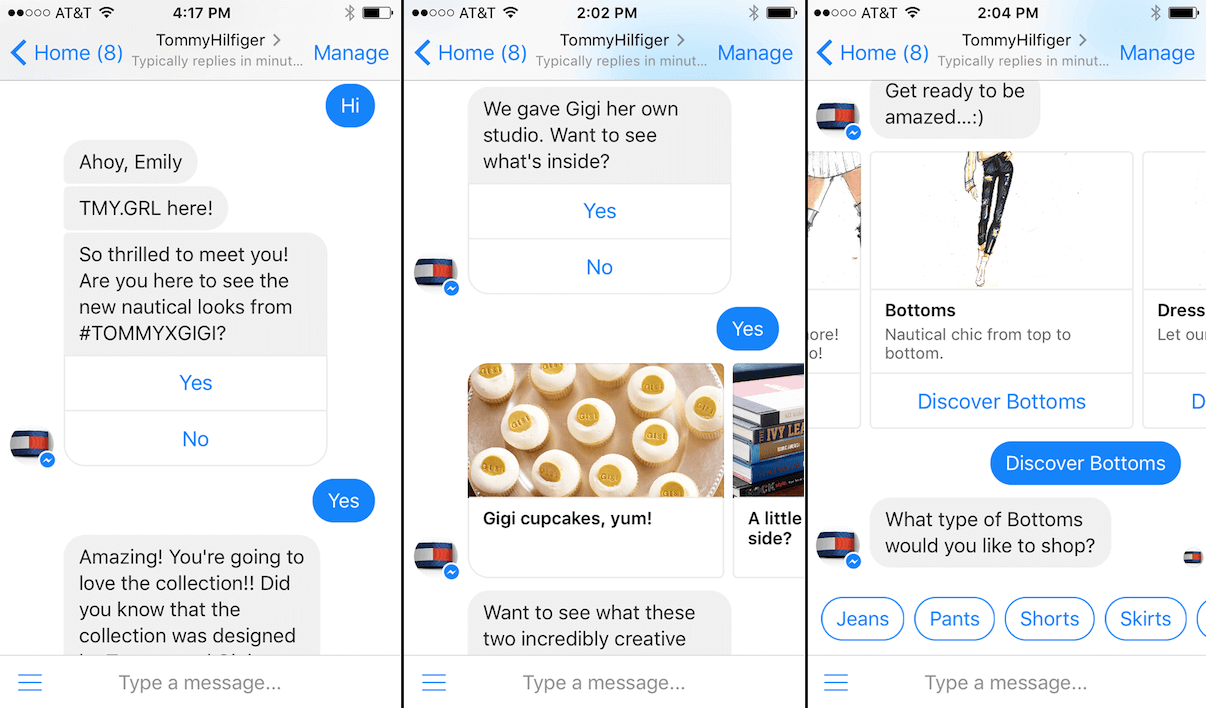 Like 1-800-Flowers.com, browsing through products and categories is straightforward, though customers don't get quite the freedom they would on the Tommy Hilfiger website or indeed in an actual retail store. Photos and descriptions are included with all of the items shown, and you can add items to a cart right from the chatbot interface.
eBay has a messenger chat bot too, the eBay Shopbot. With just 1,100 likes on Facebook, it obviously hasn't gone mainstream yet (the main eBay Facebook page has close to 10 million likes), but it gives shoppers a simple and fast way of browsing through some of the many products on offer through the auction site.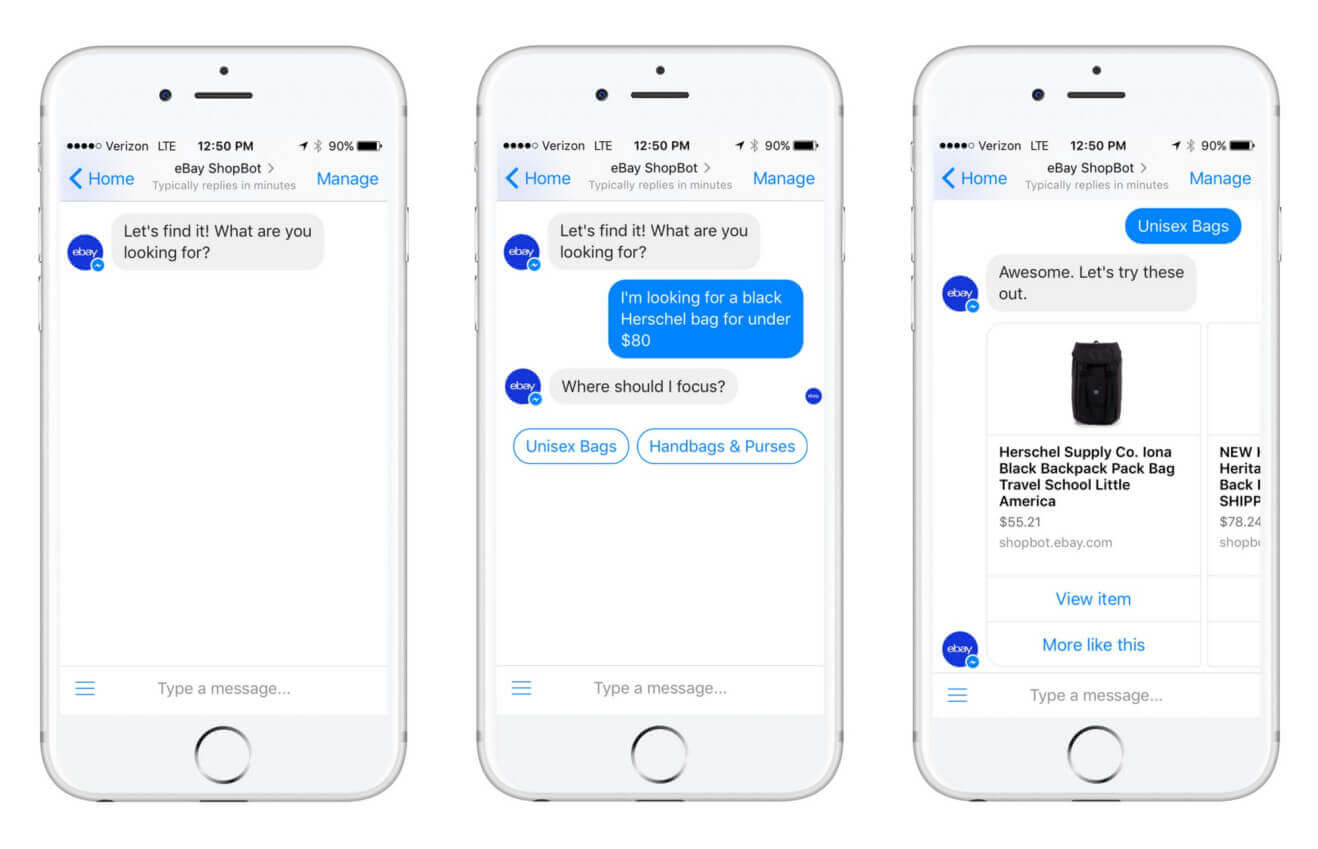 The Shopbot uses a simple Q&A system to help users arrow in on what they're after: ask to see iPhones, for example, and the bot asks what capacity you're after and then what network you're going to be running the phone on — it's not hard to see why some shoppers would rather use a bot like this rather than tackling the rather byzantine interface of the main eBay website head on.
Fynd, based in Mumbai, India, offers a more general shopping bot that will take you through options from a variety of retailers. The search options are broader than those offered by Tommy Hilfiger and eBay's Shopbot, so customers can start with pretty much anything they like — a query looking for white t-shirts, for example.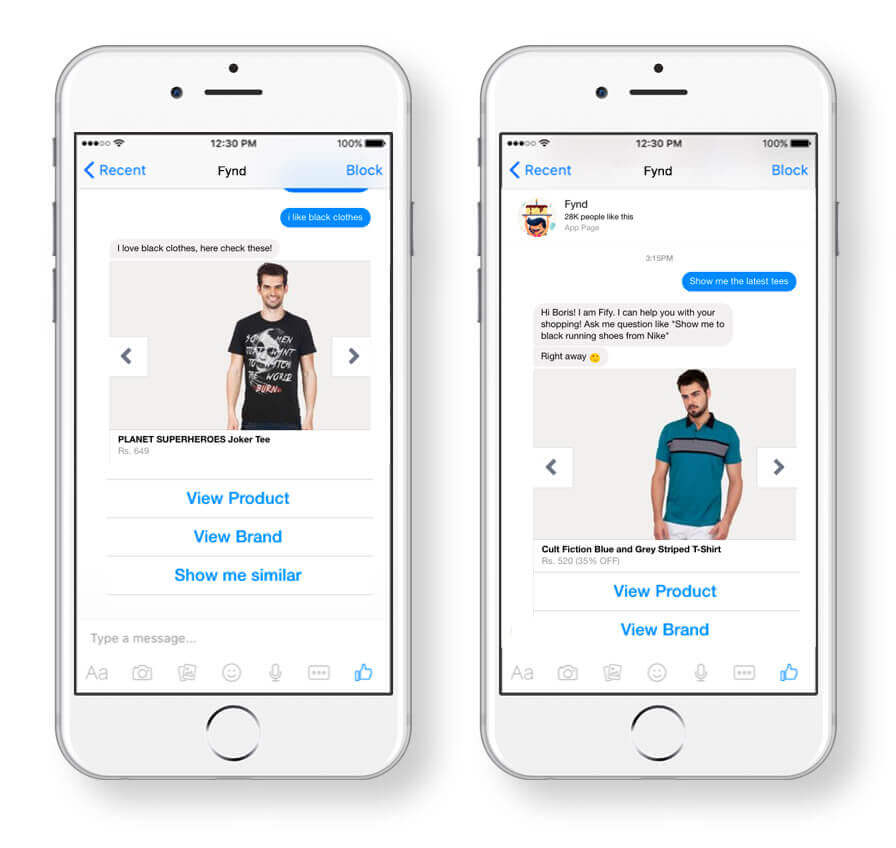 The human beings at the other end of the chat have the option to search through brands or to see similar products, so there's a good deal of flexibility here, even if it's not quite the same as going through the main Fynd website. Indeed a lot of the 'answers' returned by the chatbot are just links back to certain pages on the Fynd portal on the web.
These four bots all have features of their own, but they're largely similar, designed to get customers to products as quickly as possible, through a series of simple text interactions. Only the Tommy Hilfiger bot makes any real attempt to add some genuine character to proceedings, though all the chat bots we've tried here are friendly enough.
Retailers should be keeping a close eye on the chatbot space.
Ryan Bates, CPC Strategy
Remember too that these bots are built for mobile — users on smaller screens who don't necessarily want to head off to a huge website for a pair of trainers or a jumper.
"Bots for Messenger are for anyone who's trying to reach people on mobile — no matter how big or small your company or idea is, or what problem you're trying to solve," says Facebook's Seth Rosenberg, and indeed the developer tools that Facebook has put in place seem to be flexible enough to allow for all kinds of implementations.
What's not very clear is just how well these bots are working out for the retailers who've tried them so far. According to Facebook, there are 33,000 messenger bots out in the wild, which seems small considering the tens of millions of businesses that have set up a Page on the same platform. However, Facebook just launched some analytics tools for companies to use with their bots, which is going to make it easier for brands and retailers to measure engagement and click-throughs in the future.
Certainly the aim is to increase sales and conversation levels, but right now there just isn't the data around to show just how much of a return on investment retailers can expect to see. While some brave souls are testing the water, the majority of companies remain standing on the shore, waiting to see which way the tide is going before committing to developing their own bot.
"Because chatbots are still so new, there's not enough data to show if they are beneficial to retailers beyond customer service at this point," says Ryan Bates, Digital Production Coordinator at marketing firm CPC Strategy. "Retailers should be keeping a close eye on the chatbot space."
Ready to build a conversational bot for your business? We've already made successful bots for media companies and e-commerce businesses. Let's move forward with your project. Contact Us.

Summary
Developing chat bots undoubtedly has its benefits: they can be available 24/7, which is a boon for retailers, and they work without the need to install another mobile app, which makes them convenient for users as well. The chatbots that are out there work well, or as well as can be expected at this early stage — but the jury's still out on whether they're going to transform customer interactions and permanently change the way we shop online.