Leveraging the power of a sports app is becoming commonplace in the sports industry as teams gradually understand how branded team apps can improve and modernise the fan experience by creating new fan engagement opportunities. In fact, some of the world's most famous teams are already using sports apps, and their example proves that the mobile approach is the sport industry's new MVP.
Fan Experience in Soccer Sports Apps — Barcelona FC
In 2015, FC Barcelona started out by offering QR-code electronic tickets to their fans via Passbook or PassWallet. Didac Lee, New Technologies director at the time, said that new mobile features will follow the "buy a ticket for a game" option, gradually improving the fan experience. Two years after, Lee is on the New Technologies board — while Barcelona has one of the best sports apps in the sports industry.
The team's branded mobile app is poised to win the content game, as it gathers everything in one place: news, game media, team statistics, game calendar, and more. Barcelona's sports app also includes a mobile store and takes on the ticketing app duties. More so, the fans are able to order a tour of the team's home stadium, Camp Nou, and Barca's museum (which connects Barcelona's m-commerce and e-commerce platforms). The app also has a clean, intuitive design that's easy on the eye.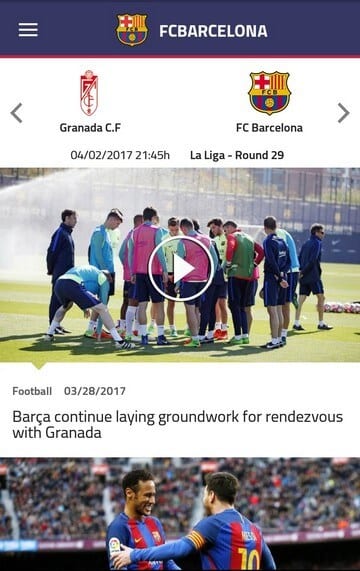 Push-notifications are the major force behind the app. Fans can choose what notifications they will be getting during the app setup (confirming date and time of a match, line-up updates, etc.) — an example of personalisation that is simple and effective.
The sports app recap
Barcelona's sports app converges every essential part of the fan experience in one place, in a simple, clean design. This allows the team to keep their fans informed, making the fan experience richer, fresher, and more meaningful.
Stand out fan experience feature
Legends section in Videos that allows fans to view career highlights of the club's best players who had become football phenomenons.
Mobile Fan Experience in Basketball — Golden State Warriors
Chances are high that the words "sports app" and the name Golden State Warriors were in the same sentence when you heard about sports apps for the first time. Judging from the plethora of articles, Warriors are confident about the new fan experience they have been rolling out. The team's management has been working on a smart arena with Virtual reality and tiles that generate electricity when stepped on, and they were among the first to fully leverage the promise of beacon technology.
Forbes called Warriors' tech-savvy approach to fan engagement "nothing short of impressive," highlighting that they were the first in the league to implement Apple Pay.
This points to the heart of the team's success — a well-built, beautifully designed sports app, which is the pillar of their fan experience.
The Warriors' sports app is divided into four main sections:
Team — team statistics, player stats, and team roster.
Schedule — game calendar, event calendar, buy-a-ticket option.
More — game media and game tracker.
Arena —  seat upgrades, arena map, parking and navigation information, and other useful details.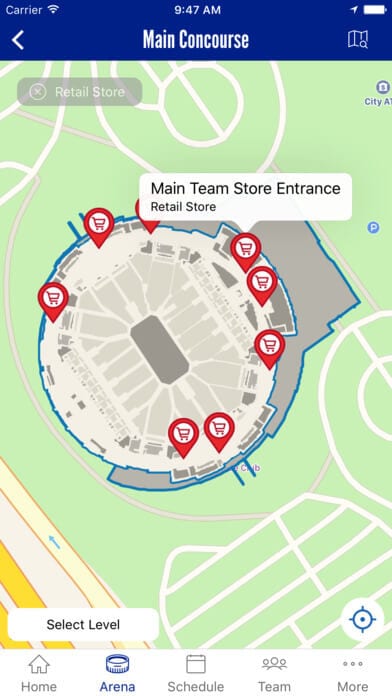 The sports app recap
Warrior's app is visually appealing, well designed, and easy to use. It utilises the latest technologies and delivers real value with relevant content and useful information. More so, it is built with smart stadiums and the future of fan experience in mind.
Stand out fan experience feature
Unlike other sports apps, Warriors' management put the latest scores on top of the first app screen the users see — a simple and informative feature that's also a shortcut to the Live Game Center, where Warriors' mobile fans get updates before others.
Fan Engagement Apps in Hockey — Grand Rapids Griffins
Hockey is a highly entertaining game that perfectly captures the sense of fun of sport in general. Seizing this sense and carrying it over from the physical world to digital is one of the winning aspects of Griffins' branded team app.
The fans will feel it at first glance when they see the first screen: the design perfectly captures the aesthetic of both the team and the NHL while being intuitive and easy on the eye.
Entertaining fan experience and fan engagement are the app's innate aspects. Hence, gamification is one of its cornerstones: users perform simple and meaningful actions and get points for them as they compete to become the team's biggest fan (there is a separate section with fan ratings). The fans can also communicate and share media in the general chat (the Fan Wall section), and they constantly use this opportunity.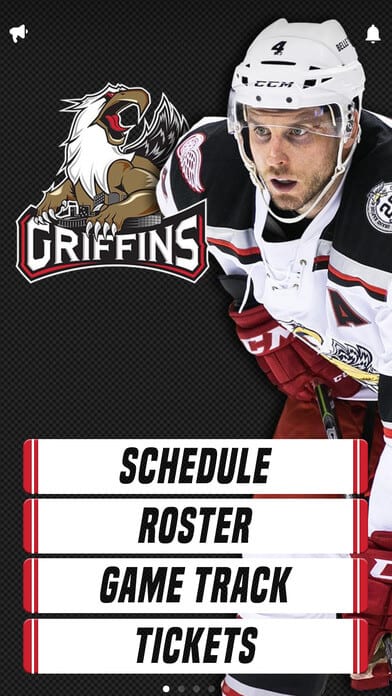 Griffin's app covers all the essentials — team roster and game schedule; game media and news; tickets and mobile store; and others. Moreover, they are easy to thumb through — owing to the app's simple design and "feed" structure.
Griffins embrace the promise of modern mobile technology in full — their app also supports beacon technology. It improves fan experience on gameday and creates new ways of fan engagement that allow Griffins' fans to win seat upgrades, discounts, and more.
The sports app recap
Griffins' sports app successfully captures hockey's power to entertain, delivering an engaging and rewarding fan experience that is in line with hockey aesthetic, as well as properly leverages gamification and the latest tech.
Stand out fan experience feature
There is a Photocard section in the app, where fans can take a photo in a preset frame to become a Griffins' player, stand alongside the team's mascot, and other options.
Visit our Athletes & Teams to learn how a sports app can drastically improve fan experience.