The mobile fan experience is already here: sports apps are bringing digital into the sports industry to improve the real-life experience of the game. Many soccer, basketball, and hockey teams have invested into apps for fans, and we've looked at some of the stand out applications in the previous post. Now, we break down the mobile fan experience of the highly entertaining football, the methodically paced baseball, and the effective examples of fan engagement in other sports.
Fan Experience in Sports Apps — American Football
American football is high up on the sport games olympus: it has been one of the most popular games in the world for years, and that's unlikely to change anytime soon. The latest reminder is NFL's deal with Amazon: in an effort to get into the live sports streaming business, the company spent $50 million for the rights to stream 10 Thursday night games the next season.
There is a more telling indicator of how widely popular the sport is: every American Football Conference team has its own branded mobile app. Their marketing teams understand that a sports app is a tool that will finally take fan experiences to the next level, helping any sport to get in line with the digital times. One of the teams who understands and fully embraces mobile is New England Patriots; their app is the quintessence of modern mobile experience in American football.
Fan experience of New England Patriots
At first glance, Patriots' app looks simple and customary (as far as sports apps go), similar to apps of other sport teams: logo at the top in the centre, newsfeed, and common sections — articles, videos, and photos.
After two minutes or less of thumbing through the app, users will find out it is exactly the opposite. The Patriots' app is one of the most feature-rich sports apps available, delivering on the promise of a new, more modern and affecting fan experience.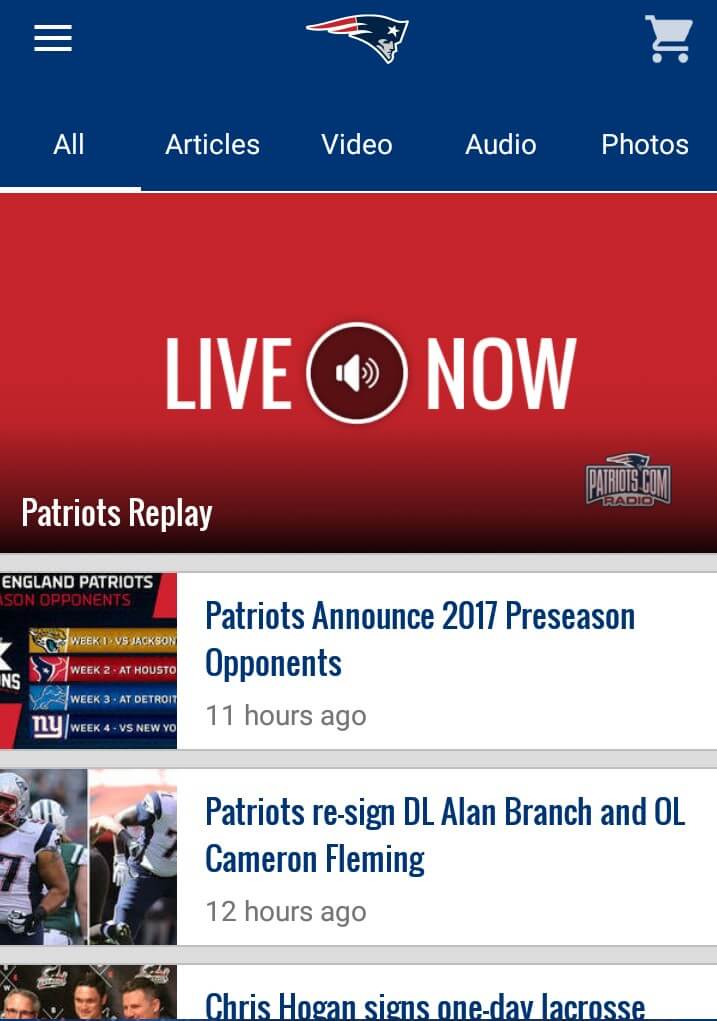 The Patriots' branded mobile app keeps their fans informed and engaged in four vast sections with their own subsections.
First comes News & Media,  where fans can read the latest news and articles on their team; watch various videos and listen to team-related podcasts; and thumb through different photo galleries.
The next two sections, Season and Team, deal with team statistics: game schedule, team standings, team statistics and all other numbers can be found here.
Other sections are Gameday and Cheerleaders. First includes Live Chat, game center, and game highlights while the second is similar to team section, only smaller.
Finally, there's Fanzone, one of the biggest sections: it includes everything from mobile store and sticker keyboard to wallpapers and instant feedback form.
Overall, the Patriots' sports app makes a strong impression. The design is clean and facilitates swift navigation between the app's many sections and subsections, the app works smoothly, and it sends out an important message quickly — that the Patriots love their fans, and that neither fan experience nor fan engagement are hollow words for the team.
Fan Engagement in Sports Apps — Baseball
Baseball is a slow, paced game that requires patience and attention both from players and fans. Thus, it's no wonder that the baseball business is slow to embrace what mobile technology brings to fan experience.
The vast majority of branded baseball apps (including the apps for fans of New York Yankees, Los Angeles Dodgers, and Chicago Cubs) are plain out simple news and information apps made by fans for other fans.
As the new generation of baseball lovers is growing up, this might just be enough for now. As of today, Major League Baseball has the oldest fan base among major sports: they don't use smartphones often or at all, and staying up to date might be everything they need.
The other part of baseball fans have the MLB's official app — At Bat. On the average, the sports app is opened 8 million times a day and its users are 30 years old; both numbers indicate that full-scale apps for fans of baseball might have their digital moment in the future.
Stand out examples of mobile fan experience from other teams
Manchester United (MU) is betting big on mobile fan experience: apart from the standard app for fans, they have recently released a subscription-based live streaming app. MUTV offers a lot to the fans: live broadcasts, pre- and post-match commentary from MU's legends, video live streaming from Jose Mourinho press conferences, and more.
On the contrary, Chelsea FC is playing it safe for now. The team doesn't have a full-fledged sports app, but they embraced mobile with an official keyboard app. A small step compared to other teams, but effective nonetheless: if a fan really loves their team, the commitment will translate not only in purchasing team merchandise, but digital products like Chelsea's keyboard application.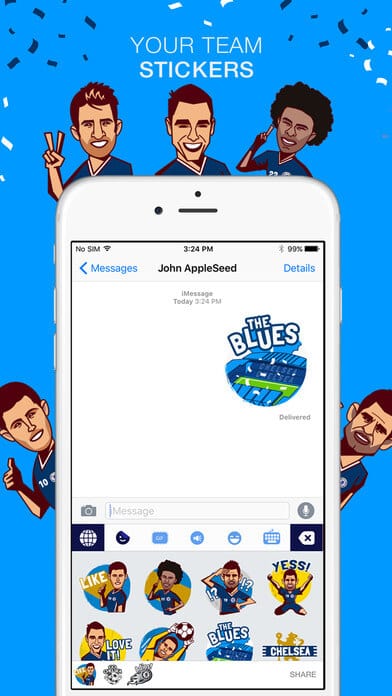 Another world-class team, Real Madrid, have an app on par with Barcelona (which we highlighted in the first part of the post). The design is more streamlined and immersive, compared the Barcelona's sports app, Moreover, Real's app design relies on gamification instead of content, making for a highly engaging mobile fan experience.
From soccer to football to baseball, sports apps are improving the fan experience in different ways. Whether it's an all-encompassing app for fans or a simple but meaningful keyboard application with unique stickers, teams around the world are choosing sports apps as the forefront tool for fan engagement in their marketing strategies.
Follow us on Facebook to stay in the loop of the latest company and industry news.