Taking into account a big focus on business digitization and adoption of innovative technologies, companies all over the world need highly experienced specialists to make it happen. And software outsourcing is one of the best ways to hire software developers fast and build relevant software.
The benefits of outsourcing your software development project are immense. It's worth noting that the first reason to outsource is the opportunity to reduce software development costs significantly while maintaining top-notch quality. In addition, you can get access to a wide talent pool of professionals with different levels of experience and tech expertise to fit your unique needs.
Let's take a look at some statistics regarding the state of the software development market: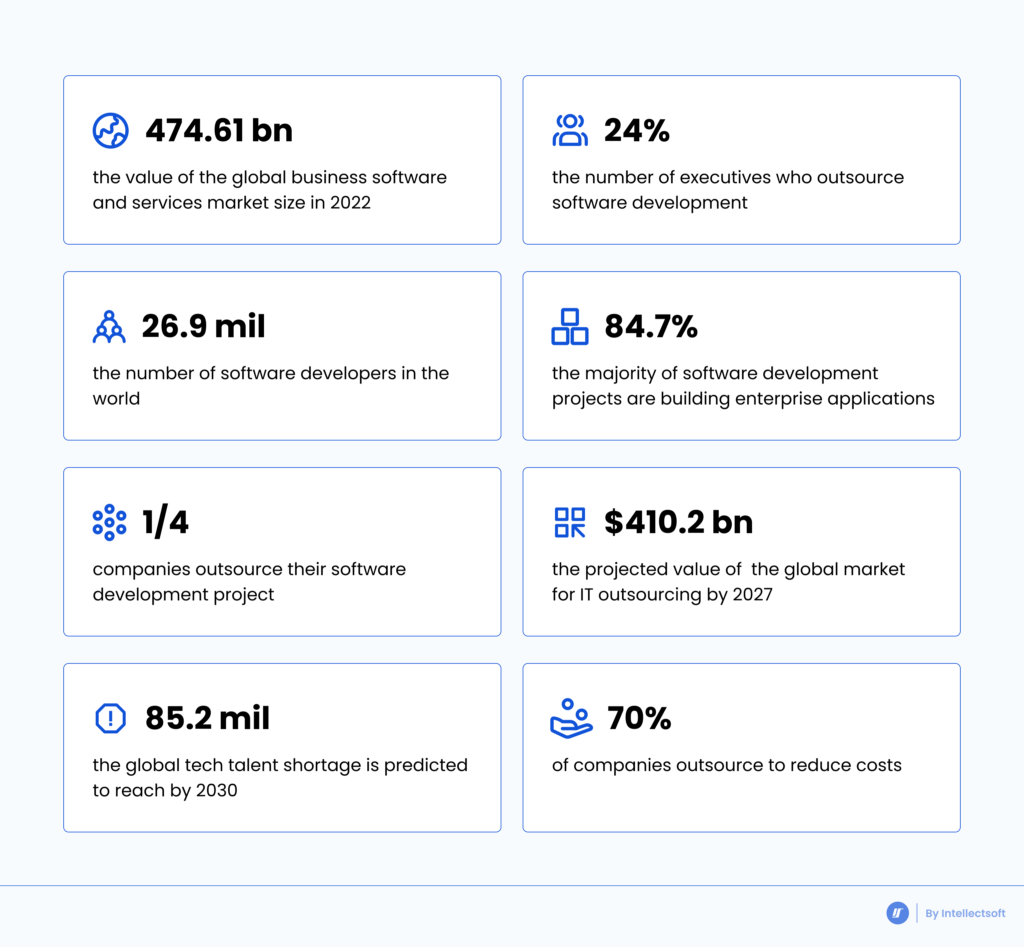 At this moment, Asia and Europe are dominating the outsourcing market. However, there are accomplished developers all over the world. The main difference between them is prices. The outsourcing software development market is very dynamic. And so are the software development hourly rates. If you are interested in hiring a team of developers but don't know where — you are in the right place.
In this article, you will explore a detailed overview of offshore software development rates by country to compare the options and make a well-informed decision when starting a collaboration with your future software development partner.
Factors Determining the Software Development Cost
Before we dive into the topic and will give you a detailed overview of the offshore software development rates by region, let's find out what core factors are shaping the average cost to develop software.
Project Complexity 
The first thing that will define the costs is the type of software you want to develop as well as the overall project complexity. The more difficult your custom enterprise software development idea is in implementation, the more skilled professionals are needed and more advanced technologies will be used. Respectively, it implies a higher price for your software development.
Tech Stack 
Technology stack is another biggest factor that shapes the total costs. Nowadays, there is a wide array of different programming languages and platforms that are used to build software or applications. Some of them are more in demand and, of course, more pricey.
Location 
Geographical location of your outsourcing software development partner also matters. In the article down below, you see how rates for software development vary depending on the region. There are countries that offer you excellent quality for a reasonable price as well as destinations that are much more expensive. By choosing the right country to outsource you can save on software development costs. Also, make sure your time zones are compatible for smooth and timely communication.
Hiring Model
There are three main engagement models in outsourced software development. They are aimed at making collaboration with a vendor the most effective and cost-efficient for a client.
To define the right hiring model that fits your budget and business needs, contact our managers who will help you make the choice based on your unique requirements.
Project Size
Of course, the price of your software development project will be defined by the number of team members. It's possible not only to hire developers but also QAs, project managers, designers, or any other professionals that are required for the successful execution of your idea. Each specialist will cost differently depending on their experience and qualifications.
Seniority of Team
This one is pretty straightforward. The more experienced and skilled a software engineer is, the higher rates they have. Their overall experience, knowledge, and tech stack are taken into account while defining rates for custom software development services.
Another thing that you need to take into consideration is that the rates of freelancers and developers offered by a company will be different. Obviously, freelancers will be less pricey, however, the outcomes of such collaborations and the quality of end results are unpredictable. Unlike freelance, outsourcing companies take full responsibility for quality and control over the working process.
Software Development Rates in Eastern Europe 
Now, it's time to see what the costs of software development are in different regions of the world. We are going to start with the  IT market in Eastern Europe as it is one of the biggest and most reputable in the world. Businesses across countries choose this destination for several reasons.
Eastern European cost of software development is relatively low and they have professionals of different seniority and expertise to fit any tech requirements. Companies in this zone can tackle projects of different complexity and deliver top-notch results. It's the safest and most stable destination for building the software you need for your business.
It's worth saying that Intellectsoft is considered the top software development outsourcing company in Ukraine. We have collaborated with Fortune 500 companies as well as with other renowned companies from all over the globe. Yet, our pricing options are one of the best. To get a cost estimate for your next project — feel free to contact us and our managers will evaluate the budget of your project based on your specific requirements and business needs.
And now, see what other countries have to offer.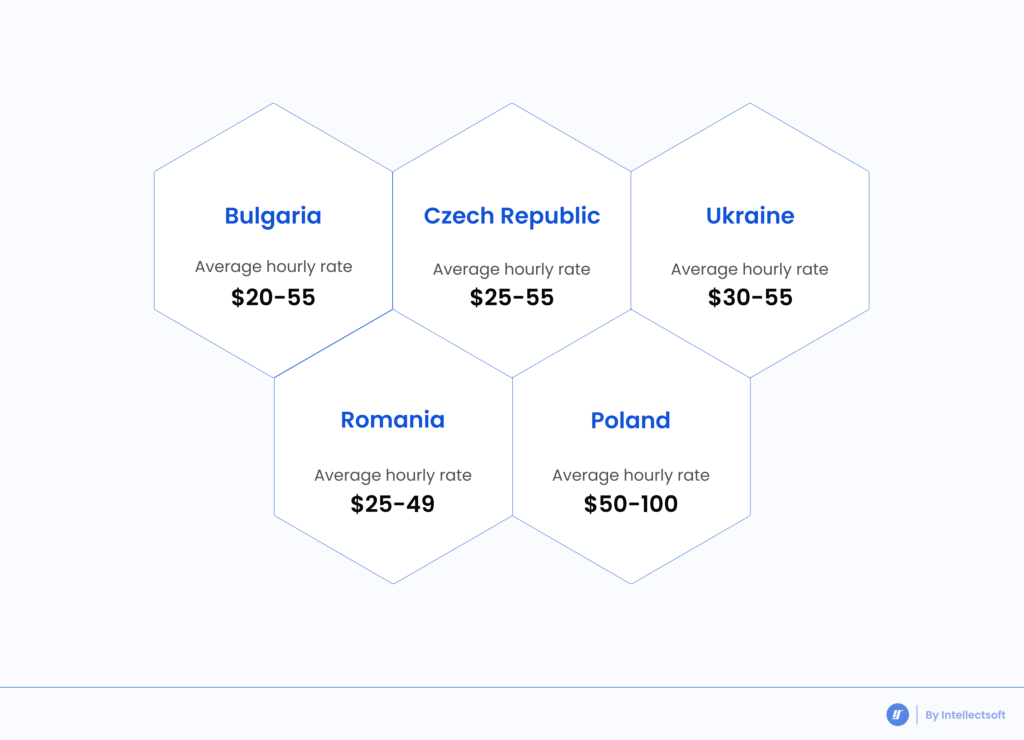 Software Development Rates in Central Europe 
Unlike Eastern Europe, Central Europe has a higher cost estimate to develop a software system. Obviously, the final rate will depend on their qualification and seniority.
Take a look at their average hourly rates to compare them with the prices offered by Eastern European specialists. As you can see, the market of Central Europe varies a lot from country to country.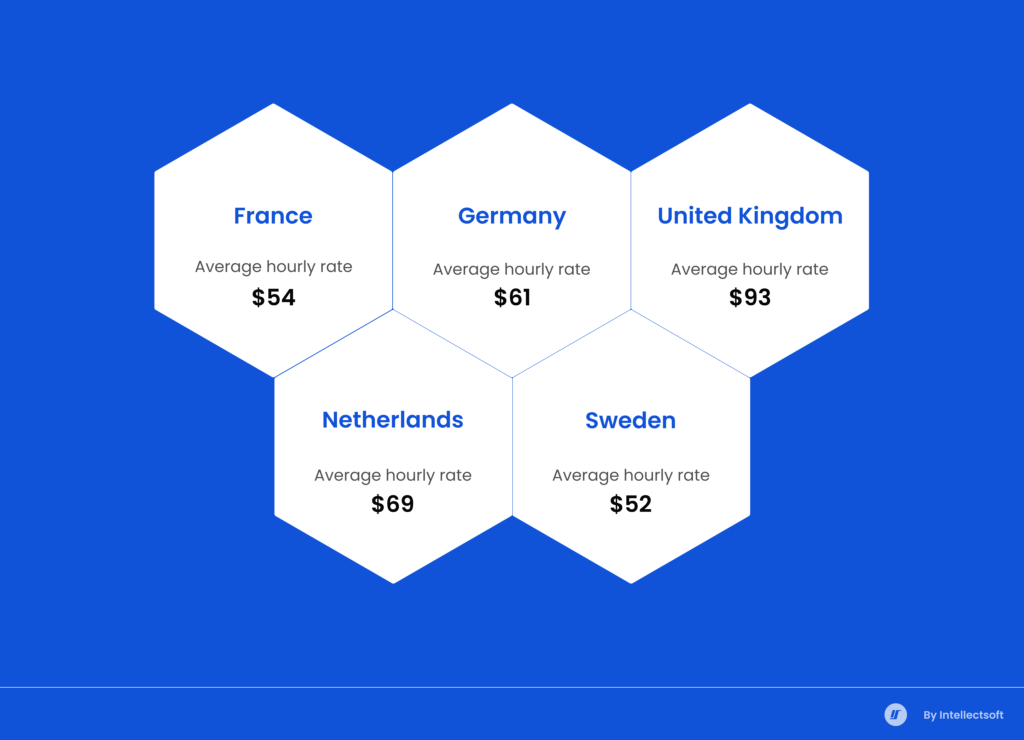 Software Development Rates in Asia
Asia is considered a pioneer of offshore software development and keeps being a very attractive destination for companies all over the world. Asian developers have a huge talent pool as well as great tech skills.
However, regardless of their great expertise and relatively lower price of software development, keep in mind that the main drawback of outsourcing to this zone is a big time difference between both North America and Europe. So before making the final decision consider all pros and cons.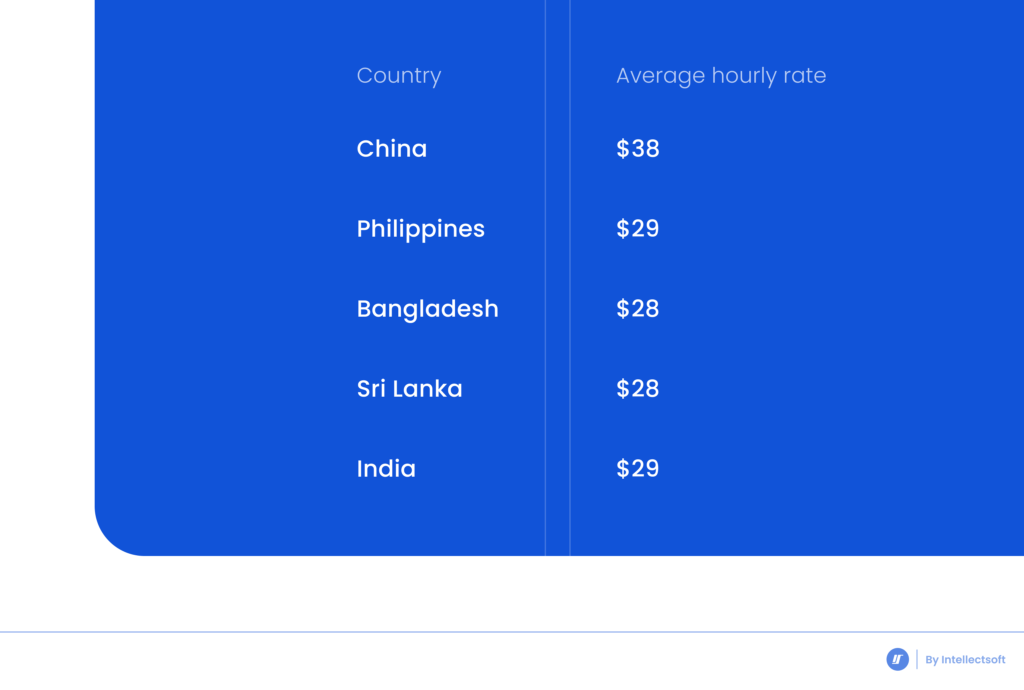 Software Development Rates in North America 
North America has always been the place with the highest rates for software development. And the prices are expected to grow in the next few years as the demand for quality software development services is increasing daily.
Some companies still prefer to hire an in-house team of specialists and collaborate with them in person for the best outcomes. Nevertheless, those companies that want to save on pricey software development cost and receive the same quality opt for nearshore or offshore destinations.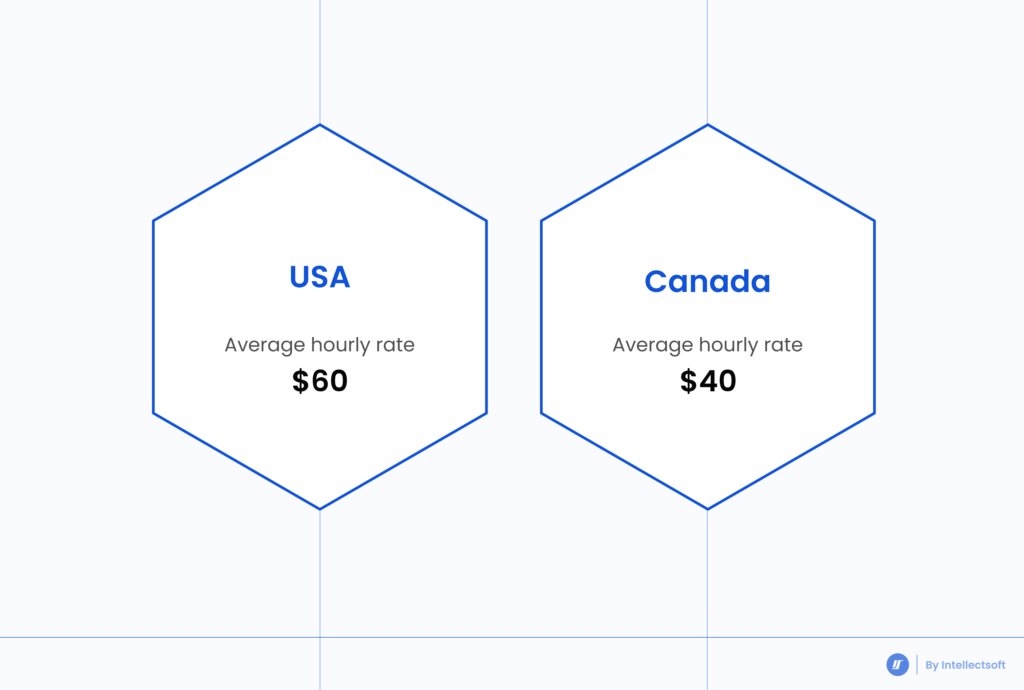 Software Development Rates in Latin America 
Despite the fact that Brazil is the biggest country on the continent, usually companies prefer to outsource their software development projects to other Latin countries. Although Brazil still stays a top offshore destination with a wide talent pool, great expertise, and reasonable rates.
The main convenience of this region is the same time zone as North America. Therefore, it will be a perfect choice for American companies that want to get amazing quality software for a lower price than their in-house developers can offer. Check out the table below to compare the rates of the main offshore countries.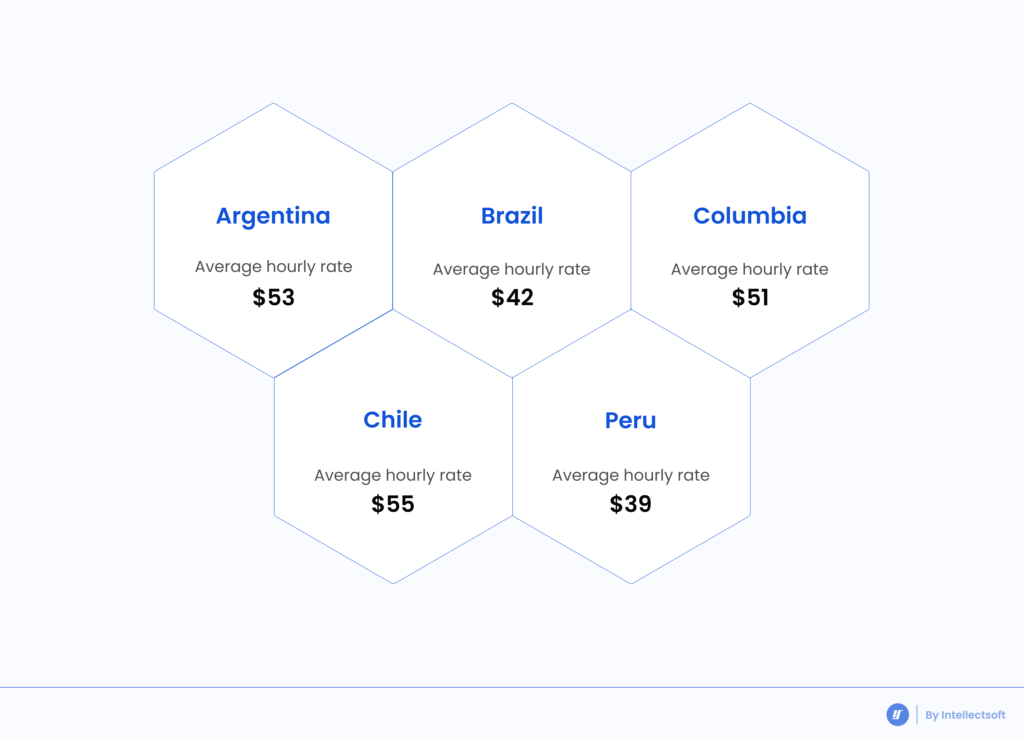 Software Development Rates in Africa 
African countries are not the most popular destination for outsourcing, and this industry is only emerging in this region. However, there are a few countries that offer reasonable cost for software development. The African IT market has already shown some dynamic growth and is estimated to be expanding in the next few years.
These countries can be a good choice as their time zones are compatible with Europe. In addition, there is a minor time difference with the East coast of North America. African specialists have great expertise in multiple programming languages and can be suitable for your next project. Here is the recent data regarding the average hourly rates in this region.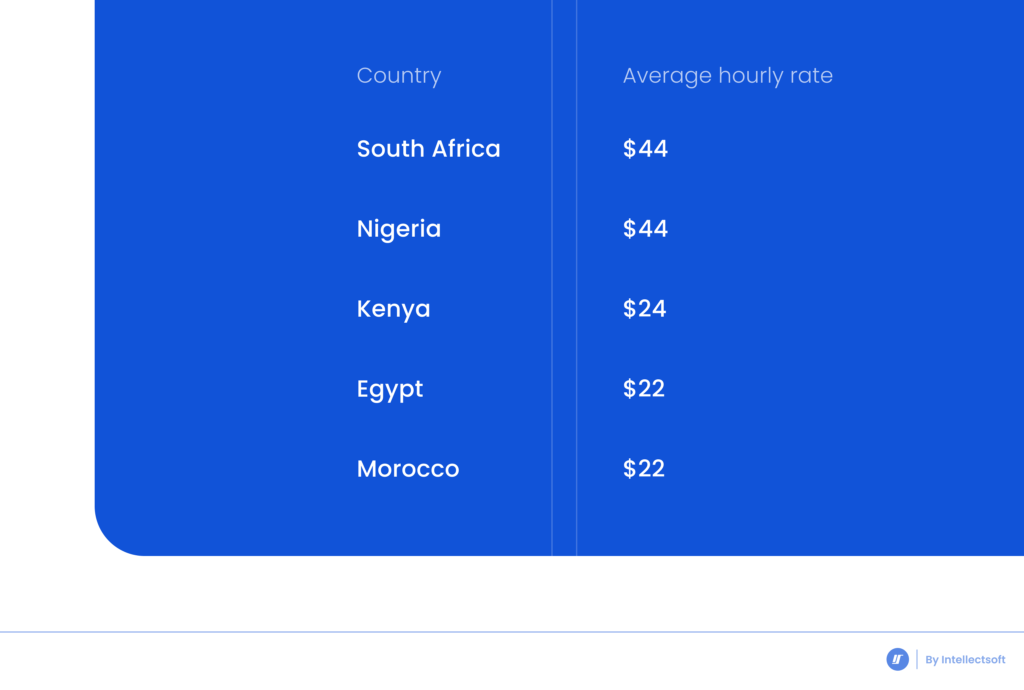 The Best Countries For Outsourcing Software Development
Every region and every country has something to offer when it comes to software development. However, to make the choice easier for you and not to let you get lost in numbers and destinations, we offer you our top 10 countries to outsource your next project.
Hiring a perfect and cost-effective development team is only one step away. These countries are renowned on the market for their flawless quality of work as well as reasonable prices comparing the US, Canada, and West Europe.
It's worth noting that Eastern European countries are our main recommendation as they possess the highest level of tech proficiency. In addition, they have minimal time zone differences. Moreover, they possess English proficiency as well as no big cultural difference which makes communication with them simple and smooth.
India
Philippines
Ukraine
Poland
Romania
Czech Republic
Argentina
Brazil
Bulgaria
China
Every country can be considered for outsourcing. Down below you will find software development rates by country to make a well-informed decision: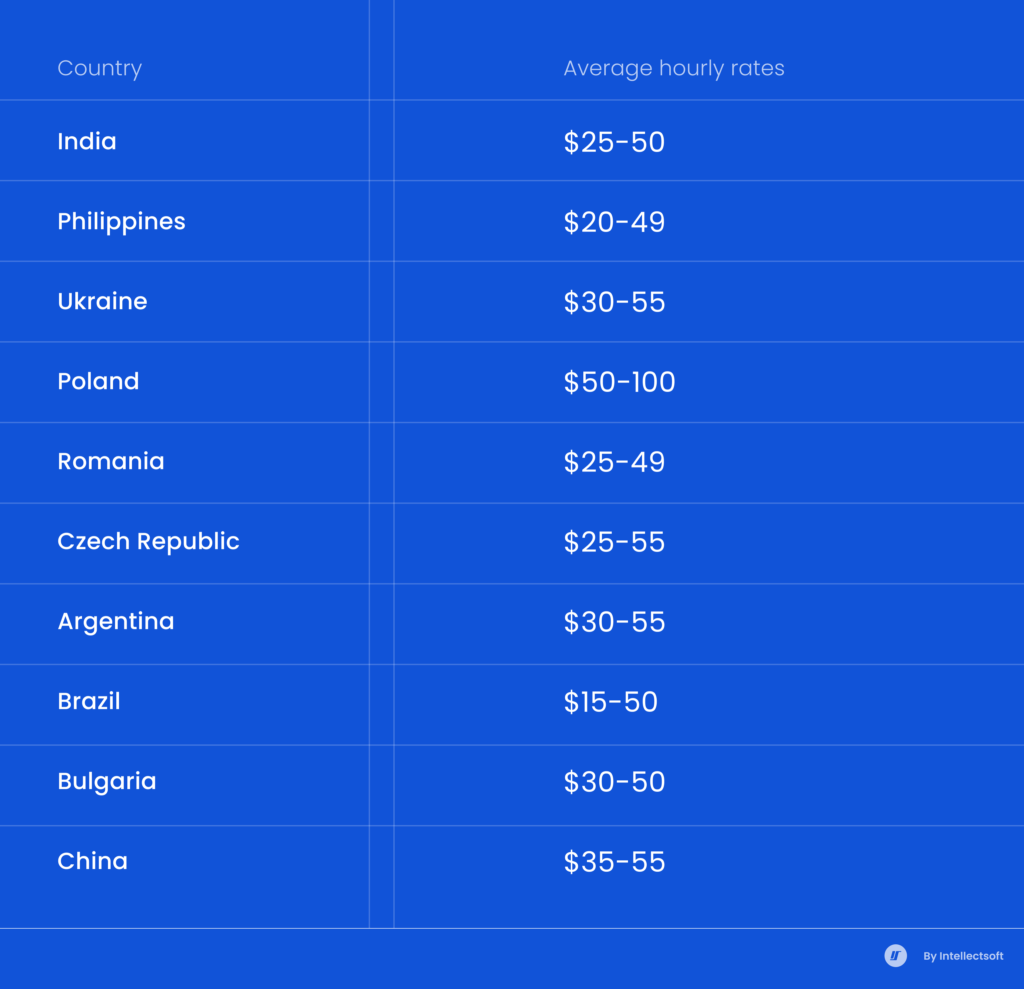 Cost for Software Development Depending of Tech Stack 
After we analyzed the rates based on geographical location, you are probably wondering what are the rates for software development based on the technology or programming languages.
Here is the table with offshore software development rates comparison depending on the development type.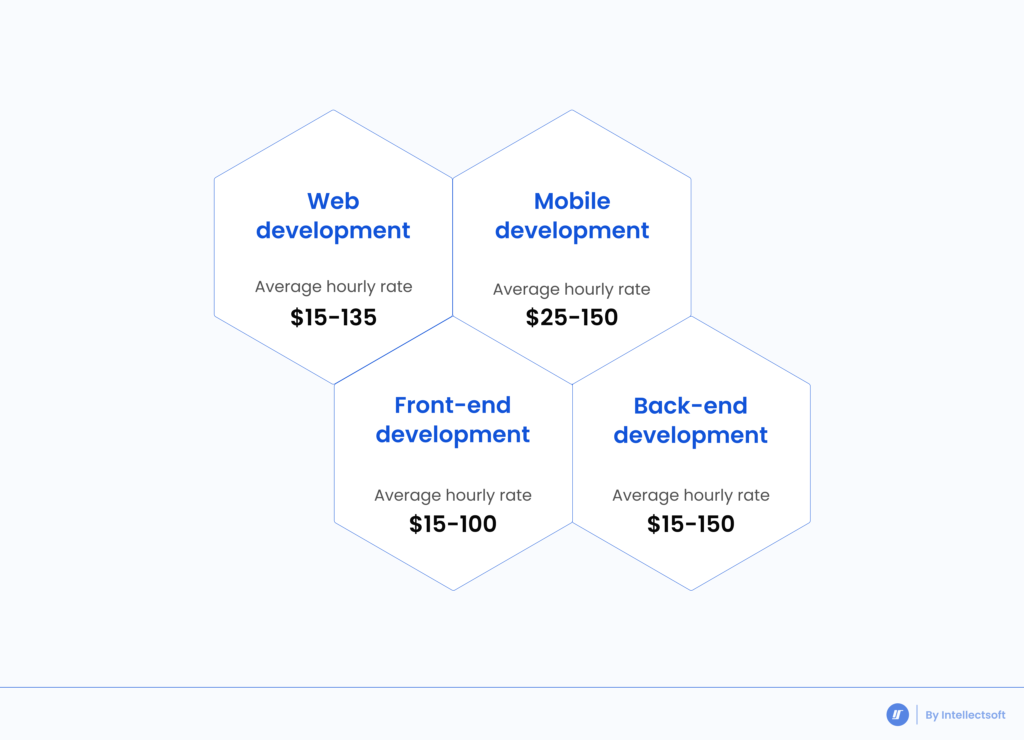 Down below you will see the average hourly software development rates based on the technology applied.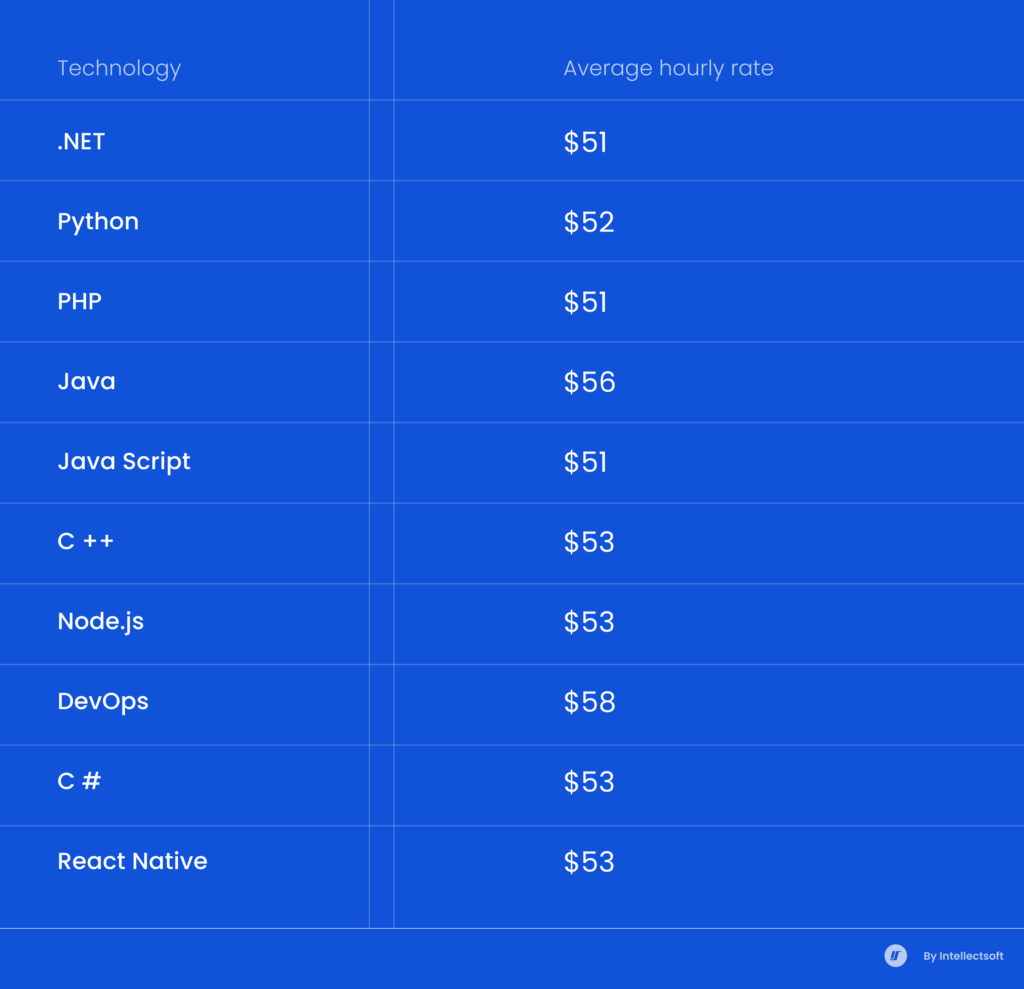 And let's break the same technologies into seniority levels to see how the rates vary based on experience.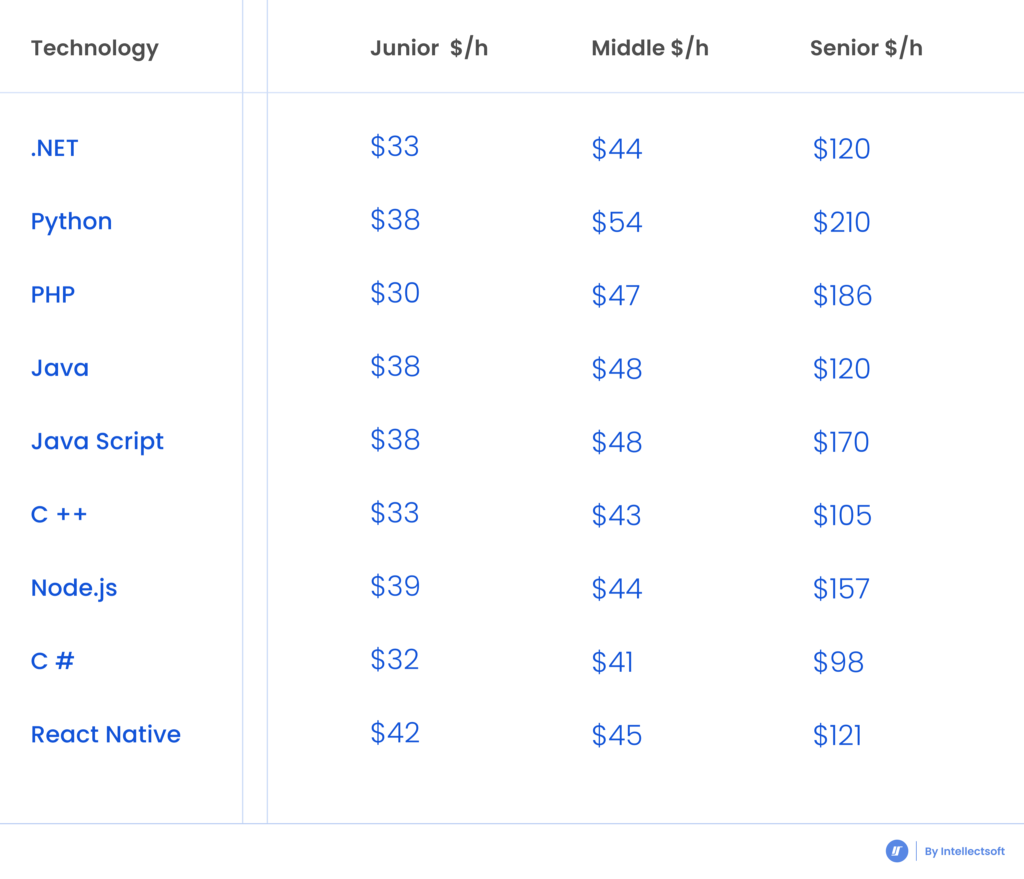 Tips to Save Software Development Budget
As software development is a very costly process that requires a lot of investment, we are ready to share some effective tips that will help you reduce your expenses and save on cost to develop software:
Outsource to low-cost destinations. Outsourcing is definitely the most proven way of reducing your software development expenses. By choosing an offshore destination like Eastern Europe you will be able to receive amazing results for a significantly less price.
Set up your requirements. Define your main business needs and software requirements. Comprehensive and detailed documentation is the key to your success. It will serve your developers as a roadmap to a desired product. The more detailed you are — the fewer questions will appear.
Communicate clearly. It's paramount to communicate your requirements and goals as clearly as possible. It will help you avoid misunderstandings between you and software engineers as well as deliver results much faster without the need to re-do tasks which of course requires money.
Develop in iterations. If you are working on a complex and massive product making changes in a finished solution is really challenging and cost-consuming. Building your software in iterations will help you save time, and money, and deliver more clean and effective software.
Review progress regularly. Misunderstandings can happen. Failure can happen as well. But if you review the progress frequently, you will minimize the chances something will go off track. Therefore, all processes will run smoothly, and there will be no need to rebuild some things for an extra price.
Test properly. The earlier you spot bugs in your software the easier and cheaper it is to eliminate the problem and ensure the end-users get a quality solution. Bugs discovered at a later phase involve more additional costs as well as a later release date.
As you can see, custom software development rates vary depending on multiple factors including geographical location. While looking for a reliable software development partner it's very important to choose the right destination to outsource as it will define the development costs.
Consider Intellectsoft Your Dedicated Software Development Partner
If you are looking for reliable software development companies to outsource your next project then Intellectsoft can be the best match for your business.
Our company has more than 15 years of experience in building custom software development projects for clients from all over the world. Intellectsoft is proud to have a track record of collaborations with renowned international businesses and Fortune 500 companies.
We offer a wide range of professional services in the field of software engineering, consulting, and outstaffing. Our average rates for software development are very reasonable taking into account the level of expertise and professionalism of our team. We offer the best pricing model to our clients that will fit their budget and business needs. The processes at Intellectsoft are very simple and straightforward to achieve the end goal in the shortest time possible.
Right after signing the contract, our team of skilled developers and other industry professionals will thoroughly analyze your requirements to come up with the most effective plan to deliver top-notch software or applications that will help your company grow exponentially and fully benefit from digitalization.
In order to get familiar with all the main projects we delivered — check out the list of client success stories. Explore what business challenges Intellectsoft solved through expert software development.
If you have an idea for your future project in mind or your organization needs team extension services — feel free to contact us and our managers will reach out to discuss all the details and answer any questions you may have.
FAQ
How much does it cost to develop software?
Software development rates differ depending on the country where the vendor is located as well as on multiple factors like qualification, expertise, tech stack, and complexity of a project. Therefore, in order to know the approximate cost of software development it's crucial to get in touch with a software development company as they will prepare the price estimation based on your particular requirements.
How to choose a reliable software development partner?
There are a few criteria that you have to keep in mind while searching for an outsourcing software vendor. First of all, get familiar with their website to make sure they are specialized in what you are looking for. Pay close attention to their portfolio to see what projects they delivered, and don't forget to check out their reviews and testimonials. It's crucial to see their client's feedback to make the right decision. Also, don't hesitate to shortlist companies you selected as your potential partner and contact them to compare their offer.
Should I consider outsourcing software development and what countries are the best?
Hiring an in-house team of software developers is not always possible and viable for companies with low budgets and short-term projects. In order to avoid overpaying and get things done easily and effectively, outsourcing to such countries like Ukraine, Poland, or Czech Republic is one of the best solutions. Outsourcing companies like Intellectsoft offer professional services and the software development cost will be significantly lower than if hiring a team of local developers.