The growing popularity of smartphones over recent years has changed how people read news and articles forever. In a change-or-die situation, media companies needed to adapt fast, creating comprehensive digital strategies. As smartphones became the cornerstone of our everyday lives, mobile apps needed to be at the center of those strategies. 
Today, many news apps showcase that a life without print editions and newstands (or only a small number of them), which might come sooner than later, may not be something readers and media companies should be concerned about. If they are properly made, news apps not only carry over the look and feel of newspapers and magazines to mobile, they also give the media new ways and angles to provide coverage, in one place and to a global reader base.
Here are five hand-picked news apps that deliver on that promise today. Use our list to get inspired for your own news app, find yourself a new news sources, or simply explore examples of all-around great mobile products. 
The New York Times (iOS)
Even if you prefer paper editions of newspapers over news apps, it is hard to deny that the New York Times did a great job of carrying over their long-established aesthetic and reporting to mobile. It is just that: the same New York Times, only more visually appealing and handy and available anywhere you want to read it. 
The user experience and design are outstanding: sections are well-organized (with quick access to Saved for Later and Recently Viewed), navigation is quick and simple, and the app's clean visuals are really easy on the eye. Whether you want to quickly read the morning briefing or enjoy evening articles from the newspaper's many sections, you will have a pleasant experience. 
Everything's good under the hood as well: there are no crashes and bugs, and the pages load quite quickly even with poor internet connection. The app has ads, but they are non-intrusive and fit into the design organically. 
[table id=4 /]
When it comes to sections, the New York Times app has it all: from the standard Opinion, World, Business and sport — to sections on health and wellness, entertainment and arts, as well as video and podcasts, among many others. You can also access the day's paper in the corresponding section. 
With a well-produced "Immersive" section that is dedicated to AR and VR news content, the NYT doubles down on the notion that mobile and digital technology hold the potential to give new life to the media by giving readers new exciting perspectives and angles. 
Readers can access a limited number of articles for free every month or subscribe to one of the plans.
Al Jazeera English
Apart from its appealing and intuitive design, what makes the Al Jazeera app stand out is the emphasis on live news. They are quickly accessible in a video or audio stream and equally comfortable to watch on a smartphone or tablet. 
Al Jazeera understands the needs of modern users better than other media companies: the app has two more video sections alongside the Live broadcast — on-demand programming and documentaries. Other sections feature top stories, latest news, and  opinion pieces.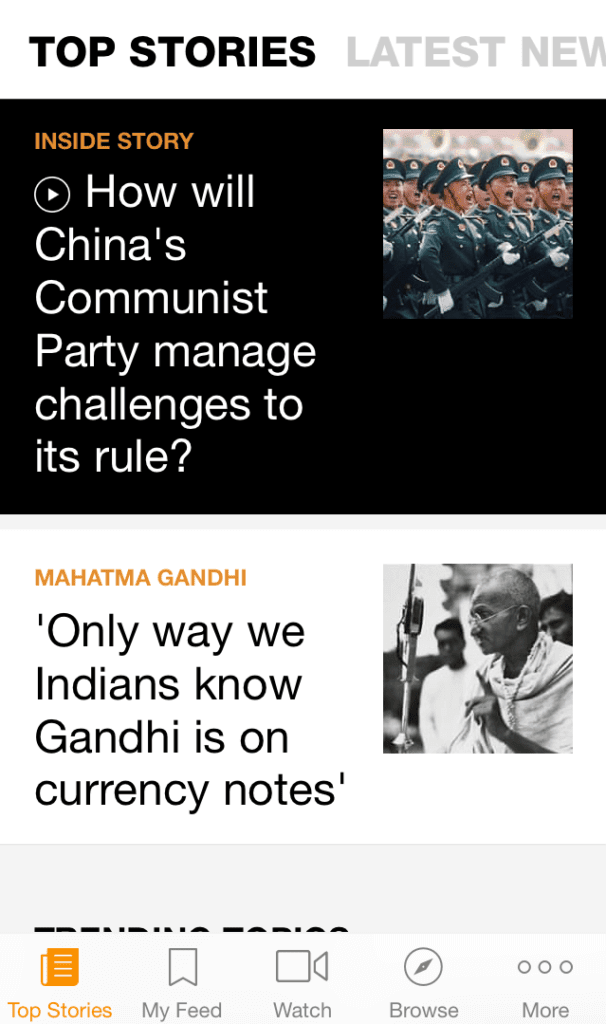 You can personalize your feed in the "My Feed" section, which provide quick access to bookmarked topics, saved pages, and programmes. That being said, navigating Al Jazeera English is a breeze. Even on smaller screens, there is a lot of breathing space, and the sections are well-organized in general. 
Sections include: Arts & Culture, Business & Economy, Environment, Poverty & Development, Human Rights and more, as well as a separate section that covers different regions of the world. Readers can also access archived content. 
Al Jazeera English is free-of-charge. 
New Yorker Today
Like the New York Times, The New Yorker magazine has managed to go mobile with great success. Capturing the look and feel of the magazine really well, New Yorker Today serves three goals: delivers the latest news, opinion pieces, articles, and writing; provide quick access to the decade-spanning library ot its widely celebrated cartoons; give fast access to the magazine library with the latest and archive issues.
[table id=3 /]
Although its website and magazine app can stand on their own and can be used separately, New Yorker Today seems to be aimed at readers who want to access the most popular parts of the The New Yorker's digital experience in one place. 
Sections:
Latest news and writing

Cartoon randomizer

Digital edition of the magazine (differs from the magazine app)

Bookmarks and history
There is a limited number of free-to-read articles and a range of subscription options available for readers.
Pocket
As far as news apps go, Pocket is not a typical media product. At its heart is a simple promise of letting users save articles and web pages for later reading and viewing, but it delivers on it to the fullest. If you read news alongside articles from different publications, but do not want to assault your eyes with the endless stream of headlines of news aggregator apps (or simply find the look and feel of Instapper uninspiring), Pocket will your top choice.
[table id=5 /]
Pocket is integrated with all popular browsers on desktop and mobile and with over fifteen thousand apps, making it quick and simple to save articles anywhere you find them. There are many instruments for managing them too. You can always locate the right article quickly with tags and a number of sections — all put together nicely in an extremely comfortable-to-use design. Other features include choosing the background color and highlighting text, listening to any article, and following friends to find out what they are reading.  
All of this comes for free, but you can get extra features like advanced search and fonts with the paid premium version. There is also a section of curated articles from numerous different publications updated everyday as well as a tool to look for them yourself across different categories. 
Pocket is continuously updated, bug-free, and the user experience is equally satisfying in the web app and native apps (although you cannot listen to articles in the web app). Interestingly, It is in-built into the Firefox browser and is owned by its creators, the Mozilla Corporation. 
TechCrunch
The shiny look and handy navigation of TechCrunch's website can be enjoyed in any browser, but you might just opt for the publication's app instead. It bares the visual style of the website, but provides a more focused, personalised, and ad-free experience. 
[table id=6 /]
Following the latest tech news with the TechCrunch app is easy, fast, and comfortable. You can browse the headlines of the latest news and bookmark them right in the feed. One more section gathers topics of your choice in one place, and you can manage or stay notified about them right in this section. Finally, there is "Saved for Later," where you can read the bookmarked articles. You can also access the latest TechCrunch videos at the beginning of the main feed. 
In sum, the TechCrunch app streamlines reading tech news to the maximum, delivering a snappy experience without ads, bugs, and free-of-charge.