Recently the Intellectsoft marketing team sat down with Rich Larsen, founder of emerging Norwegian social app development firm Mobile Software AS  to talk about his experience in working with Intellectsoft on his two upcoming mobile apps Buddy and Mama.
FINDING THE PERFECT BUDDY
You first came to Intellectsoft to get help in developing your upcoming Buddy app. What can you tell us about Buddy?
I found that people were getting tired of the proliferation of dating apps and I wanted to create something different — a friend application without the dating element.
Because every time I would be on the phone with my friends I would get the same questions: Where are you and what are you doing? I wanted an app which answered that question.
The functionality of the app is twofold; to see where your friends are located and to make new friends. Those two elements were of equal importance to us during app development.
What was Intellectsoft's involvement in the project?
Aside from creating the Buddy app, Intellectsoft helped me create a video commercial for nine language markets. I have received very good feedback from everyone I have shown this video to and I am very happy with Intellectsoft's marketing work for Buddy up to this point. We are set on making this app available on a global scale.
How are you preparing for the launch of the app?
I'm using my experience launching another app, called callFrodo, where we focused on Middle-East, Asia, US and Africa and were quickly able to get our user acquisition cost down to $200 per 3000 daily users mostly through targeted Facebook marketing. We quickly had to halt the marketing campaign after one percent of the population of Qatar downloaded the app in just 14 days.
So we have done the testing and we know what works in social marketing. And we want to do it again.
How did Buddy come to be?
We had been working on a different app but ran into some unfortunate delays with development. So we pivoted to our side project, the Buddy app, and I made that the primary focus. We took this to the Intellecsoft team in Belarus and we haven't experienced a single delay since then. Not once. And soon after, Intellectsoft took over project development on our initial project as well.
How did you find out about us originally?
Coincidence. I was looking for app developers and found Intellectsoft through a basic Google search. I looked into the company and it turned out that a colleague of mine had worked with Dennis Shpakouski in Norway and spoke highly of him. He came over to my house and we immediately started strategizing about how we could execute the project effectively.
It could have been any company but I was lucky to have stumbled onto Intellectsoft like this.
The Buddy app took oneyear and three months to develop but we were able to use that platform to build our other app Mama and as a result, development for Mama it is taking only threemonths.
THE MOBILE SAFETY COMMUNITY OF MAMA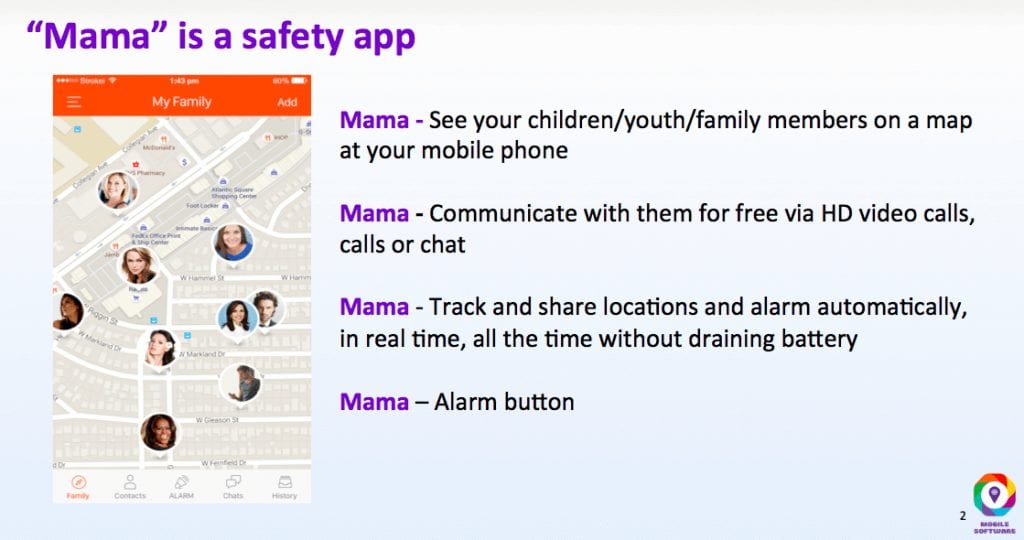 What can you tell us about the Mama app?
It is a bit of a difficult story frankly. The idea came to me following an assault which my daughter was the victim of along with two of her friends.
In dealing with my daughter's experience, and in her dealings with the police following the attack I came to feel there were better options available.
Sometimes the most difficult part is in dealing with what comes after such attacks as the victims are often not taken seriously due to a lack of evidence. How long will it take the police to reach a potential victim, will they be able to prevent the attack? And how many of those cases are reported? Will the system be able to help afterward? These were the kind of questions I found myself thinking about and I wanted to create a solution to address them. The incident forced me on the path to develop Mama, to try and help prevent this from happening to other girls and to help in the aftermath of such terrible incidents.
How does Mama relate to Buddy?
Mama uses the same basic map functionality and tracking as the Buddy app. You can see your family members on the map and communicate with them for free like with Buddy. And you can track and share your location at all times automatically without draining the battery of the mobile device. The most important distinction is that Mama has an alarm button such as similar apps like BeSafe and Live360.
What are you aiming to accomplish with the Mama app?
Mama is designed to both help prevent attacks and help in the aftermath of attacks.
When the victim hits the alarm button, the app immediately starts to record both sound and video and it sends a loud warning signal to nearby family members or friends. And even if the phone is broken or the feed is stopped for whatever reason, the file is automatically saved and sent to members of the network.
I believe that this app could have prevented what happened to my daughter. And this app means we may have evidence necessary to help us resolve future incidents of this kind.
In short, Mama forms the safety community to Buddy's friend community, building on a shared platform of trust and technology.
Thank you for sharing this with us. We are excited to be part of such a vital project.