In the process of iPhone and Android application development, wireframing is extremely important. At the first stage, an initial idea becomes a quick sketch to share with teammates, while later a UI/UX designer can use more sophisticated tools to create a full-featured prototype with transitions, links, and screenflows to model user experience. Wireframing tools are what lets you to translate what you've imagined into something more real, something that can be seen and understood by the people around, so choosing the right tool is crucial in creating a smooth workflow.
In the past years, we've seen hundreds if not thousands of wireframing solutions, from the most simple to very complex, from standalone apps to web-based editors, so now it's difficult to navigate this market without a guide or at least a starting point. That's why we've selected some of the most useful prototyping tools for everyone to choose from, ranging from sketch-drawing web apps that don't require any special skills to work with to feature-rich (though often expensive) desktop suites with all kinds of instruments a UI/UX specialist might need in their work.
Check out some of the best examples of each type of prototyping tools, and if you think something is missing, feel free to add your favorite solution in the comment section.
An elegant and powerful wireframing tool with desktop apps for Mac and PC, Axure is what people at Stanfy are using for creating mobile app prototypes.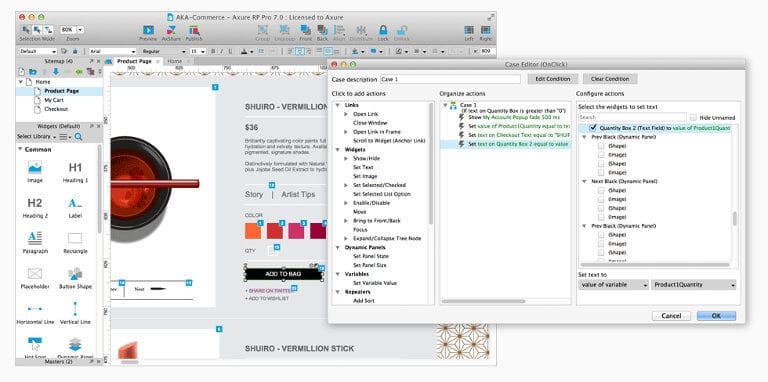 Axure RP allows users to create interactive HTML prototypes not only for any mobile device, but also for pages and web apps. It's pretty intuitive and employs simple drag-and-drop interface and conditional logic to put together usage scenarios.
Price tag: $289 to $589 per license, free trial available.
This web-based tool is a full-featured platform for UI wireframing, one of the most popular on the market. In addition to friendly user interface, Proto includes a powerful annotating tool, which can be used by designer's clients or colleagues for review and discussion.
Another convenient feature is that you can test your mobile prototypes on a real device with Proto.io Player app available for iOS and Android.
Price tag: starting at $24 per month, free trial available.
Fluid is another popular web-based prototyping tool with more than 200,000 users all over the world, which include giants like Xerox, Motorola, and eBay, according to the project's website. It sports a visual linking system that makes it easier to create screenflows, as well as collaboration tools and a mockup players for iOS and Android.
The web application boasts more than 2,000 ready-made UI widgets for prototypes for  iOS, Android and Windows 8.
Price tag: from free to $49 per month.
This minimalist wireframing tool is a perfect one for newcomers to the world of UI/UX design, as well as for those who only need to create simple prototypes in a clean and clutter-free environment.
Wireframe has only three simple app prototype templates for web, tablet and smartphone (or rather iPad and iPhone), and a set of pre-made elements. There's also a smart suggestion engine that's supposed to read your thoughts and guess what you're trying to write.
Price tag: from free to $99 per month (for unlimited number of users and projects).
Though not an exclusively mobile app wireframing tool, Omnigraffle is widely used by UI/UX designers for this purpose. This powerful diagram building platform available as a standalone app for Mac and iPad employs layer-based mechanics familiar to everyone who has worked with traditional graphic suites like Photoshop.
Omnigraffle users also have access to a huge library of pre-made stencils that include everything from Google's Material Design icons to Apple Watch templates.
Price tag: from $99.99 to $199.99 for Mac and $49.99 for iPad, free trial available.
Another simplistic wireframing solution, Balsamiq is a great tool for quick prototyping. The app is made to be as effortless and intuitive as possible, and gets off the way of the user's imagination.
The creators of Balsamiq admit that they limited the interactivity options on purpose to let users make mockups as they would with pen and paper, so you'll need to figure out if you like this style of wireframing your apps by getting a free trial.
Price tag: $79 for Windows, Mac, and Linux; $12 per month for web app subscription, free trial available.
Marketed as "one application prototyping solution for all screens," Just in Mind is a wireframing platform for Windows and Mac that allows you to create responsive websites and apps for phones and tablets with ease and comfort. You can define gesture transactions for mobile apps and test them on actual devices running Android and iOS.
Designers get access to a wide range of widgets they can group in libraries and use in their mobile prototypes.
Price tag: from free to $19 or $29 per month or $495 for a perpetual license.
A "UX design tool built by UX designers," UXPin looks like a properly balanced solution somewhere in between rapid prototyping software and huge feature-rich platforms that are often hard to explore and make sense of.
With UXPin, you can prototype a smartphone or tablet app, as well as a responsive website. It also provides users with a possibility of real-time collaboration and feedback.
Price tag: from $15 to $40 per user per month, free trial available.
This sketch-style web-based wireframing tool is somewhat similar to Wireframe and Balsamiq in its simplicity, allowing users to create prototypes with the speed of thought using a bunch of ready-made stencils and templates for iPhone and iPad.
Moqups' vector-based editor allows to connect pages with links and hotspots to create screenflows, as well as export mockups as PDF documents.
Price tag: from free to $50 per month (for unlimited number of users).
Last but not least, Marvel is a service that lets designers create application prototypes for smartphones, tablets, web or even gaming devices. It works with Dropbox and supports PSD files, so there's no need to convert them into other formats.
In addition to the web-based prototyping platform, users are offered an iPhone app that allows to "animate" sketches drawn on paper into interactive wireframes.
Price tag: free, paid "Pro" version coming soon.
That's about it, and we hope that everyone has found something that resonates with their way of work, as at the end of the day this is the most important quality of any wireframing solution. Probably more than one of the described tools can find its place on computers of different team members in a mobile application development company. And if you still think that the best tools to draw an early prototype are pencil and paper, then so be it — especially given that there are tools that allow to smartly digitize such sketches to share with people around.
[custom_form form="form-inline-subscribe" topic="Product"]
Happy prototyping!
If you have any questions about UI/UX Design, get in touch with us. We would love to hear from you!